I will be the first to admit that the clean makeup world can be overwhelming. I feel like you're first introduced to it and then you want ALL of your products to be non-toxic! Which is totally understandable… the facts about conventional beauty really do make me want to do a complete overhaul. But might I suggest a better, less wasteful way to switch to clean makeup?
There is a strategy to switching to clean makeup, one that I've implemented and that has helped so many of you switch to cleaner makeup to. But first it starts with an audit…here's how to switch to clean makeup!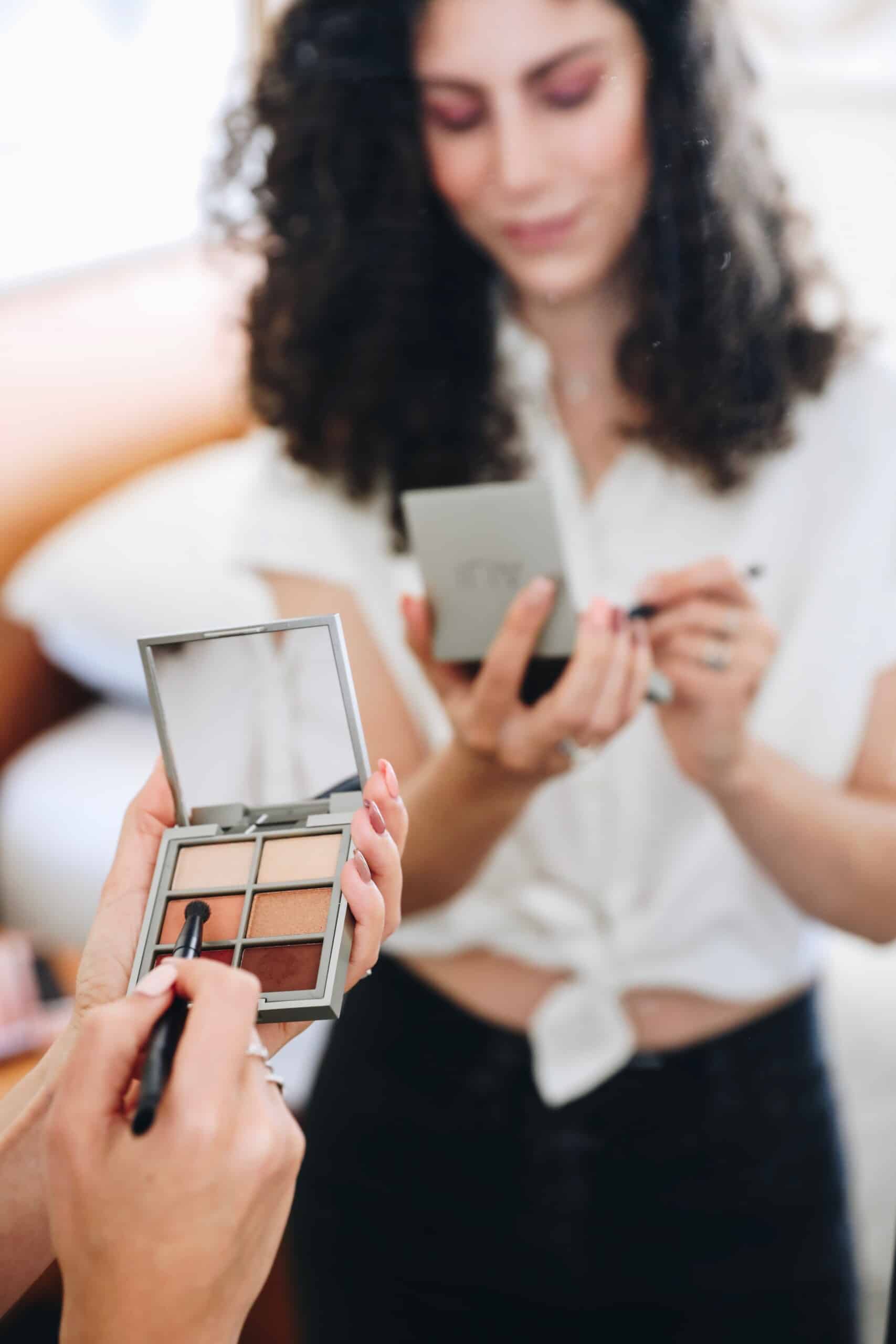 How to Switch to Clean Beauty
1. Start with surface area. 
This could look different for everyone depending on how much/what makeup you wear. Which of your most used products cover the most surface area on your face? This is foundation for most people but if you aren't a foundation gal, maybe the product that covers the most surface area for you is concealer, blush or bronzer. This is is specific to you!
I suggest this as the first step because sure, it could be great for you to switch out your mascara but if you're obsessed with your conventional mascara, keep it for now. It covers such a small part of your face, we can start with the bigger hitters first.
2. Transition products that are running out. 
If you know you're almost out of blush, make a mental note to buy clean next time! I love this method because it is far less wasteful than doing a full makeup kit swap. As you slowly work through your conventional products, aim to buy clean.
3. Invest in multi-use products.
If you're tight on budget look for things that are multi-use. Lip and cheek products are a great option, as are bronzer and eyeshadow. Get creative! If you're working with limited funds try to reach for products that offer a variety of uses.
4. Adjust your expectations.
Clean beauty has come a long way and honestly, many clean makeup brands are making products just as good as conventional, however you cannot expect a foundation made without preservatives to last as long or not experience any kind of separation. Sometimes products take a little bit of extra work or won't last as long. That's the price you pay for using something that is good for you.
Where to Find Clean Beauty
There are a few stores I love and trust when it comes to clean beauty.
Credo Beauty – Credo takes the cake when it comes to favorite places! I'm slightly biased because they have a store in SF that I love but I also just think they're a great company. They have high standards for the products they carry and they have my full trust! If you're shopping remotely, they have amazing customer service support online. They can even recommend shades for you based on other products you own and love!
AILLEA – This company started in Denver and has expanded to six locations across the country! Their product range reminds me a lot of Credo. Worth seeing if there is a store near you but like Credo they also offer online products.
Detox Market – Detox Market carries a lot of the same brands that Credo does but casts a larger net. They have more products which is awesome but also means you have to do a little research on your own.
Sephora – Yep, Sephora is upping their game when it comes to clean beauty! They carry Kosas, ILIA, RMS and Tatcha which all have my stamp of approval. I will say, they carry a lot of other brands that they consider "clean" which are actually brands that are greenwashing (*cough* Tarte *cough*).
Now before you ask me about Beautycounter, I'll direct you to my Beautycounter review and let you decide if it's worth the investment….hint: I don't think it is!
Trusted Clean Makeup Brands
The world of clean beauty is rapidly growing which is amazing but also means you have to weed through the brands and products available a little bit. If you're feeling completely overwhelmed by the options out there, I wanted to share my tested and approved clean beauty brands and products.
Vapour Beauty – I'm really impressed with this brand as a whole. Here are my top picks:
ILIA – While not all of their products work for me, I'm full on obsessed with the ones that do. Here are my faves:
HAN Beauty – This seems to be a lesser known clean beauty company but I have been really impressed with these two products:
A few other mentions: Maya Chia, Juice Beauty, Kosas, Gressa, 100% Pure, Lily Lolo
Unsure about a product? Think Dirty, Skin Deep, and Good Guide are three apps designed to give you unbiased information about cosmetic and beauty products and can help you make more informed decisions about the safety of your products.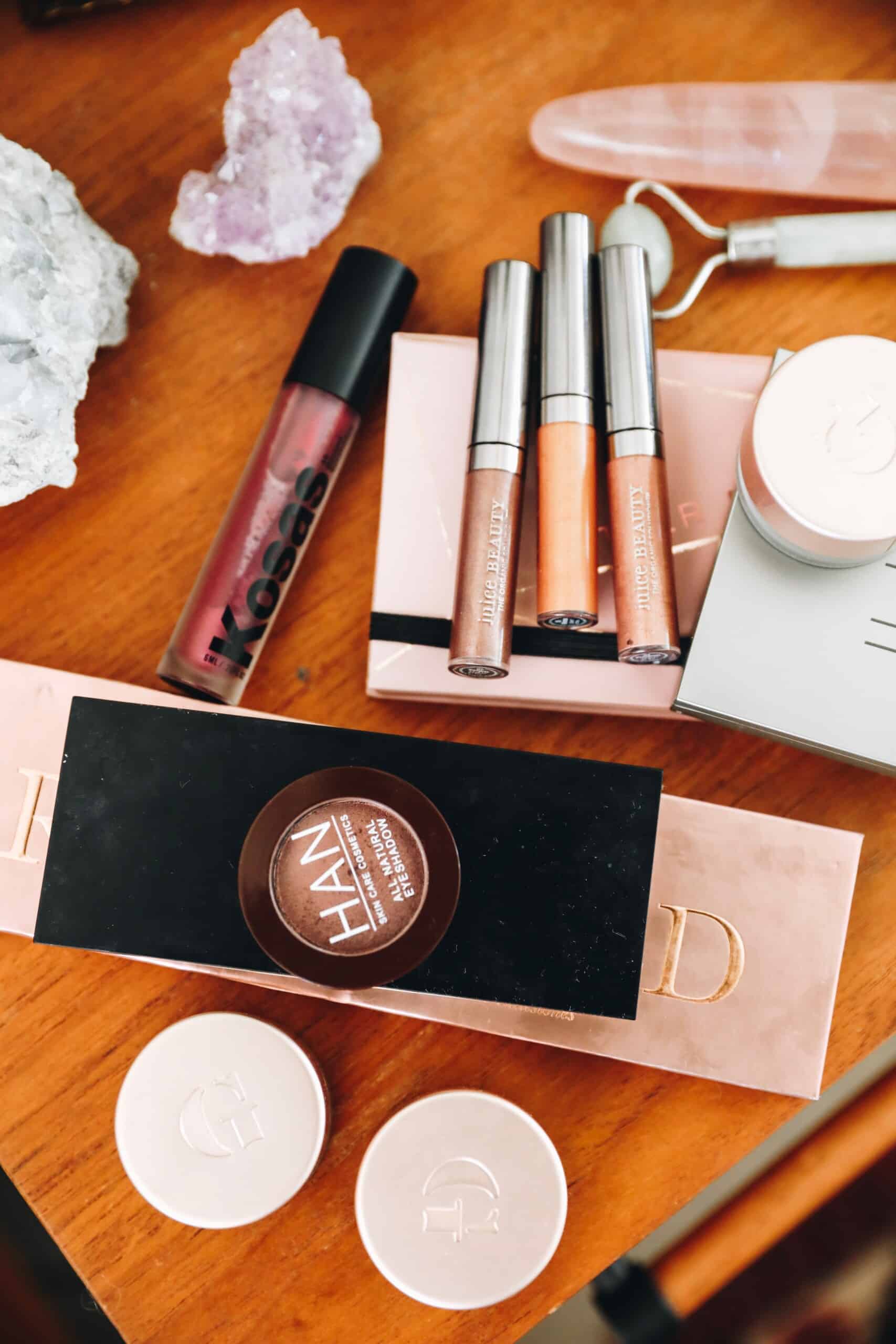 Like this post? Here are others you might enjoy: