Statistically very few men read this blog. Do I expect some will find their way to this post? Yes – but I suspect the vast majority will be sent this post by their lovingly concerned female partners or friends. Because clean and non-toxic body products aren't just for women! Men – we got you covered too. As I was researching products (and getting C's recommendations) I realized that mens products are largely a marketing scheme! Sure, men might prefer different scents than women but in reality, we can be using most of the same products…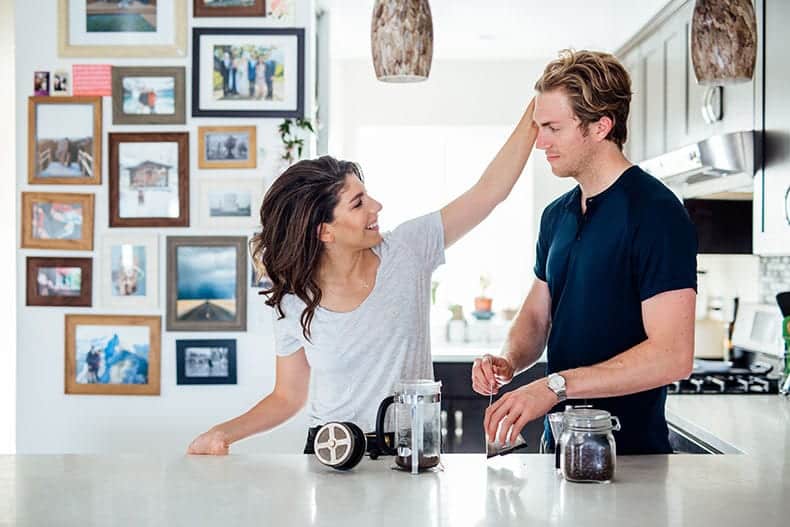 I'm sticking to the bare minimum when it comes to products but if you have any other requests, please leave a comment below!
How to Transition Your Man to Natural Products
Here's the deal… what's important to me is not always important to C. The more I talk and educate and show how simple a switch is, the more convinced he is! Having said that, we're still our own people and do what we want. I don't want to force C to switch his products out or follow a certain regimen. So what do I recommend? Start with a conversation. "Hey- I've been learning more about what's in our personal products and realized there are much better products we could be using." Make it collaborative. Make it about both of you. "Are there any products you're obsessed with that you 100% do not want to give up right now?" Involve them in the process – if they love a certain item, that's fine! They can and should keep it. "Are you okay if I pick up a few products to test out?" My guess is that 9 times out of 10 your guy will appreciate the fact that you're running an errand and picking up some essential non-toxic products for men for him. Stock your shower with the good stuff and they won't miss their old products! And if you're one of the lone few guys out there reading this blog, check out this post to learn about why you want to switch to clean and non-toxic body products.
*Where possible I have included discount codes. Yes they are affiliates but we both love and use their products and reached out to them directly to get you guys the best deal possible!
Non-Toxic Product Recommendations for Men
Face wash: Both C and I like the Mother Dirt Cleanser. It's super light weight and leaves your skin feeling clean without being drying and is very budget friendly. I recommend this product to anyone switching from conventional to clean beauty as it has minimal ingredients and won't irritate skin.
Face moisturizer + sunscreen: I will always and forever recommend this Josh Rosebrook Daily Cream with SPF but C loves this Suntegrity Moisurizing Suncreen (which is also cheaper so win/win!). Typically he applies this in the morning but we've been working on finding a night-cream he'll actually use…work in progress!
Shampoo + Conditioner: I'd rather have less products in my shower than more so it's a huge win that Evolvh Ultra Shine Shampoo (and Conditioner if needed!) works great for both C and I. Use code MAVEN15 to save 15% off your first order.
Body wash: My personal favorite, Ann Marie Gianni Rosemary Peppermint Body Wash (Use code MAVEN15 to save 15% off your first order). One time I tried replacing it with another brand and C kindly requested I replace it back!
Shaving cream: The Marie Veronique Mildly Foaming Shaving Oil is so luxurious… I wish it came in larger bottles so I could use it all over my body! This protects the face during shaving and leaves the skin hydrated.
After-Shave Oil: We both use this Herbal Facial Oil from Ann Marie. I not-so-secretly love that he uses it because it smells amaaaazing. Again use code MAVEN15 to save 15% off your first order.
As I mentioned, I view this post as a work in progress so if you have any specific product requests please let me know in the comments below and we'll update this post as we find and test more.
Like this post? Here are a few others you might enjoy: