Another year. Another SOUPER SUNDAY! Souper Sunday has officially come to an end and still no Matzo Ball Soup (insert crying emoji). But seriously, I have been working on Healthy Matzo Ball Soup for 3 years and after 4 failed attempts this year I finally gave up…maybe next year!
But besides my ball flop, I still shared 7 delicious soup recipes that have graced your kitchens and my own. I wanted to go through these recipes, because they could all use a little extra showtime and also point out the ones I've been particularly obsessed with. Let's go!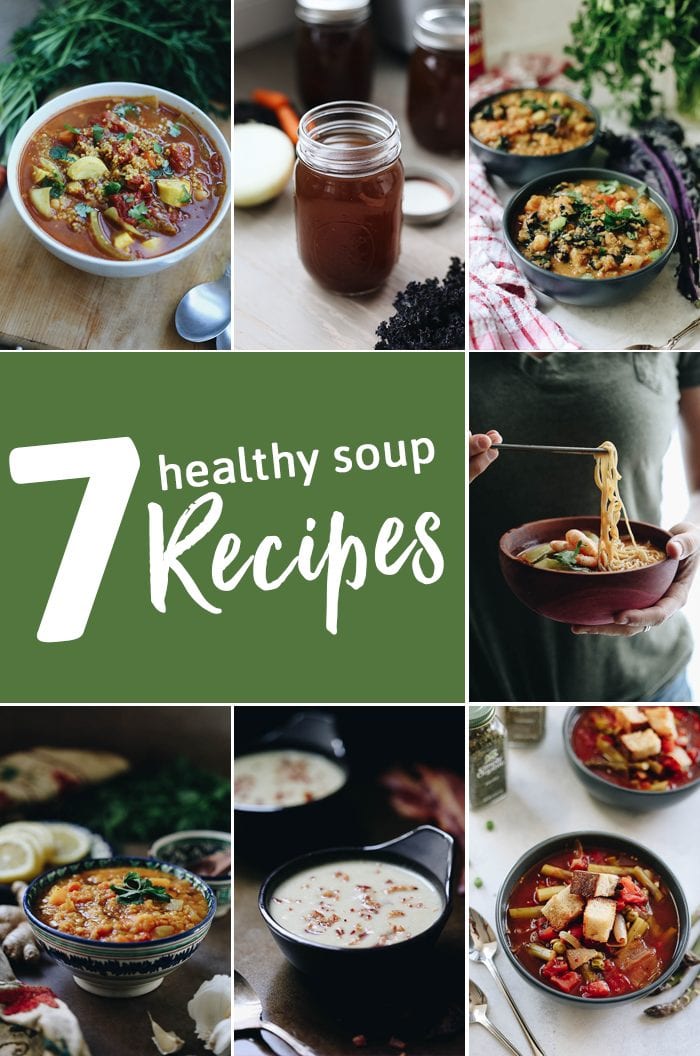 I knew this was the soup recipe I'd be kicking off this year's Souper Sunday with since I've made it a gazillion times since last year's Souper Sunday. Sometimes I decrease the liquid and eat it more as a stew. It's so filling!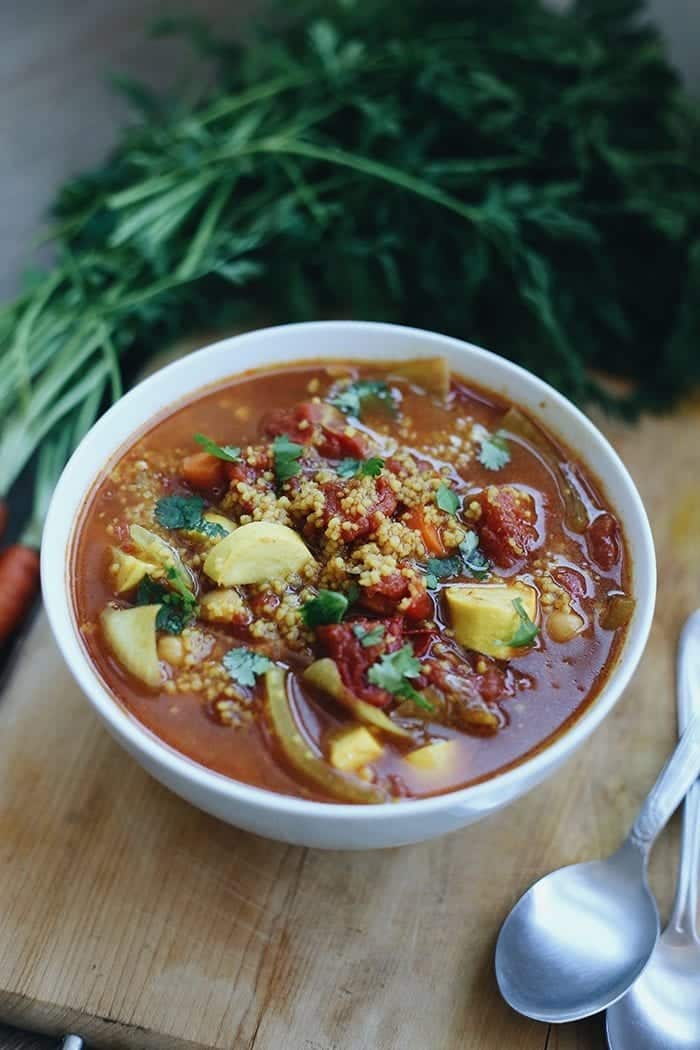 I figured I should probably back up and show you guys how to make vegetable stock seeing as most of my Souper Sunday recipes are vegetarian (or can easily be made vegetarian). Also it's the easiest thing ever and makes you feel less badly about all those veggie scraps. Plus it's slow cooker friendly!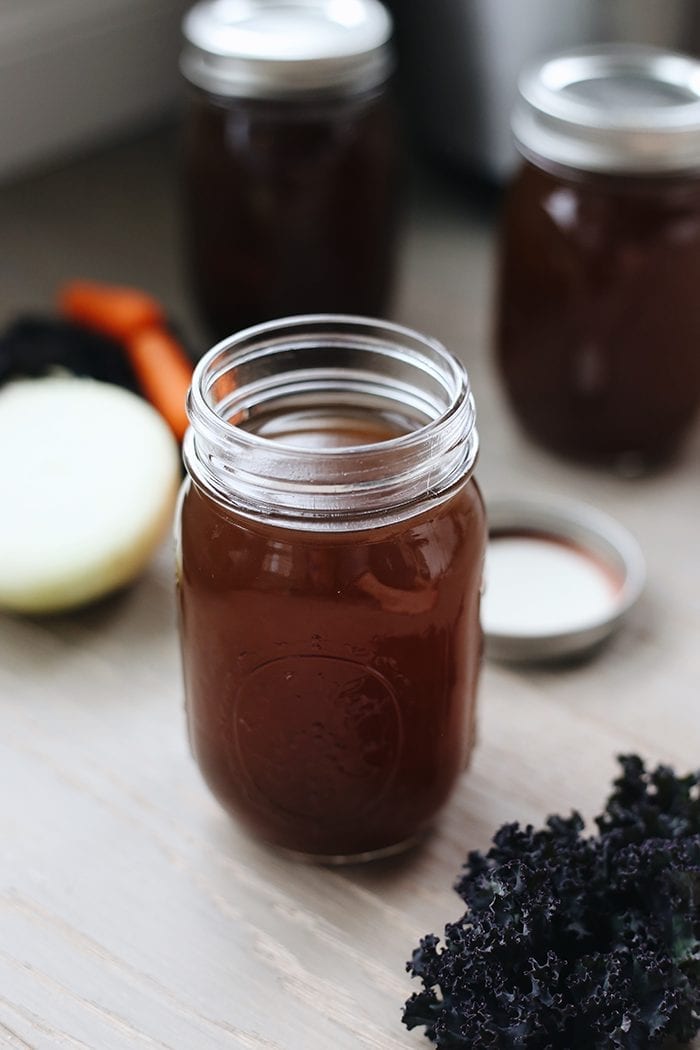 This is a THM classic and honestly, it's a great way to use up whatever veggies you have on hand. Feel free to get creative and sub the kale with whatever veggies you have on hand. It's easily customizable!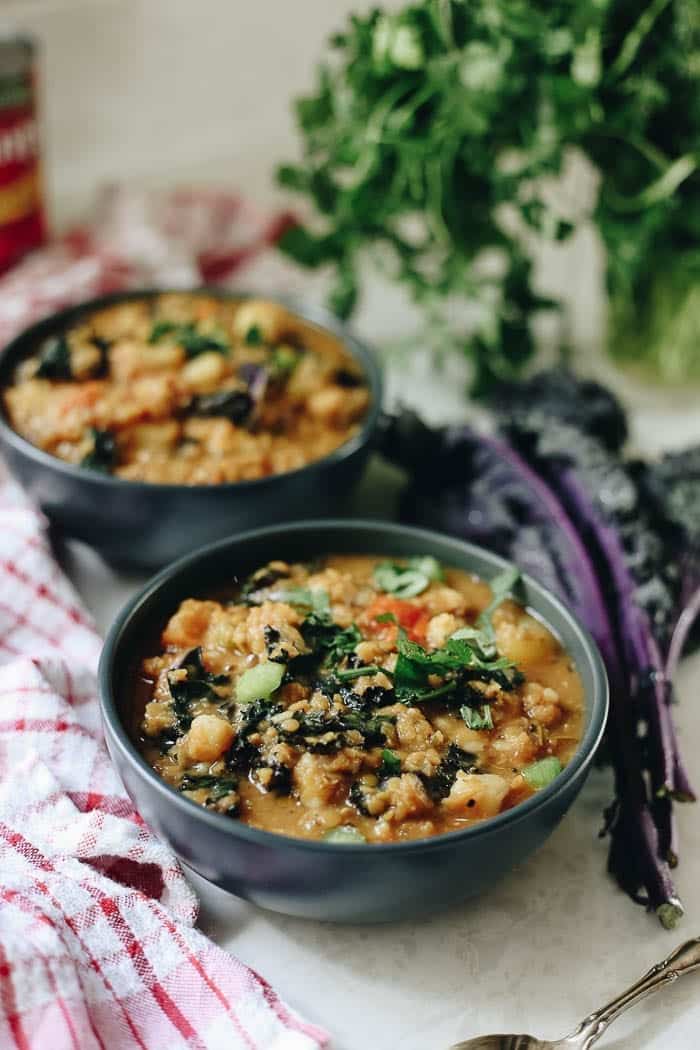 By far my favorite soup recipe of the whole series and I've loved how many of you have shared how much you've loved this one. With or without the shrimp this recipe will become a classic. I promise!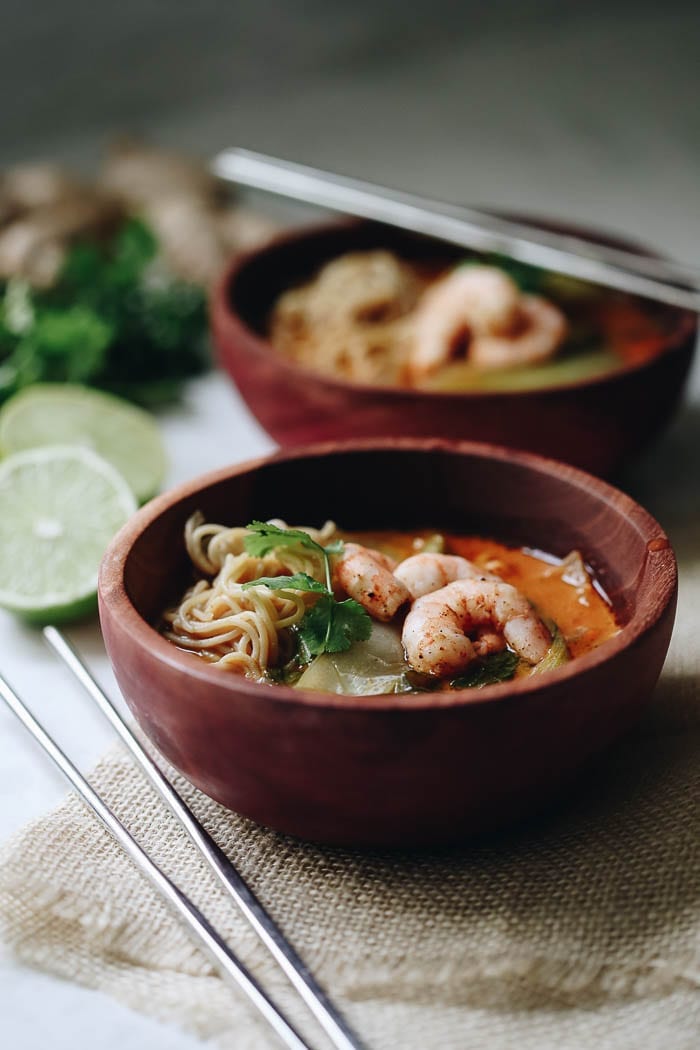 I can't take any credit for this recipe! My girl, Laura from The First Mess shared this one in her amazing plant-based cookbook that came out a few weeks ago. I've made so many recipes from this book. It's insanely good!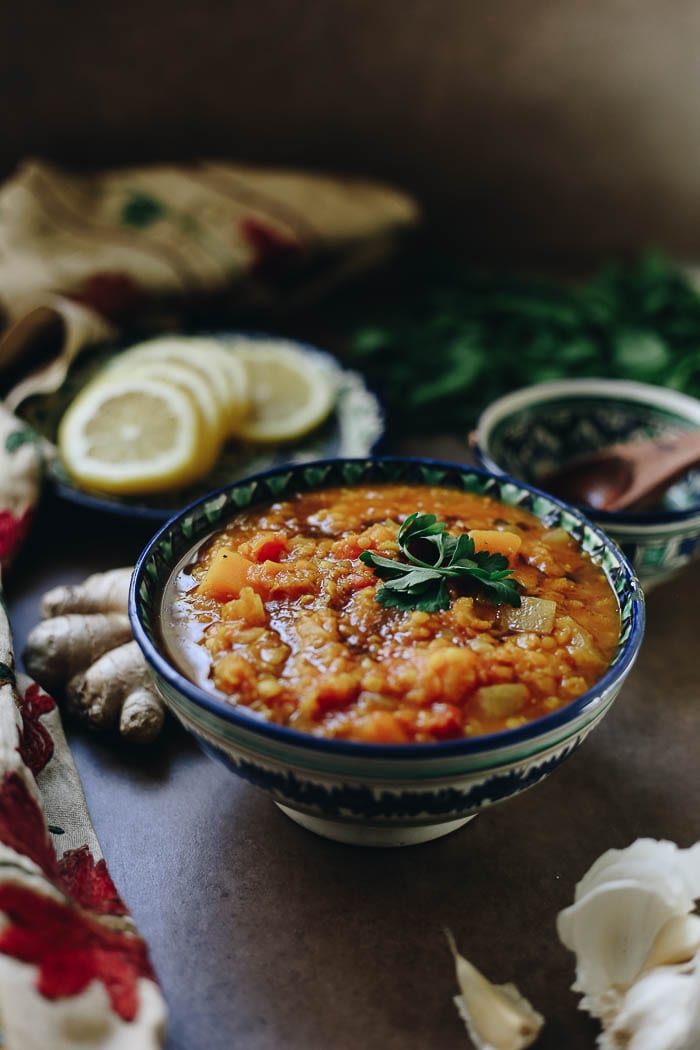 Bacon…need I say more? The recipe was dedicated to my bestie who can't do citrus, tomatoes or dairy so it's a perfect recipe for her when she moves into her new kitchen. Did I mention bacon?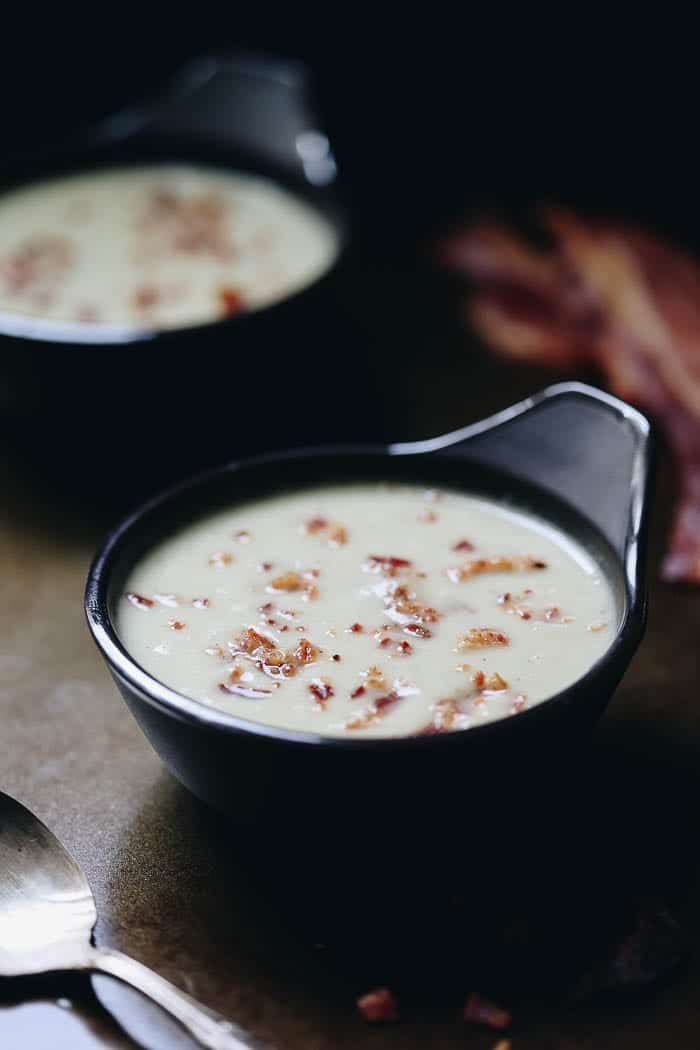 I feel like I always reach for the same grains so I thought I would change things up and use some less-popular millet. In the process I've become millet obsessed! Seriously, I've gone through 3 bags including in this mushroom millet soup.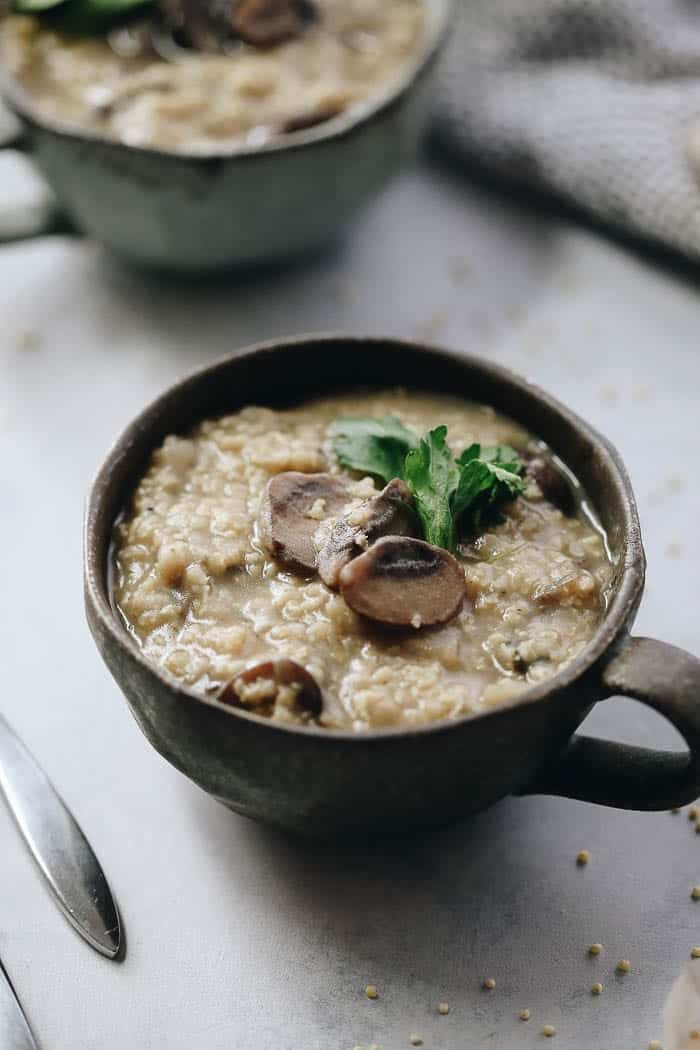 I thought I'd end things with a bang so I shared this Spring Vegetable Soup w/ Garlicky Croutons as the final souper sunday recipe. It's the perfect transition soup if it's still snowing outside (#CanadianGirl) or you just need a little extra warmth. Also the garlicky croutons are addictive. As addictive as TJ's Chocolate Covered Almonds…savory style.
So What's Coming Up Next?
–Video: As you can tell, video is increasingly becoming a big part of THM. I have been loving connecting with you guys on this platform and sharing my journey. You can bet there will be more recipes to come, but I also want to explore more lifestyle themes including, green beauty, wellness and of course, more Maven Chats.
Subscribe to the THM YouTube channel!
And check out my latest video where I'm sharing What I Packed for Florida and a behind-the-scenes look at what Press Trips are really like:
–
The Podcast:
Getting to interview some of the coolest people I know and don't know has been the most rewarding project I've worked on and
–Travel: I leave for Toronto tomorrow and have a few trips lined up over the next few months. I've got some Bay Area adventures (Yosemite we're coming for you!) and some more work trips coming up. Stay tuned!
At the same time, I have no idea what the future has to hold. I'm in the strangest industry that could literally evaporate tomorrow (please don't!) and quite honestly, trends are becoming so insane and unpredictable. In the last year instead of stressing about the future I just let things happen both personally and professionally. Personally, I've run into some serious road blocks and I won't pretend it's been an easy ride though I'll say I'm in a much better place now. Professionally, it was hard at first to just go with my intuition and let go of trying to control the future, but as soon as I did I finally felt like things were going well.
I was pushing against the current by trying to build a business I wasn't happy or excited about. It wasn't a cake walk to start doing things my way, but it was worth it in the end. I'm learning to apply this to my personal life and just let things play out as they should. I'll keep you posted 🙂
Would love to hear what's been going on with you guys! Feel free to drop an update below or join the THM Tribe so we can get to know each other better. It's an awesome FB group where we talk about things that excite us, enrage us and just have a nice supportive community of people. Would love if you joined!
JOIN THE THM NEWSLETTER
Join 20,000+ members of the THM Community to get access to exclusive recipes, healthy lifestyle tips and behind-the-scenes news from our team!