I apologize in advance for the length of this post! Half of my two week trip out West was spent in Park City so naturally I have more to say and wayyyy too many pictures. Instead of just photo-dumping on you, I thought I would share with you my honest and real reviews of where we ate, went and stayed on our trip. Do I need to include a disclosure if my parents paid for the trip?! Why not. My amazing and generous parents paid for this trip but all opinions are my own.
Speaking of parents, let's revisit the cast for today's programming….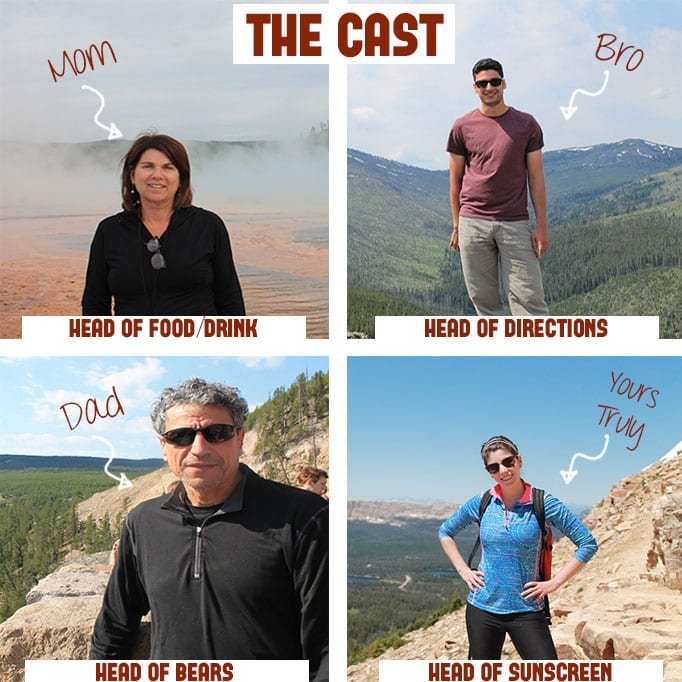 Now onto the good stuff.

Marriott's MountainSide Resort. If you know my family, then you know our obsession with Marriott's. If there's a Marriott where we are going, that is where we will be staying. We had a two bedroom suite with a full kitchen. The resort was definitely tailored more towards winter activities and somewhat overrun with small children, but our room was large and had everything we needed. Only complaint was not having a balcony.

Most of our activities involved hiking. Note: we are terrible hikers. By this I mean we get lost almost every single time but by the end of the trip we improved. Here are my favourites from the week:
Mirror Lake and the Highline Trail. This was probably the quietest and most serene hike of our trip. We ran into a few groups who had been camping along the trail but for the most part we were on our own. The trail is peaceful though not well marked. This hike offered some great views of the Uinta mountains. Afterwards we stopped by Mirror Lake (30 seconds from the Highline Trailhead) for a spectacular view.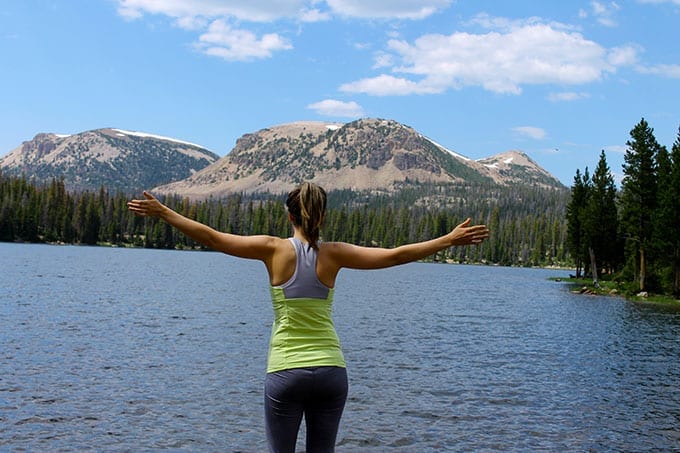 Tanger Outlet Mall shopping. My poor wallet but I did get some awesome steals at J.Crew, Gap and American Eagle.
Bald Mountain Trail. Bald mountain is apparently the highest peak in the Uinta range and though a tough hike, it's supposed to offer one of the best vistas in Nothern Utah. I can confirm that yes, the hike was challenging (straight up and hard to breathe in the elevation) and while the views were amazing on the way up, we couldn't get to the top due to SNOW. Yes, the trail was blocked by a snow patch in July and I wasn't willing to risk my life getting to the top.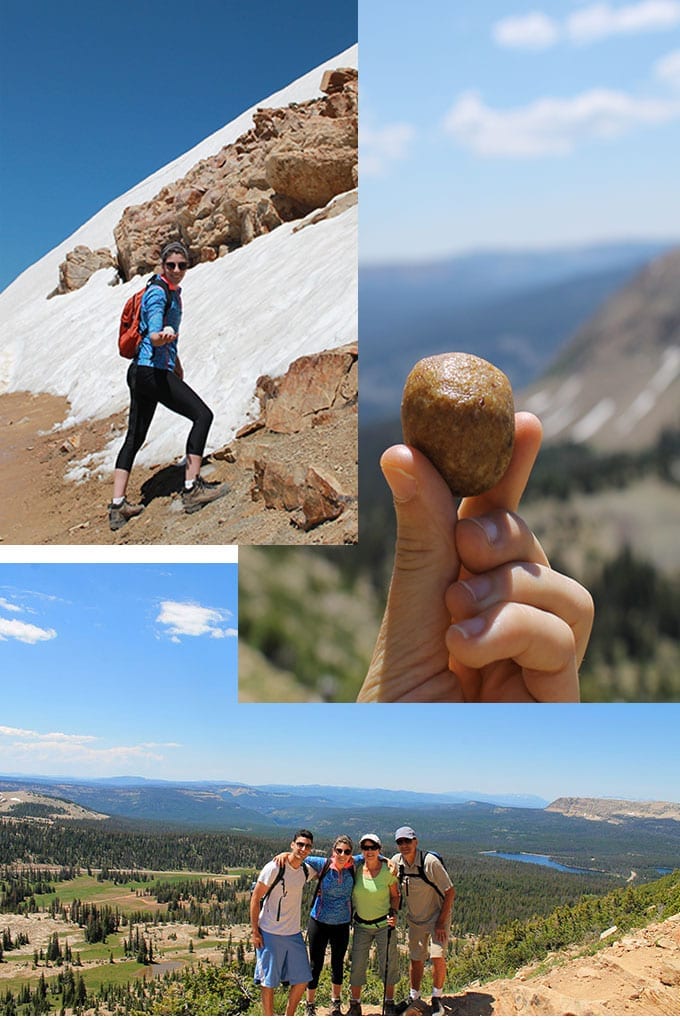 Mountain biking at Deer Valley. Soooo don't attempt this if you have ZERO mountain-biking experience. I'm a descent city biker but failed epically at mountain-biking. I partially blame my lack of experience and the fact that we chose some challenging hills at Deer Valley which didn't offer any beginner trails as an option. I would recommend hiking up to the top though if you're not into mountain biking. I ended up doing one run on the bike but after falling five times and knocking the chain off my bike, I called it a day. I then took the chairlift back up and gave the bike to my dad to ride down and hiked down with my Mom. I really enjoyed the hike!
Sundance and Stewart Falls Hike. One of the highlights of my trip! We took the chairlift up (which I recommend) that offered spectacular views of the property and then hiked down to Stewart Falls, which were gorgeous! The best part was hiking down from the falls to the Sundance property and turning around to see an absolutely stunning view.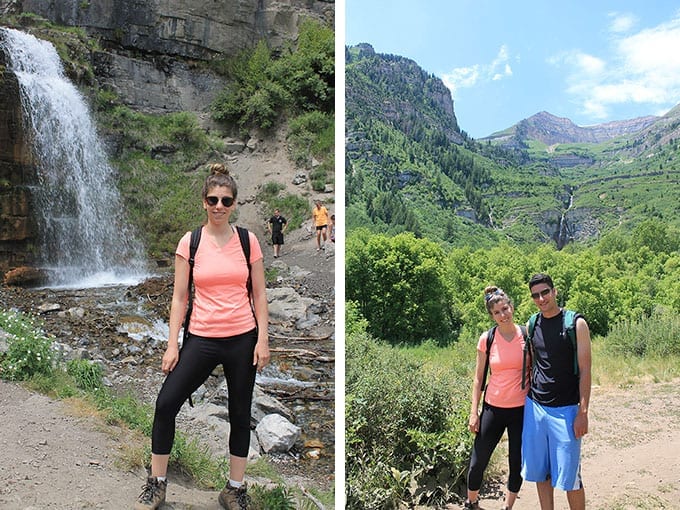 Olympic Village at Park City. There is an awesome tour of one of the sites for the 2002 Salt Lake City Olympic games in Park City. Our tour was actually led by a 3-time olympian and it was awesome. We also got to watch the ski jumpers in their summer training and if I hadn't been feeling sassy I might have attempted the Bobsled or zipline features. Definitely recommend!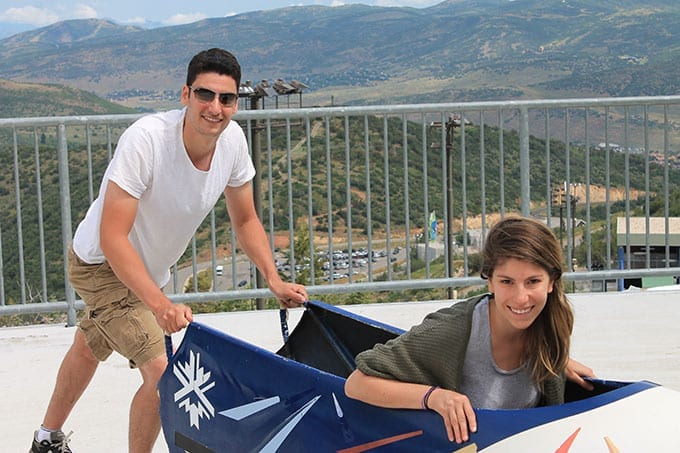 We ate most breakfasts in our hotel (i.e. A LOT of overnight oats) and lunch was generally peanut butter and banana sammies. We ate out for every dinner and here are some of the highlights.
Bandits Grill & Bar: Nothing fancy but it was good quality food. Warning to those who order the chicken, it's enough chicken to feed your entire family!
Purple Sage: One of my favourite meals of the trip. I ordered the chimichurri steak and fries and it was to die for. We all agreed that it was awesome food. Pictured is my Mom's duck.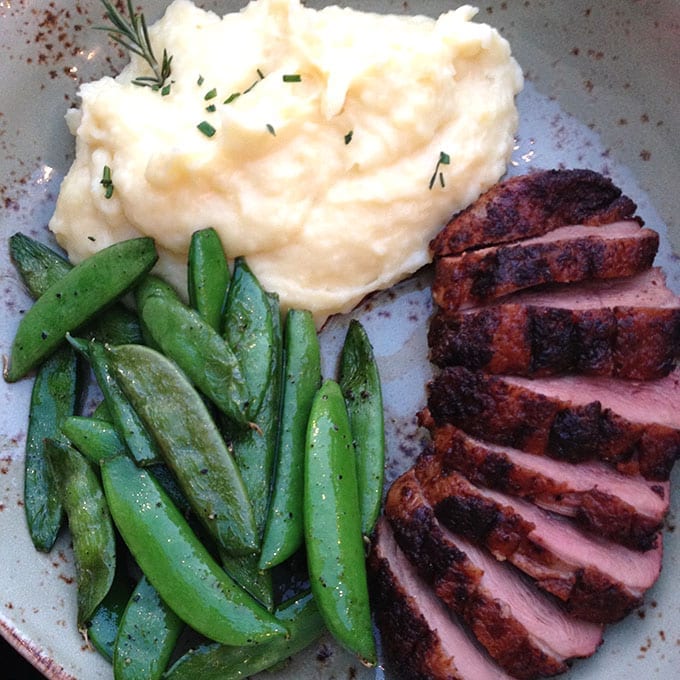 Great Harvest Bakery: C's Mom got me hooked on this chain which offers great gluten-free bread and treats. We went there twice and both times I ordered a turkey sandwich on gluten-free bread. Come to Canada GHB!
Squatters Roadhouse Grill: Didn't love the food, but they do have a ton of gluten-free and vegan options. I got a buffalo burger on a gluten-free bun and a side salad but there just wasn't much flavour. They make their own beer though so if you're into trying local beers, this is your place.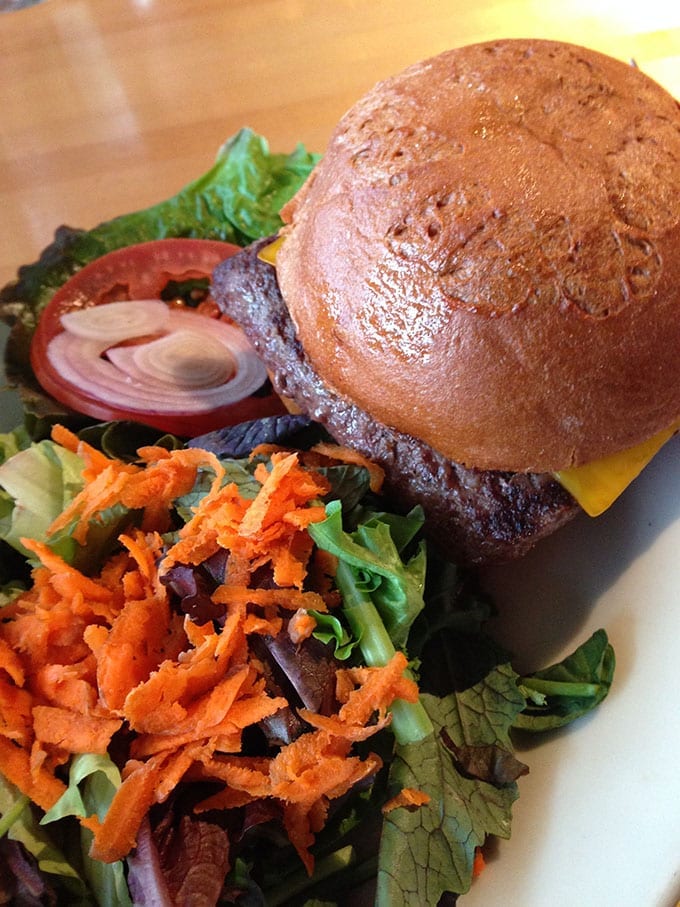 Bangkok Thai: I was surprised to find such delicious thai food in Park City. Great meal and awesome wine selection. A bit on the pricier side for thai food but everything was great (especially the sea bass) so no complaints!
Talisker on Main: Probably the fanciest meal of our trip. Service was kind of meh but the food was excellent. I LOVED my buckwheat veggie risotto and the desserts (especially the chocolate mousse with pistachio ice cream) was incredible.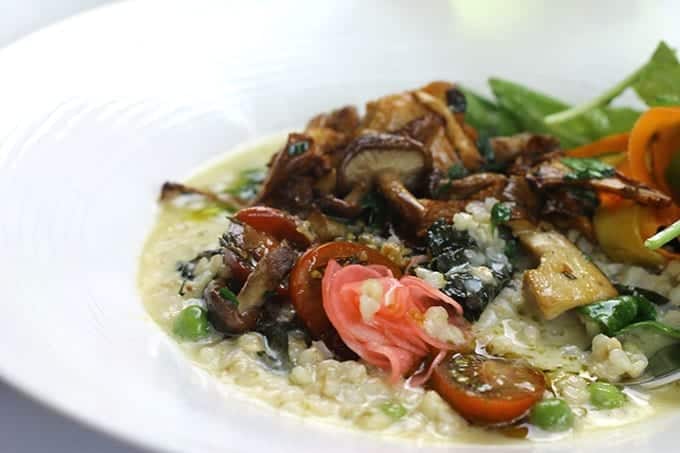 In addition to a lot of activity and incredible food, we also enjoyed quite a bit of wine (vacation!). If you're interested I can do a round-up of the best bottles we enjoyed. I love vacationing with parents…
Next up was Jackson, WY which was my favourite part of the trip. Stay tuned!
Have you ever been to Park City? What's your ideal vacation? Mountains? Beach?
JOIN THE THM NEWSLETTER
Join 20,000+ members of the THM Community to get access to exclusive recipes, healthy lifestyle tips and behind-the-scenes news from our team!