I know, I know, I'm in San Francisco so I don't *really* need a winter coat but we do travel a lot so I own one for the chilly adventures! Also let's not forget I'm a born and raised Canadian and lived through 27 winters. Looking for a sustainable winter coat? I've got you covered.
I've shared what sustainable fashion is and the importance of it as well as my favorite sustainable fashion brands but I wanted to get specific and share some sustainable winter coats for you babes that might need a new coat but want an eco-friendly option. Most winter coats are a financial investment but if you invest wisely and take good care of them, they can last a really long time. Keep the cost per wear in mind when shopping for your winter gear… and buy a high quality, sustainable coat that will stand the test of time. Everything from trench coats to puffer jackets, I've got suggestions for you below!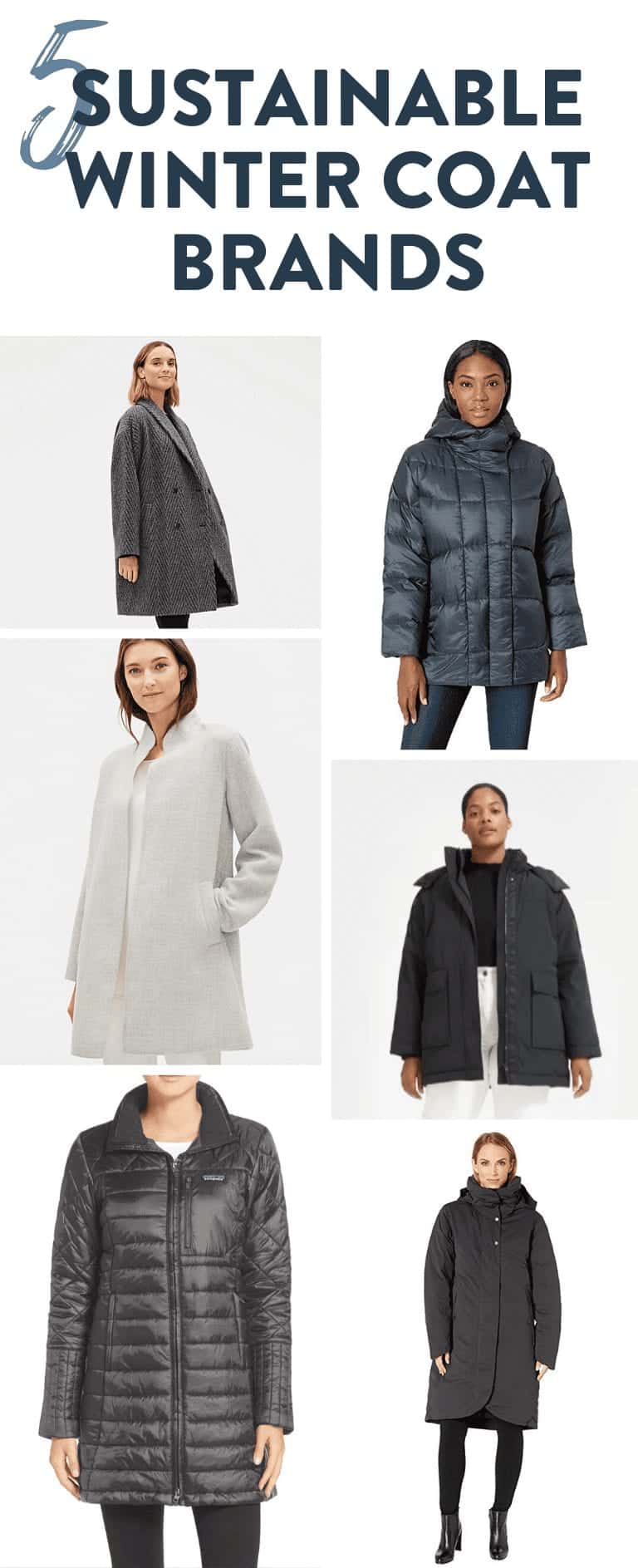 Eileen Fisher – Eileen Fisher has been in the sustainable clothing business since before I was born! They're the OGs when it comes to sustainable clothing and are known for their durability and long-lasting wear.
Ethics: They are really transparent about their supply chain, fabrics, employees – basically all areas of their business. They use recycled materials (cashmere, nylon, polyester, and cotton) and are conscious of the standards of where their wool comes from. They know exactly what farm, how the animals and land are being treated and hold their farmers to the highest standard.
Price Range: $400-800
[show_boutique_widget id="879836″]
---
Everlane – Another highly represented brand in my closet! Everlane recently launched a line of outerwear using post-consumer recycled polyester which I was really excited to see!
Ethics: They don't explicitly indicate being more sustainable, but they are 100% transparent about their supply chain. They would be considered a "slow fashion" brand as many of their items are made to last and aren't produced at a rapid pace to meet changing trends. Their focus tends to be more on ethical wages and working conditions, which is of course, a start.
Price Range: $150-200
[show_boutique_widget id="879852″]
---
Patagonia – The winter coat I have and love is from Patagonia! I don't see myself having to replace it anytime soon. They have a huge selection of coats
Ethics: They take their social responsibility and environmental impact seriously – always assessing their factories, the fabrics/materials, and the methods used to make their products
Price Range: $200-800
[show_boutique_widget id="879849″]
---
Nau – Nau started their company so you didn't have to choose between high performance and sustainability. So cool! They make clothes that last, using sustainable materials and practices, and give back 2% of every dollar spent directly to grassroots environmentalist causes.
Ethics: I love their education on this page of their website – they have committed to using the 10 most sustainable textiles to make their products including recycled polyester, organic cotton, and recycled down.
Price Range: $230-400
[show_boutique_widget id="879867″]
---
Reformation – Reformation makes the list again! I should do an audit of my closet to see how much is Reformation. ? No shame in loving this brand!
Ethics: They have a sustainability "RefScale" for every product to track the amount of carbon dioxide, water and waste generated through production and how this compares to traditional manufacturing in the US. They also provide a sustainability report every year to track their own measures.
Price Range: $200-500
[show_boutique_widget id="879862″]
Like this post? Here are others you might enjoy:
JOIN THE THM NEWSLETTER
Join 20,000+ members of the THM Community to get access to exclusive recipes, healthy lifestyle tips and behind-the-scenes news from our team!