I have shared so many travel tips over the years – what to bring car camping, how to survive a road trip and even life hacks for frequent travelers. What I realized is that I haven't combined my passions for travel and sustainability because the reality is, travel can be super wasteful. SO I'm dedicating this post to zero waste travel tips because it's possible! Trust me.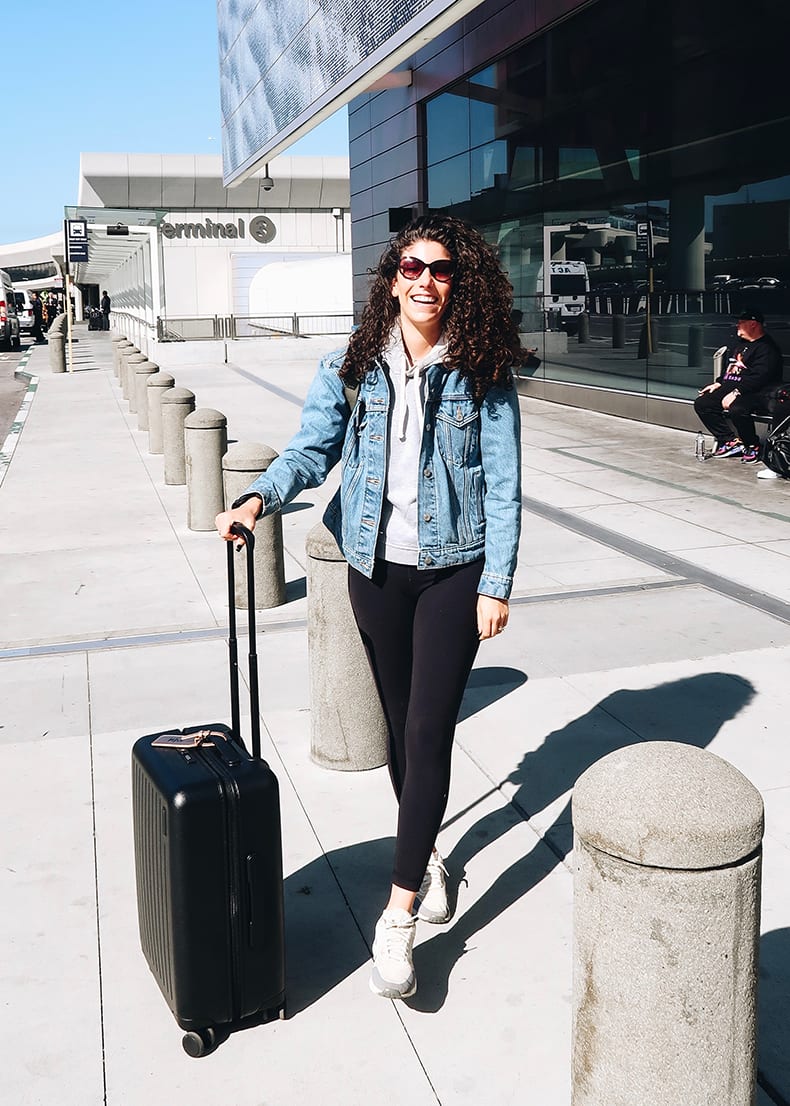 ECO-FRIENDLY TRAVEL TIPS
1. Bring a reusable water bottle.  It still surprises me how many people forget to travel with a water bottle. There is nothing worse than being trapped on an airplane with no water… yes of course you could get some from the drink cart but all of those plastic cups are so wasteful! I always make sure my water bottle is completely empty and once I'm through security, I refill it at one of the countless water fountains and I'm set for the plane ride! If I run out I always ask if they'll pour water directly into my water bottle.
2. Invest in reusable travel sized bottles. Using hotel toiletries is such a waste! There are really cute and practical glass travel containers that will last your entire lifetime. Stop buying the single use toiletries and simply put a little bit of your go-to products in reusable containers. If you're not prepared to invest in glass, just grab the most recent ones you used and keep refilling them for a pro zero-waste travel tip.
3. Pack a straw. I don't know why but I love drinking cold drinks out of a straw. I have been known to carry around a stainless steel straw or two in my bag just in case the occasion calls for a straw! I recently came across these silicone straws that come in carrying cases and I might need to pick them up.
4. Bring a coffee cup or travel mug. If you know you'll be hitting up a coffee shop at some point, pack your own coffee cup or travel mug. I always feel so good when I bring my own travel mug into a coffee shop so I don't have to take a disposable to-go cup. I also love having this for early morning airport trips so I can grab a tea or coffee in a reusable cup.
5. Bring reusable utensils. You never know when you're going to need utensils… I like to keep a set in my bag so I'm ready at any time and don't need to use plastic ones at the airport or if I'm on the go.
6. Pack reusable ziplock bags. Are you seeing a theme here? There is so. much. waste. when it comes to carry-out food. Pack your own snacks and meals in storage containers and reusable stasher bags.
7. Invest in high quality luggage. We've all been there – you buy the cheapest luggage and then one year later the handles are falling off and zippers are broken. Lucky for you… and me, Brandless now has a travel line and it's just as amazing as their other products. The Brandless Travel Collection saves the equivalent of 80+ plastic bottles from entering landfills and oceans. The best part? All of the pieces are affordable so you can feel good about the quality of your luggage without breaking the bank.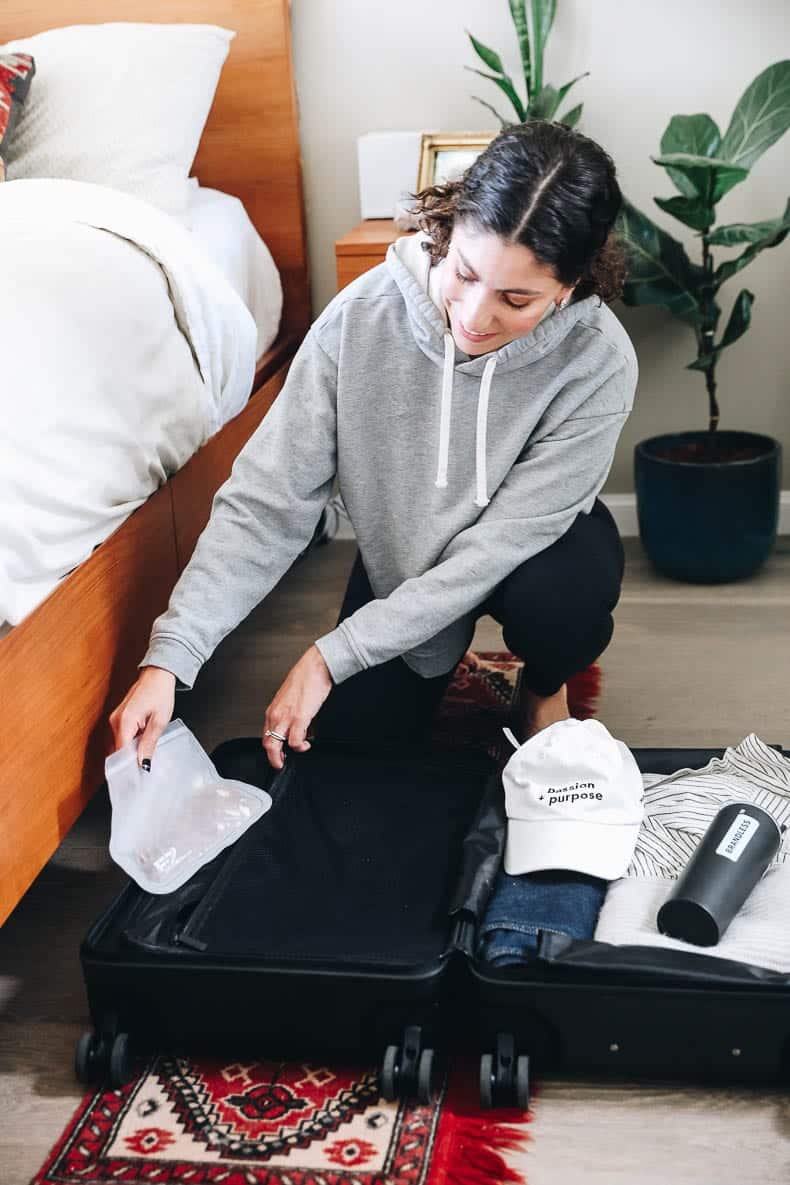 AN IMPORTANT MESSAGE
Zero waste travel and sustainability is not about perfection. Anne Marie Bonneau said it best:
"we don't need a handful of people doing zero waste perfectly. We need millions of people doing it imperfectly."
There will be times when your sandwich comes wrapped in plastic or you forget your water bottle. It happens! That doesn't mean you don't drink water or eat lunch. And of course, plane, train or car travel isn't the most sustainable either (unless you're in an electric car – dream!). It's okay to be imperfect, just do your best to plan ahead and do your part. Travel is meant to be enjoyed so don't get yourself in a tizzy over it and just try your best.
Did I miss anything? Next time you travel make note of when you're tossing things in the trash or better yet, be prepped with these items so you aren't wasting!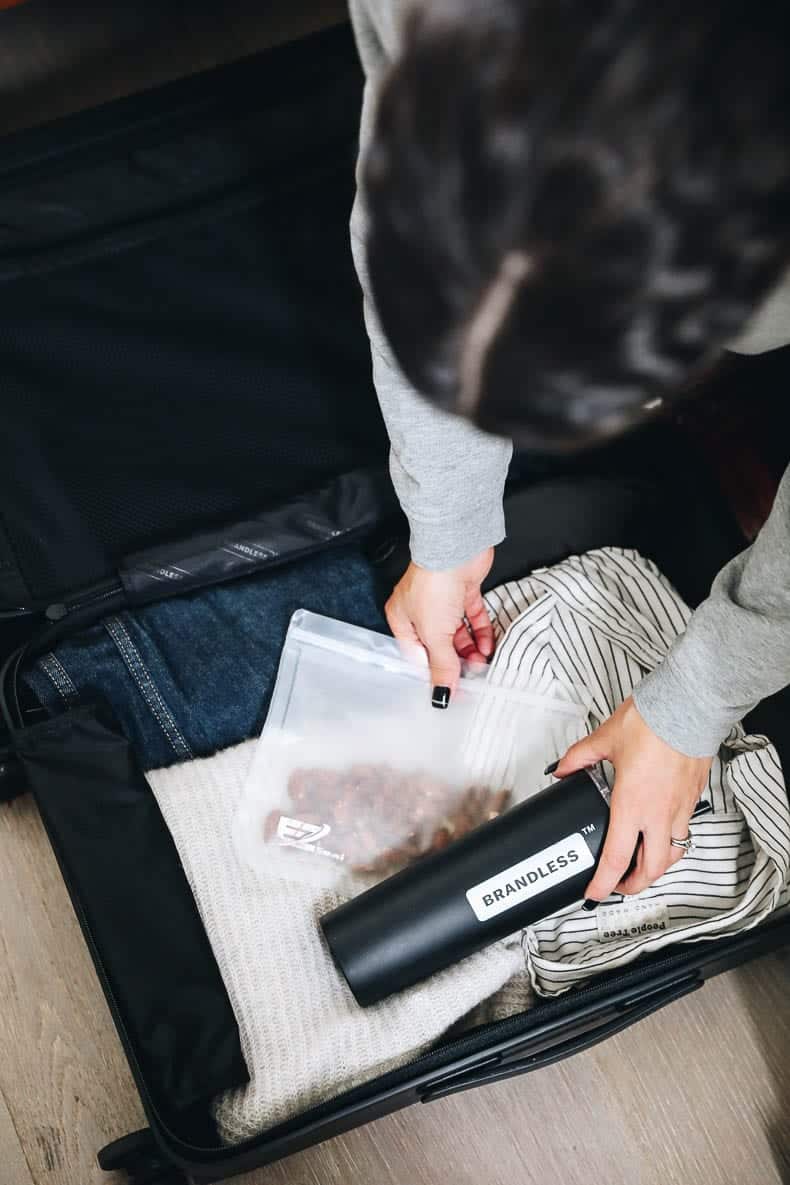 Let's get travelling! Here are some of my favorite trips:
Disclaimer: This post is sponsored by Brandless.
JOIN THE THM NEWSLETTER
Join 20,000+ members of the THM Community to get access to exclusive recipes, healthy lifestyle tips and behind-the-scenes news from our team!