The move is done! I know all of you lovely people have been asking for pictures and trust me I wish I had something to show you, but currently I am writing this as I lay sprawled out on a rug (our only possession) on the floor. Unless Martha Stewart has declared air mattresses as the new "it" bed, I'm pretty sure our home furnishings could use some work…
Fortunately our kitchen is fully stocked and functional (priorities people) so I'm still able to eat/take out my moving frustrations on the oven. AND now that I'm in my own place I'm allowed to keep the stand mixer in all its glory out on the kitchen counter. Truth-be-told I have no need to furnish the rest of the apartment when I can stare at my red beauty all day long.
While it is all kinds of awesome having full control over the kitchen (and fridge!) I am somewhat distraught over having lost half of my food prop collection. Growing up I rolled my eyes at my Mom's belief that "everything has a dish". Hummus goes in a special bowl, milk in a carafe and there are at least 5 different options for pickles…yes pickles.
I honestly never understood or appreciated this until I started this blog 11 months ago. In that time I swear I look at dishes differently and my Mom's collection of serving pieces in our basement has become a food blogger's mecca! Besides obviously missing her phone calls to my bedroom while she is upstairs, I also miss her bowls 🙁
As this was the final dish I made in my childhood home, I consider this beautiful recipe an homage to the gloriousness that is my Mom's food prop collection. I'll miss you.
Print
Sweet Potato Rice Pudding
1/2 cup

brown rice (I used short grain)

4 cups

unsweetened non-dairy milk (I used a mix of coconut and almond milk)

2

T honey (or agave for vegans)

1 1/2 tsp

vanilla extract

½ tsp

ground cinnamon

1 cup

mashed sweet potato (about

1

medium)
Instructions
If roasting sweet potato preheat oven to 400 degrees F. and roast for 40-50 mins in tinfoil. Remove from oven and let cool before cutting open and scooping out 1 cup. OR microwave on high for 4-5 mins on a paper towel or microwave safe dish. Let cool and cut open to scoop out 1 cup.
In a large saucepan add rice and non-dairy milk.
Bring to a boil before decreasing heat to a simmer.
Let simmer for 40-50 mins, stirring occasionally.
Once all liquid has been absorbed and reached pudding consistency add honey,vanilla, mashed sweet potato and cinnamon.
Add additional milk if pudding is too thick.
Remove from heat and serve.
Will keep in refrigerator for several days in an airtight container.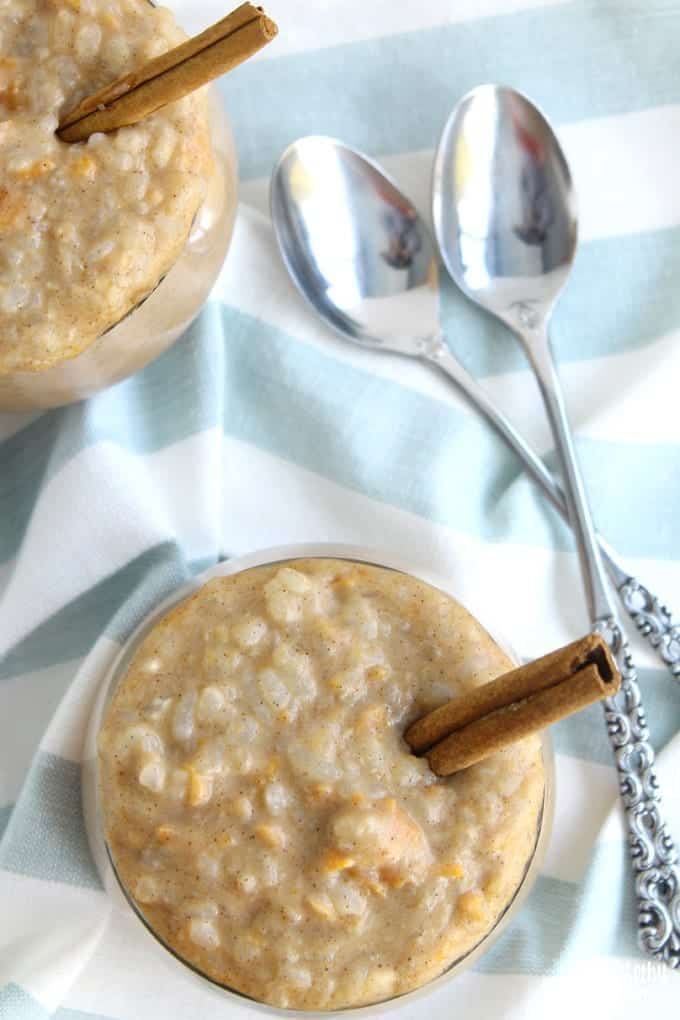 Does "everything have a dish" in your home? Where do you buy your food props? Can you spot me in the spoons?
JOIN THE THM NEWSLETTER
Join 20,000+ members of the THM Community to get access to exclusive recipes, healthy lifestyle tips and behind-the-scenes news from our team!