I still can't get over the fact that we brought Bodhi home almost exactly a year ago. This year has flown by but also has felt like Bodhi has been a part of our lives forever. Adding Bodhi to our little family was the best decision C and I made and also one of the best choices I made for my health.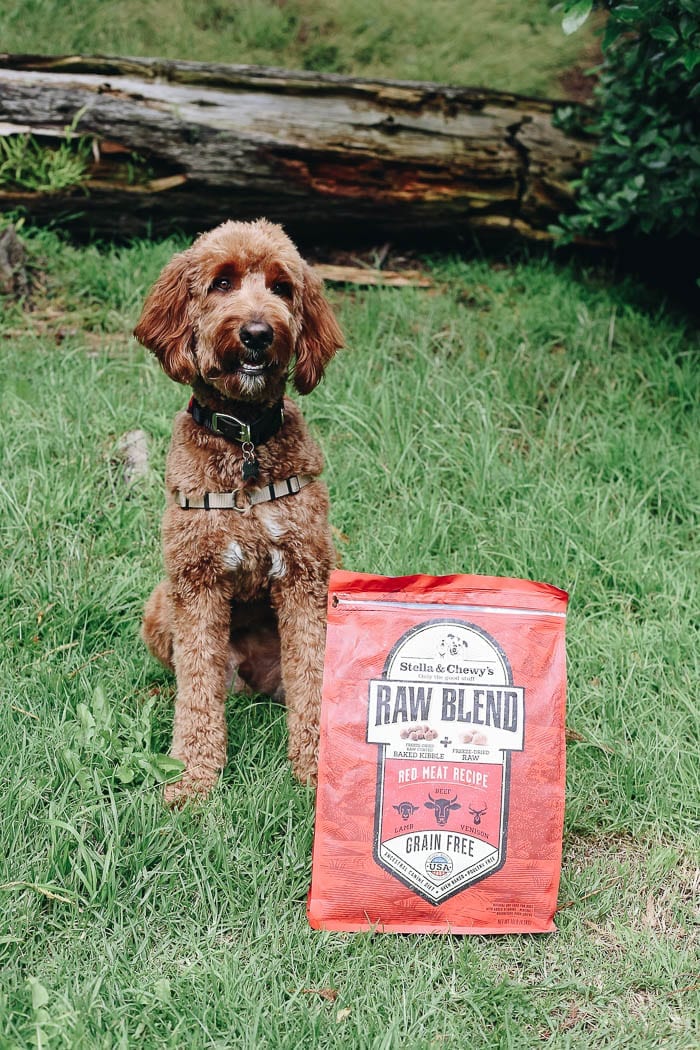 But bringing home a puppy hasn't come without its challenges. Though C and I had both grown up with dogs and had watched my bestie's dog Rhett for the year before getting Bodhi, there were certain things we weren't prepared for. Neither of us had personally trained a dog or knew what to do when it comes to their health. There's so much information swirling around that it's hard to know which shots to get, how often to brush their teeth or what in the heck they should be eating (among many other things…).
All of this was compounded by the fact that we quickly discovered that Bodhi had contracted giardia and it took multiple rounds of deworming (and subsequently destroying his gut flora at 9 weeks!) to actually get a handle on it. It took several months before the poor guy had a normal bowel movement 🙁
Now as someone who cares deeply about their own health, it's no surprise I took the same kind of interest in Bodhi's. I certainly wouldn't wish a parasite on any pet or pet-owner, but it did force me to dive head first into the dog-food world and discover what's really going on. Along the way I've learned quite a bit and I'm excited to share all of that info with you!
Disclaimer: This post is sponsored by Stella and Chewy's. This is the food we actually feed Bodhi so I'm thrilled to be partnering with them on this post. I was compensated for my time, however all opinions expressed are 100% my own.

WHAT SHOULD I BE FEEDING MY DOG?
First things first, every dog is different. Every breed has different qualities and different goals and as such, their food and feeding styles will look different. Beyond that, dogs are also like humans in that their preferences and ability to digest different foods will vary. Some dogs have stomach's of steel while others may have a whole list of allergies. Paying attention and educating yourself on these things is the first step when it comes to finding the right way to nourish your dog.
But also like human food, there are some baseline things to be conscious of and lookout for when it comes to picking your dog's food. I also take the same approach to Bodhi's diet as I do for my own:
Nourish your body with good quality food, but don't aim for perfection. Find foods that fit into your (and their) healthy lifestyle, but don't force your lifestyle to revolve around health.
Here are some good rules of thumb when it comes to picking out the best food for your dog:
1. Avoid overly processed food
Similar to human food, overly processed food is lacking in vitamins and minerals and really offers no benefit to your dog. That doesn't necessarily mean you need to put your dog on a 100% raw food diet (more on that below), but check to see how your dog's food is being cooked. I love Stella and Chewy's because their food is raw, cold-pressed or gently oven-baked so it maintains the quality of the ingredients!
2. Quality over quantity
If there's any point to take home from this post, it's this one. I can't even tell you how many people I talk to who either a) have no clue what's in their dog's food or b) no idea where it's coming from. I've talked about how important it is that we fill our home with organic food, and Bodhi's food is no exception. Bodhi is a big, energetic dog who requires a substantial amount of food to support his energy. A lot of this food comes from animal sources and making sure that the animal products he's eating are coming from good quality meat is of the utmost important to us. In the same way that I don't eat crappy, conventional meat or seafood, the same goes for Bodhi.
Stella and Chewy's food is made from grass-fed, cage-free or wild-caught meat and seafood with no added hormones or antibiotics. Their vegetables are 100% organic and they are completely transparent about their sourcing. This gives me the utmost peace of mind when it comes to what we're feeding Bodhi.
3. Take it slow
Dogs have sensitive digestive systems and you shouldn't make drastic changes in their diet quickly or all at once. Give your dog 10 days to 2 weeks of transitioning between food before assessing how they're adapting to it. Changing your dogs food overnight is a recipe for disaster (and won't be fun for you!).
4. Add supplements (if needed)
Check to see if your dog food is adding in supplements and if so, what they are. Stella and Chewy's has a comprehensive list of supplements so we don't give Bodhi any additional supplementation with the exception of a probiotic if his stools aren't looking so good (it happens!). Feeding a brand of dog food that includes the appropriate supplements for your dog is essential and if not, ask your vet about a multivitamin or list of vitamins you may want to incorporate.
5. Don't be militant about it!
Your dog is going to be sneaky and eat things they shouldn't (i.e. the time I caught Bodhi with a fish carcass in his mouth…). So long as it isn't harmful to their health aka chocolate, you're going to have to accept that dogs will be dogs. While we don't feed Bodhi from the table, we do on occasion treat him to a peanut butter kong or give him a plate of bacon on his birthday. We love our dog and certainly don't hold back from letting him know it!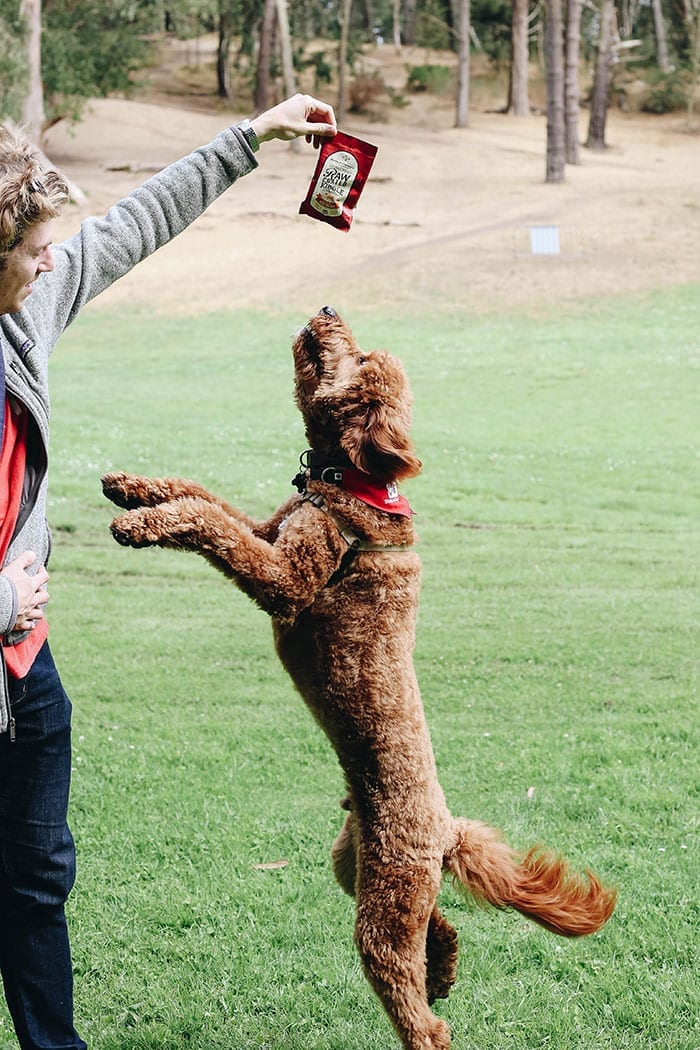 Here are a couple of other points I wanted to cover:
Should your dog eat raw?
I think raw is a great option if your dog can tolerate it. The nice piece about raw feeding is that you know the food is rich in amino acids, fatty acids, proteins, vitamins and minerals that are automatically decreased when put through standard high-pressure cooking methods used by conventional dog food brands. That being said, raw is not for every dog. We chose to put Bodhi on the Raw Kibble Blend, which is a mixture of the freeze-dried raw food and the gently-baked kibble. It's easy, convenient and he absolutely loves it. His diet is mostly raw at this point and he seems to be thriving on it. Consult your vet before changing your dog's diet.
Should your dog go vegan?
Personally, I don't believe they should, but of course that's really a decision up to you. Dogs are omnivores who need quite a bit of protein to help them maintain their active lifestyles. Bodhi functions best on a high animal protein-based diet, but if you have moral objections or your dog appears to be allergic to certain types of meat, this is something you should discuss with your vet.
Should your dog go grain-free?
Again, this is a personal preference. A lot of people in the dog-food industry have an opinion on grains and whether or not to include them, but I really think testing out how your dog reacts to certain grains can be the ultimate indicator. Bodhi does not tolerate wheat or corn and I think a good rule of thumb is to avoid both (most dogs have a tough time with them), and any kind of processed grains. Some dogs can tolerate whole, unprocessed grains, but so long as your dog is getting enough carbs from starchy vegetables like carrots and squash or pulses and beans, grains are not an essential piece of their diet. All of Stella and Chewy's products are grain-free and gluten-free so they're a great option if your dog does not tolerate grains.
Does my dog have an allergy?
Some signs that your dog may have an allergy is trouble with their stools (i.e. too soft or difficulty going to the bathroom), frequent sneezing or itchiness. If you notice any of these signs, you may want to talk to your vet about transitioning your dog's food or putting them on an elimination diet to determine what is causing the allergy. However, we found that even the vet-recommended food for dogs with allergies wasn't well suited for Bodhi (or Rhett). Use your intuition and read the ingredients before switching.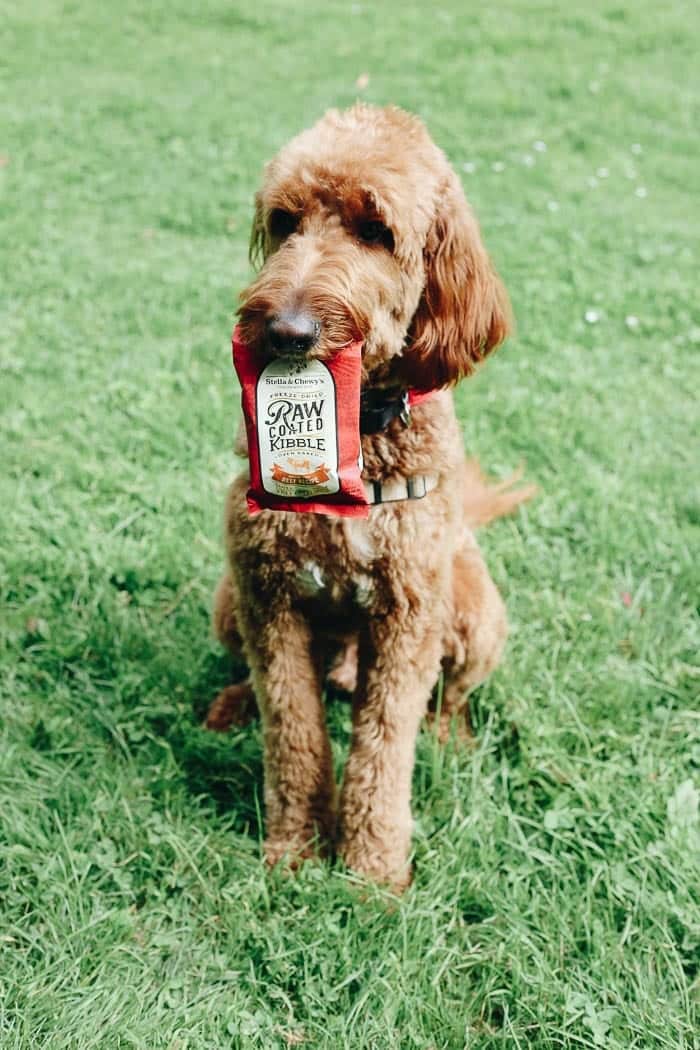 Literally everyone comments on Bodhi's coat and how shiny it is and honestly, we think it's because of the food! We also love how much he loves his food (maybe a little too much – he inhales it!) and that it's full of nutrient dense food to support his activity level. Goldendoodles are notoriously high energy so he needs food that can keep up with him. He also hasn't gotten sick once this year. Fingers crossed! If you guys have any questions about Bodhi, what we feed him or any other dog related questions, drop them below and I'm happy to answer them!
JOIN THE THM NEWSLETTER
Join 20,000+ members of the THM Community to get access to exclusive recipes, healthy lifestyle tips and behind-the-scenes news from our team!