If I had to sum up 2016 in one word, it would be "travel". Since the first week of January this year has been a whirlwind of flights, hotels, airbnbs and new destinations. It's been exhausting and exhilarating and has opened my eyes to a world I never knew existed.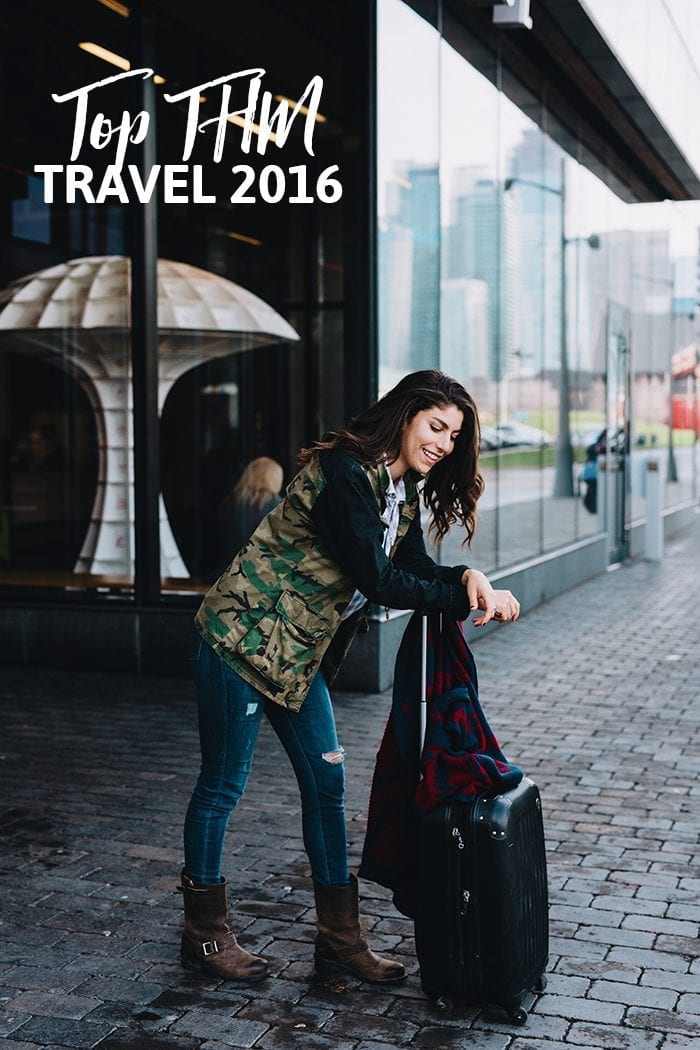 Image: Bettina Bogar
What I've loved most about it all is that I've been able to share these experiences with you. There were a lot of moments this year that have made me question humanities decisions or actions, but in some small way I hope I've been able to highlight that amongst all the craziness, there is so much beauty. I selfishly love to travel, but if I can inspire you to get outside and explore the world, I've done my job well.
I visited 15 destinations in 2016, of which I blogged about 10 of them. I made it my goal to capture as many trips as possible on video and I'm so proud that I actually succeeded at a goal (first time ever? possibly.) So with that, I wanted to highlight these trips and the best of THM Travel in 2016. I hope one or all of these can encouraging you to book a flight, hop in your car or make that dream trip a reality. It may be stressful, overwhelming and occasionally expensive but it is beyond worth it. Here's my top travel of 2016:
In February, team Fit Foodie Finds and I headed to the avocado capital of the world with Avocados from Mexico. We were welcomed so graciously and kindly by the farmers, the packers and the locals. But mostly, we just had so much fun exploring a lesser-known region of Mexico.
This was the perfect trip to kick off 2016! It rained quite a bit, but if you put Lee and I in a room together, we'll find a way to have fun. The team at Wellfit was incredible and I left feeling healthier and more on top of my goals.
A quick weekend getaway with Lorissa's Kitchen, but despite the short visit and INSANELY hot weather, we had a blast in Nantucket. I wish we could have stayed longer and gotten to see more of the island. I'll be back!
C and I went to NOLA for a long weekend and had SO.MUCH.FUN. Honestly, I don't think there exists a more fun city in the world. The music was incredible, the food was delicious and I left needing an IV of green juice but had zero regrets!
Our most recent trip and part #1 of our road trip out West! Besides totalling our car (whomp whomp), I was truly blown away by the beauty of the Badlands and cannot wait to go back and spend more time there. Definitely a National Park to add to the list!
On the second half of our Mexico trip, we headed to San Miguel for an awesome workcation (working vacation). If you're looking for a true Mexican experience without the whole get drunk on the beach in Cancun deal, you NEED to visit San Miguel. We absolutely loved it!
An awesome trip with friends to the Bahamas! If you're looking for a Caribbean getaway that isn't too far, go to the Bahamas. It's a fabulous place to visit with friends too and if you do make sure you stop at Albany and bunk up for the day.
In under 48 hours, C and I planned and executed a spontaneous road trip through Maine! We drove from Toronto to Acadia National Park and then drove the coast down to Portland, Maine. Acadia is a must-visit and if you're in Portland go to The Holy Donut. It's life-changing!
I've said it before and I'll say it again, Banff is one of those places you will want to come back to. It's not a once-in-a-lifetime place, it's an every year place. Can't wait to go back in 2017!
By far my favorite destination of 2016, which is so cliche but it's truly worth the hype! We went in June during the summer solstice and had about 23 hours of light, which was awesome because we had a ton of stuff we wanted to do. We didn't get to it all but the trip brought more than I ever could have imagined. If you pick one international destination 2017, let it be Iceland.
Next up? We're heading to Guatemala tomorrow! Stay tuned for a recap of this trip along with more recaps and videos coming from our US road trip last month.
It's been a crazy year and while I'm certainly looking forward to more travel in 2017, I'm also hoping to nest a bit more and try to find more local adventures. Can't wait to see what 2017 brings 🙂
What was your top destination in 2016? Any plans for 2017?
DON'T WANT TO MISS THE NEXT ADVENTURE? Join the THM Community!
Join 10,000+ members of the THM Community to get access to exclusive info about travel, places I've visited and how to stick to your healthy lifestyle on the road.