A few years ago if you asked me what supplements I took, I probably would have rolled my eyes. I believed firmly that all vitamins and minerals could be ingested through a whole foods diet and that supplements were unnecessary.
That is until I ended up in the hospital with severe b12 and iron deficiency…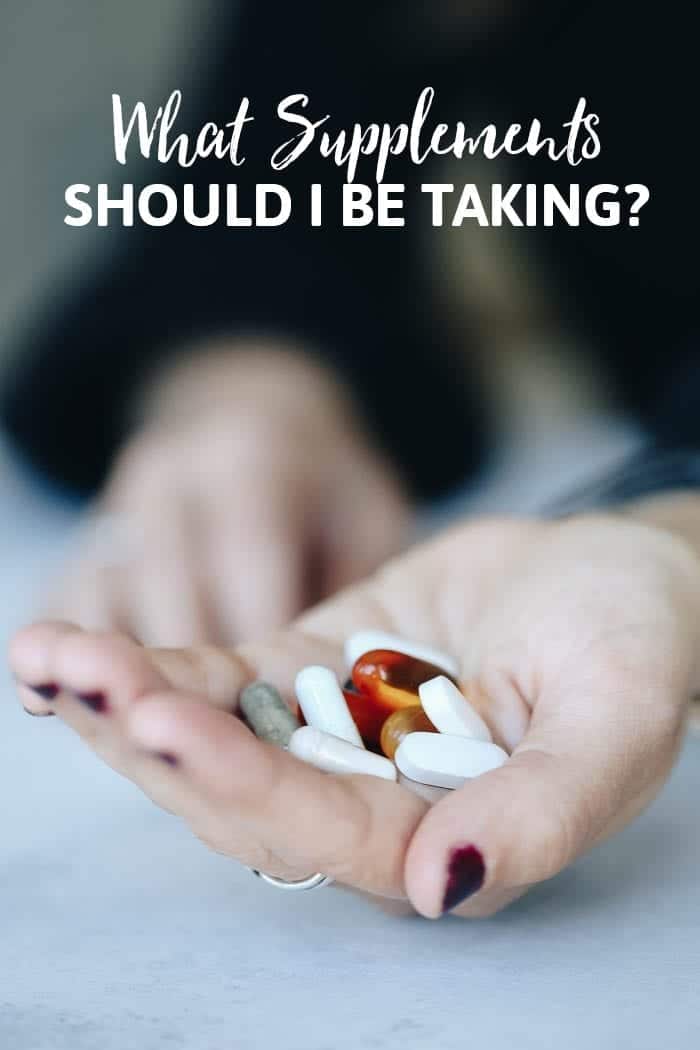 Despite being a meat-eater, I still was not getting enough b12 and iron and was recommended by my physician to start taking supplements. Fairly quickly, some strange health issues I had been having (numbing + tingling and frequent dizzy spells) started to disappear.
Over the next couple of years, I kept taking these along with a multivitamin and didn't think much about other supplements. But then when my skin started to flare up (you can read more about my skin troubles here), my naturopath suggested a protocol of supplements that had immediate positive results. They didn't clear up my skin overnight (it's still a work in progress), but it did help support my skin and kickstart the healing process.
These experiences totally transformed my views on supplements. I'm someone who takes care of her body, both mentally and physically, but I still need a bit of extra support, and there's absolutely nothing wrong with that.
But here's the thing, I had the luxury of being able to see specialists who could recommend supplements that were right for me. I completely recognize this privilege and have felt that it's totally unfair that it isn't afforded to everyone.
It's easy to start taking advice from anyone who uses their voice on the internet, myself included. But the reality is that the supplements I take may not be the right ones for you. We are all so soooo different. We come from different backgrounds, live in different environments and have different diets. What I take to support my body is different from what you need.
So the thought of anyone going out and wasting their hard earned money on supplements (which usually aren't cheap) that are ineffective or not the best choice for their body makes me pretty upset. I've actually thought about working on a solution to this problem after my own experiences, but I ended up not having to because someone else did it better than I ever could.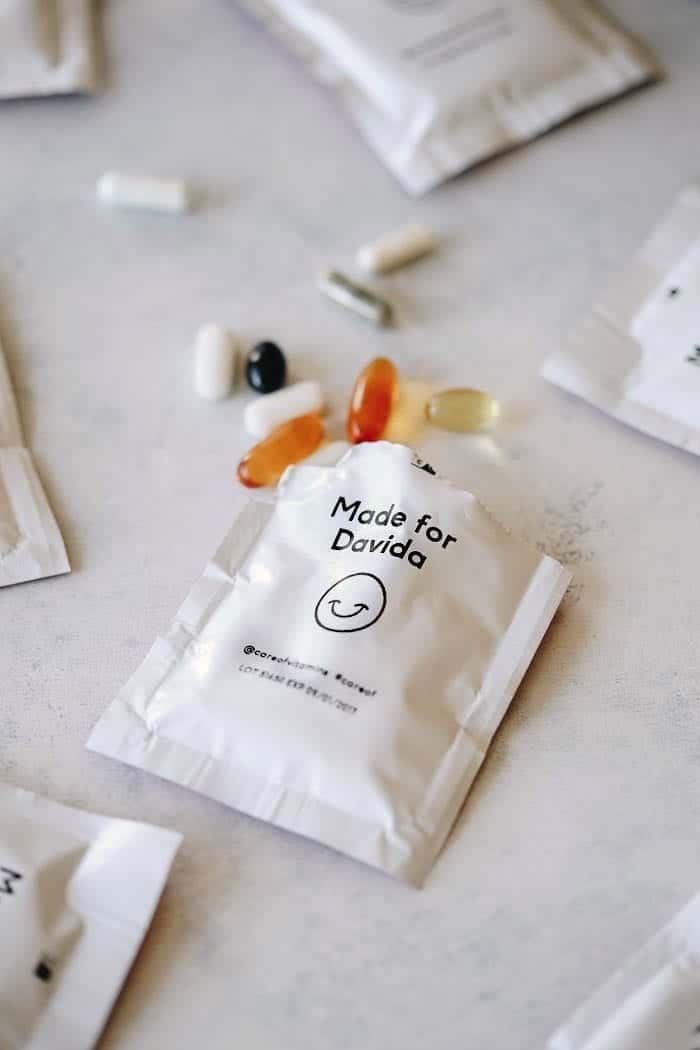 INTRODUCING CARE/of 
A few months ago I was contacted by an innovative company called "Care/of" that is taking the stress and confusion out of supplements. They understood this problem of not having access to specialists and created a solution for it. An individualized supplement protocol designed for each person.
Care Of worked with doctors, scientists and nutrition professionals to come up with a detailed questionnaire that assesses what supplements you're lacking based on your diet and lifestyle. From there, they recommend a protocol that's right for you.
HOW DOES IT WORK?
You start by creating a profile and filling out your detailed questionnaire. It feels like you're taking a personality test so if you find those things kind of fun, you'll love this! At the end of the questionnaire, they generate a list of supplements they suggest you start incorporating. You can customize it by removing things you don't think you need or adding things you'd like to try. Their assortment of supplements is vast, so they help you sort through the ones you don't need from the ones you could benefit from.
Based on your final list, they send the supplements right to your door! 
Each package comes with a month supply of supplements in individual packets. You take one packet a day at whatever time suggested for you and that's it. You can cancel or adjust your order at anytime so if you'd like to add a supplement or feel as though one isn't working, there's no issues making changes.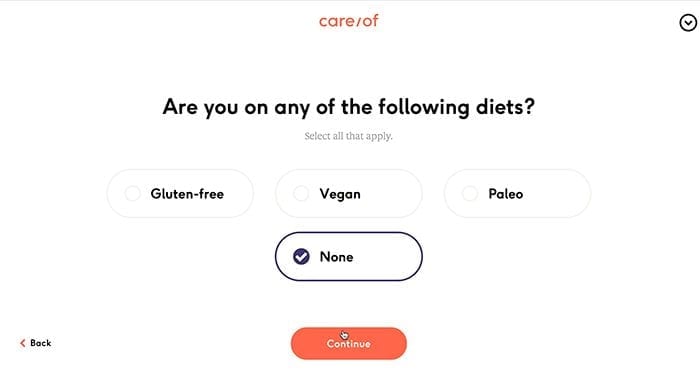 WHAT ABOUT SUPPLEMENT QUALITY?
Care/of is 100% transparent about where they are sourcing their ingredients from. You can literally track your vitamins to the source on their website and they also included research studies that support use of that specific supplement. They test them to ensure what they ordered is what they were promised. So you're not paying money for products that well, just don't work.
This is something that really stressed me out about supplement shopping. I never knew good quality from bad quality because no one was sharing where they sourced their ingredients from. I really like knowing that what I'm getting is good quality and they are transparent about it all.
WHAT ABOUT SUPPLEMENT PRICE?
Supplements aren't cheap. And when you take quite a few of them, the price adds up. Care/of's model allows you to get a discount on supplements by ordering them all through them, cutting out the middlemen. I added up how much I spent on supplements before trying Care/of and I actually saved $20 a MONTH by using them.
A basic package starts at $20 a month and goes up based on the number of supplements you order. If the price range is too high for the suggestions, you can delete ones you don't feel you need. But even if you already know what you need to be taking, try putting in an order with them and seeing how it compares. I was shocked by the price difference!
Plus you can save 50% off your first order by using the code HEALTHYMAVEN at check-out. It's a great way to try out the service at half off!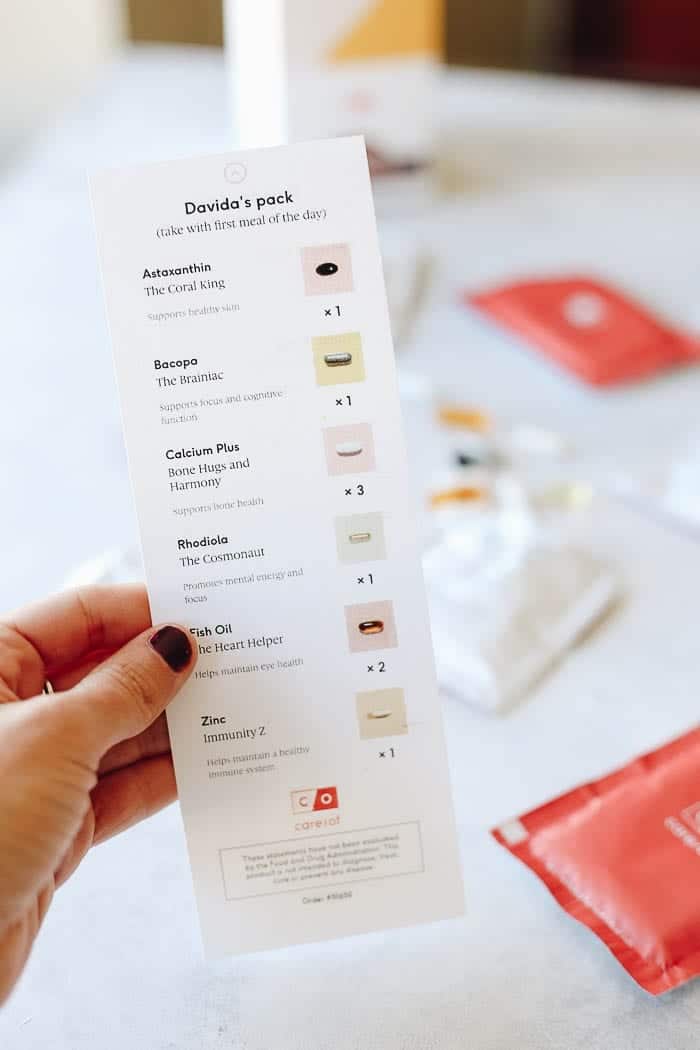 WHAT SUPPLEMENTS SHOULD I BE TAKING? MY FINAL THOUGHTS…
-When it comes to travelling, Care/of is literally the best thing that has ever happened to me. My supplements never fit in a pill case so I generally just throw them all into a ziploc bag and hope for the best. I've definitely screwed up and double-dosed on some of them and forgotten others. With Care/of I just take the number of packets I need based on the days I'll be gone and know I have to take 1 packet a day. It is a complete travel game-changer.
-I've always been stressed out about picking supplements because I'm so neurotic about quality. I picked products based on a direct referral from a professional or a friend. Generally, I felt like if my naturopath suggested it, it must be good quality but I also knew they were making a commission so I couldn't help but wonder if there was a cheaper alternative offering the same quality. It's nice to not have to worry about this anymore.
-I'm saving money. Woot! If nothing else, Care/of is way more affordable instead of having to shop around for the cheapest price, only to end up spending more. It's worth price comparing to see how your list holds up!
-I'm a total sucker for good branding…but hear me out! I need things to be fun in order to do them. And well, supplements aren't exactly the most exciting. But when they have your name on them and come in cute little packets, it's a small difference that reminds me or at the very least, encourages me to take them. Never again will I stare at that god awful ziploc bag…
Want to see what comes in my orders? Check out my video where I'm sharing exactly which supplements I take.
Keep in mind, your profile will look different. But that's a good thing! Care/of is just matching your needs with the best supplements.
You guys know I don't vouch for anything I don't already use, and honestly, I can't recommend Care/of enough. If you want to try it out, you can get your first month for 50% off by using the code HEALTHYMAVEN. From there you can decide for yourself what works for you. Packs start at $20 a month so you can try it out for just $10 bucks!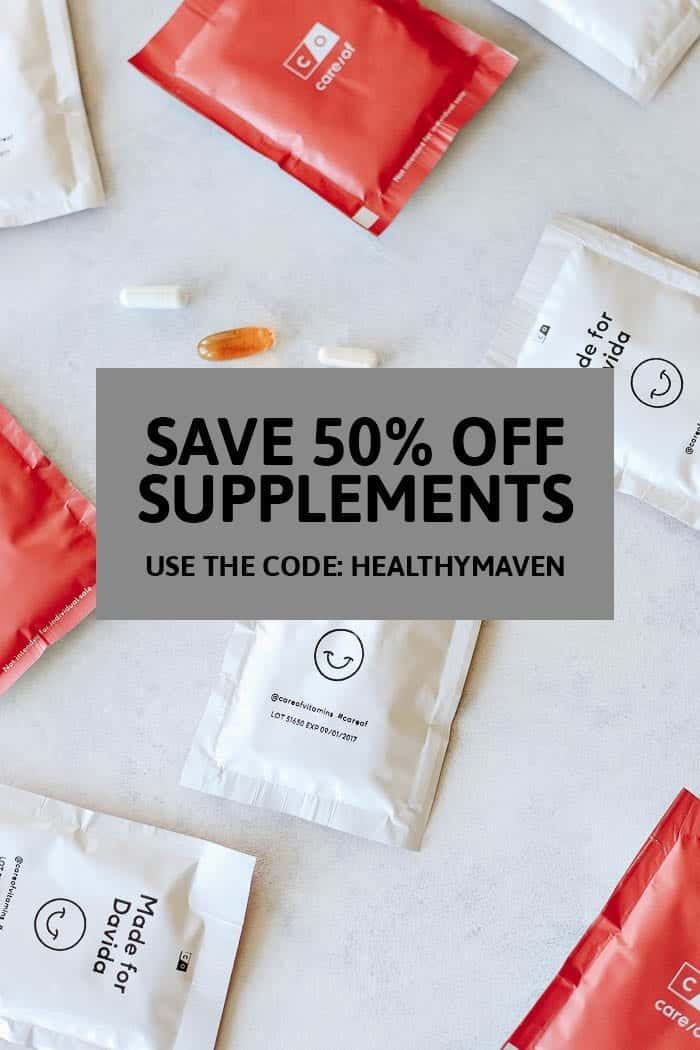 As always, if you have any questions, drop em' in the comments below. I'd be happy to answer them!
Disclaimer: This post was sponsored by Care/of. I was compensated for my time, however all opinions expressed are 100% my own. Thank you for supporting the awesome brands that help me run THM full-time!
WANT MORE HEALTHY LIVING TIPS? Join the THM Community!
Join 10,000+ members of the THM Community to get access to exclusive info about healthy living, products I'm loving and tips and tricks on making a healthy lifestyle easier and sustainable.