So you've got 5 days in Iceland? This full travel guide will teach you how to make the most of your Icelandic adventure for your next trip to this beautiful country.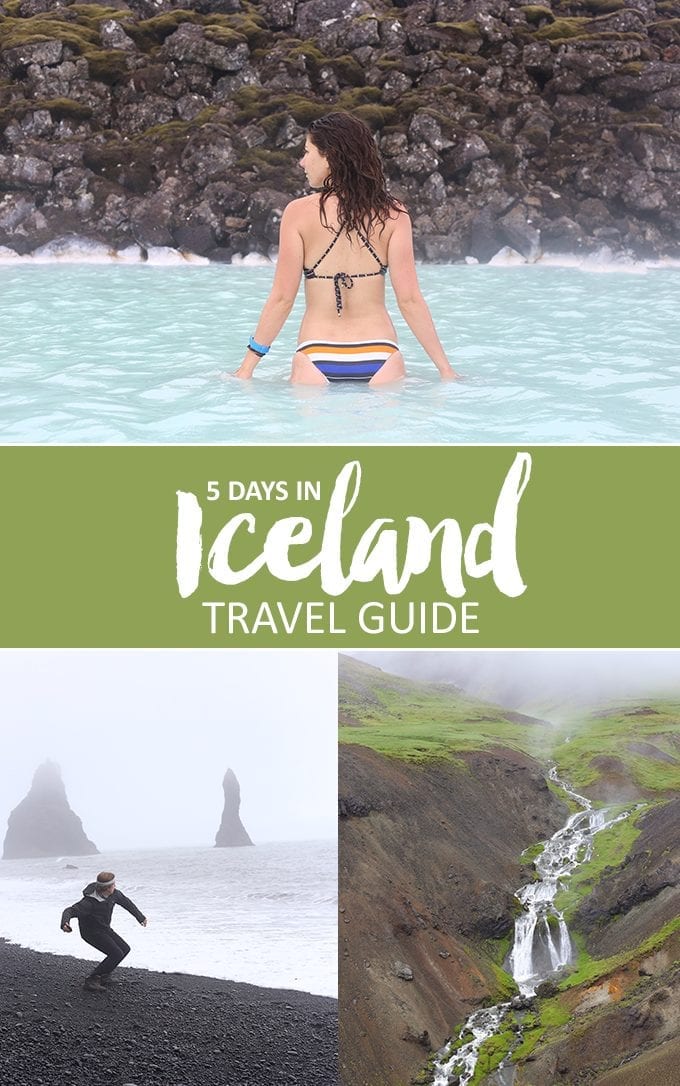 Lately I've been writing my travel posts with the hope that they would not only be entertaining, but also informative for those of you planning trips to these places. Sure, I want you to enjoy the pictures and writing, but also want to be helpful for those of you out there who also have the travel bug.
But then trips like this happen, that turn out to be more powerful than a simple travel guide. The pictures and "What to packs" don't encompass how life-changing it truly was.
I wouldn't be doing Iceland justice by writing out a list of places to visit. It is a country that requires more.
So while I intend to give you everything you need for your 5 Days in Iceland Travel Guide, I also need a few minutes to just talk and share with you what this trip really meant to me. Feel free to watch the video or scroll down to the travel guide below if you're not into my babbling!
I'm the type of person who can get really caught up in expectations.
When I imagine something to be a certain way, and it falls short, I kind of lose it. Planning has always been a coping mechanism for me, but it can also be dangerous because too much planning means setting expectations at a level that is virtually unachievable. It means setting myself up for failure and anxiety.
So over the years I've actively learned to relax and let things go with the flow, but inklings of this bad expectations habit still exist in my mind and they became all the more evident during this trip to Iceland.
Iceland has been on C's bucket list for as long as he can remember. It's certainly a place I've always wanted to visit but never the top of my list. But when we spotted a cheap flight sale, we jumped on it…despite it basically being the most insane time in our lives to go to Europe. But yeah. Such is life. YOLO.
I'd heard so much about Iceland and all the amazing sights we needed to see. I started keeping a list but tried my best to keep the planning to a minimum. We booked an incredible Airbnb 3 weeks before leaving, and our rental car was booked 2 weeks before. But then I went on a rampage and researched the shit out of everything we HAD to see while we were there. I was so excited about 23 hours of daylight because it meant more places to visit. I even told people that we planned to just not sleep so we could pack more in…
I think you can see where this is heading.
So even though I didn't plan an epic Iceland adventure 6 months in advance, I was still building up what the trip might look like in my head. I could already envision the rainbows over the waterfalls and 10 mile hikes through volcanic eruptions. Iceland was going to be quite the adventure.
And this is where my entire plan goes to shit.
A lost bag, 2 hour rental car delay, sleep-in, pouring rain and drone fiasco later, I learned once again (and hopefully for all) that what I least expect is often exactly what I need.
For so many reasons, the world felt like it was working against us on this trip. Delays led to us sleeping through our hike through Thingellir National Park, time prevented a visit to Jokulsarlon Glacier, a lost bag full of food meant spending more on food than we expected (Icelandic food is expensive homies!) and torrential rains meant I basically lived in my rain coat and the drone didn't get as much use as we anticipated.
But as I sit here looking back on the pictures and video, all I can think about is how perfect this trip truly was. It was nothing as I'd imagined and beyond any expectations I could have set.
Not only did I get to spend 5 days travelling around Iceland with my best friend, but I also came home with the important realization that you won't always get what you want from the universe, but the true joy in your life can be found in how you react when things go off course.
Iceland is a country full of extremes. Extreme days, extreme weather, extreme natural elements that will truly blow your mind. It will push you to your extremes too. All you can do is hold on tight and embrace what comes next.
So with that, if you're heading there for a couple of days (as a destination or a stop-over), here are some suggestions on what to do. And if none of this happens, know you will still have the adventure of a lifetime!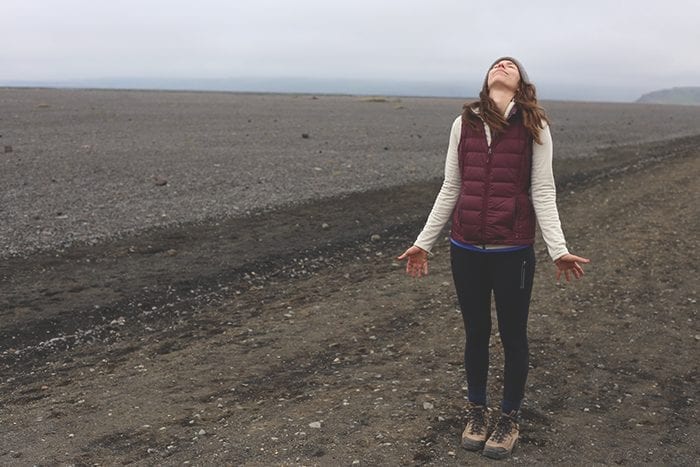 Where We Stayed
By a landslide, our Airbnb was the highlight of our trip. We're total last-minute bookers and scored the jackpot with this beautiful cabin in the middle of the Golden Circle close to Selfoss. Some people prefer to make their way around the Golden Circle and move from place-to-place but we preferred having a home base from which we could head out on day-trips. Admittedly, because our little cabin felt so calm and serene, we felt less desire to explore but we have no regrets taking our sweet time enjoying our breakfast and coffee and lazy hot tub evenings. Watch the video to see more of the inside of the cabin and if you're interested in getting a credit of $30 towards your next Airbnb, visit this page.
On the last night, we stayed at Loft Hostel for a night in Reykjavic on our way out of Iceland. It was a perfect place for a temporary stay. We ended up with our own 6-person room and everything was clean, quiet and perfectly located. If you're just passing through Reykjavic, we highly recommend.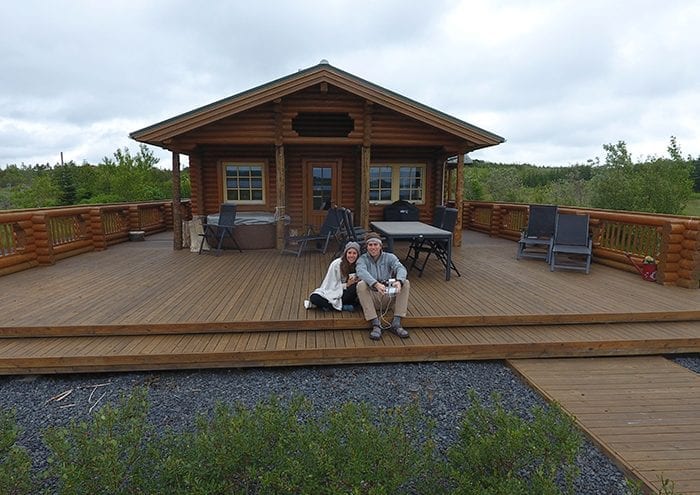 Where We Went
There is truly no way to tackle every beautiful sight and activity in Iceland in a single trip, let alone 5 days. You have to pick and choose your adventures and just hope you'll come back one day. So within our means, here's what we tackled…
Laugarvatn Fontana – a beautiful hot spring at the top of the Golden Circle. You can spend an afternoon in the geothermal baths and steam rooms. We also learned how they use geothermal heat to cook rye bread in the ground! So so cool. It isn't nearly as fancy as the Blue Lagoon but it's a nice and authentic way to enjoy the natural elements of Iceland.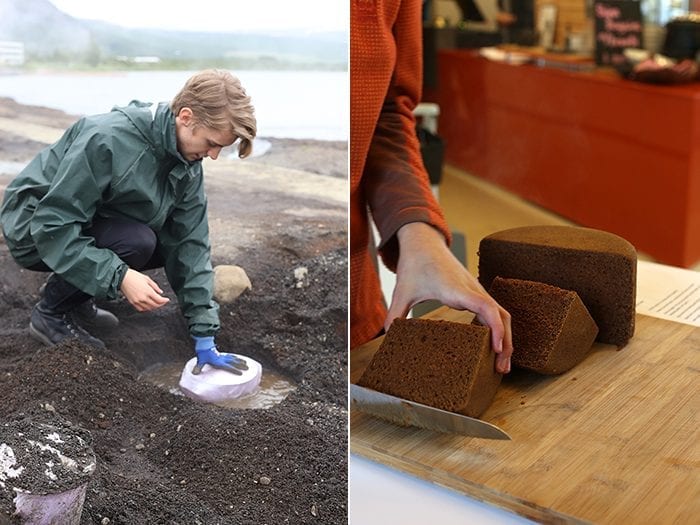 Geysir and Gullfoss – I've lumped these two together as they're only about 10 minutes apart. Geysir is a series of well, geysers and hot springs that are seriously impressive. Be sure to hang around to watch their largest geysir, Strokkur erupt. Gullfoss is a spectacular waterfall (one of many in Iceland) that will definitely blow your mind.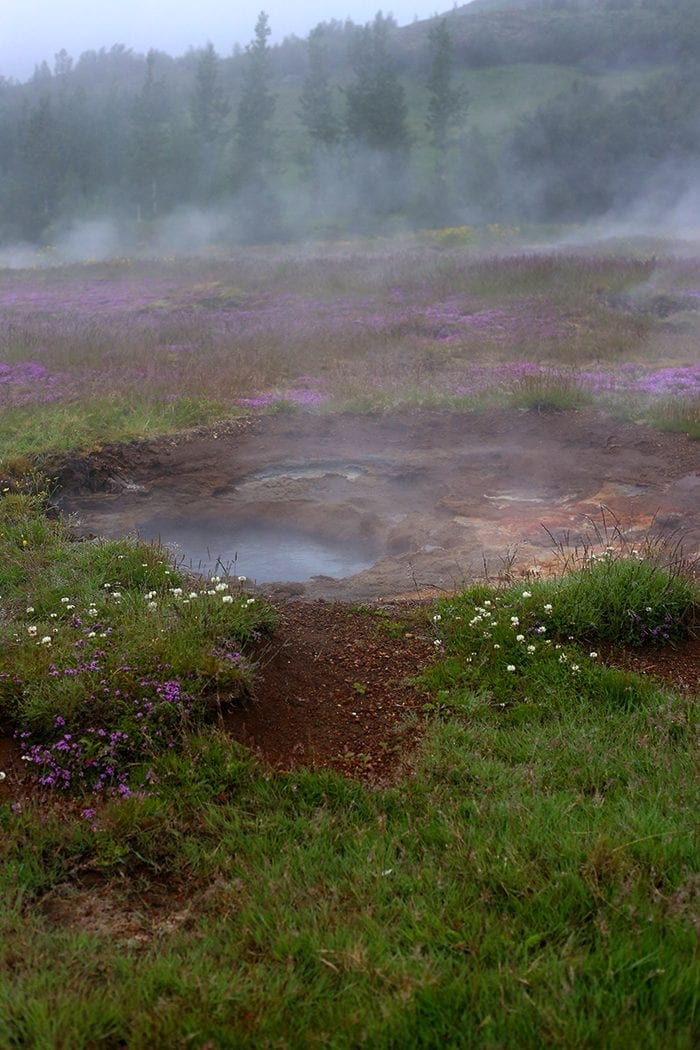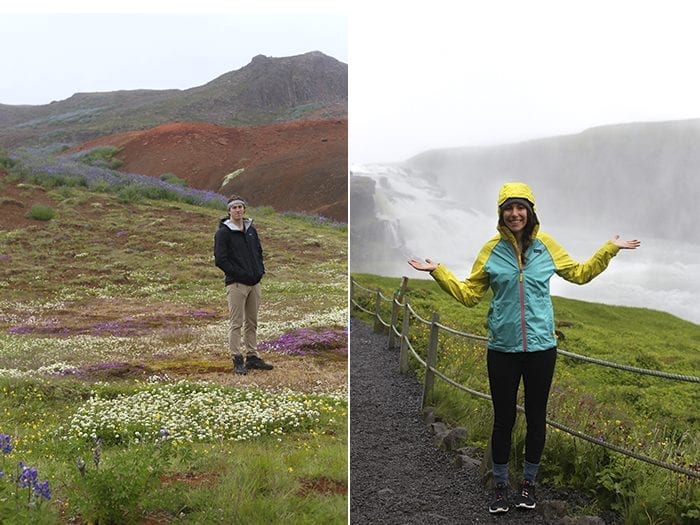 Reynisfjara Beach + Dyrhólaey Peninsula (Vik, South Iceland) – Both of these places are turn-offs on your way to Vik and you MUST STOP. Reynisfjara beach was spectacular and everything you imagined a black sand beach to be.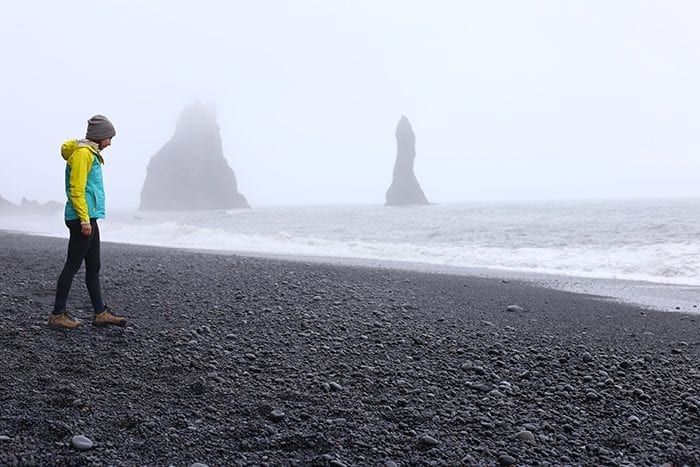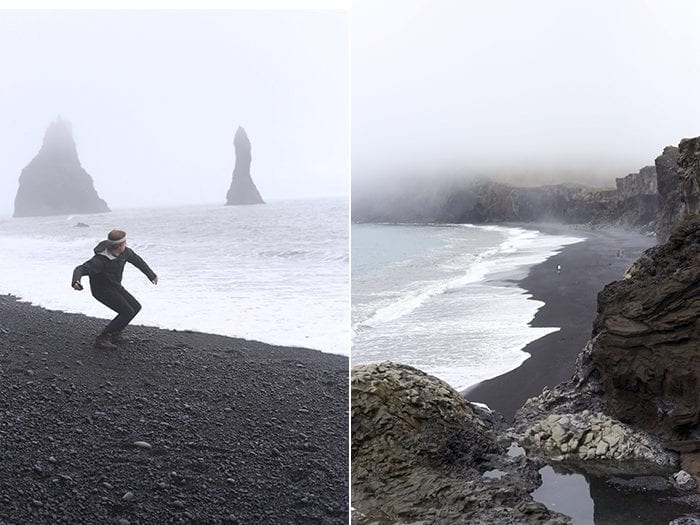 Skogafoss – If you haven't picked up on it by now, "Foss" means waterfall and there's quite a few of them in Iceland! This was one of our favorite places to get drone footage since it was pretty crowded on the ground.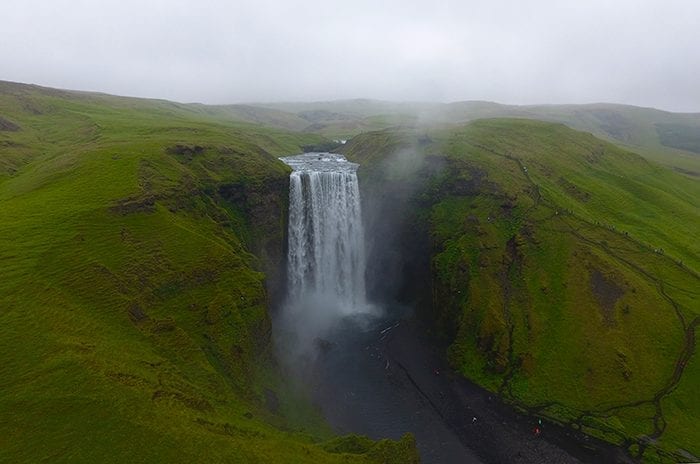 Sólheimasandur Plane Crash – In 1973 a US Navy Plane crashed onto the black sand beaches of South Iceland. The farmer's whose land it crashed on has closed access by car so you have to hike in 3-4km but it's so worth it. It felt like we were walking on Mars!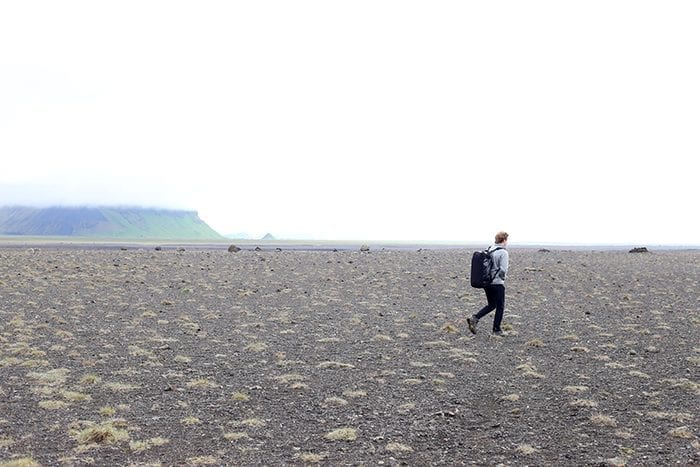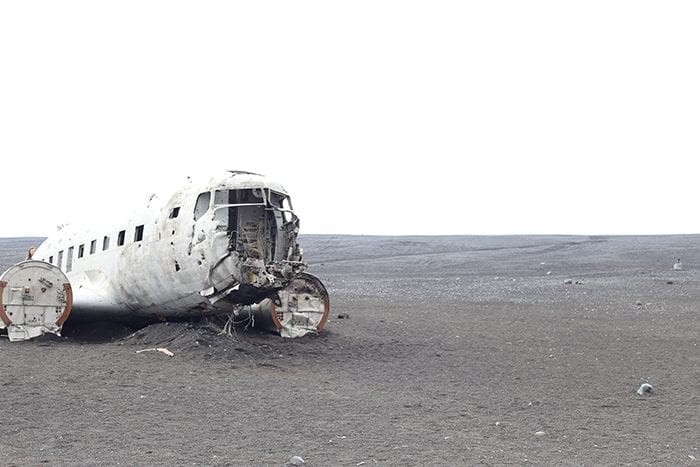 Reykjadalur Hot Springs Hike – It was pouring rain but that didn't stop us from hiking out to the beautiful natrual hot springs in Reykjadalur. It was so serene, private and probably my favorite activity of the trip. If you do one hike, do this one.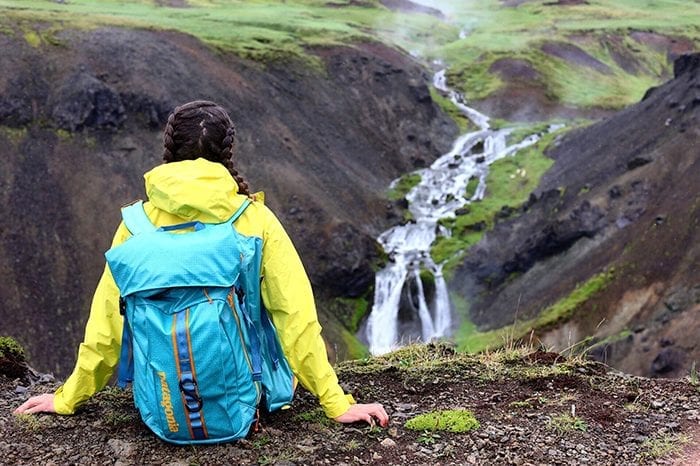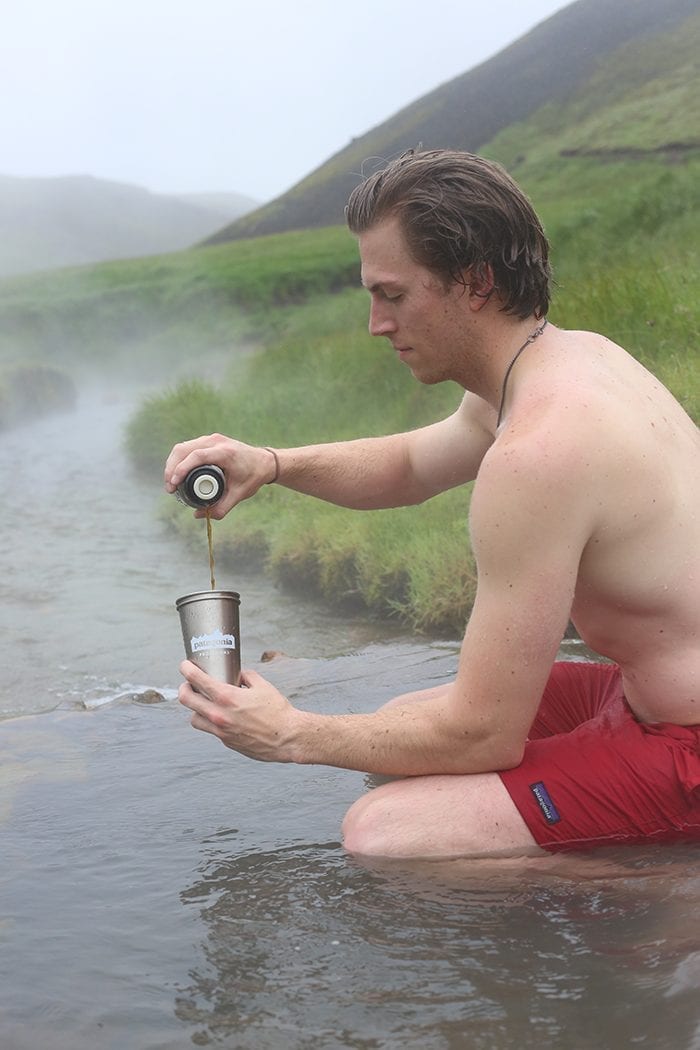 Blue Lagoon – I think this place might be the most photographed in the world. And for good reason, it's absolutely stunning! I heard mixed reviews from people before going (namely that it was overrated) but honestly, I feel like we got our money's worth. We spent about 4 hours soaking in the silica-filled lagoon, I face-masked like a champ and we hardcore steamed. This is my kind of place! Make sure you book in advance.
Exploring Reykjavik – We really only had about 12 hours in Reykjavic, which proved to be not nearly enough time! If we go back to Iceland we would love to spend more time there, but we really enjoyed wandering the streets, taking in the murals, the beautiful Hallgrimskirkja Church and the waterfront.
Where To Eat
Food in Iceland is expensive. It's a fact you'll need to accept before going. But because we stayed in an Airbnb, we made it our mission to eat in as much as possible. I packed a bag full of nonperishables (within the legal limit) like beans, rice, quinoa etc… along with every snack possible and this allowed us to only do a $40 grocery shop for fruits and veggies. I have a video coming out soon with what we ate in Iceland so stay tuned for that!
But we did eat out for two meals, one in Reykjavic and one outside of the Blue Lagoon and both were delicious.
Sæmundur í Sparifötunum at Kex Hostel (Reyjkavic) – Worth every penny! It's super low-key but delicious Icelandic food in a funky hostel in downtown Reykjavic.
Bryggjan (Grindavik) – this is 10 minutes from The Blue Lagoon and it's an adorable coffee shop that's along the marina of this tiny fishing town. Also bottomless soup, coffee and bread YES!
How To Get Around
You pretty much need a rental car to get around Iceland. While, Iceland certainly isn't big, the sights are all over the country with quite a bit of space between them. And honestly? Half the fun was spending hours looking out your car window and watching the landscape change around you.
I highly recommend getting a 4 x 4 if you plan to do any off-roading. If you can drive manual, you're in luck since the manual cars are cheaper, but if not expect to pay a pretty penny. Gas ain't cheap either. I think you're catching my drift here, Iceland is beautiful but expensive.
We got our rental car complimentary through Sixt Iceland and while they're may have been a few hiccups along the way, we really did feel that our beloved Suzi the Suzuki contributed a large part to our trip enjoyment. Without her we wouldn't have gotten anywhere!
Sixt Iceland is offering a 15% off code to anyone who books with them using THIS LINK. If you're planning a trip to Iceland, 15% can go a long way!
Pictures and video footage were shot on my Canon 6D and 50mm lens or on the DJI Phantom 4 Quadcopter (drone)
Have you ever been to Iceland? Do you struggle with expectations?
DON'T WANT TO MISS THE NEXT ADVENTURE? Join the THM Community!
Join 10,000+ members of the THM Community to get access to exclusive info about travel, places I've visited and how to stick to your healthy lifestyle on the road.