Confession, it's actually been 8 months since we landed in San Francisco. We technically got here at the end of November (the 22nd to be exact), but there were a lot of unknowns when we first got here, including, will we stay? So I'm counting from when we moved into our apartment in the city in mid-January, which makes it about 6.5 months of living here so I'm not completely lying to you!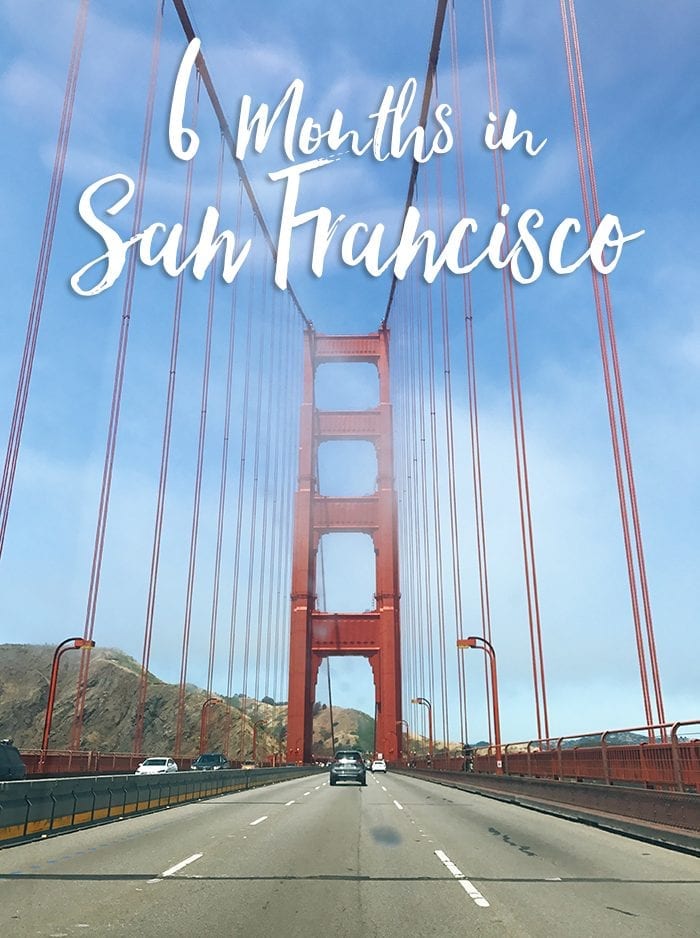 But whether it's been 6 months or 8 months, I still feel like a newbie to the city, which also means I'm still in the honeymoon-phase as well. I've pretty much experienced every type of emotion under the sun since moving here and have learned A LOT about the culture. Some good, some bad but mostly very, very good.
So I'm writing this post for anyone who is curious about San Francisco, is planning a big move and also for me, because at the end of the day this space is my online diary and I want to chronicle these emotions. Of course, these reflections are entirely my own and I may be making some sweeping generalizations here, but this has been my experience so far.
THE CULTURE
When we told people we were moving to San Francisco, most people nodded their heads and said something along the lines of "mhmmmm sounds like your kind of place". And yes, they were entirely right. This city is made up of entrepreneurs, foodies, health nuts, outdoorsy folks and I swear the median age here is 30. It is very much as tech-forward as it seems and oftentimes I have to check myself about the reality that most of the world does not live with an app that can pretty much do anything for you or casually see self-driving cars riding down the street.
It's definitely not a late-night city, which is great because my stamina peaked at 23 and I can't stay up past 11:00 PM. Consequently, most people spend their weekends looking for some outdoor activity or way to get out of the city. So yeah…totally my jam.
It's also an incredibly expensive city. This was something I was aware of, though I didn't anticipate how widespread it would be. I expected rent prices to be astronomical (they are), but everything from a burrito to a workout class is insanely pricey. Luckily, I'm thrifty and we were willing to live in a less cool neighborhood so it's been an okay adjustment for us, but yeah, it's a bit of a shock to the system. Not complaining, just adding my two cents.
Because of the influx of young people and specifically those in the tech scene, there are a lot of socioeconomic issues at play. I'm not going to get into these but want to acknowledge the fact that while this city is wonderfully thriving, there are also a lot of people struggling to live because the city has just simply become way too expensive for most. I also acknowledge that I am very much a part of the problem. But that's all I'll say about that for now.
Perhaps what I love most about San Francisco is the community feel. Even though it's a city, it's still a small one (less than a million in a 7 x 7 mile radius) and there's definitely a culture of collaboration and team work. Maybe it was because I was coming from Toronto, which is HUGE, but I've felt a lot more supported personally and business-wise since moving here. Everyone is friendly and willing to help you out.
I'm definitely drinking the San Francisco koolaid.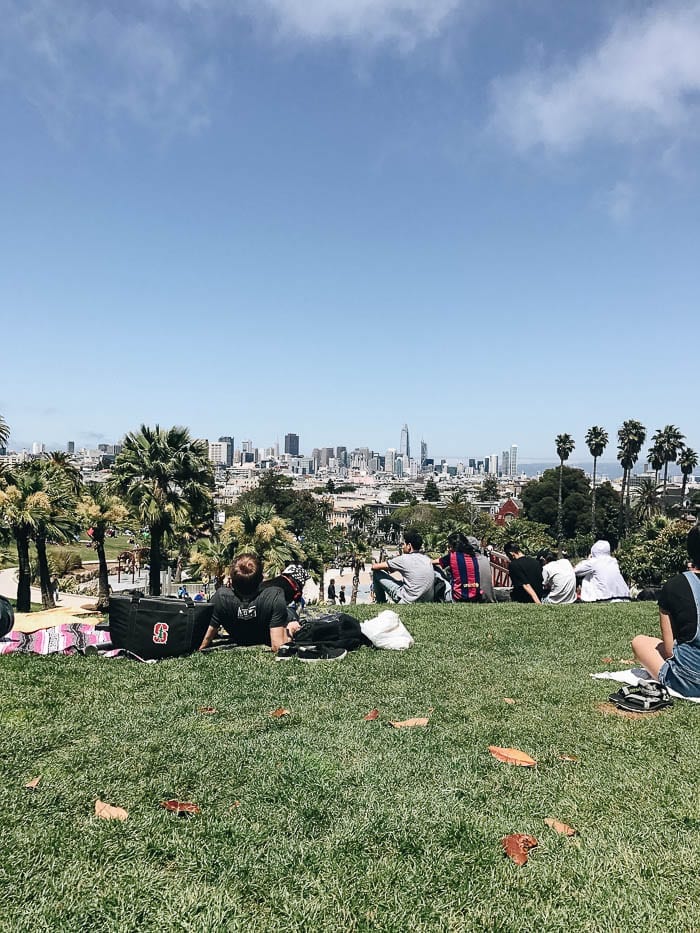 THINGS I DIDN'T EXPECT
While there was a lot I was prepared for since we have family here and have visited several times over the last couple of years, there were a few things I was surprised to discover in our 6 months in San Francisco.
There are a million neighborhoods – despite being small, I swear SF has more neighborhoods than any other city. Some neighborhoods feel like they're only 4 blocks long! It's made it tricky to get to learn the city, but I'm getting there.
You need a car – I've only ever lived in cities where having a car isn't necessary (Toronto, Montreal, NYC). We technically had a car, it just didn't quite make it to San Francisco (whomp whomp), and while we've managed to survive without one, it's certainly a nice perk. Because of Lyft and Uber, it isn't nearly as challenging to get around the city, and we both take public transit, but it's for adventures outside of the city that it gets tricky. Fortunately, our friends and family have been generous with us and we've made do until we decide to invest in our own.
The city is tiny – I mean this both physically and population-wise. You could run across the city and have only done a quarter marathon. And besides actually being small, it feels small. I'm pretty new to the city but even I'm running into the few people I know on the street. Everyone feels like they're one-degree of connection away from the next person.
People freak out if you say "San Fran" – Yup, it's a big faux-pas to call it San Fran. While I don't personally care, it's sort of this untold sign that you're a foreigner and locals roll their eyes when people call it that. Call it San Francisco or SF or be prepared to be judged. God forbid you should call it "Frisco"…
Everyone here is new – Literally everyone I meet "just moved to San Francisco". I felt like the new kid on the block for 2 weeks after which I was surprised by a whole slew of people. Suddenly I became a local. Of course, there are people who are born and raised here (they'll let you know), but most people are new to the city.
It's cold – This coming from a Canadian, I should add. While, it isn't actually cold, it is not the typical California weather that people picture. The weather fluctuates between 50-65 all year long. The summer is actually the coldest because the fog rolls in. I had only ever visited in the Spring and Fall so I never realized what fog actually meant. Needless-to-say, we now have to warn all friends and family visiting to not bother bringing shorts.
There's no such thing as air-conditioning– No homes come with A/C (unless you're living the lux life) and it takes one hell of a cold spell for people to turn on their heat. When we first moved here I was shivering for 2 months straight and then we moved into our apartment and I cranked the heat to 72. No shame.
The fog has a name – his name is Karl and he has a hilarious twitter account that I'm pretty sure is the funniest on the internet. You get to know him pretty well when you live here.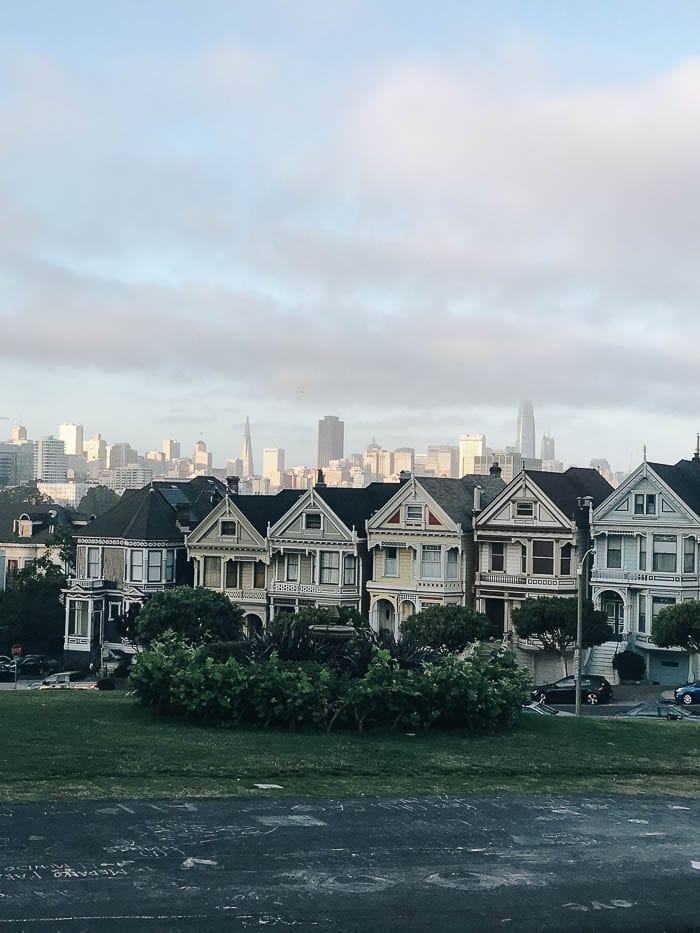 YOUR QUESTIONS
Since moving here, a lot of you guys had questions so I thought I would answer them all in one place. If you have any others, feel free to drop them in the comments below and I'll respond to them!
1. What visa are you on? I am not on a visa. I have dual citizenship (as does C…I know, not fair!) from my American Mom so I didn't have to deal with visa issues. Taxes on the other hand…nightmare.
2. How do you feel about the weather? March through May and September through November I am obsessed with the weather. It's sunny, cool and perfect for any outdoor adventure. The rainy season (Winter) is pretty brutal but not nearly as bad as snow IMO. I think I'll miss the Fall changing of leaves, but I can always visit somewhere in the midwest or east coast if I want to see foliage 🙂
3. How'd you handle the anxiety/stress of change and the unknown? Well, the truth is that I didn't handle it very well. To be honest, I was not focused at all on the anxiety and stress that moving inevitably induces and instead got wrapped up in what life would look like when it was finally settled. When the shock of it all hit me, I was so unprepared them I ended up feeling extreme anxiety and stress. I learned a lot from the process, which you watch here.
4. Have you noticed any small signs of it being the right move for you? I love this question (thanks Kelsey!). TBH I can't remember if there were any small signs (I was in a very emotional state when we moved and I can't say I was paying attention), but I do think that all of the stressful situations we went through all happened for a reason. Things like totalling the car, having credit issues (two Canadians who had zero credit in the US) and struggles with finding a home actually made us more resilient and tested mine and C's relationship in a big way. It's not that we became closer, but we did discover our capacity for working together through stressful situations, which I am forever grateful for and definitely made us feel ready to take the next step. I also think we have so much more appreciation for the life we've created because we REALLY had to work for it.
5. How has it been making friends in a new city? Easy! Like I said, so many people here are new so everyone is really open to making friends. We came into our move knowing a lot of people but have made lots of new friends and it was wayyyy easier than I'd imagined so long as you're willing to put yourself out there.
6. How have you handled being away from family and friends? I miss my friends and family back home in Toronto, but when you move to a desirable city, you can expect they'll come visit. Since April it's pretty much been a non-stop series of visitors so we certainly haven't felt lonely. I'm also back in Toronto every couple of months so even though we miss our people on a daily basis, we still get to see them often.
7. What are your favorite healthy restaurants and brunch places in San Francisco? I'm planning on writing a post similar to this one that I did for Toronto once we've spent a bit more time here and have been able to explore more. But for now, here are so favorites:
–Marla Bakery: We loveeee the sourdough and the farmer's cheese on an everything bagel
–Blue Barn: Best place to get salads twice the size of your head
–Jane on Fillmore: Love everything about this place but especially their fast wifi and plenty of seats to bunk-up and work for a couple of hours
–Nourish Cafe: Their green acai bowl is bomb
–The Richfield: My favorite Matcha Latte in the city
–Burma Superstar: Not exactly the healthiest but I love their Fiery Tofu with Veggies and Tea Leaf Salad.
–Zazie: Go for brunch. Thank me later.
There are soooooo many others that I didn't include or haven't explored, but stay tuned!
8. How has the blogging scene been in San Francisco? I had no idea what to expect when it came to meeting other bloggers. It's actually ended up being super awesome! This is all my own experience, but I felt like the Toronto scene could be very cliquey at times. I met some amazing people through it, but other times it felt like bloggers were more like socialites who were creating content for brands, rather than something that might be valuable to their readers.
I've had the complete opposite experience here. First off, I'm surprised at how few bloggers are doing this full-time. I expected it to be much higher, since it's such a tech/entrepreneurial scene, but for most people this is a side-hustle. It's been hard meeting other bloggers who get what it means to have this be your business, but everyone here has been so kind, inviting and willing to help me out as I get to know the Bay.
Let me know if you guys like these updates and I'll keep em' coming! Stay tuned for an apartment tour and my favorite places in San Francisco coming soon.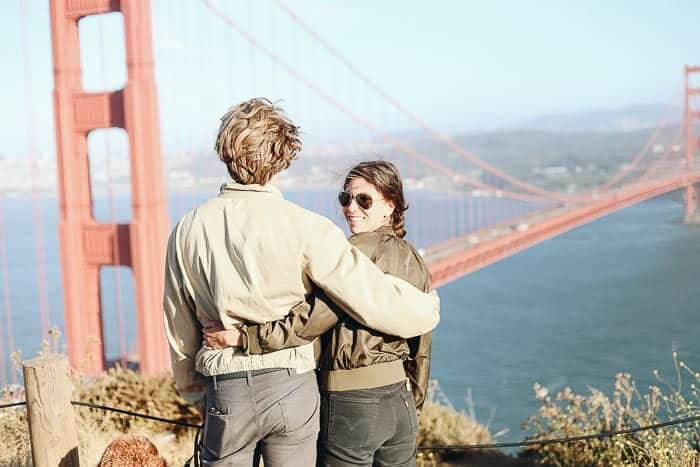 Have you ever been to San Francisco? Is this what you expected it to be like?
DON'T WANT TO MISS A LIFE UPDATE? Join the THM Community!
Join 10,000+ members of the THM Community to stay up to date on the latest life happenings and behind-the-scenes of The Healthy Maven!