This Alternatives to Beautycounter post has been a long time in the making and probably one of the most highly requested posts by you guys. I certainly have not been quiet about my distaste for all things Beautycounter so I find myself fielding your questions and concerns about the brand more often than I anticipated. You can read my review of them here but in a nutshell here's why I don't use Beautycounter products:
1. The quality does not match the price – to be fair, no clean beauty products are as cheap as conventional, but the quality of Beautycounter products is not outstanding and certainly not worth the price tag. Such is the reality of an MLM where you have to pay your downline…
2. They're not THAT clean– now I'm not here to tell you that your skincare products should have no synthetics. I do think there's value in some synthetic products and especially as you're transitioning to natural beauty BUT some synthetics are just unnecessary and there are other alternatives out there that are cleaner.
3. I don't buy from MLMs– This is a heated topic with many sides of the argument but plain and simple I don't like multi-level marketing. I understand that it is not a pyramid scheme (anyone who sells any MLM products will drill this message home) but the way the structure is built requires someone – or more accurately, many people, to lose. I've heard from so many of you who lost money trying to sell Beautycounter and it is not fair that a company should be profiting off their consultants failures and blaming it on them. You're welcome to disagree but this is my opinion.
SO let's chat alternatives. I decided to pick some of the more popular products out there and offer equivalent options that cost less and/or are cleaner options. I asked you guys on Instagram to share some of the Beautycounter products you'd like to see alternatives for and picked these 5. Of course there are many others and I'm happy to add more if you want to see them, but for now let's look at these.
Natural Skincare Alternatives to Beautycounter
The Cleansing Balm is actually my favorite product from Beautycounter but HOLY HELL why does it cost $80? That's absurd. I actually left it in a hotel bathroom and almost cried because it was still halfway full. Luckily I found this Trilogy Make-Up Be Gone Cleansing Balm for less than half the price. The ingredients are pretty on par too.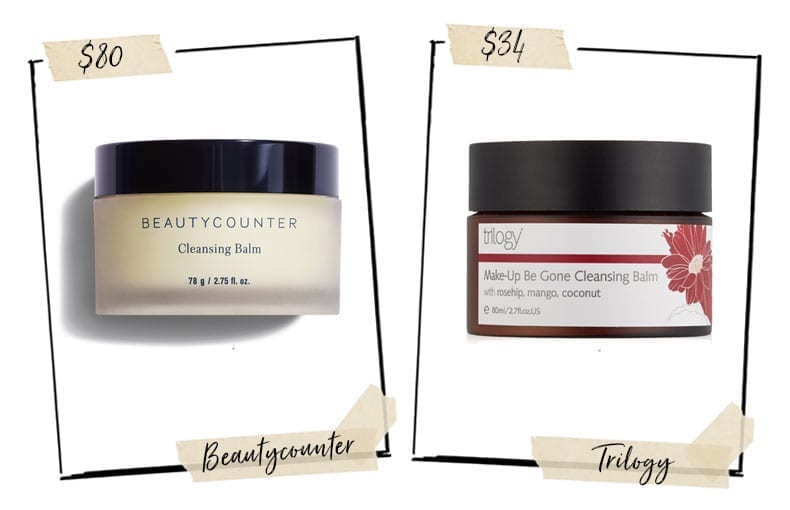 I also really like the facial oils from beautycounter because the ingredients are great, but once again you do NOT need to be spending $70 on a bottle. If you are new to clean beauty, opt for something simple like the Acure Argan Oil or Trilogy Organic Rose Hip Seed Oil. If you're looking for something with a bit more oomph I swear by the Ann Marie Gianni Herbal Facial Oil, which I use every single day.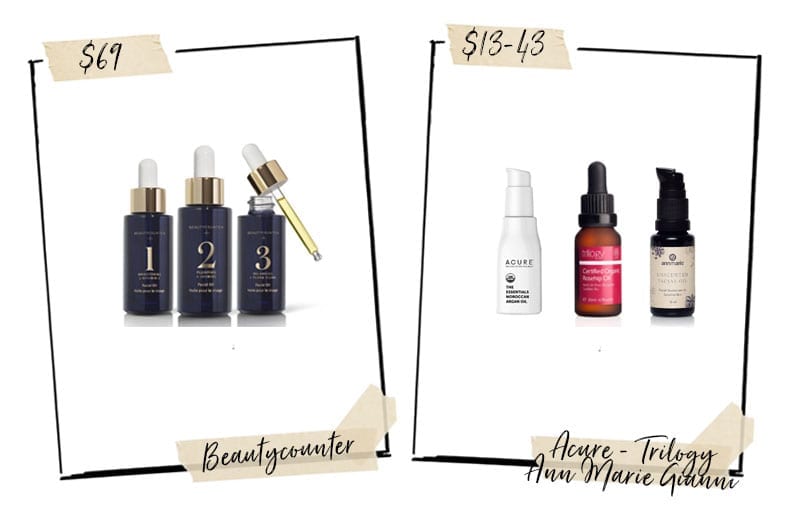 Honestly, I hated this product. Like truly loathed it, but I also understand why it exists. Many people looking to switch over their skincare to cleaner options oftentimes want the look and feel of conventional skincare. As someone who lives for the oil life, I have a really hard time using any kind of lotion which essentially is just a blend of water, oils and alcohol to get them all to mix together. And here's the truth, there are SO many alternatives of the exact same product without the $50 price tag. Pretty much any of the cheaper brands from Whole Foods or your health food store carry the exact same product for way less.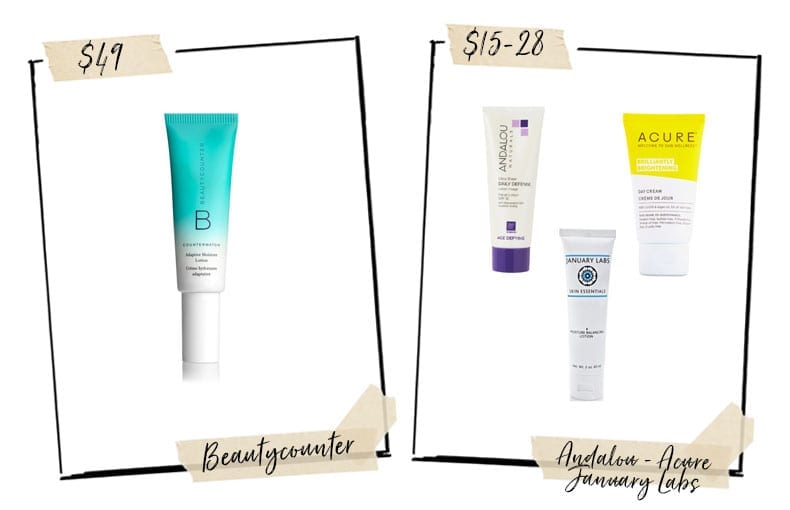 I'm not gonna lie, it seems like theft charging $26 for a bar of soap, no matter how amazing it may be. I still think $12 is pricey for a bar of soap (+ added charcoal I guess?!) but at least Herbivore Botanicals Bamboo Soap is less than half the price and a cleaner product. Beautycounter's cleansing bar contains alcohol which is probably why I found it so drying on my skin but the Herbivore Botanicals version doesn't so may fare better for those with dry and sensitive skin.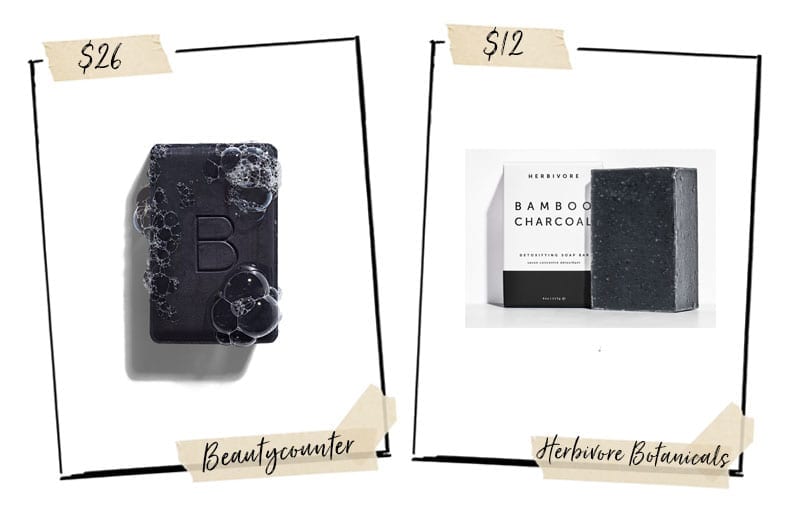 I'll be honest, there aren't a ton of alternatives out there for this product as it's not very, well natural. Anything with the word peel in it is going to be synthetic. Which I can be cool with because there's a time and place for everything. That being said, the overnight resurfacing peel is pretty darn synthetic and between the 12 different acids, 3 different alcohols and gums included in the product, I'd probably never use this. The alternative I'm offering is my HOLY GRAIL product. Yes, I'm aware it is more expensive (and hella expensive at that!) but if you're really into the idea of peels I want to offer you a safer alternative that I can say with 100% certainty it works. I tell people this all the time but my acne did not heal until I started using the Marie Veronique Intensive Repair Serum. Now I only use it about 2 times a week so the $90 goes a long way. I know it's a splurge but I promise you it's incredible and the ingredients are way more legit (no alcohol, no gums etc…).
Note: I also think the Mad Hippie Exfoliating Serum ($34) is a great option, however I've only used it once so I can't speak to its effectiveness. Stay tuned!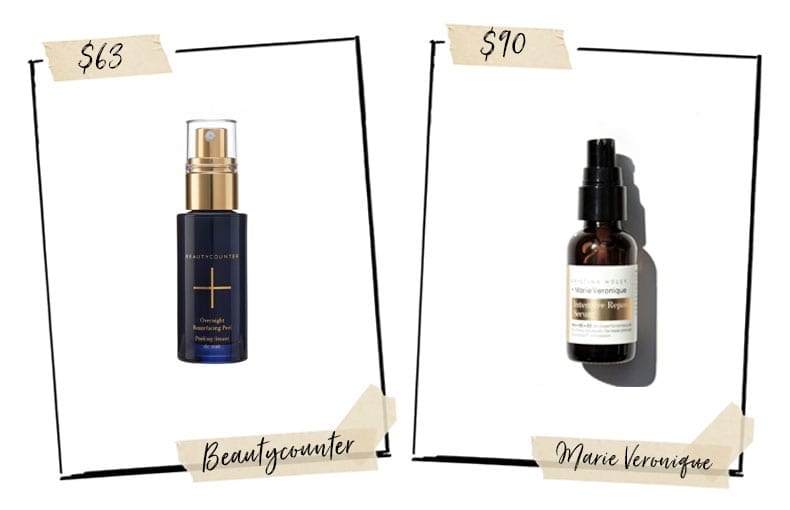 So there you have it! 5 Natural Skincare Alternatives to Beautycounter. I tried to offer a nice variety where I could and affordable options when possible (damn you Marie Veronique!). Of course, at the end of the day #youdoyou and reach for whatever products you love and want to support. I'm a personal believer in voting with my wallet and choose to spend my money on companies that don't profit off of other people's failures. There's also just cleaner and cheaper options available.
With that, if I didn't include any products you love (either beautycounter or alternatives) definitely let me know in the comments and I'll try to offer them as suggestions or find better alternatives. Enjoy!
Note: I am not an esthetician or a licensed dermatologist. Please see someone certified (ideally holistically!) to evaluate your skin and help you determine what is best for you.