Have you always wanted to try making your own natural deodorant but have been scared to try it out? This DIY recipe for Bergamot and Lime Deodorant is made from non-toxic ingredients, smells amazing and actually works! Learn how to make it here.
I always said I would never be the girl who made her own deodorant…
I was wrong.
I am that girl and over the past 2.5 years since I started making my own deodorant, I've yet to regret it.
Confession time: When we were deep in the middle of our move I ran out of deodorant. I thought for a second about going without it, but C quickly woke me out of my hippie daze. So I went to a local coop and bought a Bergamot and Lime scented deodorant. I loooooooved the smell and immediately became envious that my recipe doesn't call for either of these essential oils. BUT the brand made me break out into a rash under my arms, which (not surprisingly) is never fun. It weirdly crystallized and felt like rubbing sandpaper under there…yeah no bueno.
So I gave it up and decided to tweak my old recipe to a bergamot and lime scented version. Now I'm back to my old stuff and my underarms are happy and I smell delicious. Well no one has told me I smell bad, so I'll take it.
The recipe hasn't changed much since my initial version but I wanted to highlight this new scent combo for anyone looking to try it out. It's really just a swap out of essential oils (I love Aura Cacia's!) but I know DIYs can be a bit intimating so I've laid it out for you. Watch the video above to see how you make both versions or follow the recipe below for your own homemade Bergamot and Lime Deodorant! Honestly, once you have the ingredients it's wayyyy easier than you'd think!
Print
Bergamot and Lime Deodorant
Author: Davida Lederle
Yield:

1

3 ounce jar (will last between

4

-

6

months)

1

x
Instructions
Place coconut oil and shea butter in a glass bowl or jar and place the bowl/jar inside a medium sauce pan.
Add water to the saucepan (enough to surround bowl/jar but not to overflow it) and bring to a boil.
As water is heating up, ensure to stir coconut oil and shea butter and continue to do so until it melts.
Once melted, add in arrowroot starch, baking soda and essential oils.
Place in a 3 ounce jar and allow to cool at room temp or in fridge (will harden faster in fridge) until it's reached a solid state. If hardening in fridge, it will need to thaw for 10 or so minutes before use.
Cover with lid and keep in a cool and dry place
Directions for use:
Wet underarms slightly (this helps with even application)
Spoon out a pea-sized amount with a wooden scoop or with fingers and rub between fingers before applying directly to underarms.
For a regular day, one application in the morning should be fine. For hotter days, workouts or if you're particularly sweaty, feel free to reapply as needed.
Recipe based off this one
*Certain people are sensitive to tea tree oil so be sure to test your skin with a drop before adding to mixture. It is not necessary to include but tea tree is antibacterial and it is the bacteria in your underarms that leads to smell so it is a nice addition if you are not sensitive.
IF USING A DEODORANT MOULD: This was the first time I tried making it in a deodorant mould based on feedback from you guys. It definitely works to pour your deodorant into the traditional mould, but I personally prefer it from the mason jar. I just find application is a lot more even with my hands. For the mould, it melts much faster due to the heat from your underarms so while it certainly works, you may need to store it in the fridge to keep it solid. This is especially true if you live in a hot climate.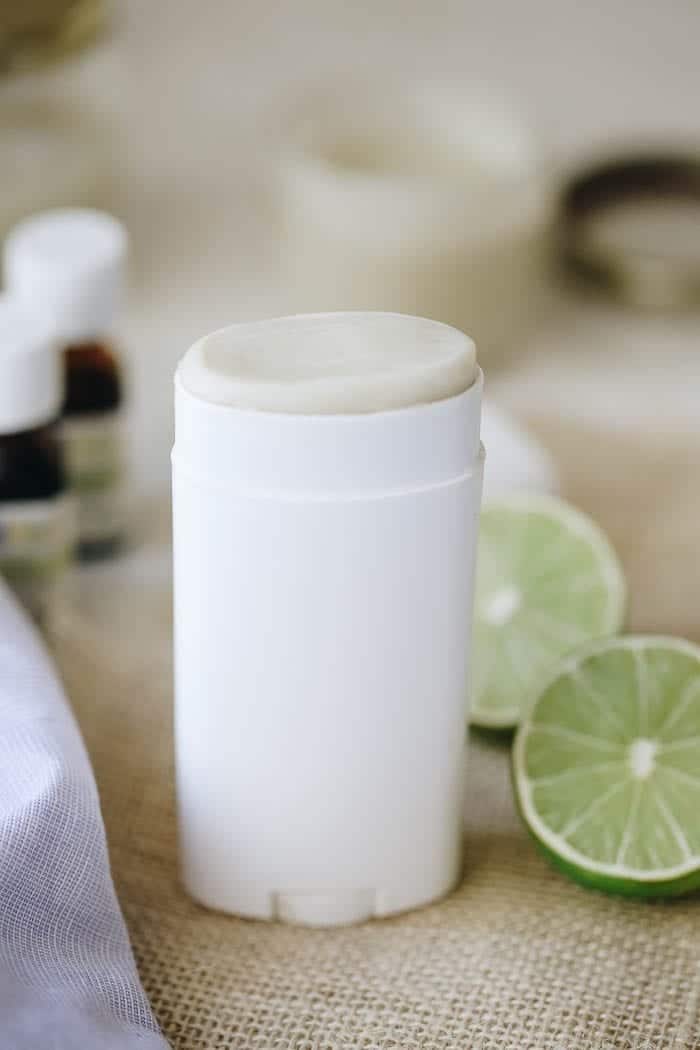 Have you ever tried making your own deodorant? What's your favorite scent combo?
LOVE THESE NATURAL BEAUTY TIPS? Join the THM Community!
Join 10,000+ members of the THM Community to get access to exclusive info about natural beauty, products I'm loving and how to transition to a more natural lifestyle.