Disclaimer: Thank you to Zappos for sponsoring this post. I was compensated for my time, however all opinions are 100% my own. It was so fun getting to explore my own city and finally share this Healthy San Francisco Guide with you!
I'll be honest, a year ago I didn't think it would be possible to amass a list this long. We had just moved to San Francisco and everything felt very unfamiliar to me. I couldn't find my way around, drank many cups of bad coffee and spent most of my time looking down at my phone to see where google maps was taking me. But I was determined to figure it out. Everyone kept telling me San Francisco was small and I would find my way around in no time, but I can truly say that I didn't believe anyone until I sat down today to write this post.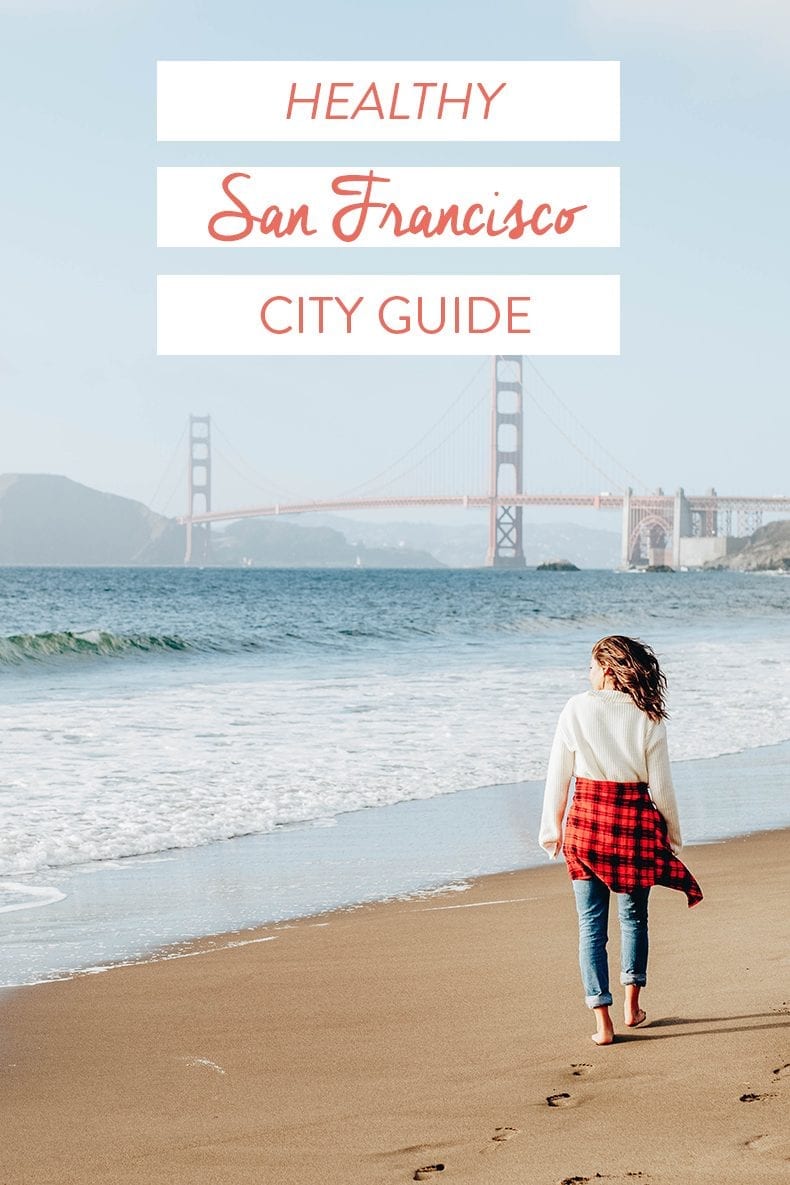 San Francisco is in fact very small. It's less than a million people and only 7 x 7 miles across in each direction. Coming from a city of 8 million that spans 3x the size of San Francisco, Toronto feels insane by comparison. But the good news is that if you're new here or visiting, it is far easier to explore than most people realize.
When we first moved here, I walked A LOT. I still walk a lot and even though I've found myself caught walking up some crazy hills, walking has allowed me to find my way around my new home and in the process put together this Healthy San Francisco Guide for you.
San Francisco may be small, but it's mighty. Its weather is extreme, its hills a challenge and its tech moving at a pace that even this blogger can't keep up with, but I can safely say that it is my favorite city in the entire world and I have zero regrets moving here.
GETTING AROUND
It is super important that you be prepared before coming to SF (never San Fran – read here to learn why!). The first piece of advice? Bring layers. San Francisco can swing from 50-80+ in a day. Though it tends to hang around a cool 65 degrees F throughout the year, anything is possible so bring pants, sweaters and a light jacket.
My second piece of advice? Wear comfortable shoes. As I said, exploring by foot is one of the best ways to get to know a city. Though Lyft/Uber and public transit is available, I find I really get a sense of a city by walking, but don't fool yourself by thinking those cute sandals will cut it. That's why I'm super excited to be teaming up with Zappos and Merrell to bring you this Healthy San Francisco Guide. There is nothing that I love more than athletic-wear companies who move into the athleisure space. It just means that not only are their shoes cute, but they're also durable and comfortable. Merrells are my go-to hiking boot, so naturally I loved their everyday line of shoes for any adventure. I ordered mine off Zappos, which offers free shipping and returns and my shoes were on my doorstep within 2 days. Seriously, fastest.shipping.ever!
I've also gotten a bajillion questions from you guys about them on Instagram. I honestly can't recommend them enough for navigating your way around San Francisco. Side note – Merrells fit true to size! I always like knowing this stuff before ordering and I went for my usual 8.5 and they fit perfectly.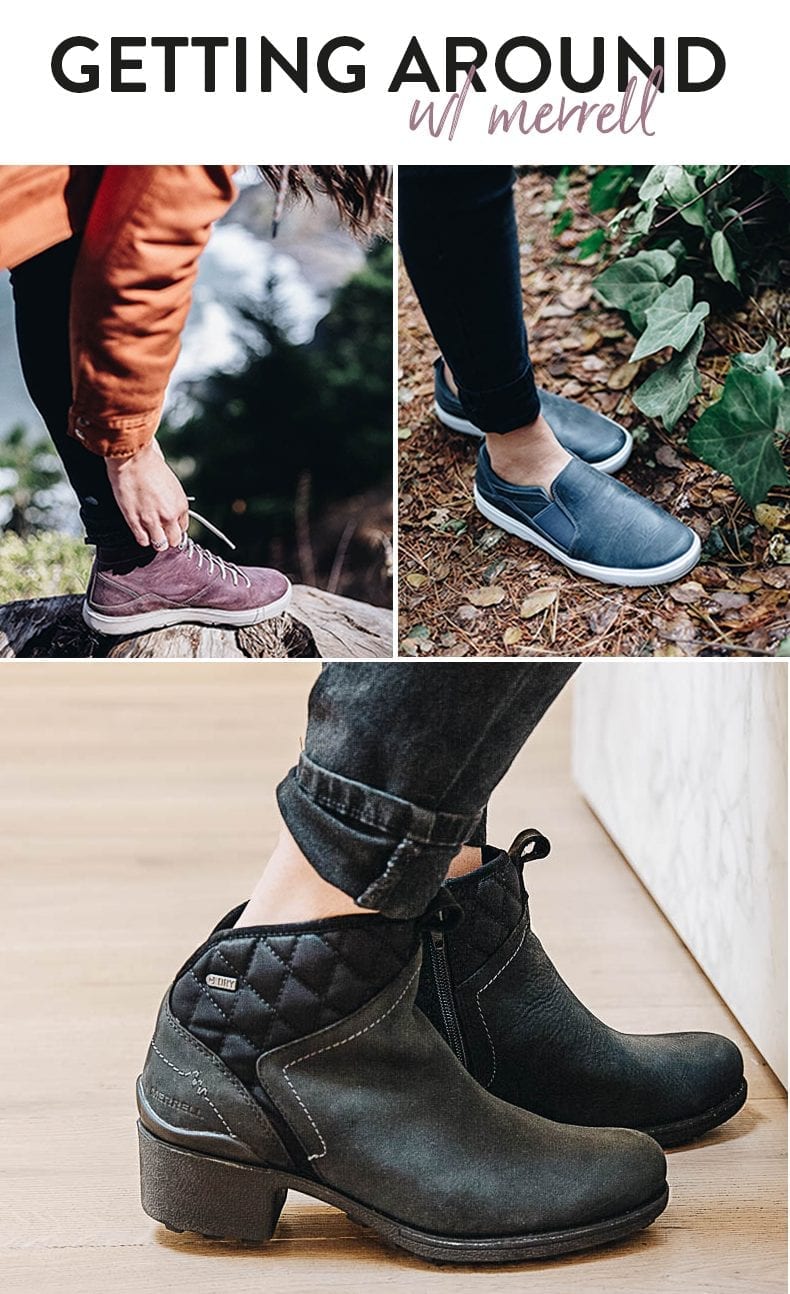 1.Merrell Around Town Mid Lace | 2.Merrell Around Town Moc | 3. Merrell Chateau Mid-Pull Waterproof
Back to the guide! I've broken it down in two ways, by activity and by neighborhood. You guys asked for both in the THM Tribe so that's what I did. I covered a lot of ground in the city so they're should be a place in almost every neighborhood, with the exception of some that I haven't explored a whole lot of (namely: North Beach, Nob Hill, SoMa and Dogpatch). I hope this guide can be helpful to those of you who are visiting San Francisco or live here and are looking to explore more of their own city. Enjoy!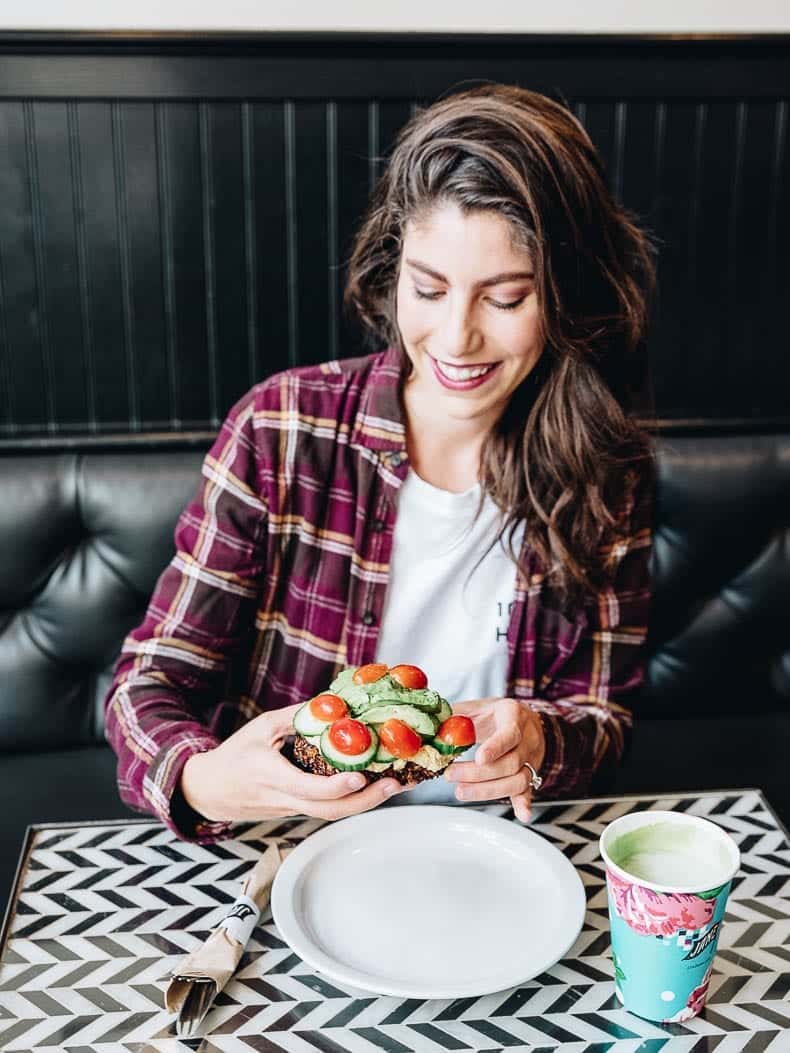 HEALTHY FOOD IN SAN FRANCISCO
Because we all need to know where to find the nearest avocado toast…
Jane on Fillmore –I've confessed my love for this place many many times. Their menu is extensive with everything from avocado toast, to salads to smoothies and it's a great spot to have a meeting or bunk up and get some work done. (Lower Pacific Heights)
Blue Barn Gourmet – Can't go wrong with a salad the size of your head! Their salads are enormous and even better is their large menu selection. If you just need some vegetables, Blue Barn is your place. (Marina/Russian Hill – couple locations)
Al's Place –If I could eat at Al's Place everyday I would. But I'd be broke. This vegetable-forward, upscale menu should be your splurge night or date night whenever you get the chance. Get the little butter lettuces and the fermented french fries! (Mission)
Outerlands – It's hard to say if this spot falls under healthy food or soul food because there's a little bit of both. There is always a wait on weekends but it's a total crowd pleaser and perfect distance from the beach. (Outer Sunset)
RT Rotisserie – this is a relatively new place (it's the takeout service of their fancier restaurant, Rich Table) but the chicken salad here is amazing. (Hayes Valley)
Souvla – Okay, I'll be honest and tell you that I like RT Rotisserie better than Souvla, but just about everyone disagrees with me. They now have a couple locations in the city, but get the chicken salad or sweet potato veggie salad. C recommends the lamb gyro (several locations)
NoPa/Nopalito – NoPa is California cuisine and Nopalito is California-Mexican. Both are tremendous and insanely fresh. Expect a wait but if you can get a reservation at NoPa, GO! (NoPa + Inner Sunset)
Zuni Cafe – get their famous chicken salad and find at least 5 people to help you eat it! It's huge but totally worth it. (Hayes Valley)
Media Noche – a delicious latin spot in the mission serving up interesting and filling salads and sandwiches. (Mission)
Plow – the best brunch spot! Seriously. I still dream about their eggs and sourdough and just all around V San Francisco vibes. Prepare to wait! (Dogpatch)
Others: Little Gem, Sweet Green, Urban Remedy, Project Juice, Earth Bar, Nourish Cafe, Bi-Rite, Mixt, Lemonade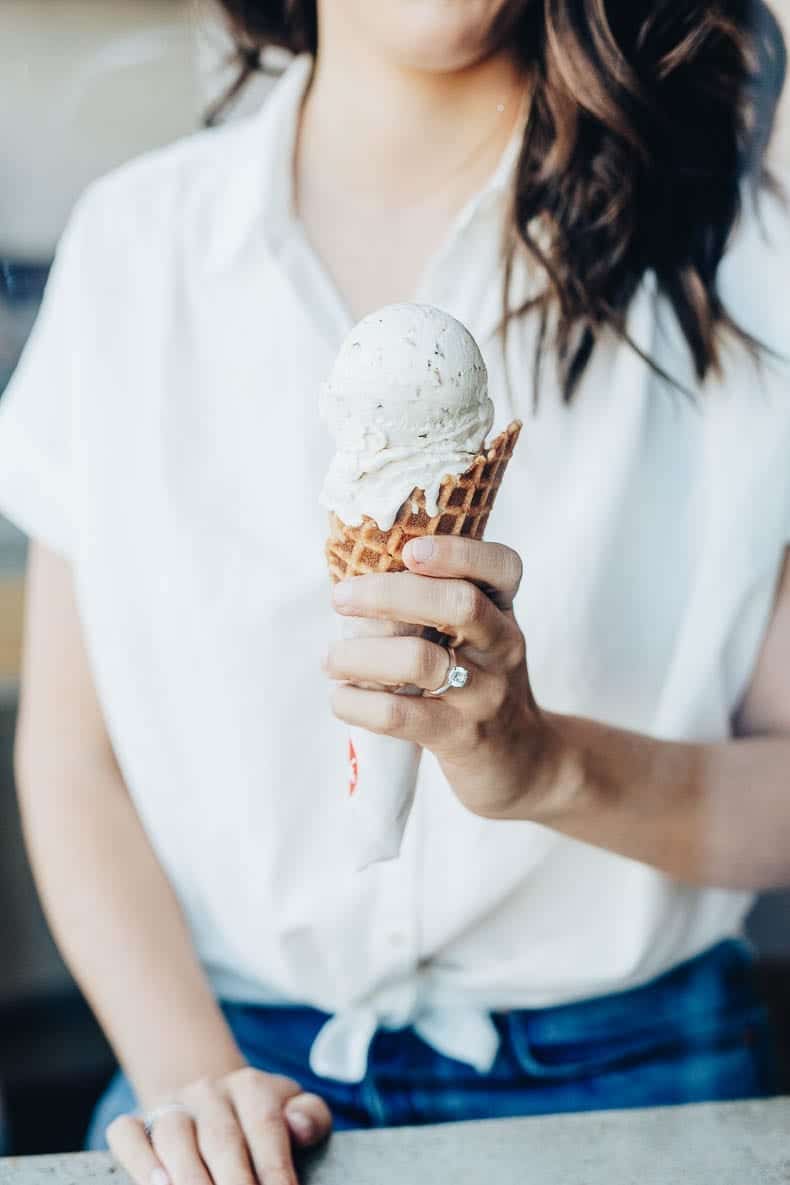 SOUL FOOD IN SAN FRANCISCO
Maybe not the healthiest food, but man is it good for your soul…
The Mill – their bread is everything. Particularly "the everything" sourdough loaf. I could eat this like candy. (NoPa)
Marla Bakery – one of our most frequently visited bakeries in the city. Their seeded bagel with the farmer's cheese and trout gives an east coast bagel and cream cheese a run for its money. (Outer Richmond)
Tartine Bakery – you cannot go to SF and not stop at Tartine. Grab a baked good or their famous bread or sandwiches and head to Dolores Park for the perfect SF afternoon! (Mission)
Devil's Teeth Bakery-we love this Outer Sunset spot. Be prepared to wait but their breakfast sandwiches are truly out of this world. (Outer Sunset)
Arizmendi Bakery – yes we've eaten at our fair share of bakeries in the city! Arizmendi is a favorite, but especially their selection of vegan and gluten-free goods but also their sourdough pizza dough, which I buy in bulk and freeze to use for pizza day. (Inner Sunset + Mission)
The Slanted Door – Definitely a tad pricey but this modern Vietnamese restaurant will blow your mind. Fresh ingredients from the Ferry Building meets beautiful views of the Bay Bridge. You can't go wrong here (Embarcadero)
Smitten Ice Cream – my personal favorite ice cream in SF. They do single-batch servings and the cookie dough is perfectly mixed with added salty pretzels. It's divine! (Several locations in the city)
4505 Meats – We love this casual outdoor BBQ joint. The meats are all done perfectly but definitely go hungry since you get a lot of food! (NoPa)
El Techo – a rooftop bar in the Mission with amazing views of the city. The margaritas are strong and amazing! (Mission)
Fiorella – be still my pizza-loving heart! Out of this world pizza's and delicious weekend brunch. Go here – and then hike it off at Land's End! (Outer Richmond + new location in Russian Hill)
Burma Superstar/B Star/Burma Love – If you can get into the original Burma Superstar, GO but if not their sister restaurants come in a close second. Don't miss out on the tea leaf salad, which is truly a party in your mouth! (Inner Richmond/SoMa)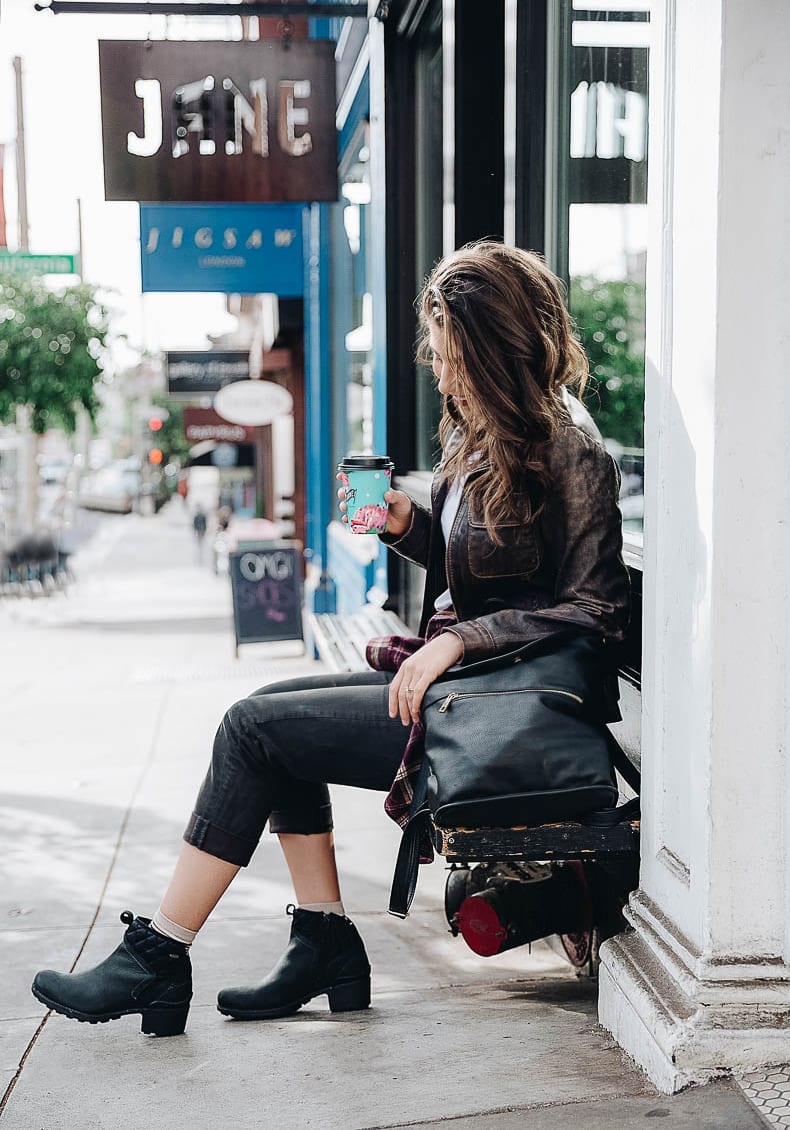 Wearing the Merrell Chateau Mid-Pull Waterproof
BEST COFFEE + MATCHA IN SAN FRANCISCO
The most important meal of the day…
St. Frank Coffee – Their almond macadamia nut milk latte is life-changing. I will willingly walk up the massive hill from the marina to get it (Russian Hill)
Trouble Coffee – An awesome and low-key coffee shop in the Outer Sunset. There's a really cool story to this place too so it's worth asking about as you wait for your drink! (Outer Sunset)
Wrecking Ball Coffee – tiny coffee shop in the Marina that is probably best known for its pineapple wallpaper. It always helps when the coffee tastes as great as the Insta picture looks. (Marina)
Reveille Coffee – GREAT coffee and cool atmosphere. Their food is very good as well and a great place to hunker down and get some work done (Castro, North Beach + Mission Bay)
Jane on Fillmore – Always a good take on matcha or a solid almond milk latte. I'm usually there for the food but I totally support their libations as well! (Lower Pacific Heights)
Hollow Cafe – I have to thank my friend Lara for introducing me to this place. They hands-down make the best matcha latte in the city. There is simply no comparison! (Inner Sunset)
The Richfield – a close second, I love the matcha latte here but their coffee is pretty solid too. (Inner Richmond)
Home Cafe – they make the most insane flavored lattes but TBH their oat milk latte is my favorite. If you're up for it you can always reach for their cookie monster or birthday cake latte (Central Richmond + Sunset)
Blue Bottle Coffee – a San Francisco staple. It's very good coffee and has built a reputation for a reason. I wouldn't say I flock here frequently but I definitely stop by if I see one in the neighborhood (throughout the city)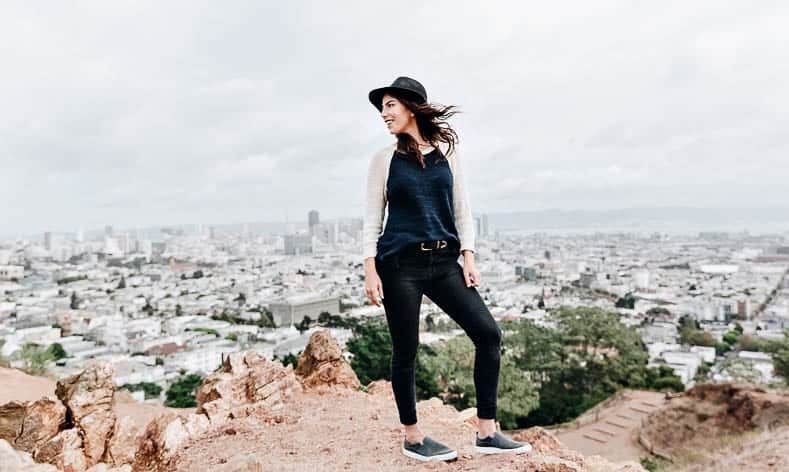 Wearing the Merrell Around Town Moc (in Turbulence)
NOT TO MISS VIEWS IN SAN FRANCISCO
Take it all in with these epic views of the city…
Baker Beach – It really doesn't get more San Francisco than this. As I'm sure you've seen in the millions of pictures we've taken there, we LOVE Baker Beach. It offers unreal views of the Golden Gate Bridge, and on sunny days can be a nice wind-free protection at the beach. (Inner Richmond)
Corona Heights – An easily accessible urban hike and 360 views of the city. No one has visited Corona Heights and not loved it! (Corona Heights/Upper Castro)
Twin Peaks –I'll be honest, the last time I was here was kind of traumatic as our car was broken into and my bag was stolen, but prior to this, the views were absolutely stunning. Don't forget to take in the houses on your way up to the top! They're super cool (Twin Peaks)
Dolores Park – Epic views meets human zoo, an afternoon in Dolores Park gives you the true San Francisco experience. (Mission)
Bernal Heights – I love this westward facing view of the city. It's a bit of a hike, but worth it. Follow it up with some shopping down on the main strip for the full Bernal experience. (Bernal Heights)
Alamo Square – I love hanging out in Alamo Square (though admittedly don't do it nearly enough!). This is where the famous Painted Ladies/Full House houses are located and after being under construction for years it finally reopened in the Spring. A really nice alternative to Dolores Park that is slightly quieter and less trafficked.  (Alamo Square)
Ocean Beach – One of our favorite activities is to have a bonfire on Ocean Beach and watch the sunset. There is no better sunset than one on Ocean Beach. (Outer Richmond + Outer Sunset)
Marriott Marquis Rooftop View Lounge – a non-traditional suggestion, but I highly recommend going up to the top floor of the Marriott Marquis off Union Square for a drink and to soak in the views. (Union Square)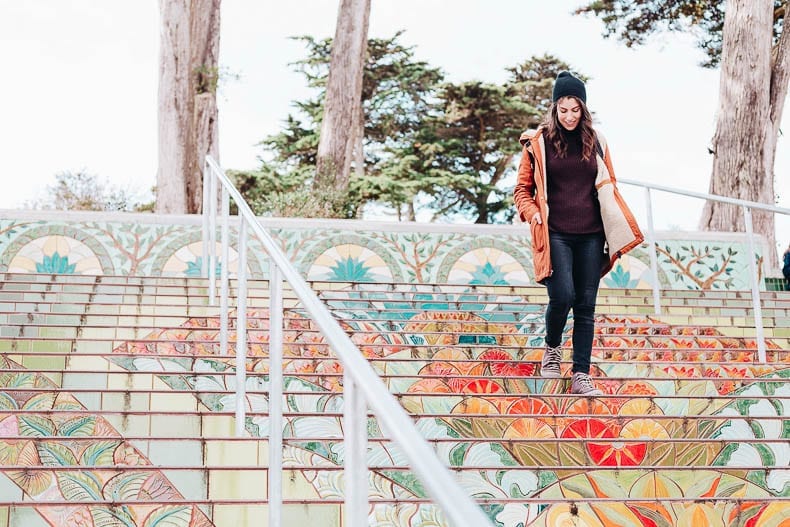 Wearing the Merrell Around Town Mid Lace (In Brown Sugar)
HIKES IN SAN FRANCISCO
San Francisco is one of those unique places where you can actually hike without ever leaving city limits! Of course, there are thousands of hikes outside the city, but if you don't want to or cannot get out here are some hikes you can do without ever having to leave the city.
Lands End – Probably our favorite trail in the city. It's always a crowd pleaser because of its stunning views of the Golden Gate Bridge and the Marin Headlands. It can be busy so prepare for tourists but nonetheless it's a beautiful hike. (Outer Richmond)
Mt Sutro Forest – this is like Fern's Gully in the middle of San Francisco! It's a steep climb to get up there, but once there it's like being in another world full of redwoods and eucalyptus trees. (Inner Sunset/Forest Knolls)
Golden Gate Park – it's 20% bigger than NYC's Central Park, which allows for hours of exploring. Go on a run, a walk or just take in the views from pretty much every corner of the park! (spans Inner and Outer Richmond and Sunset)
The Presidio– there are tons of hiking trails throughout the Presidio some of which make you forget you're still in the city. There are all kinds of trails throughout so do a little research and pick one that suits your needs. (Presidio)
Bernal Heights Park – Hike up to the top of Bernal Heights and take in the views. Not a super long hike, but a nice active uphill with a beautiful westward view of the city. (Bernal Heights)
Fort Funston – this is literally a dog's version of heaven. Totally dog-friendly, this stretch of beach (I'm calling it a hike but it's more of a long beach walk) offers endless fun and exploring for dogs and dog-watching for crazy dog people like me. (Lake Merced)
For more suggestions check out this article.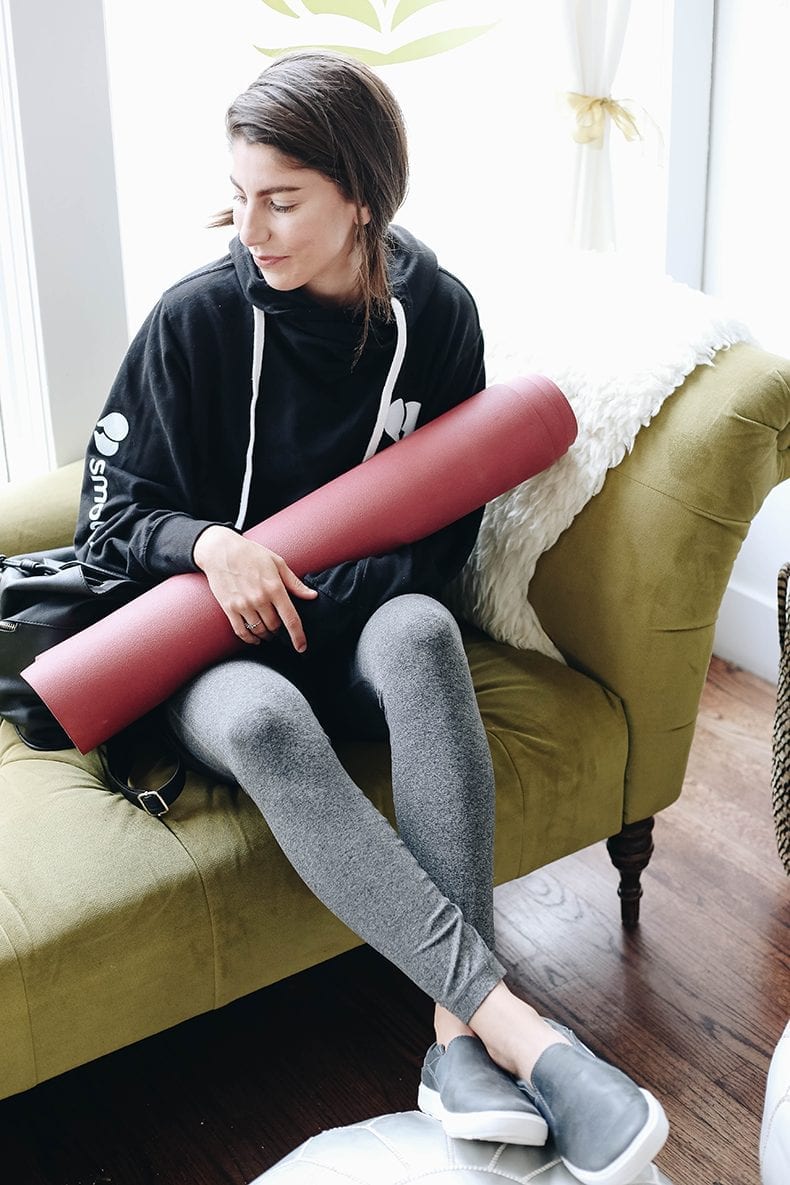 WORKOUTS IN SAN FRANCISCO
For when you just need to sweat it out…
BodyRok – Probably my favorite workout in SF when it comes to pilates reformer. I love this challenging piece of equipment and when I'm really looking to feel strong I visit BodyRok (Marina and Mission)
Soulcycle – Sometimes you just gotta sweat it out on the bike and while I'm certainly not a dedicated soulcycler, I do love a fun, music-oriented spin every now and then. (throughout the city)
The Pad Yoga – My favorite yoga studio in SF. The vibes here are just amazing and every class I've done here is so soul soothing and strength-inducing. I also teach here so I'm biased 😉 (Marina).
Love Story Yoga – wonderful yoga class and absolutely beautiful location. Very insta-worthy if you know what I mean! (Mission)
Core40 – My back-up reformer class if I can't get in to BodyRok or Soulcycle. Not my go-to but a great workout none-the-less. (throughout the city)
Yoga Tree – I call it the "Starbucks" of yoga. It's always consistent and good. Not the most transformative yoga class, but you are guaranteed to leave feeling better. I also love that it isn't stuffy at all like some studios in SF. (throughout the city but I like the one in the Inner Richmond)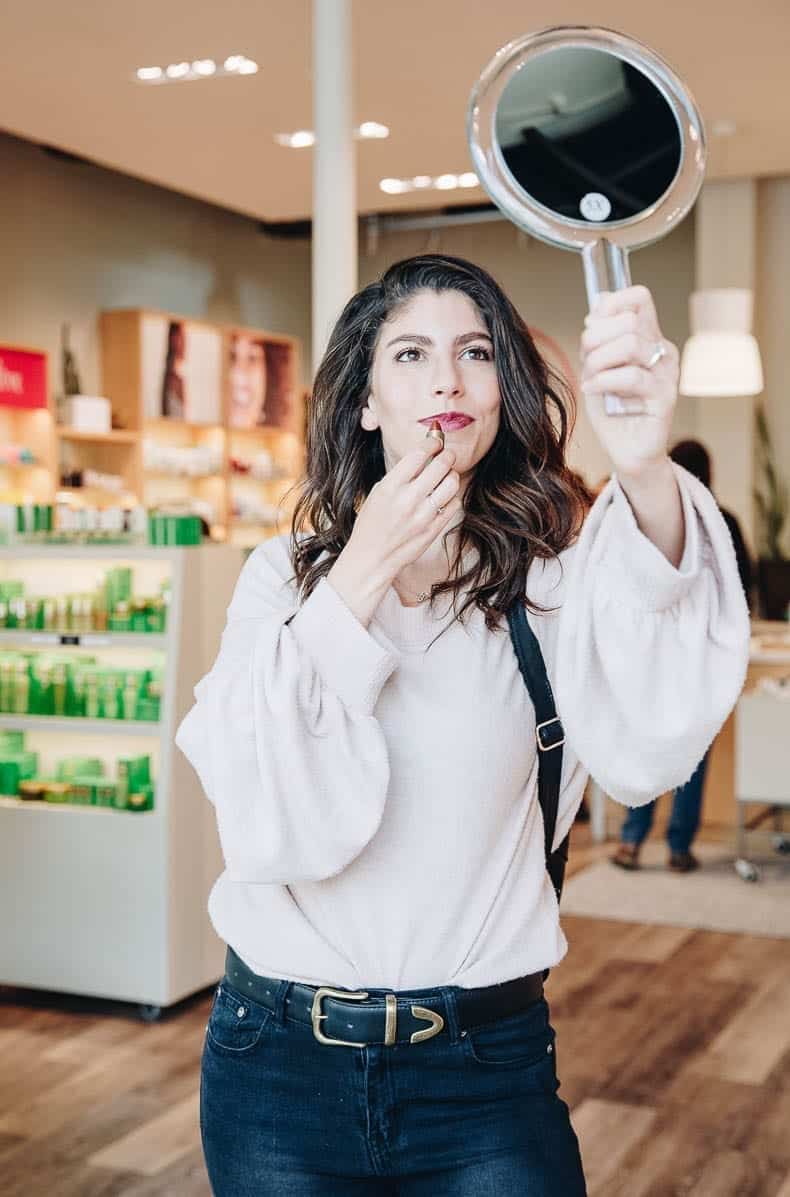 SHOP TILL YOU DROP
I'll be honest, I don't do a ton of shopping but if I'm opening up my wallet it's likely for one of these stores…
Credo Beauty – Oh how my poor wallet has suffered because of Credo. If you've ever wondered where I buy my green beauty products, it's always from Credo Beauty. (Lower Pacific Heights)
Saje Wellness – I think you all know my obsession with Saje at this point. Them opening up a store in San Francisco was basically my highlight of 2017. (Lower Pacific Heights)
The Perish Trust – Fun little store for browsing after eating all.the.bread next door at The Mill. They carefully source their products so you know you're getting the best of the best of everything (Alamo Square)
Paxton Gate – it's a little strange that a taxidermy store made the list, but I swear I'm not going for the stuffed animals. They have awesome books, home trinkets, crystals and plants that make serious #goals for your home. (Mission)
Ferry Building at the Embarcadero – I love the Ferry Building. I know it's so touristy, but I honestly just really love the experience (esp on Wednesdays and Saturdays when they have the Farmer's Markets). Stop at Heath Ceramics for beautiful pottery and Cowgirl Creamery for the best.cheese.ever! (Embarcadero). 
Succulence – One of my favorite plant stores in the city. It's also a deep dark hole to all things succulents (duh), crystals and random chachkis for your home. Beware…(Bernal Heights)
Ritual Skincare – okay not really a store, but if you're in town or live here you MUST go see my girl Katie at Ritual for the best facial of your life. Her products are all 100% natural and she is a true saint when it comes to skincare. She's also my unofficial therapist. Seriously – go see Katie and thank me later. (Hayes Valley)
I think that's it for now! I want this list to be ever-evolving so I'll be adding in more places as I experience more of the city. And now when you guys send me 10 messages a day about where to go in San Francisco, I can just send you this 😉
*Images courtesy of Rae Surbaugh (follow her on Instagram) and Bettina Bogar
Where are you most excited to check out? SF locals – did I miss anywhere?
WANT MORE HEALTHY LIVING TIPS? Join the THM Community!
Join 10,000+ members of the THM Community to get access to exclusive info about healthy living, products I'm loving and tips and tricks on making a healthy lifestyle easier and sustainable.