An easy video tutorial on how to make homemade almond milk, 3 different ways! From classic vanilla, to spicy chai and decadent chocolate, this step-by-step tutorial will teach you how.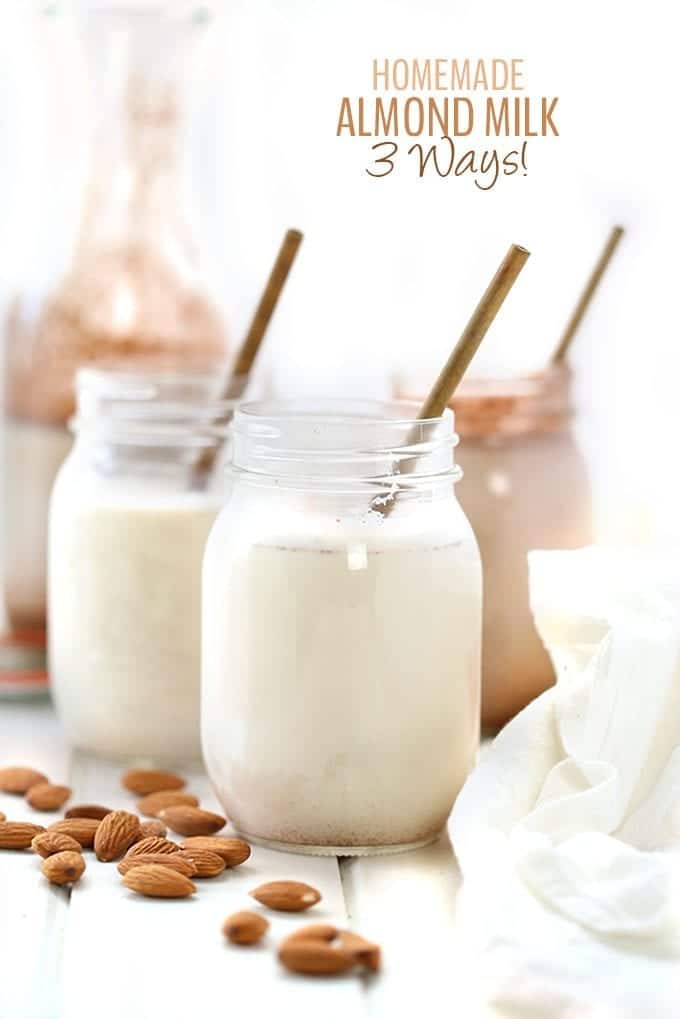 It's the first video of 2016! I'm so so excited to be kicking them off with an awesome collab with one of my good friends and fellow blogger/vlogger, Nikky from HealthNut Nutrition!
We decided to come together to create two awesome videos highlighting homemade juice and milk/mylk recipes. After the indulgence of the holidays, we could all use a little (non-alcoholic) hydration amIright?
Nikky has 3 delicious juice recipes (that are also stunning!) and I'm teaching you how to make homemade almond milk, in 3 different varieties. I think you're gonna be surprised at how easy it is to make.
One of my highlights of 2015 was meeting and getting to know Nikky. It's kind of a funny story how we met…
In true form, Nikky was actually a reader of Lee's and when Lee was visiting last February, Nikky commented on one of her Instagram pictures about her living in Toronto (sounds oddly familiar to how I met Lee…;)).
So on Lee's last day here we met up with Nikky at Portland Variety and totally hit it off. Lee and I are not an easy bunch (we're a tad loud and aggressive), but Nikky totally held her own. We also LOVED how unbelievably talented she is, but she had no idea of it!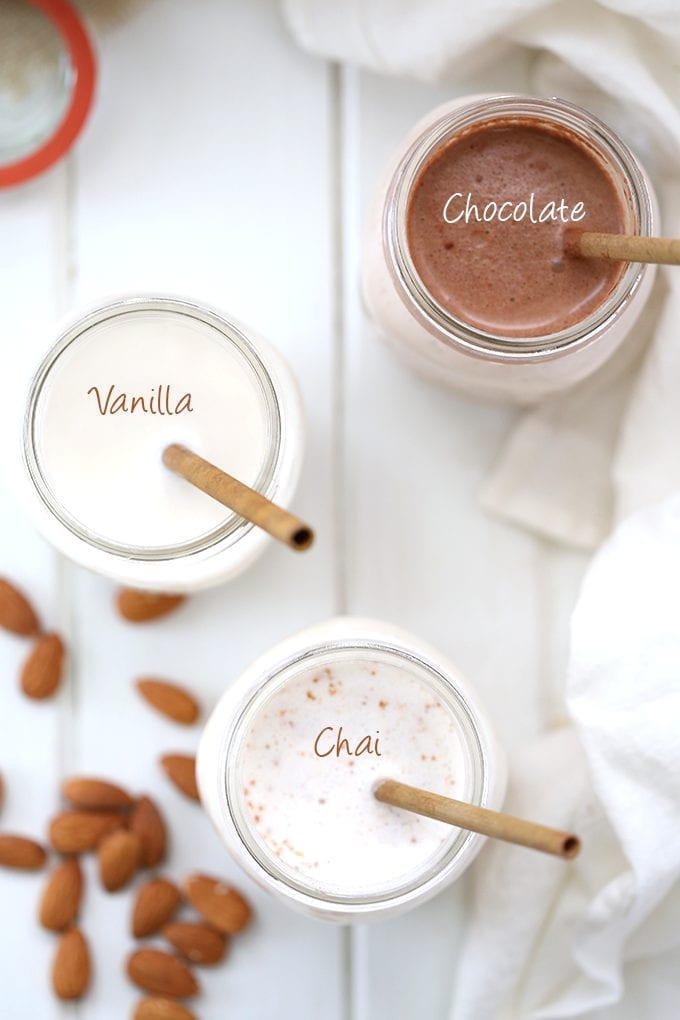 Over the year I have watched Nikky grow her channel at an unbelievable (and well deserved!) pace, and take HealthNut to the next level as a badass vlogging business.
In the process, Nikky has taught ME so much. She inspired me to start my YouTube channel, taught me about the technicalities of filming and the ins and outs of the YouTube world.
Not to mention how wonderfully humble and balanced she is. She's someone who I can drink green juice with all day and then enjoy a couple of glasses of wine with at night! We're on the same page when it comes to health and wellness.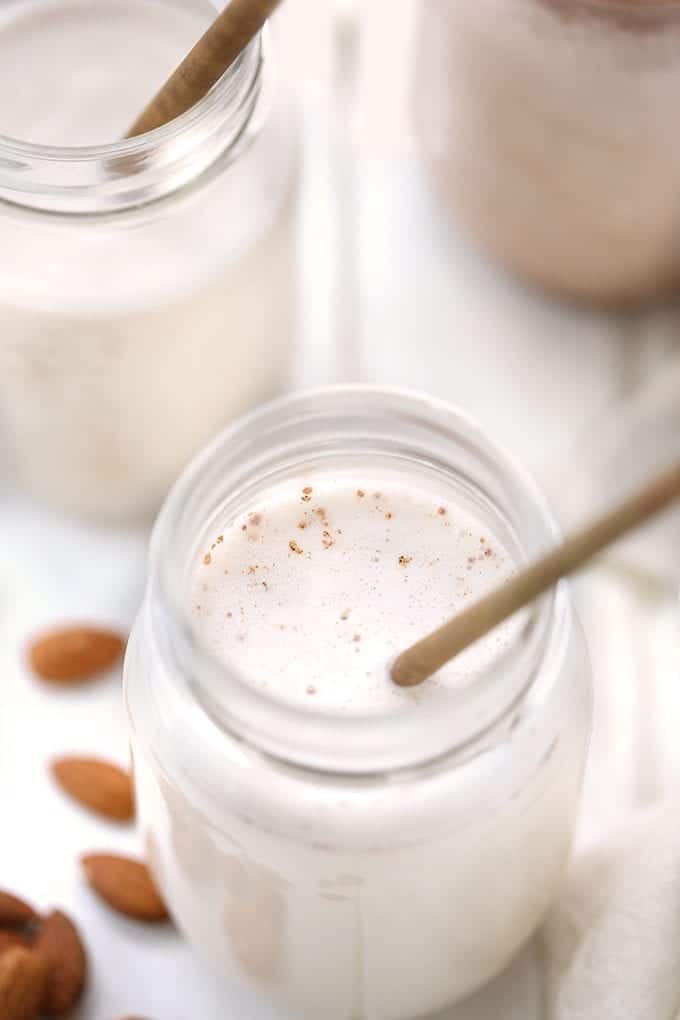 Being able to meet and connect with new people through the blogging world has been such a privilege. I've met a lot of bloggers, but there are a couple who I've developed strong bonds with outside the world of blogging. Nikky, Lee, Lexi, Cassie, Sahar just to name a few. Our conversations go beyond what we posted on the interwebs that day. We chat family, relationships, body image, beauty products, the Kardashians and pretty much everything in between.
So let's cheers our homemade almond milk to the friendships we built in 2015 and the new ones we'll grow in 2016. I can't think of anything more worth cheersing than that!
Print
How To Make Homemade Almond Milk – 3 Ways!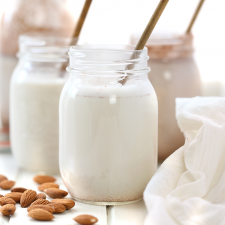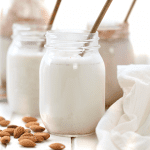 Prep Time:

6 hours

Total Time:

6 hours 5 minutes

Yield:

4 cup

s

1

x
Scale
Ingredients
for the vanilla flavored:
for the chai flavored:
for the chocolate flavored:
Other supplies:
Instructions
Place almonds in a bowl and fill bowl with water until almonds are covered.
Let soak overnight, or for at least 6-8 hours.
Strain almonds and place in blender.
Add 4 cups of water to blender and blend until smooth (my blender takes about 45 sec-1 min of blending).
Place nut milk bag or several layers of cheese-cloth over a large bowl of jug.
Pour contents of blender through nut-milk bag or cheese-cloth to strain and squeeze bag until all liquid has been removed.
Add in maple syrup and then flavor with desired flavorings, as listed above.
Store in a sealed container in the fridge for up to 5 days.
Shake before using.

After enjoying these delicious almond milks, make sure you head over to Nikky's blog to check out her amazing Detox Juice Recipes!
Have you ever met friends through the internet? Have you ever made homemade almond milk?
JOIN THE THM NEWSLETTER
Join 10,000+ members of the THM Community to get access to exclusive recipes, healthy lifestyle tips and behind-the-scenes news from our team!