Learn all of the benefits of Rose Water, including a step-by-step tutorial on how to make rosewater! Not only will you learn how to make homemade rose water, but you'll get a DIY Rosewater Face Toner recipe too!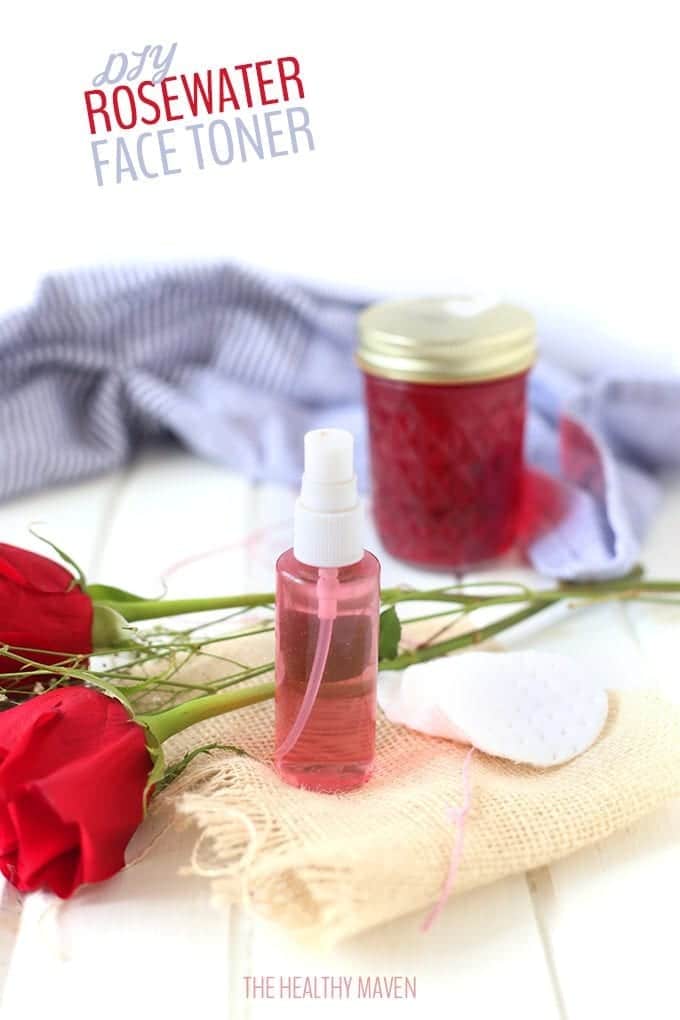 The maven is B-A-C-K with a little DIY Video action! Who's excited? Just me? Welcome to my life.
Also included in my life is a fridge full of homemade kombucha, cold brew iced coffee and of course homemade rosewater. Because everyone's fridge is stocked with various colors of the rainbow in refreshment form, right? More like an assortment of diet pop flavors, but I'd like to believe my refrigerator soulmate exists out in this great big world.
Sorry if I'm making absolutely no sense today. I am currently deep in the throws of video editing and I can't remember the last time I saw the light of day. So much respect for YouTubers (insert hands in the air emoji).
Today's video escapades resulted in this 5 minutes of glory. Approximately 1 minute of it involves me making the recipe for Homemade Rosewater, and the rest is spent staring at my lovely face explaining to the world exactly how to use rosewater.
Anywho, if you're curious you should probably watch the latest in my adventures in YouTube. We're making homemade rosewater and I'll show you how I like to use it in my skincare routine.
CHECK OUT MY VIDEO ON HOW TO MAKE HOMEMADE ROSEWATER
What is Rose Water + Rosewater Benefits
Rosewater is exactly as it sounds, roses + water. It gives you all the benefits of water plus the bonus of the anti-inflammatory and hydrating advantages of rose. Plus it smells awesome.
Rosewater is used in some cuisines, but I find myself using it most frequently in my skincare routine. People live and die by this stuff, but I'm not desperate enough to spend $10 on a small bottle. Espectially since it's so easy to make at home.
Fortunately, I'm thrifty and was able to make over 3 bottles for the same price. Love me a good deal, and especially when the DIY version is stupidly easy.
What are the benefits of rose water?
helps balance the pH of skin
soothes skin irritation
reduces redness (has anti-inflammatory properties!)
may reduce fine lines and wrinkles
[source]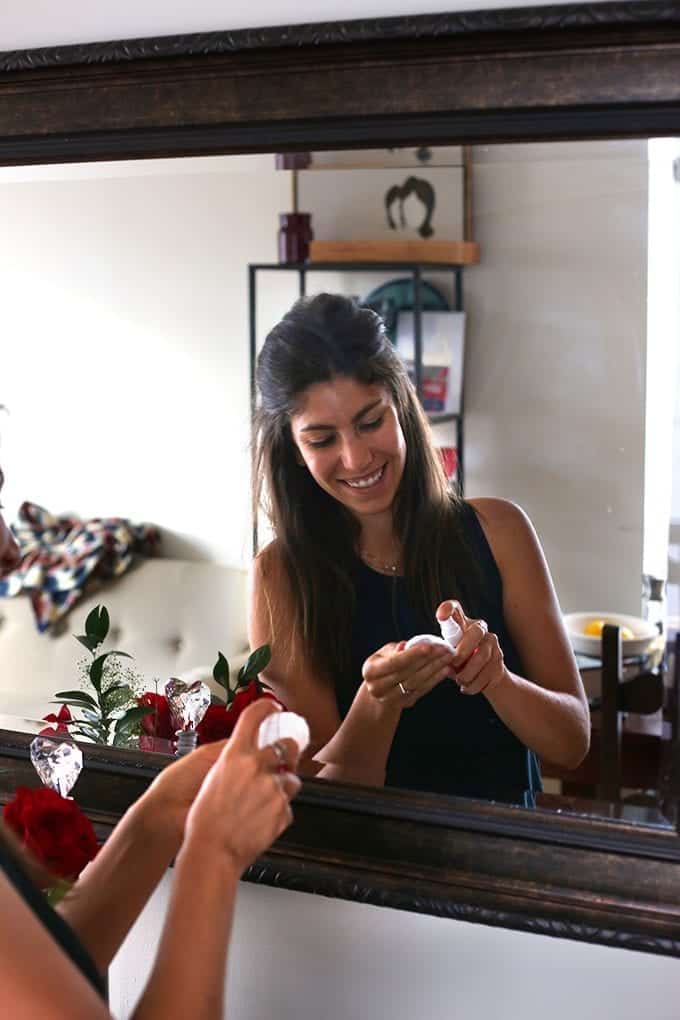 How to Use Rose Water
Now for some of the ways I like to use this rosewater in my skincare routine:
1. Skin Toner – by and far this is the #1 way I like to use it. Apple cider vinegar can also be a great skin toner, but let's be real rosewater smells so much better and is just as effective.
2. In the bath – I'll add about a cup to my bath water for extra hydration and relaxation from the scent.
3. Natural Perfume– we'll get into the discussion of conventional perfume another day, but let's just say you are far better off sticking to this natural version.
4. Face refresher/Make-up setter – Spray this on your face when you're at your 3:00 PM slump…it works.
These are just a few of the many ways you can use rosewater. Now that I've hacked a super easy and cheap version for you, I challenge you to go out and experiment! But if you air on the side of caution, try my DIY Rose Water Face Toner. I promise you will be in love (roses included).
Print
How To Make Rose Water + DIY Rosewater Face Toner
Learn all of the benefits of Rose Water, including a step-by-step tutorial on how to make rosewater! Not only will you learn how to make homemade rosewater, but you'll get a DIY Rosewater Face Toner recipe too!
Author: Davida Lederle
Prep Time:

5 minutes

Cook Time:

25 minutes

Total Time:

30 minutes

Yield:

1.5

litres

1

x
Category:

Skincare

Method:

Boil
For the Homemade Rosewater:
Organic Roses (as many as you like-I used 7 stems)
Distilled water (enough to cover the rose petals- I used about 1.5 litres)
For the Homemade Rosewater Face Toner:
1 tbsp

pure rosewater (recipe above)
about

4 tbsp

of distilled water (or enough to fill your spray bottle)
Instructions
For the Homemade Rosewater:
Remove petals from stems and run them under luke-warm water to remove any leftover residue.
Add petals to a large pot and top with enough distilled water to just cover (no more or you'll dilute your rosewater).
over medium-low heat bring the water to a simmer and cover.
Let simmer for 20-30 minutes or until petals have lost their color and are a pale pink.
Strain the mixture to separate the petals from the water.
Discard petals and place water in a glass jar to store.
For the Homemade Rosewater Face Toner:
Combine all ingredients in spray bottle and shake.
To apply: spray directly on face or spray a cotton pad and wipe face to remove any residue.
*Note: Using 7 stems makes around 1.5 litres of rosewater. This seems like a lot but it keeps for a long time in the fridge. Just store in a sealed, glass container until ready to use.
Keywords: rosewater, rose water, homemade rosewater, diy rosewater, rose water, how to make rose water


Like this post? Here are a few others you might enjoy:
Homemade Gingerbread Body Scrub
Clean Beauty Basics – How to swap
I tried Beautycounter for the first time…here are my thoughts!