From hair to nails to skin, this post will show you how to throw a DIY Spa Night for the perfect night of relaxation and rejuvenation with the ladies! With help from Aura Cacia Essential Oil Blends spa night is just one DIY away.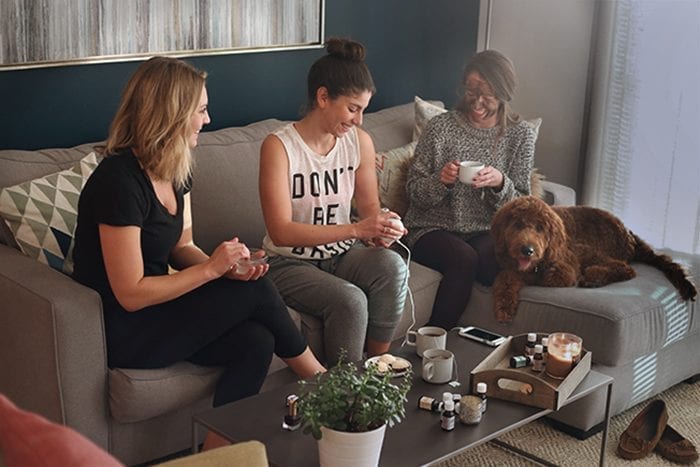 It's been way too long since I got the ladies together for a spa night. Actually the last time was when they were in Toronto visiting me in May! So when I asked Team Fit Foodie (+Bodhi) if they'd be up for a night of epic R&R, I was pretty stoked to have them on board.
We teamed up with our friends over at Aura Cacia to show you guys how to create the most epic DIY Spa Night. They recently came out with a new line of DIY Essential Oil Blends that are basically god's gift to girls night. If you've ever gotten into the essential oil game (it's a deep dark addictive black hole!) you know how you can't just buy one. Well their new blends are some serious bang for their buck because they've pre-blended them for you. No more guessing which ones work well together or the best oils for various body parts. Just grab one of the hair, nail, facial or body care blends and you're good-to-go!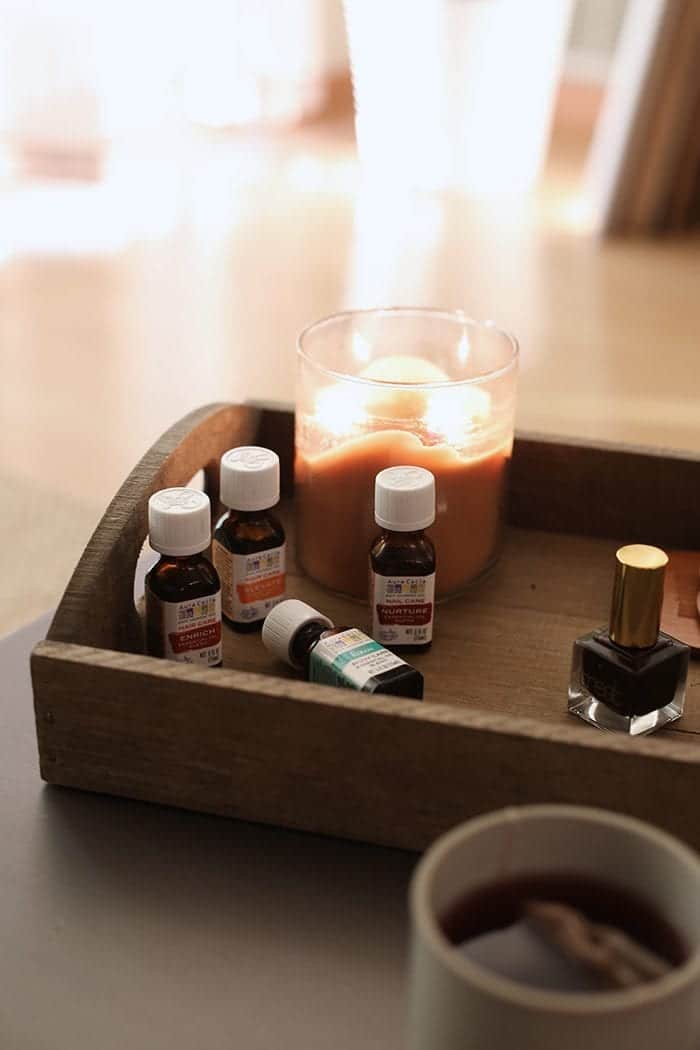 I think that it's important that we all make time to indulge ourselves but also to indulge our friends. And hey, why not do it together? But it shouldn't feel like work or like you have to put on your best hostess hat and throw a party. You should be able to relax too. So today I'm showing you how to do it so you can actually enjoy spa night instead of having to plan it! Let's start with…
DIY Spa Night – FACIAL CARE
It wouldn't be a spa night without a face mask! We all know how I feel about face masks so you better bet I'm going to rope my friends in on them. Team SHE loves their face masks so this was a key part to spa night. Here's a couple of options for different face masks:
DIY Pore Minimizing Face Mask
Soothing Oatmeal Honey Face Mask
Hydrating Avocado Face Mask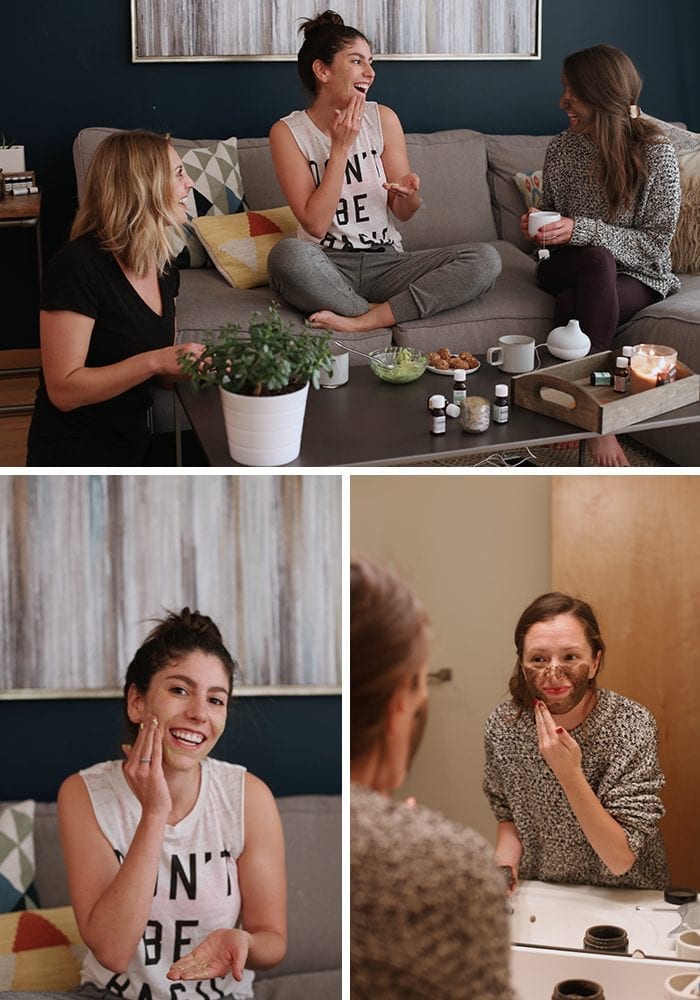 DIY Spa Night – HAIR CARE
Hair masks are something I usually only do around once a month so it requires so pre-planning to sync it with spa night. I also think it's a key part of spa night because the effects of it are immediate. While face masks and nail care are nice, it takes repeated use to see effects. Not the case with hair masks! Here's a couple of ideas for hair masks:
Deep Conditioning Avocado Banana Hair Mask
Elevate Coconut Oil Hair Mask
Egg and Olive Oil Hair Mask
But if you're not up for a hair mask, I'm not going to deny that my ultimate dream is to have someone cornrow my hair. Yes, beads and all. Mexico circa 1999 here I come!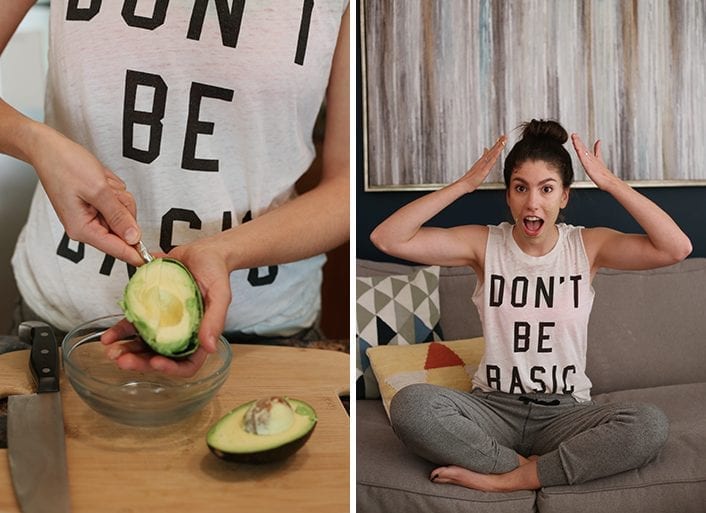 DIY Spa Night – NAIL CARE
Taking the time to give myself a mani feels like the ultimate indulgence. But after a busy shooting or in the kitchen, my hands can get kind of roughed up. Sometimes they just need a little extra help, and well when Linley's Hands are involved you know your nails are going to get a serious upgrade! Check out some of these nail care DIYs:
Nurture Nail Soak
Aloe Vera Hand Gel
DIY Cuticle Cream

We actually created this DIY Cuticle Cream to show off the amazingness that is the Nurture Nail Blend. Be sure to head over to SHE to get the full recipe and more scenes from our DIY Spa Night!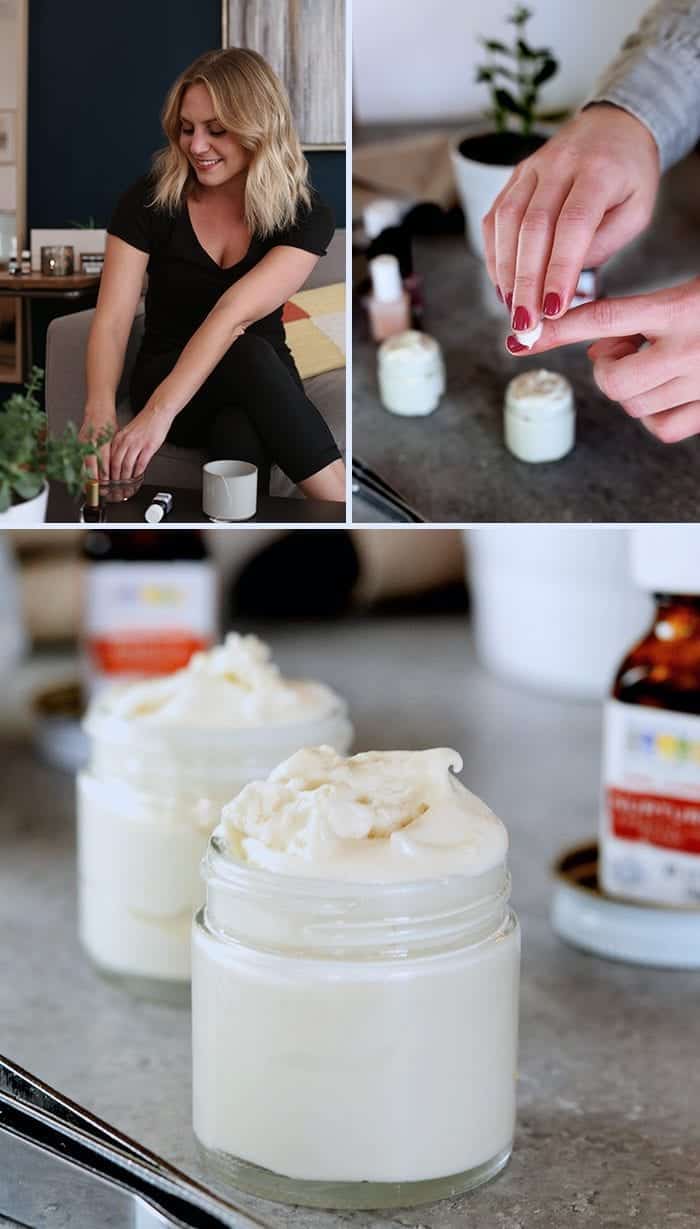 DIY Spa Night – SETTING THE SCENE
1. Snacks + Drinks – these are key. If you put Lee and I in a room together there will be balls. Always. We had her peanut butter balls with some fruity tea to wash them down. Wine is always an option…Just saying! Here are a couple of other great recipes for spa night:
Crispy Sriracha Lime Chickpeas
Flourless Cashew Butter Brownies
Rosemary Cashew Bar Nuts
2. Scents galore– candles or an essential oil diffuser are a great way to set the scene. We did both! We love diffusing lavender essential oil for a calming effect.
3. Music – if you're with Lee, you will be listening to 90s soft rock. Ask your friends in advance for their favorite tunes. If you're still at a loss, check out my friend's awesome music blog for inspiration!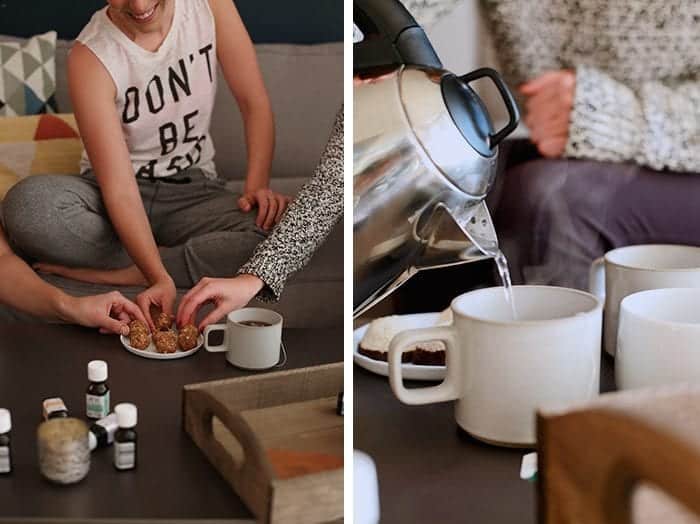 So maybe we're past the days of pore strips and cucumber eye masks, but that doesn't mean you can't plan an awesome spa night get-together with your girlfriends. If anything, it's a great time to laugh and feel good about putting some TLC into your body. But mostly I get to hang out with two of my closest friends. Here's a couple outtakes from our night!
Disclaimer: This post is sponsored by Aura Cacia. I was compensated for my time, however all opinions expressed are entirely my own. Thank you for supporting the brands that help make THM possible!
WANT MORE HEALTHY LIVING TIPS? Join the THM Community!
Join 10,000+ members of the THM Community to get access to exclusive info about healthy living, products I'm loving and tips and tricks on making a healthy lifestyle easier and sustainable.