In case you missed it, check out last week's post recapping part 1 of my 2 week vacation out West with Where To Stay, Go and Eat in Park City, Utah!
After an incredible week in Park City, my family and I packed up the rental car and headed up to Jackson, Wyoming en route to Grand Teton National Park. We actually split the journey and spent a night in Idaho Falls, Idaho. Can't say I ever thought I'd find myself in Idaho, but I'm glad I could cross that one off the bucket list!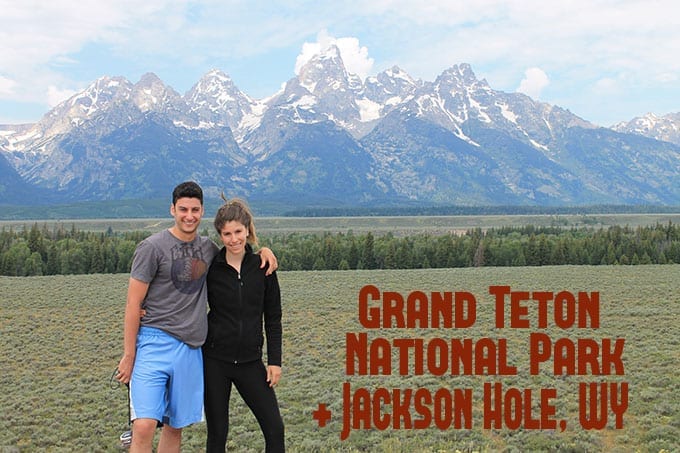 We only stopped through Jackson before heading to The Grand Tetons but I was immediately in love. Luckily, I knew we would be returning there after our couple of days in Yellowstone (which I'll be recapping next week) so I had that to look forward to.
Of all of the places we visited on our trip, Jackson and Grand Teton National Park were my absolute favourite. I have never seen such majestic mountains, such a fun and cultured city or experienced such an escape from reality like I did there. If you have a chance to visit Wyoming, do NOT skip Jackson or The Grand Tetons. I hope my pictures below will give you a sense as to why.

Jackson Lake Lodge. We spent 2 nights in the park and this is where we stayed. I HIGHLY recommend staying here. The rooms were not super fancy but I don't think anywhere in the park could compete with the view that we had. You need to book well in advance and be sure to request a room with a view. Watching the sunset over The Grand Tetons with a glass of wine in my hand and by family all around me is a site I will never forget.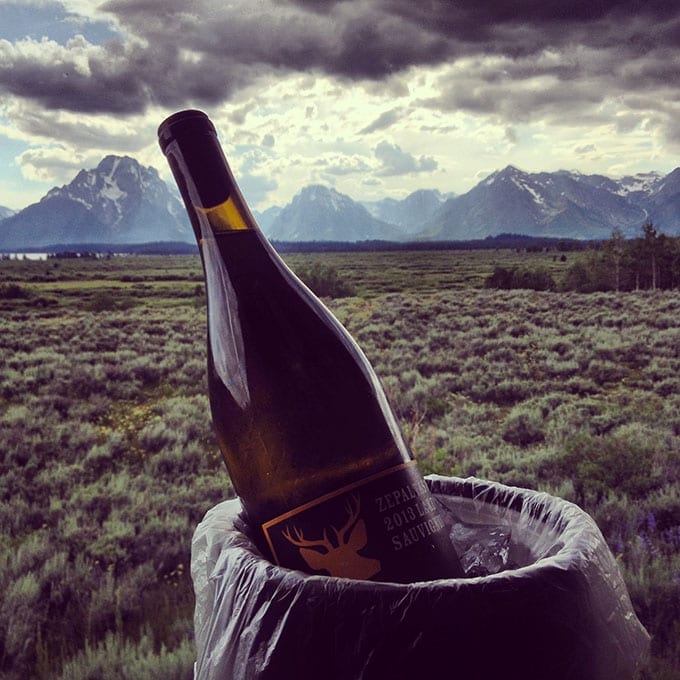 As you might expect, we mostly hiked but how could you not when you're surrounded by such glorious sights, sounds and smells? We did manage to get on the water though.
String Lake Trail. This trail was much quieter and off the beaten path compared to the more popular Jenny Lake Trails. This was one of my favourite hikes from the trip. Beautiful scenery and lots of wildlife. I could have done without the mosquitos though.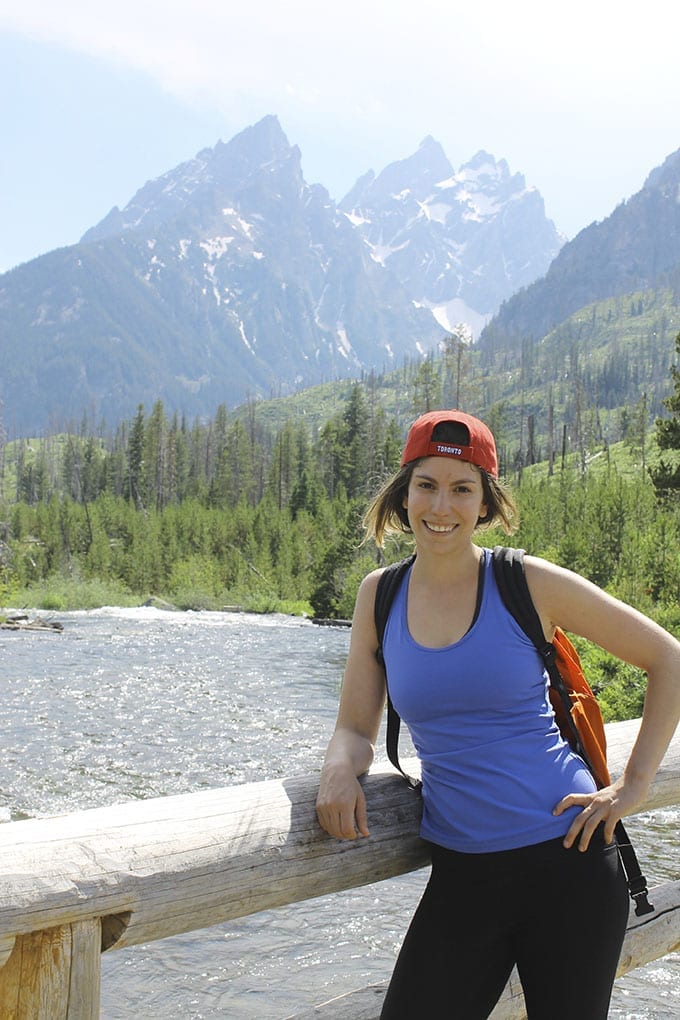 Snake River Scenic Float. They don't allow white water rafting in the park, so we opted for the scenic float option which essentially means sitting in a giant blow up tube and floating down the Snake River. I recommend going early in the morning or in the evening so you can see the wildlife. We got lucky and saw a mama and baby moose right on the river. Actually the baby was stuck and it was really sad. I'm still hoping the mama moose got her to safety! If you're going in the morning, make sure to dress warm!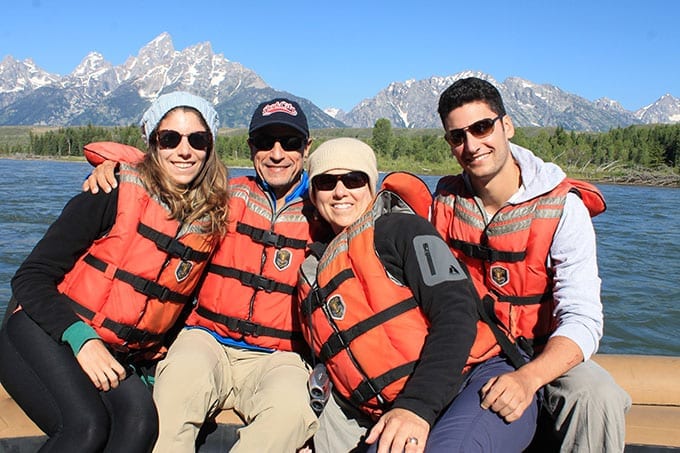 Jenny Lake Trail up to Hidden Falls and Inspiration Point. Some of the most spectacular views I have ever seen. This trail is busy (for good reason) but most people opt to take the boat across Jenny Lake rather than hiking around it, so we avoided most of the crowds. It starts to get super busy around Hidden Falls (where the boat drops people off) and this continues up to Inspiration Point. Despite the congestion, the falls and inspiration point are not to be missed. I was completely blown away.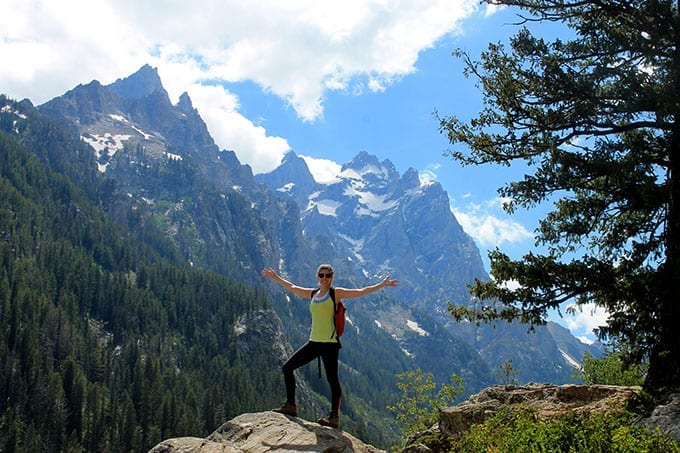 Signal Mountain Drive. People recommended we do this but I thought it was pretty "meh". Then again we did this last so by this point we had already set our standards for look-outs pretty high. It was basically a 10 minute drive up to the top of Signal Mountain were you get a view over the valley below the Tetons. BUT this site was not an entire let-down because as we were driving down WE SAW A BEAR. This picture was a team effort and if I didn't think I'd be eaten alive I would have jumped out of the car and cuddled him. So cute!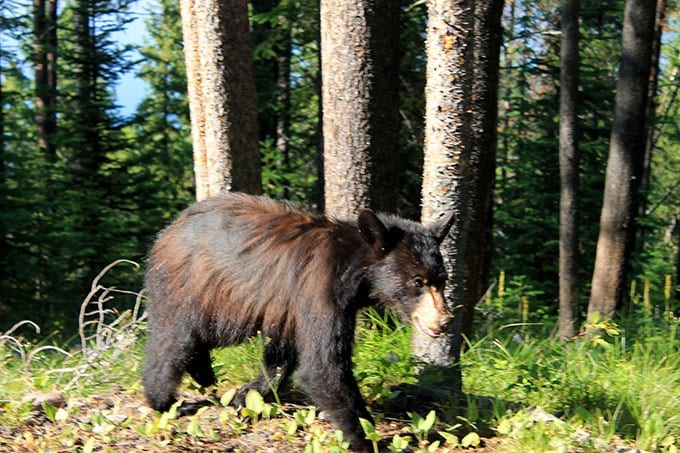 Once again we mainly ate breakfast in our room (so.much.oatmeal) and PB sammies for lunch. Dinner we ate out.
Pioneer Grill at Jackson Lake Lodge. As you can imagine, you are pretty limited in where you can eat in a National Park. Our lodge had 3 restaurants, a grill, a bar and a fancy resto. The first night we tried out the grill and it wasn't anything to write home about. Then again you can't be expecting gourmet food in the middle of nowhere so I really don't blame them. My taco salad did the trick though.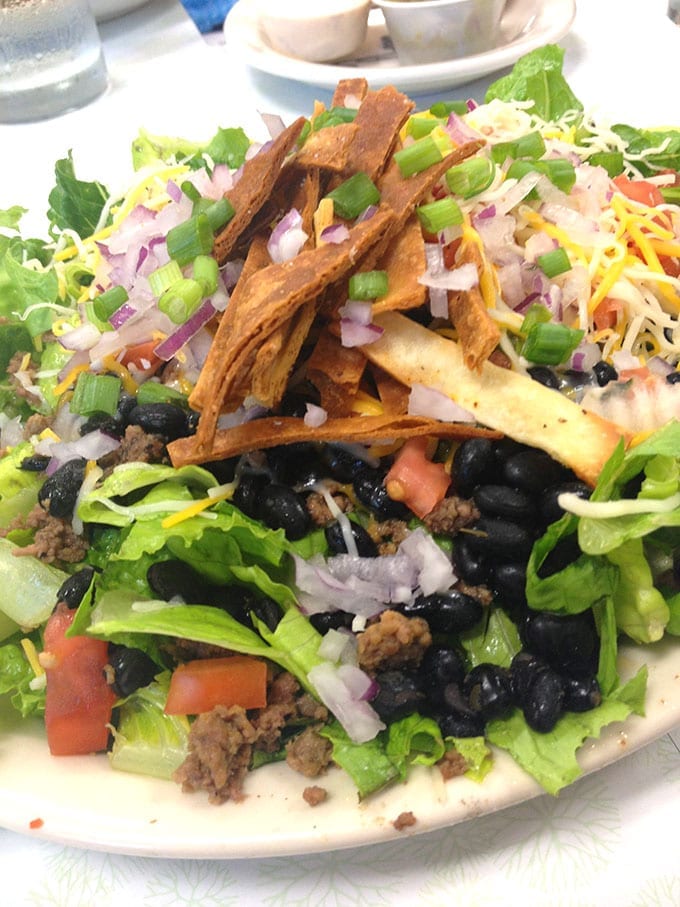 Leek's Marina & Pizzeria. Remember how I just said how "you are pretty limited in where you can eat in a National Park"? Well apparently this is not true of gluten-free pizza. I almost cried tears of joy when after a 7 mile hike we discovered this little gem. I ordered the Pesto Pizza with artichokes on gluten-free crust and I might go as far as to say this is one of the best meals I've ever had.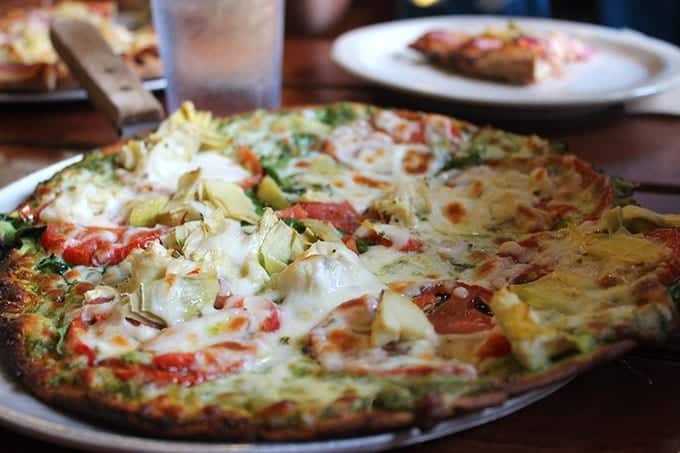 We arrived in Jackson again after driving down from Yellowstone. We only had an afternoon, evening and the next morning before we flew home so we tried to pack in as much as we could. Naturally after a whole lot of hiking we spent the majority of our time eating. Wouldn't have it any other way.

The Wort Hotel. I was obsessed with this place. We stayed in the cowgirl suite and you had no doubts it was the right suite thanks to cowgirl (borderline pornographic cowgirl) pictures everywhere. At the same time it still managed to be classy and I certainly wasn't complaining about the King sized four-post bed I had to myself.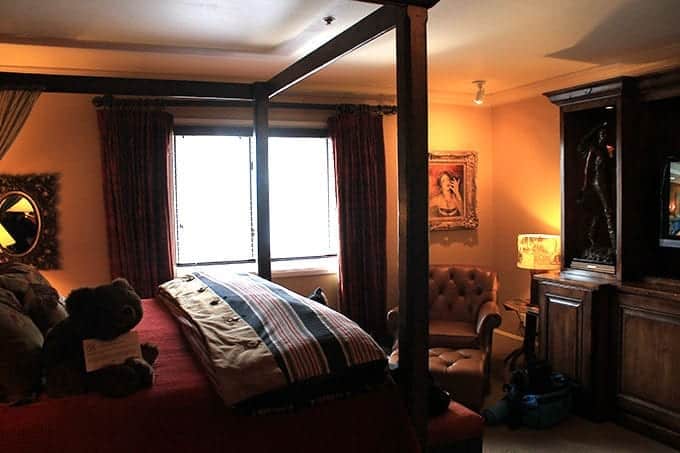 Jackson Hole Farmer's Market. We happened to have good timing and arrived our first time in Jackson to experience the farmer's market that takes place in the town square. You know how I feel about farmer's markets so obviously I loved it.
Shop till ya drop around town. We checked out 90% of the stores in Jackson but I had a field day in Vom Fass which is a European specialty olive oils and vinegars store with a location in Jackson. We left with an excessive amount of oils and vinegars.

Lotus Cafe. Go here. Seriously. After almost 2 weeks of peanut butter sammies, I could not have been more excited to come across a healthy cafe whose entire menu can be made gluten-free and vegan. I opted for the Kimchi Soup with tempeh and it was amazing and packed full of veggies. I kind of want to move in there.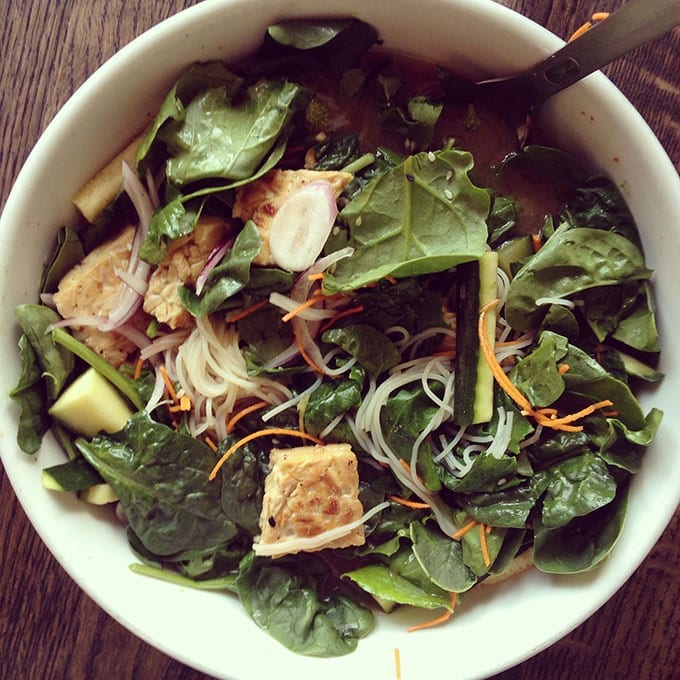 Snake River Grill. The truffle fries were to die for as were most of our meals. I made a mistake ordering the salmon when I should have ordered the trout which was local. The salmon was good, just lacking in flavour. The side of mashed potatoes and succotash was fabulous though!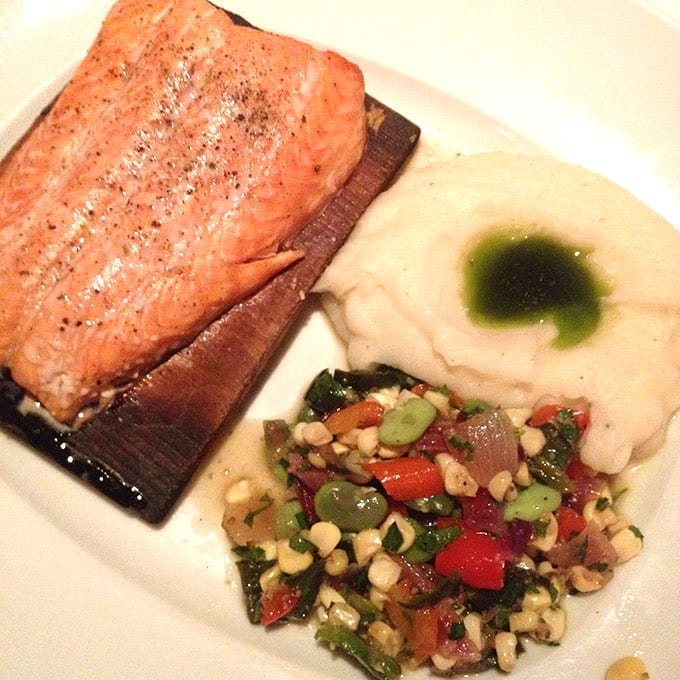 Moo's Gourmet Ice Cream. Get the huckleberry ice cream. Thank me later.
JH Roasters. Stopped in here for breakfast before heading out to the airport. Their granola was amazing and I appreciated that they offered greek yogurt. Also an iced coffee never tasted better. Plus they had almond milk, win!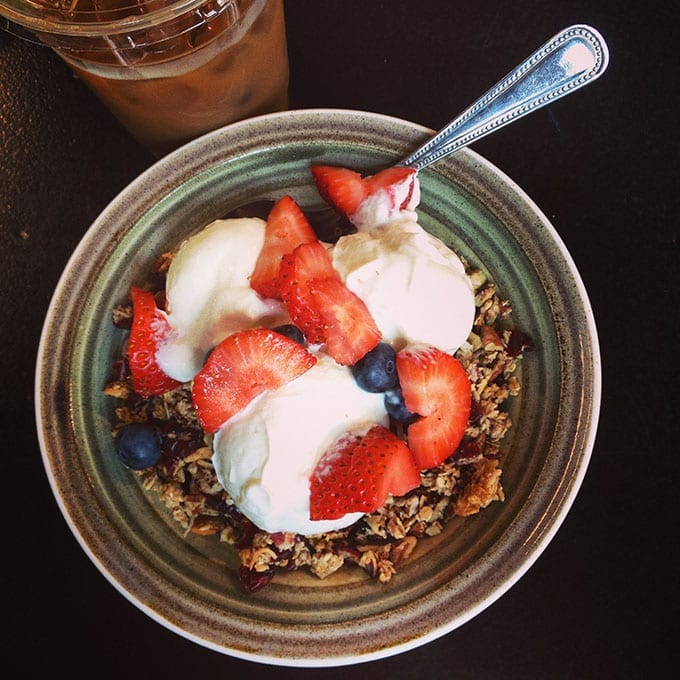 I highly recommend making a visit to Jackson Hole and The Grand Tetons at some point in your lifetime. I know with certainty that I will be back!
Coming up next week is my recap of Yellowstone National Park. Even I'm having a hard time believing my pictures are real…
Have you ever been to Jackson Hole or The Grand Tetons? What's your most memorable vacation?
DON'T WANT TO MISS THE NEXT ADVENTURE? Join the THM Community!
Join 10,000+ members of the THM Community to get access to exclusive info about travel, places I've visited and how to stick to your healthy lifestyle on the road.