I distinctly remember sitting in a women's reproductive health class in college (it was an easy elective!) learning for the first time that there was an alternative option to tampons and pads…the menstrual cup. My best friend and I looked at each other and immediately shook our heads. There was NO WAY we would ever be sticking our fingers up there and using a reusable menstrual product. In this moment I categorized anything that fell under the umbrella of menstrual cup into the "for hippies only" category and then moved on with my life.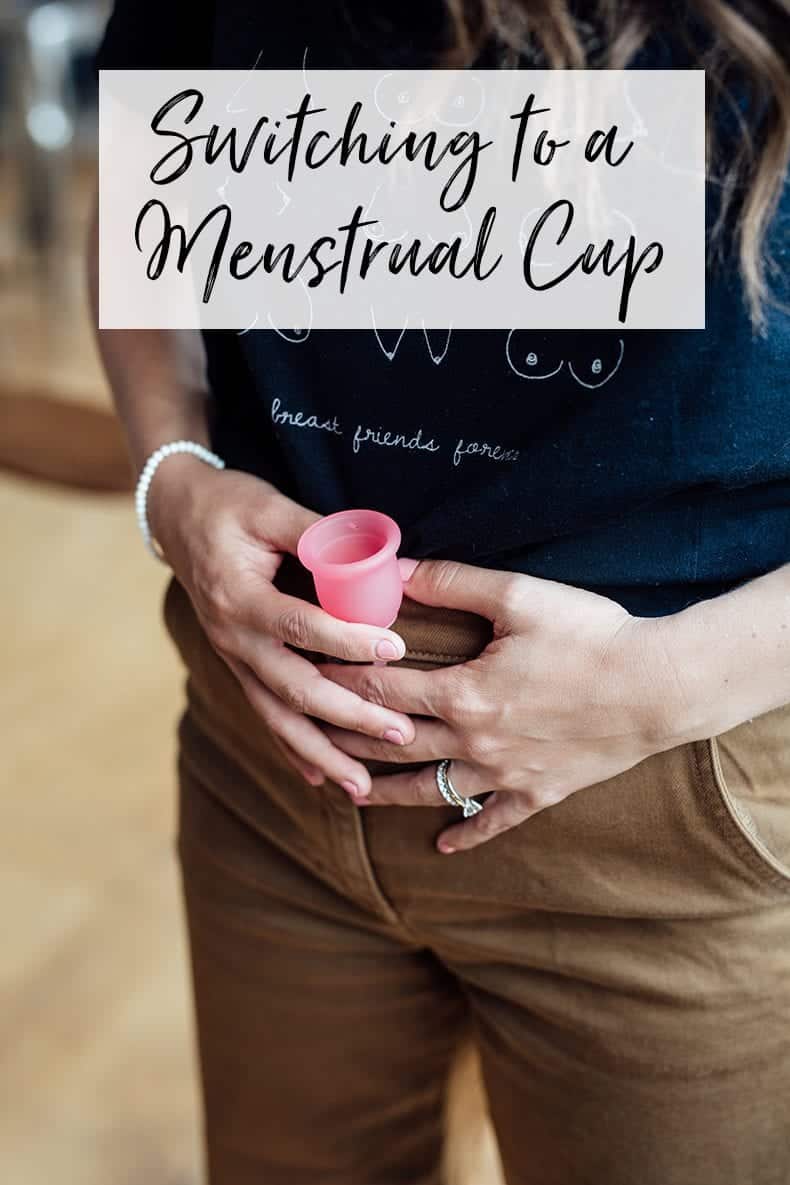 Fast forward 5 years later. I'm 26 and am struggling with my hormones. I've taken the pill, come off of it, switched to an IUD, come off of that and my body was not pleased. I had cystic acne on my face, back and chest and for the first time in my life I'm actually learning about my cycle and the hormones that control it. It was quite the wake-up call.
I started to track my cycle, taking note of what changes I would see in my body throughout each stage and began learning more about ways to support my cycle holistically. I tried everything from seed cycling, to herbs, to adjusting my exercise routine to whatever stage of my cycle I was in. And for the first time I looked up what was in my beloved box of tampax.
Dioxins
Glyphosate
Malaoxon
Dichlofluanid
Mecarbam

…the list goes on
I was shocked, to say the least. As someone who cares what I put in and on my body, it was mind-boggling to me that certain ingredients we would never allow in our food for being known human carcinogens were being used every single day by menstruating women. And so began my search for a better, cleaner tampon. Fortunately, these days there are organic and natural tampons available (LOLA is a great brand!) but the more I learned about tampons the more I realized how detrimental they are to the environment. So what started as a search for a cleaner tampon for my body led me to finding a cleaner menstrual product for the planet.
It's been 4 years since I switched to a menstrual cup and honestly, I've never looked back.
So Why Switch To a Menstrual Cup?
As I mentioned above, there are two main reasons to switch to a menstrual cup.
1. It is a better choice for the environment
This is by far the biggest reason to switch. Many tampons and pads use plastic applicators or linings that are harmful to the environment. Much of this ends up in landfills and are not biodegradable. Even plastic-free or applicator-free tampons (which are marginally better) oftentimes end up in the landfill where they take a very long time to decompose. One single menstrual cup can replace up to 3-5 years worth of tampons and pads with no waste byproduct. And depending on where you live when it's time to replace your menstrual cup, many can be recycled. 
2. They are better for our bodies
Tampons and pads are viewed as medical devices in the US and are reviewed by the Food and Drug Administration. As a result, they are not required to list the ingredients on their packaging, which means unless it's been third-party tested it's hard to know what's really in your menstrual products. Of course, there are many organic tampon and pad companies popping up that thankfully are being transparent about their ingredients but nonetheless, your safest bet is to go with a single-source product made from silicone (or rubber): the menstrual cup.
3. They last longer
Bonus! You can keep a menstrual cup in for up to 12 hours which means you're really only changing it once a day. So you don't have to worry about leaking or carrying around tampons with you.
How Does The Menstrual Cup Work?
Menstrual cups come in all different shapes in sizes, but for the most part they are cone-shaped device made of silicone or rubber that is inserted into the vagina to enclose the cervix. Unlike tampons which soak up menstrual blood released from the cervix, a menstrual cup will trap and collect it. This means that when you remove it you will dispose of your blood in the toilet or sink before re-inserting.
Most have a silicone end that extends from the cone to help with easy removal. In order for the cup to successfully prevent leaking it must be inserted in the correct way to ensure that the cervix is properly sealed. It can then be left in place for up to 12 hours.
If you are out in public and don't have access to a private restroom, you can dispose of the blood in the toilet and reinsert the cup immediately. If you are at home it is recommended you rinse and wash your cup in between uses. Every few months I will place my cup in a pot of boiling hot water to ensure it is fully clean and help it last longer. They typically last 3-5 years so long as you keep it clean in between uses.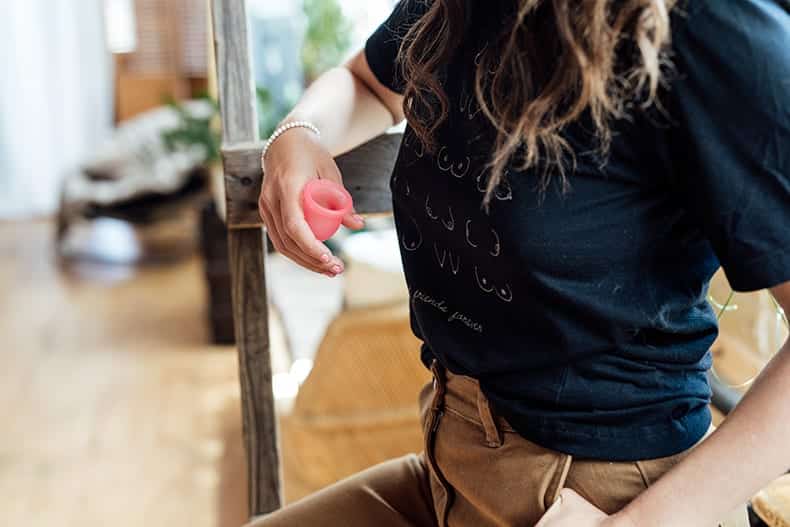 Which Menstrual Cups are the Best?
So I've convinced you to switch to a menstrual cup. *Patting myself on the back*. But now, which brand should you choose? Here's where I'm going to be 100% transparent with you: I don't know.
I, myself, have used two different brands: The Diva Cup and the Lena Cup. I have had zero complaints with either. I initially went with the Diva Cup because that's the one I had heard most people talk about. After 3 years it was time for a new one and I'd heard a few people rave about the Lena Cup (what I'm holding in these pictures) and so I made the switch. I've noticed absolutely no differences between the two and have had no problems with either.
That being said, there are tons of other brands out there including:
Each brand has a different mission, style, price-point and story. Find the one that most resonates with you. But most importantly, know that no matter which brand you start with, it's a learning curve…
It's a Learning-Curve
"I tried the Diva Cup but it didn't work", "I don't know if I'm doing it right", "I feel weird using my fingers". I've heard it all. Whenever I talk about using a menstrual cup I immediately hear about people's undying love for theirs or their horror stories. Because switching to a menstrual cup takes a little getting used to.
First things first, get over "putting your fingers up there". Periods are natural. So are vaginas. My 21 year old self didn't understand this but now I do…and so should you. It's just blood and it will be gone with a little hand washing. Deep breaths. You got this.
Each style is slightly different but most require you to fold in half, insert and twist. It's the twisting piece most people need some time to get used to. Eventually you will get the feeling of when the cup is fully secured over your cervix. If it isn't, you will leak. If it is, you will be good to go for up to 12 hours. Give it time and practice.
You may notice the menstrual cup when it's in (I don't), but it should not bother you. If it does, you may need to invest in a new style. Every body is different so give yourself some time to figure it out.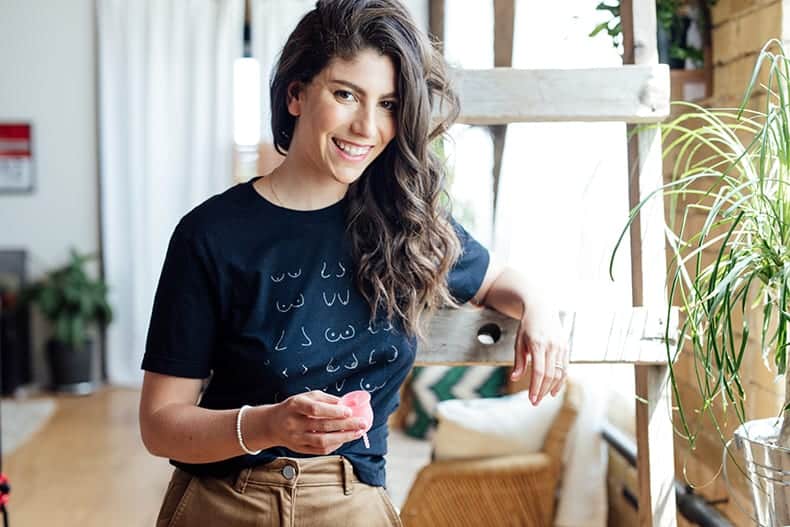 So that's that! Here to answer any questions you might have. In the meantime, don't bother asking me for a tampon since I don't have any!
Like this post? Feel free to check out some of these women's health articles from THM:
JOIN THE THM NEWSLETTER
Join 20,000+ members of the THM Community to get access to exclusive recipes, healthy lifestyle tips and behind-the-scenes news from our team!