Blogging has afforded me some pretty cool experiences, but I'm pretty sure taking a culinary tour of Israel might be the coolest. A few months ago, Vibe Israel reached out to see if I wanted to participate in a foodie tour of their beautiful country. Since you guys know I have a deep love affair with Israeli food and have considered cheating on C with tahini, I jumped at the opportunity to partake in this experience. I had no idea I was in for one of the best trips of my life.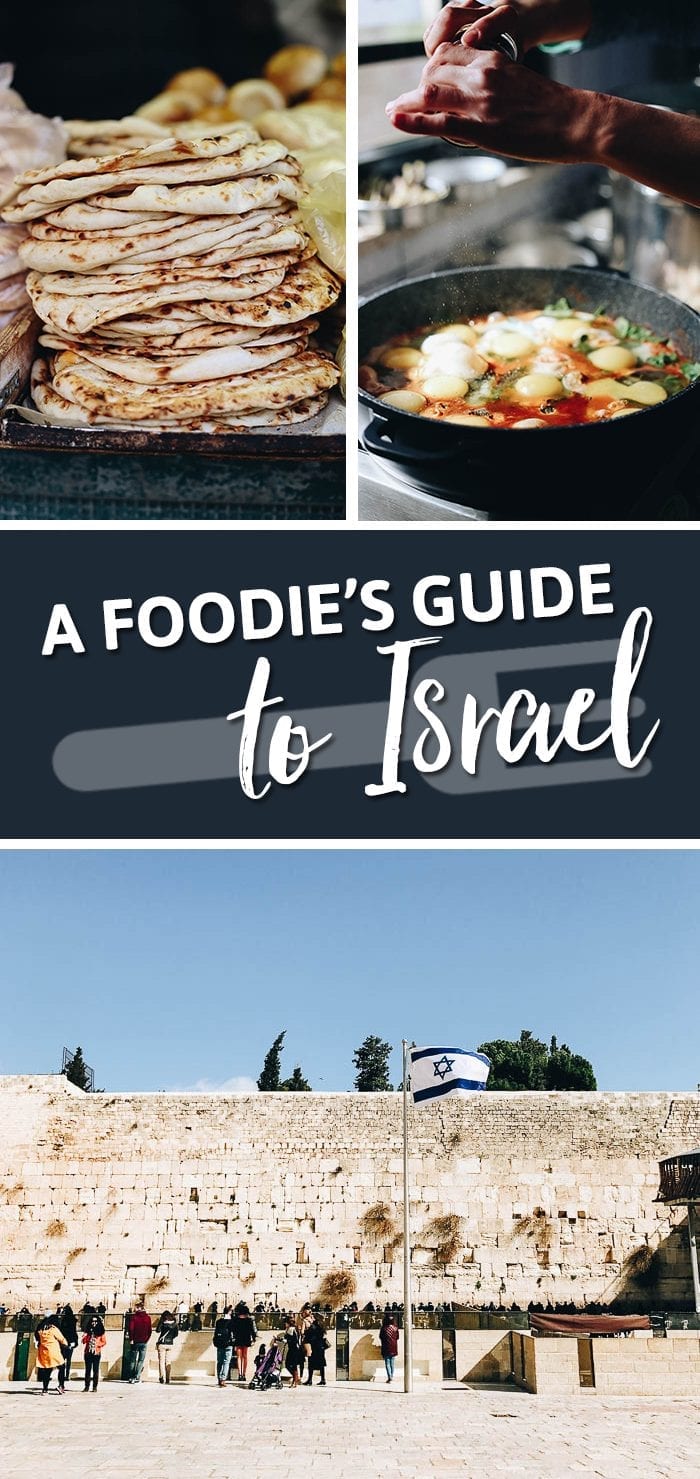 Before I jump into what we ate, I just want to thank Vibe Israel for bringing me on this trip and letting me share this experience with you. There is no doubt that Israel has had its fair share of publicity for reasons that I won't be getting into, but there is also so much more going on there besides the political landscape. The food scene is just one of the many cultural aspects that makes this country one of my favorite places in the world. I feel honored and privileged to highlight through this one lens and I hope one day you can get the chance to see it all for yourself.
Over the last few years I've written a lot of travel guides. Most of them are just my personal opinion or an itinerary of my trip. They rarely cover everything or are based on anything other than my experience, but with this trip I can say confidently that this truly is the foodie's guide to Israel. We basically ate our way across Israel and if we could have, we would have eaten Israel itself. This is to be expected when you go on a culinary tour, but combined with the fact that Israelis have an incessant need to feed, I'm pretty sure we ate every dish in the history of Israeli cuisines. Needless-to-say, it was amazing.
I also filmed a video highlighting the best experiences and what you definitely shouldn't miss so check it out here!
I'm going to go through and highlight restaurants and foodie experiences in each city we visited (Jerusalem, Tel Aviv and Nazareth) as well as not-to-miss dishes and places in between. For my health-focused foodies, fear not! There were some dedicated healthy restaurants, but you should know that pretty much every place we ate at had many healthy options. Because there is an emphasis on local and vibrant agriculture, you would be surprised at how many different ways they've come up with cooking vegetables. Each meal had at least 5 different types of veggies or salads so I was basically in heaven. I'll highlight the ones that are health focused but pretty much every single restaurant can cater to your needs without even trying.
Let's jump in…
WHERE TO EAT IN JERUSALEM
Menza Restaurant – This was the perfect place to kick off our trip. The food is here is just plain good. Like so good I could have probably eaten there everyday. There's an emphasis on fresh, local ingredients and the vibe is awesome. Do not miss the cocktails either!
MachneYuda Restaurant – This place is an experience! The food is tremendous and it's not out of the ordinary that waiters are dancing on tables and passing around shots. At one point they put tinfoil down on our table and literally threw dessert across it – they call it the "dessert jungle". Don't miss the polenta, fresh salads or pretty much anything on the menu since it changes so frequently.
Atalya's Place – By a landslide my favorite experience of the trip. Atalya is truly a gem and her food is fresh, local and full of so much love. Check out her website to see when she's hosting her next meal because it is so soooooo worth it. You can thank me later.
Machane Yehuda Market – If you're a foodie, you must visit the Machane Yehuda Market. This market is huge and covers pretty much every cuisine under the sun. Since there's so much going on, I highly recommend downloading the app BiteMojo which offers a culinary tour of the market. A must-stop place is Uzi-Eli juice bar and try their ghat and etrog juices.
Artisanal Food Tour of Ein Karem – Atalya (see above) took us on a tour of Ein Karem where we explored local artisanal food like Ein Karem Sweets and freshly made Kubana. Inquire on her website to set-up a tour.


WHERE TO EAT IN TEL AVIV
Cafe Europa – easy, and delicious food right in the heart of Tel Aviv. There's pretty much something for everyone here, but their fresh salads were my favorite!
Hotel 65 Restaurant -Go here for breakfast or brunch! Israeli breakfasts are notoriously huge and Hotel 65 is no different. We actually stayed here, but everyone who heard where we were staying told us how epic the breakfast and brunch was. We discovered this first hand, but it was nice to know the locals felt similarly.
Quattro Restaurant – I never would have expected I'd have the best Italian food in the middle of Tel Aviv, but hey! roll with it. Everything on the menu here is amazing, but save room for dessert because they are SO worth it.
Manta Ray Restaurant – It's hard to say whether the food or the ambiance was better here, because both were stellar. Situated right on the beach boardwalk, you can enjoy your mezze or brunch with an ocean view.
Carmel Market – Similar to the Machne Yehuda Market in Jerusalem, but on a much smaller scale. The perfect place to pick up a quick bite to eat and then head to the beach for a picnic.
Lewinsky Street Market – I LOVED this place. It's less of a market in the conventional sense, and more a street full of small artisanal shops with specialty goods. Rotten Lieberson (a local food blogger and culinary wiz) took me there to pick up ingredients for her shabbat dinner. We weaved in and out of little shops trying different foods and ingredients. This was where I fell in love with Tel Aviv.
Farma Cultura – Words cannot possibly describe how beautiful this place is. About 20 minutes north of the city center, this is a stunning organic farm serving up fresh ingredients, green smoothies and local CSA boxes to the surrounding communities. Stop in for a smoothie, pick up local produce or just take in the beautiful space.


WHERE TO EAT IN NAZARETH
If you're in Israel, it's worth paying a visit to the food scene in Nazareth. I highly recommend going on a Saturday since most of the city is open when things are closed in Jerusalem and Tel Aviv on Shabbat. Let yourself get lost in the narrow streets and cobblestone walkways. Such a unique city!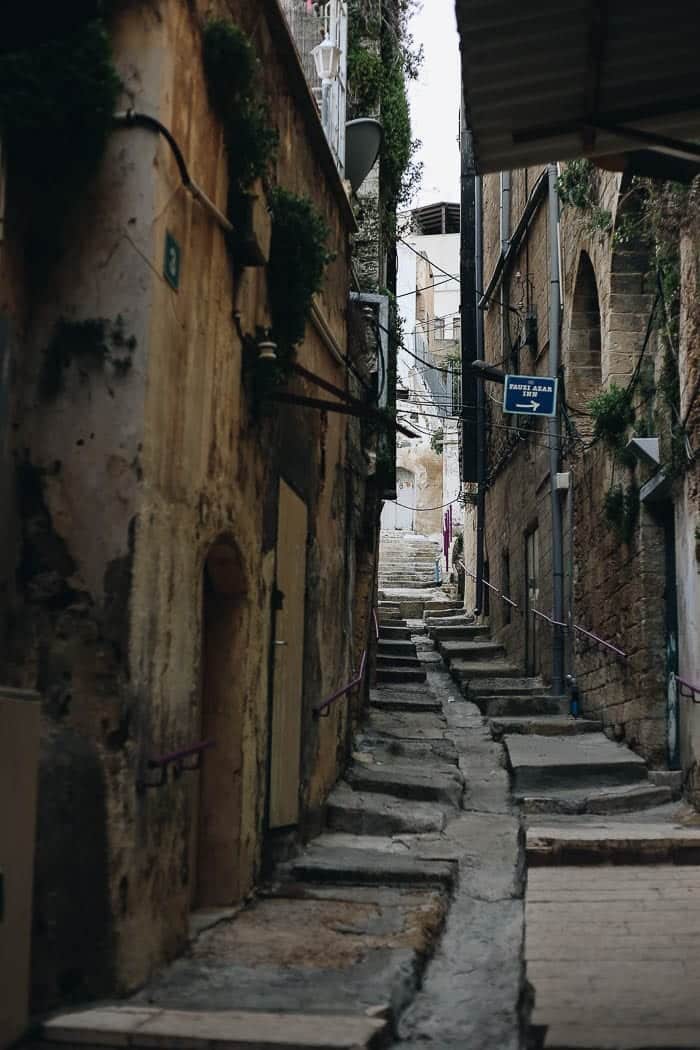 Elbabour Galilee Mill – Find Tony and have him tell you the history of this 3rd generation spice market. Don't leave without picking up some homemade za'atar!
Deewan al saraya Restaurant Museum – Come meet Abu Sharaf right in the middle of the old city of Nazareth and try his famous cookies. He's also an old antique collector so even if you don't stop for cookies (which you should), at least check out his shop!
Beit Seif Adin Zoubi – a beautiful home built in 1888 where Fatina will host you for a traditional Nazareth dinner. You need to email her to book, but the food is delicious and the home is a sight to see! The roof offers the best view in Nazareth.


NOT TO MISS…
Go to a Shabbat dinner – We were so lucky to have been invited to Moshe David's for a traditional Yemenite Shabbat Dinner. This was a super special experience for us, but if you can get connected to a local, it's so amazing to feel the shabbat vibes in Israel. Check out Eat With, an app that connects tourists to locals who love to cook and host!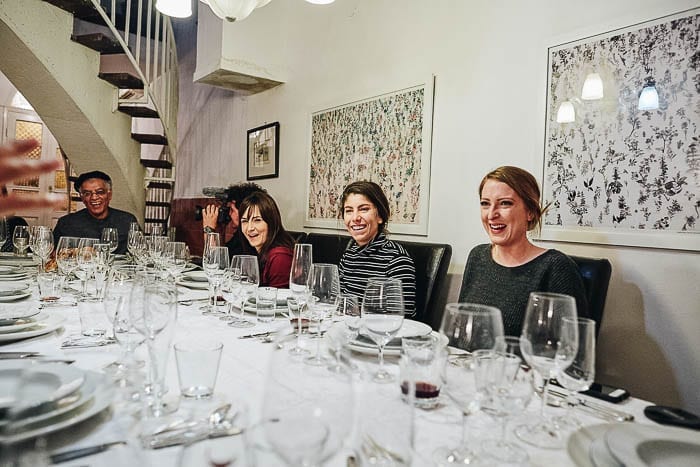 Al Arz Tahini – we had the chance to explore the Al Arz Tahini factory, but you can pick up this golden elixir all across Israel. Lana, whose mom runs the factory gave us the rundown on how they make the best tahini and you can totally taste the difference. FYI this is the only tahini Ottolenghi uses!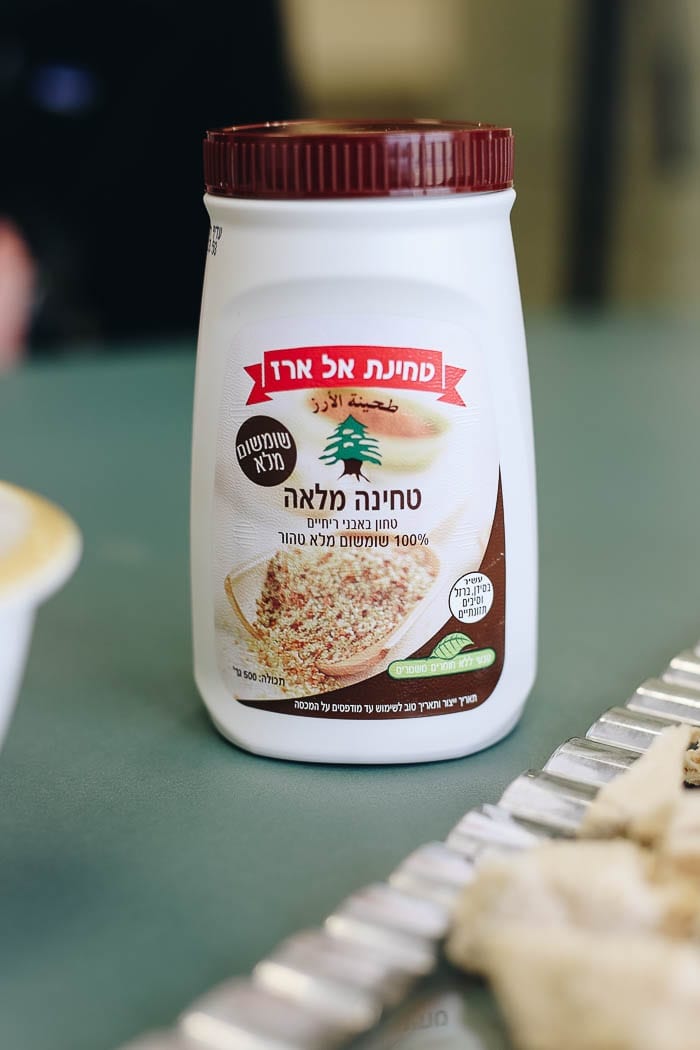 Hummus…everywhere! – everyone in Israel has their own opinions on the best hummus. Ask people their favorites and try it out. From spicy to creamy to chunky, you'll be on an endless search for the best hummus!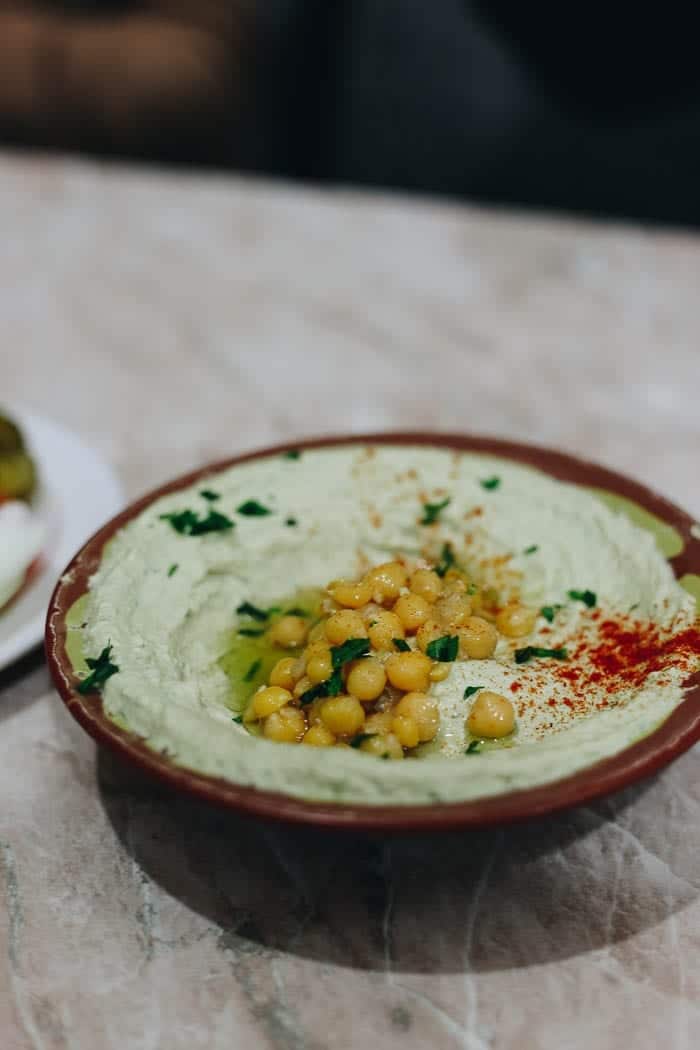 Shakshuka – you guys know I love this traditional Israeli breakfast! If you can't make it to Israel, you can make at at home using my recipe, but when in Israel, you eat shakshuka!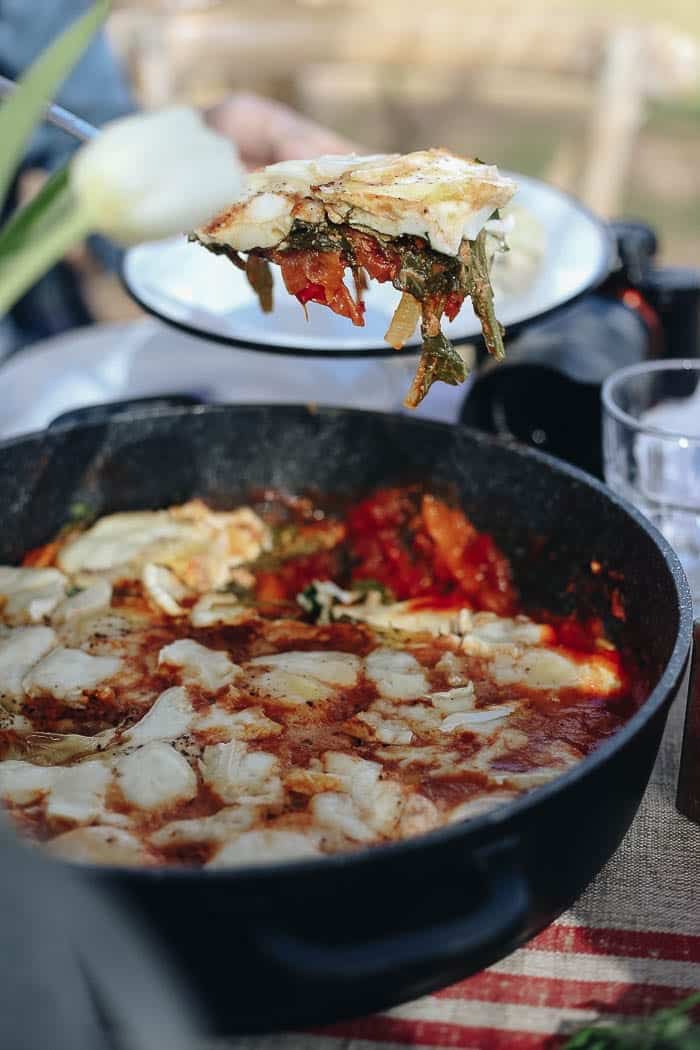 Halva- This is a traditional middle eastern dessert made with tahini. I'm working on a healthier recipe for you guys, but honestly, when in Israel go for the real stuff! I'm a sucker for the pistachio but they pretty much have every flavor under the sun. Be sure to check out the Kingdom of Halva in the Machne Yehuda to see every single flavor!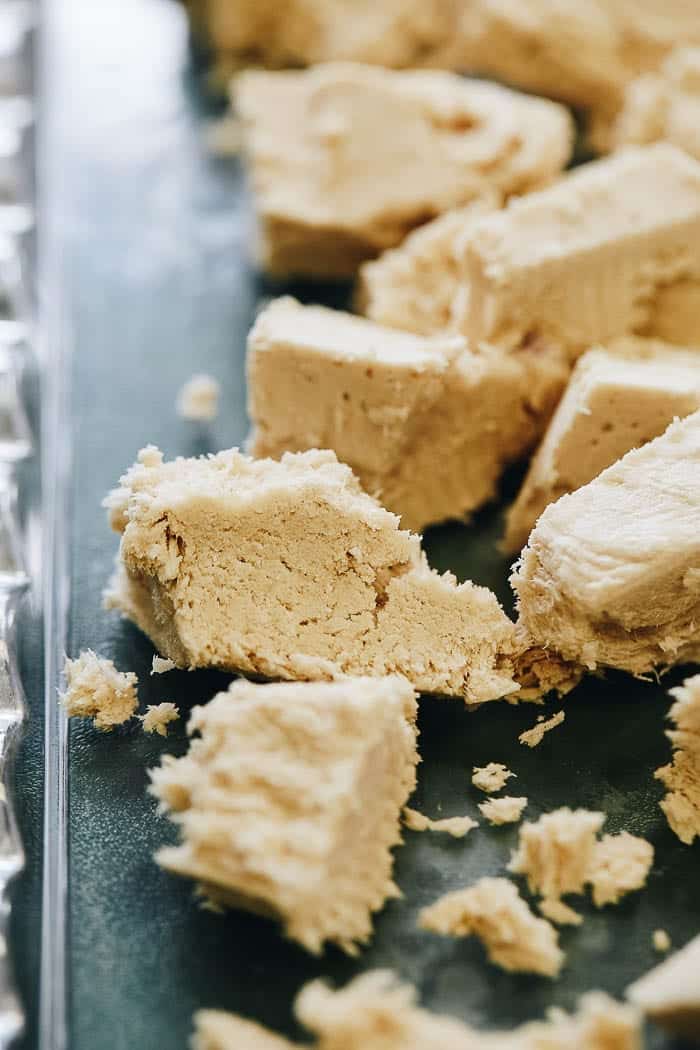 The Bread -I swear I took the bread tour of Israel. We had some of the best food of our lives, but it was often the bread that stole our hearts. Because of the rich mix of cultural traditions, there are so many different types of bread to try. From pita, to spelt sourdough to yemenite kubana, it's worth breaking as much bread as possible. I also decided that gluten is not a thing in Israel, and honestly, my stomach was a total champ about it. EAT THE BREAD.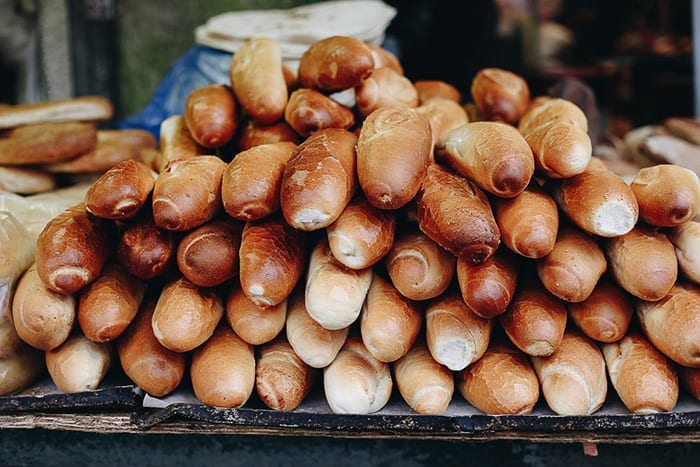 One of the greatest takeaways from this experience is that everyone in Israel has a different take on what makes up "Israeli Food". It is a culture made up of people from so many different backgrounds so the food is often an interpretation of these backgrounds but then all mixed together. There's North African influence, Persian influence and European influence. What makes Israeli food so special is that there is no one identity. It is up for interpretation, which makes it ever-evolving and creative. I know that the next time I'm in Israel, my foodie experience will be entirely different. I could honestly go on for days about this trip and the food scene in Israel, but I did my best to get as much info into this post as possible. There's still so much I didn't cover, so stay tuned for more posts and recipes inspired by our trip!
Disclaimer: I was invited to explore Israel's Culinary Scene by Vibe Israel. While the experience was gifted to me, all opinions expressed are 100% my own. This was truly a trip of a lifetime!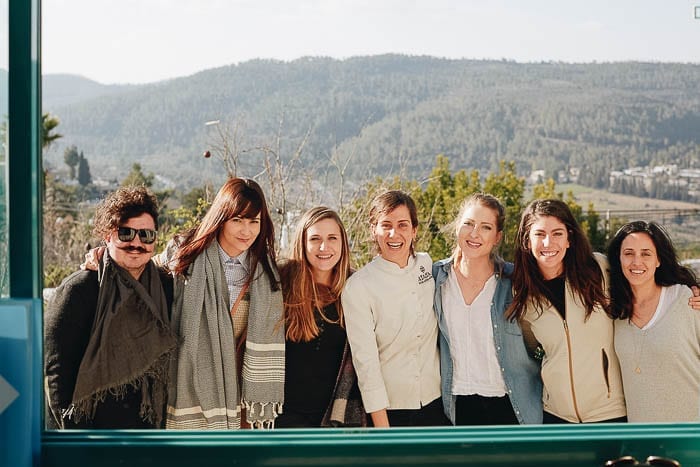 *All pictures taken by me or Amir Menachem Photography
Have you been to Israel? Did you know there was such a vibrant food scene there?
JOIN THE THM NEWSLETTER
Join 20,000+ members of the THM Community to get access to exclusive recipes, healthy lifestyle tips and behind-the-scenes news from our team!