Creamy vanilla sea salt almond butter made with fresh vanilla bean, chunky sea salt and lightly roasted almonds. The perfect spread for your toast, oatmeal or favorite smoothie recipe. Or just eat on its own with a spoon!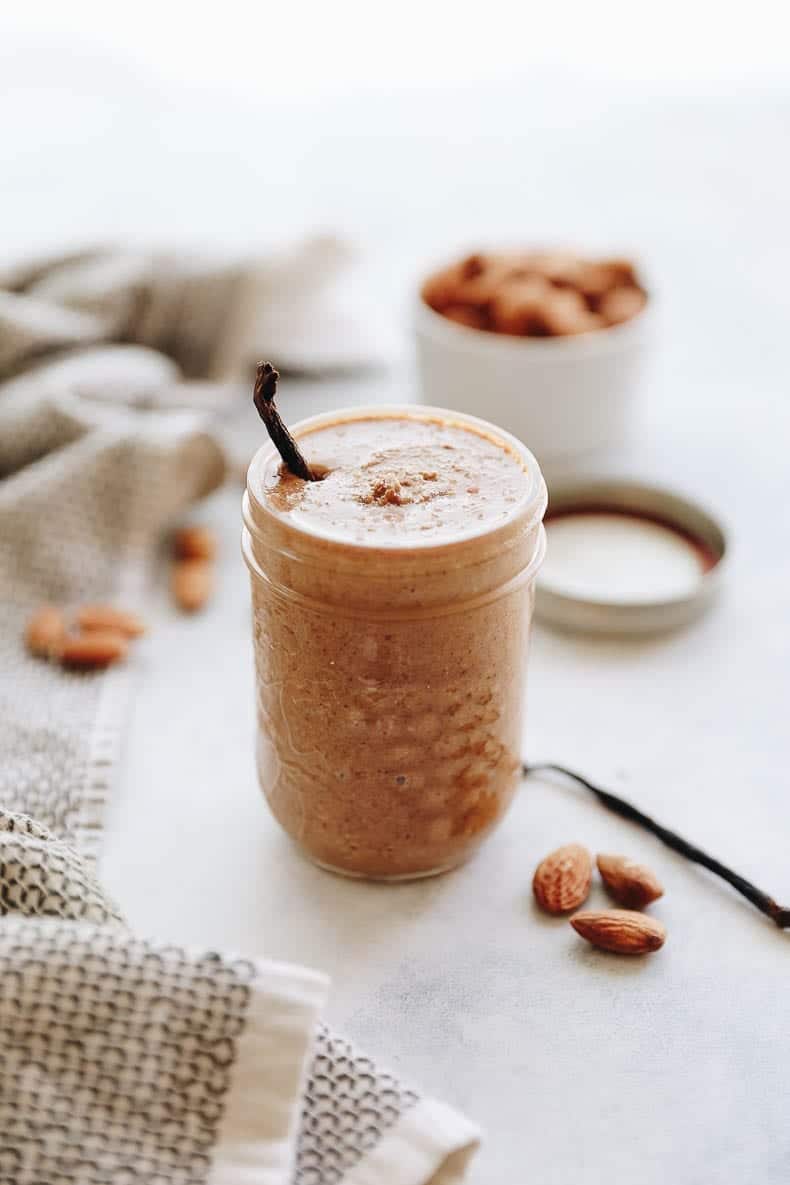 As C and I get closer and closer to our wedding, we've been filling out different documents and quizzes as part of "pre-marriage counselling". Yes, we're doing counselling. No, we aren't having any issues. In fact, I think counselling is important for every relationship, healthy or not. Nevertheless, some of these were requested from our rabbi and some we've sought out on our own. Truthfully, it's actually been kind of fun!
We've been together for almost 7 years so while many of the answers we could predict for each other, it's also interesting to learn new things about your partner. We're also taking it as an opportunity to reflect and remember where we started as wedding planning seems to override everything. It's important to remember why you got into this madness in the first place 😉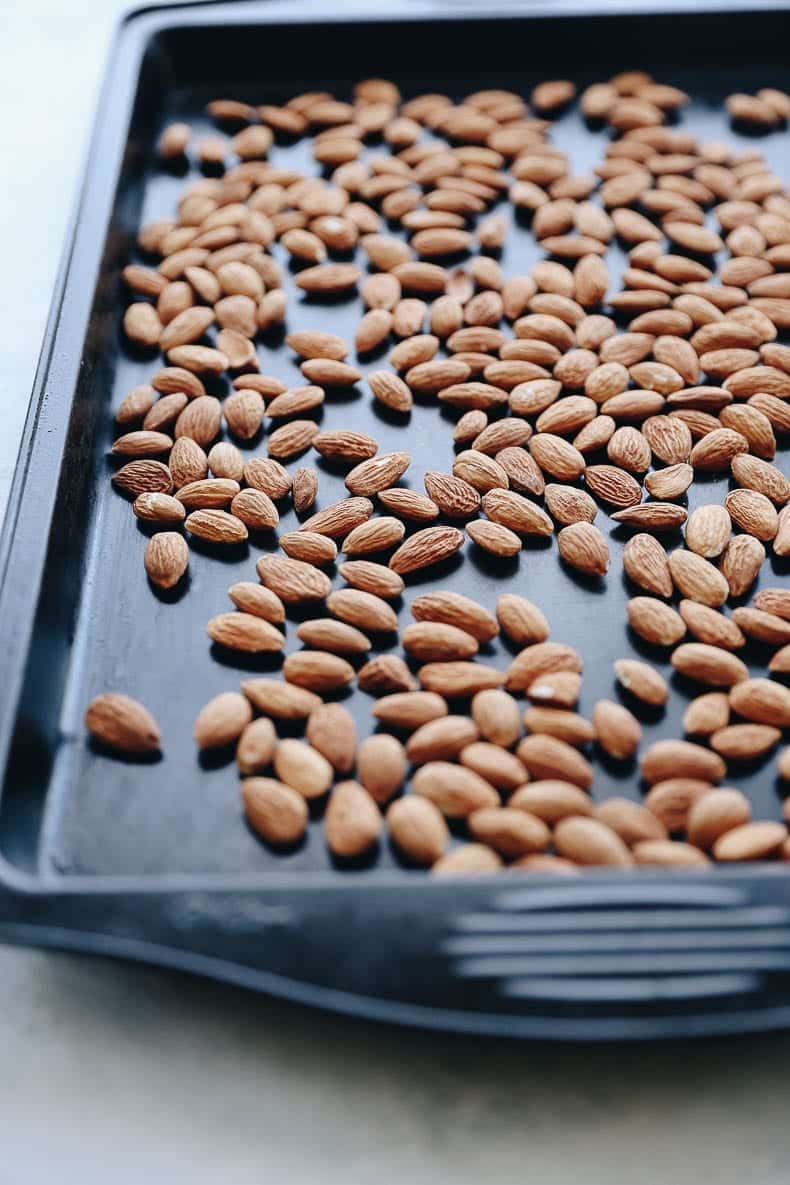 One of the questions that was asked was "name 5 things you and your partner have in common". Most of our answers were sappy and I'll let you guess them, but one of them that came to my mind was "we both love almond butter"…I know…LOL.
But really, I think our love for almond butter feels very fitting for our relationship. Almond butter is the less popular choice. Peanut butter, while 100% delicious always seems to win out. The fact that C and I both prefer almond butter to peanut butter is a big deal. I'm not sure I could live with someone where I'd have to have the eternal argument that almond butter is better than peanut butter. That would suck.
The one downside is that we literally crush jars of almond butter. I like to add this vanilla sea salt almond butter to my oatmeal and smoothies and C can make a delicious almond butter – honey toast that has officially become his specialty. Most jars won't last more than a week here.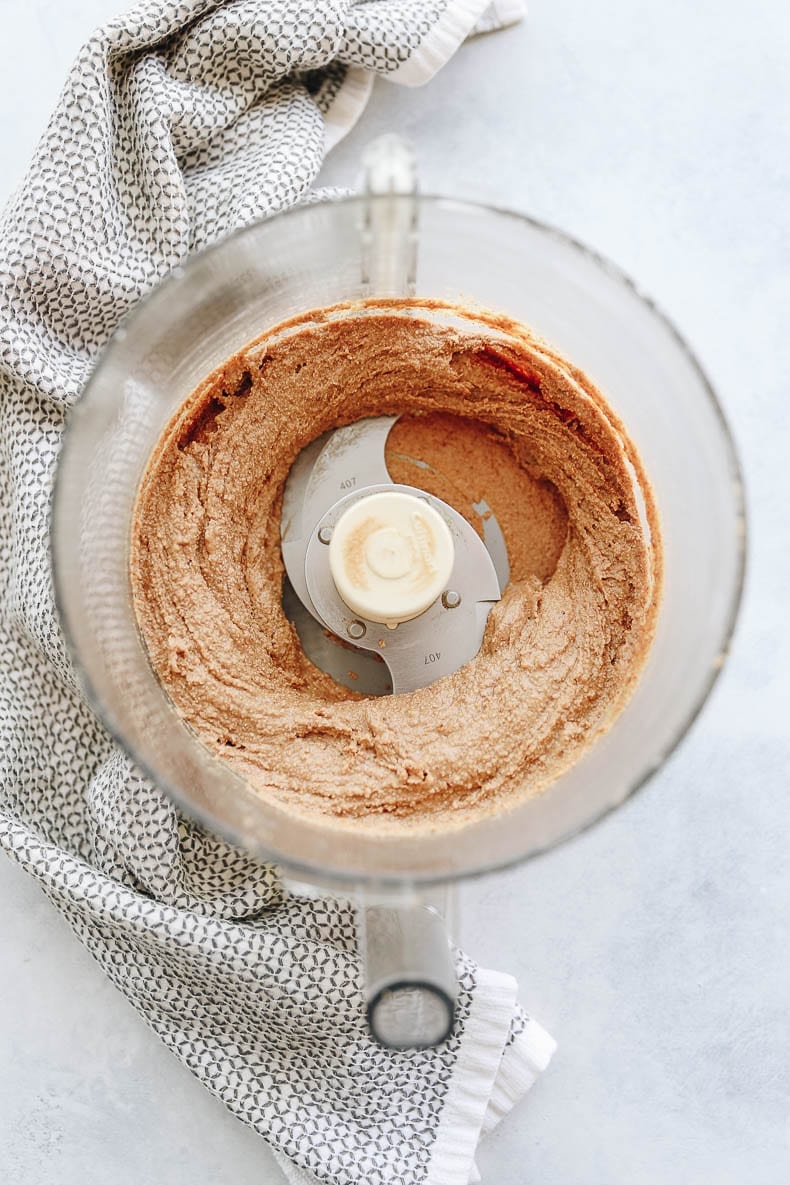 I would never be able to keep up with our almond butter consumption if I made it exclusively from scratch. We love Wild Friends Almond Butter (in basically all varieties) and Trader Joe's is pretty decent in a pinch! But nothing really compares to homemade. It doesn't happen as often as we'd like, but when it does we're both dipping spoons into the jar. And while C has mastered the art of toast, I take full credit for the art of almond butter. This has been my secret almond butter recipe for years. I sent it out as Christmas presents a few years ago, and basically overdosed on it, but it's now made a full return!
When I made it the other week C declared "this is the best almond butter ever". I knew that was my cue to post it on the blog. So without further ado, here is my amazing Vanilla Sea Salt Almond Butter Recipe. Here's what you need:
Good quality almonds – very key! Try to buy organic when you can, Trader Joe's and Amazon both have great options
Unsweetened coconut – this adds a sweetness without having to add sugar
Vanilla bean/Vanilla extract – either works but I'm partial to vanilla bean since it's such a burst of flavor
Sea salt – try to get thick and chunky sea salt, I find it adds the best flavor
Cinnamon – is it possible to make anything without cinnamon (FYI no it isn't), but like the coconut it adds sweetness without adding sugar
A powerful food processor – I use this one and while this CAN technically be made in a high-powered blender, I find it's faster and better consistency when made in a food processor.
Print
Vanilla Sea Salt Almond Butter
Instructions
Preheat oven to 350 degrees F.
Layout almonds on pan and roast for 10 mins or until lightly toasted. Watch carefully to ensure they do not burn.
Add coconut to food processor and begin processing and breaking down for 2-3 mins.
Add almonds and continue process until nuts have fully broken down and combined with coconut.
Stir in vanilla, sea salt and cinnamon and continue processor until smooth and creamy. This can take up to 5-10 mins. Be sure to wipe down sides to ensure even consistency.*
Allow to cool and add to a mason jar or sealed container. Will keep for up to 2 weeks or store in fridge for longer. Will harden slightly in fridge.
Notes
*How long this takes will depend on your almonds. Be patient. Some almonds take longer to release their oil so keep going even if you don't think it's working.


Peanut butter vs. almond butter? Did you do pre-marriage counselling?
JOIN THE THM NEWSLETTER
Join 20,000+ members of the THM Community to get access to exclusive recipes, healthy lifestyle tips and behind-the-scenes news from our team!