About 5 years ago I sat down for coffee with a new friend in Toronto and my mind was blown by the incredible world of bees…yes bees. Those buzzing creatures that people either consider a nuisance or have a deep understanding of their massive impact on the survival of our food system. NO BIG DEAL. That new friend was Carly Stein, the founder of Beekeeper's Naturals, an innovative bee product company helping to transform traditional medicine cabinets using the superpowers of bees. Carly's story is powerful (you can listen to her interview on the podcast here) and all the products in her collection are too. But one has really stuck with me over the past 5 years and to be honest, you'll rarely find me without it. That product is propolis which prior to meeting Carly I knew nothing about.
Propolis has become one of my tools to tackling seasonal allergies, sore throats, colds and the flu.  But what the heck is it? What does it actually do? And why am I obsessed with it? Today I thought I'd share more about the super product that is propolis and why it's become a staple in my home (and purse!). Let's get into it…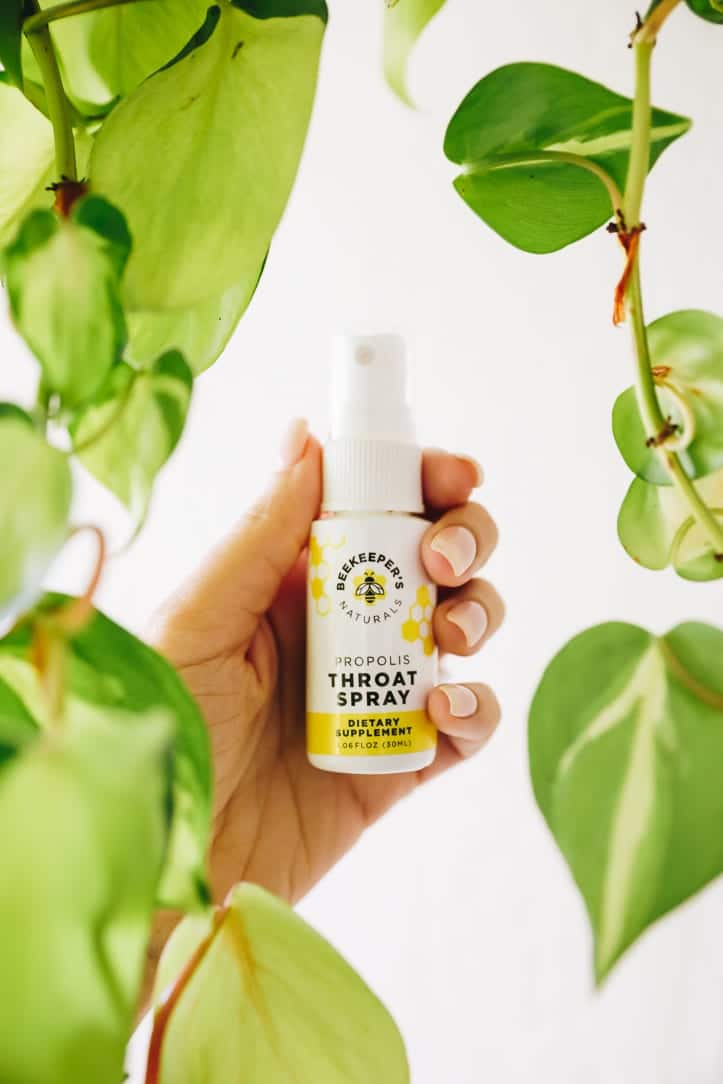 What is propolis?
Propolis is the combination of sap, beeswax and bee discharge. Super sexy, right? The end product is a sticky, waxy substance that bees use to build and repair their hives. Turns out humans can benefit from this healing substance… and they have been for years. Ancient civilizations would use propolis for its medicinal properties.
What are the benefits of propolis?
Besides having the ability to build and repair bee hives, propolis has over 300 polyphenols which are antioxidants that fight disease and damage in the body. Propolis has antibacterial, anti-fungal and anti-inflammatory properties. (Source) You really can't go wrong with this powerhouse defender! Here are some reasons why you might want to use propolis:
Oral:
To prevent or heal from a sore throat
To boost your immune system if you're getting sick
To help fight seasonal allergies
Topical:
To help heal scrapes or open wounds
To help reduce acne scarring
To help reduce length of cold sores
How to Use Propolis
You can use propolis topically or orally. I always start taking propolis throat spray the second I feel allergies or any type of sickness come on but after doing the full research for this blog, I might start using as a daily preventive supplement! I generally start taking a few sprays several times a day of beekeeper's naturals when I feel a sore throat or allergies coming on.
You can also use propolis topically on cuts, scrapes, wounds, burns, cold sores, acne… it really is a super product. Spray directly on scrapes, burns or skin irritation. As with all skin products, I recommend spot testing before spraying on your entire body. Safety first!
Where can you buy Propolis?
Most health food stores carry propolis though in full transparency, not all propolis is made the same. Not only will this affect the quality, but it will also affect the taste. I remember purchasing an oral propolis when I was travelling because I forgot my beekeeper's naturals at home. I picked some up at a local health food store and the taste was just awful. They basically diluted propolis in alcohol so it tasted more like if you drank a bottle of vanilla extract than the sweet taste of beekeeper's naturals.
One of the many reasons I love beekeeper's naturals is because it is diluted in non-GMO vegetable glycerin rather than alcohol. This makes the taste SO much better and in addition to water it keeps their product super simple without any nonessential additives. I order mine online in a week 4 pack which usually lasts most of the year for me. They're also big on sustainability, only working with beekeepers' who don't overharvest, and third party test all of their products to ensure their products are pesticide-free.
You guys know I'm not big on too many "wellnessy" products and try to keep my life pretty minimal but if I had to tell you to buy one product for your alternative medicine cabinet, it would be this. I also love supporting a female-run company (and Canadian too!). I hope this helps next time you hear someone talking about propolis or you feel that sore throat coming on. We swear by it around here.
Beekeeper's Naturals Propolis Discount Code
To save 15% off your next order of Beekeeper's Naturals products use code MAVEN at checkout!
* * * * *
Disclaimer: Although propolis has been around for decades, studies surrounding this product are still fairly new. Because it is considered a supplement, check in with your doctor before adding to your routine. If you are allergic to bees or honey, you may also be allergic to propolis so please avoid if you have a bee allergy.
Like this post? Here are others you might enjoy:
JOIN THE THM NEWSLETTER
Join 20,000+ members of the THM Community to get access to exclusive recipes, healthy lifestyle tips and behind-the-scenes news from our team!