Let me take you back in time. It's January 2015 and I've decided to embark on a new series on THM, highlighting healthy food and wellness hacks to help make your lives a little bit easier or more budget conscious. My vision for 2015 was to show you that a lot of those expensive healthy foods you love can actually be made at home.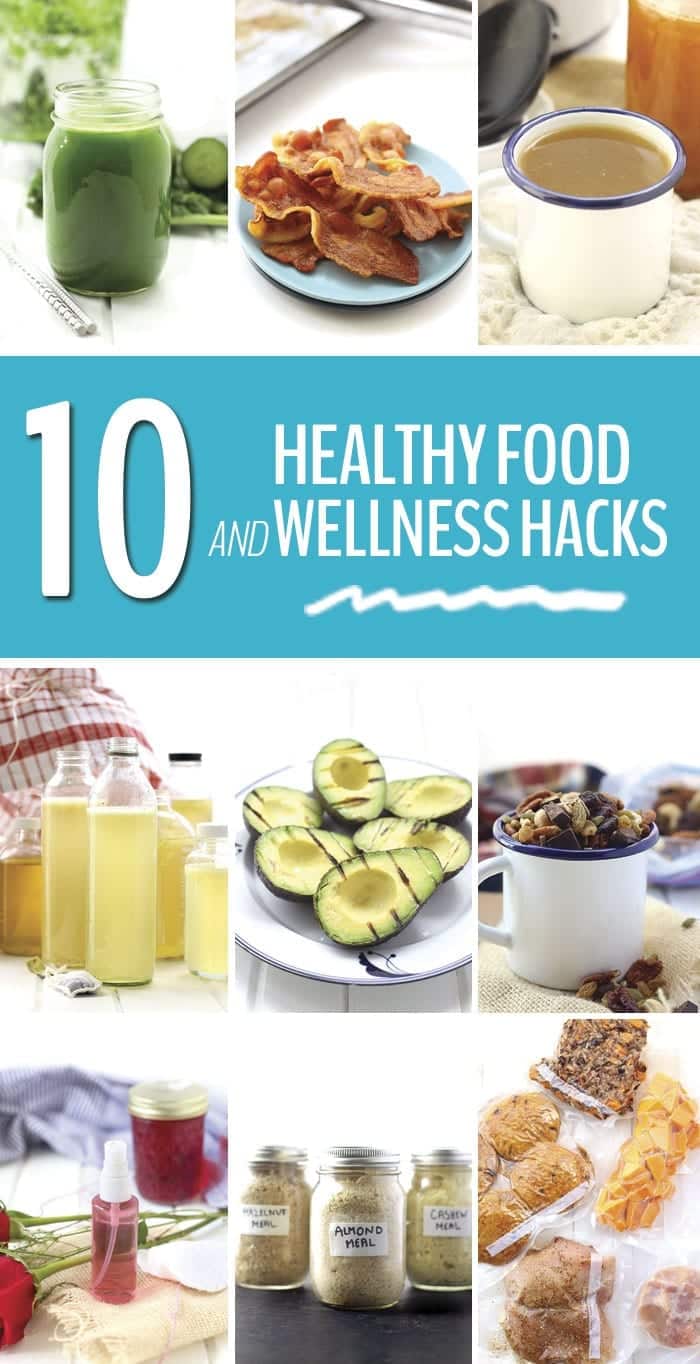 Spent your rent money on green juice? Not anymore.
Intimidated by bone broth? Fear not!
Only Gwyneth Paltrow can wash her face with rosewater…sort of…let's not get ahead of ourselves.
The goal was 12 hacks in 12 months. But in true Maven fashion, life got cray and I only pulled off 10. But I'll take it.
So in honour of an (almost) year in how-tos, I thought I'd recap the 10 healthy food and wellness hacks we learned in 2015.
January – How To Make Green Juice In Your Blender
To kick off 2015 we learned how to make green juice in your blender! I'm guessing I'm not alone in going weak at the knees for green juice (k I might be alone..) but at $15 a bottle it's one expensive habit. But if you already have a blender at home, making green juice is an easy hack! It's perfect for those days when you need an added veggie-kick.
Yes, I consider bacon in the oven a healthy food hack. I mean after all that green juice we drank in January, we could all use a little bacon, amIright? The hack in this is that cooking bacon in the oven saves you from dealing with all of that messy grease! No splattering or figuring our where to dispose of the grease. Just bake and toss the tinfoil.
Didn't you hear? Bone Broth was THE food of 2015. The best part is that Jews have been forcing bone broth into their sick children's faces for thousands of years. My Bubby's chicken soup is the OG bone broth. But just to show you how cheap and easy this stuff is to make, we threw it all in the slow cooker and let is simmer for a day. I almost feel bad for posting this as a recipe because it's that basic.
Truthfully, I don't think I've ever posted a how-to that has produced more questions or anxiety. It's funny because the first time I learned to make Kombucha my fermenting instructor (yes…#truth) assured us that staying calm and believing in your brew was half the battle. So for anyone looking to save some $$$ and improve their gut health, keep calm and kombucha on.
Raise your hand if you've spent an exorbitant amount of money on nut meals and flours (insert emoji of girl with hand raised!). Did you know that you can save yourself money by literally grinding nuts in your blender? I know, I know, rocket science. But don't pay the extra premium on having them ground up when you can do it yourself!
With grilling season kicking off, everyone is grabbing their burgers and veggies, but it would be a travesty to forget about our beloved avocados. Yes, this beautiful fruit can be grilled to perfection and it makes for the best ever avocado toast. 
In prep for my trip to Yosemite, I spent many a months mastering the perfect trail mix. It needed to a good balance of healthy nuts and seeds with some fun sweet stuff in there too. I also wanted it to be easily customizable based on your preferences. I think I did just that!
After months of food, I wanted to share a recipe that was both edible AND topical. There are tons of ways to incorporate rosewater into your diet, but it's also amazing for your skin. In this post I shared a video teaching you how to make rosewater and also my recipe for DIY Rosewater Face Toner.
September was a crazy travel month for me (Boston, San Francisco and San Diego) so I wanted to share my tips on how to stay healthy while travelling. These 10 Wellness tricks have been lifesavers when I'm feeling off my game on the road.
And finally, with Fall setting in it was time to start stocking up that freezer! You guys know I'm a big fan of making big batches of food and freezing them so I thought I would share my tips on how to preserve freezer food, along with a round-up of healthy freezer meal ideas.

JOIN THE THM NEWSLETTER
Join 20,000+ members of the THM Community to get access to exclusive recipes, healthy lifestyle tips and behind-the-scenes news from our team!