You guys seemed to really enjoy my post on Intuitive Meal Prep so I thought I'd expand things further by sharing some of my favorite resources for recipe inspiration. Of course, I love experimenting in the kitchen and coming up with creative recipes, but to be honest life can get chaotic and sometimes I want a guaranteed delicious meal rather than totally wing it. I oftentimes go back into my own archives for recipe inspiration or check out some of my favorite blogs but occasionally I turn to my tried and true cookbooks for weeknight dinner inspiration.
As a cookbook collector, I'm certainly not short on recipe ideas, but I do find there's a difference between niche cookbooks or more aspirational cookbooks and the ones that have recipes I know I'll actually want to make on a Tuesday night. So today I wanted to share some of those cookbooks with you and hopefully make your mealtime a little more delicious and a little less stressful.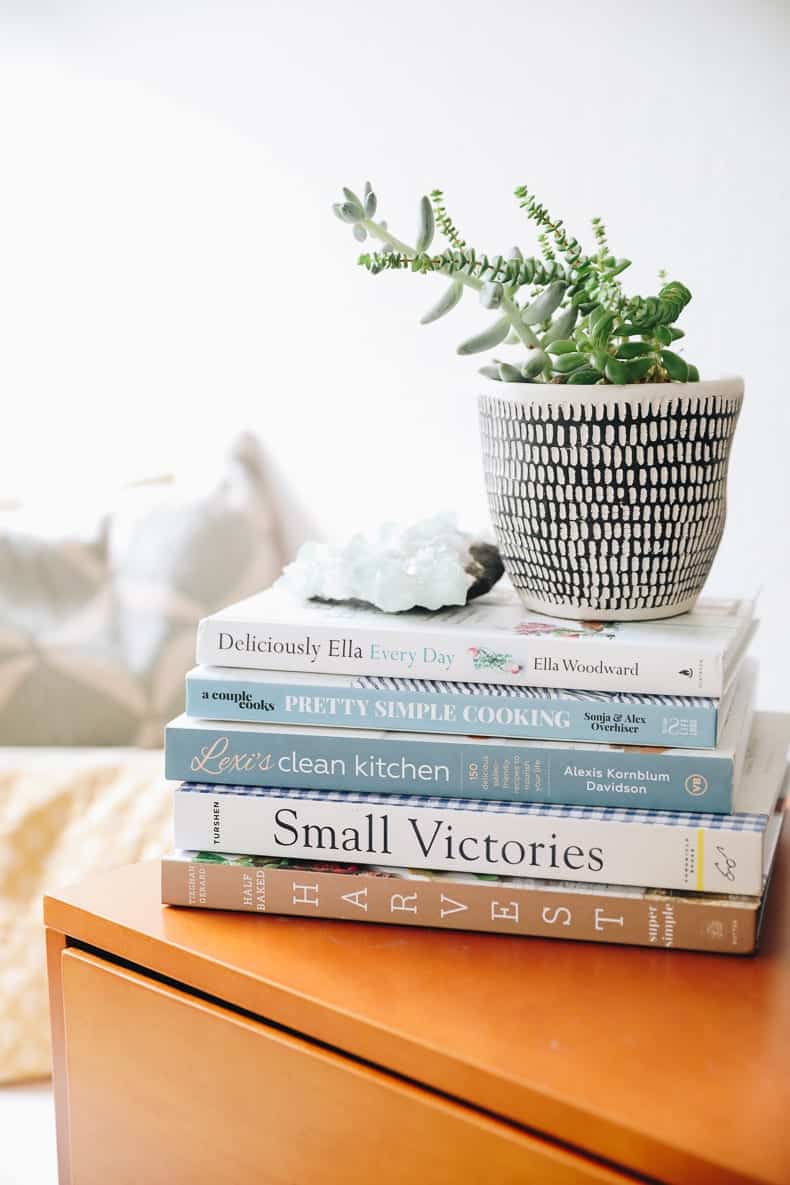 5 Cookbooks for Weeknight Dinner Inspiration
Many of you have heard me talk about Lexi and Lexi's cookbook before. That's because her recipes are ALWAYS amazing. I know Lex and also know the amount of work she puts into her recipe testing and how passionate she is about creating healthier recipes with flavor. The recipes in this cookbook are all healthy, gluten-free and paleo-friendly. I follow none of these labels but still find the recipes are delicious and accessible. Certain things I'll skip like her paleo sandwich bread (love me some gluten-filled sourdough sorry!) but for everyday meal inspiration you cannot go wrong with this book.
Favorite recipes: Pasta with Meat Sauce ( her bolognese is our go-to!) // Kung Pao Cauliflower // Thai meatballs
This is a newer book to my collection but definitely my current favorite. I love Half Baked Harvest recipes. I will oftentimes substitute certain ingredients or decrease them (they can occasionally use a lot of butter!) but when it comes to flavor, Tieghan is the queen. This is her second cookbook and it was made to help make weekday eating easier. I've been loving the creative recipes out of this cookbook.
Favorite recipes: Spicy Poblano tacos // Everything bagel salad // Chicken with artichokes and orzo
Whether you're preparing weeknight dinner recipes or not, I truly believe everyone should own this cookbook. It's perfect for beginner cooks who want to get creative in the kitchen or people who like to adjust recipes frequently and want a little guidance in this. Julia Turshen co-authored many books before releasing her debut cookbook, small victories. You can tell she's done this before as all the recipes are easy-to-follow and back-to-basics.
Favorite recipes: Turkey and ricotta meatballs // Flounder with roasted tomatoes and black olives // Indecision grilled chicken
C and I eat vegetarian for most weeknight dinners so Pretty Simple Cooking from the duo behind A Couple Cooks is basically the answer to our prayers. It's healthier and all vegetarian but not so vegetarian its boring. From pizza, to veggie bowls to soups there's something for everyone in this cookbook – even the meat-eaters too!
Favorite recipes: Chipotle black bean tortilla soup // Falafel Burgers // Turmeric Rice Bowls
For the vegans out there this cookbook from Deliciously Ella will suit all your needs! We're need vegan but I still find myself reaching for this book often! This is the second of her cookbooks and I find it to be the most interesting and accessible. The recipes are easy, don't require fussy or weird ingredients but are all entirely plant-based. If you buy any of her cookbooks I recommend this one.
Favorite recipes: Chickpea, quinoa and turmeric curry // Green goddess bowl // Roasted eggplant and tahini bowl
And because I feel like people will ask, I know Alison Roman's Dining In is not on the list. I do think the cookbook is good but nothing particularly innovative. I recommend trying some of her NY Times recipes before investing in her cookbook, or just try out one of the ones listed above.
Not to mention the 700+ recipes we have here on the THM archives. You're guaranteed to have weeknight dinner inspiration for years to come!
Like this post? Here are a few others you might enjoy:
JOIN THE THM NEWSLETTER
Join 20,000+ members of the THM Community to get access to exclusive recipes, healthy lifestyle tips and behind-the-scenes news from our team!