As you may know, I'm skincare obsessed. I have tweaked my routine over the years and found the best products for my skin. While products are so personal for everyone, I wanted to share how to properly apply your skincare because that process is universal and TBH most people don't actually know how to properly apply it. Now, there are 10-step processes and even 20-step processes but if you're going super basic it's really a 4-5 step process and can be done in less than 5 minutes. You can always add on but start with the basics and build from there. Let's go through it: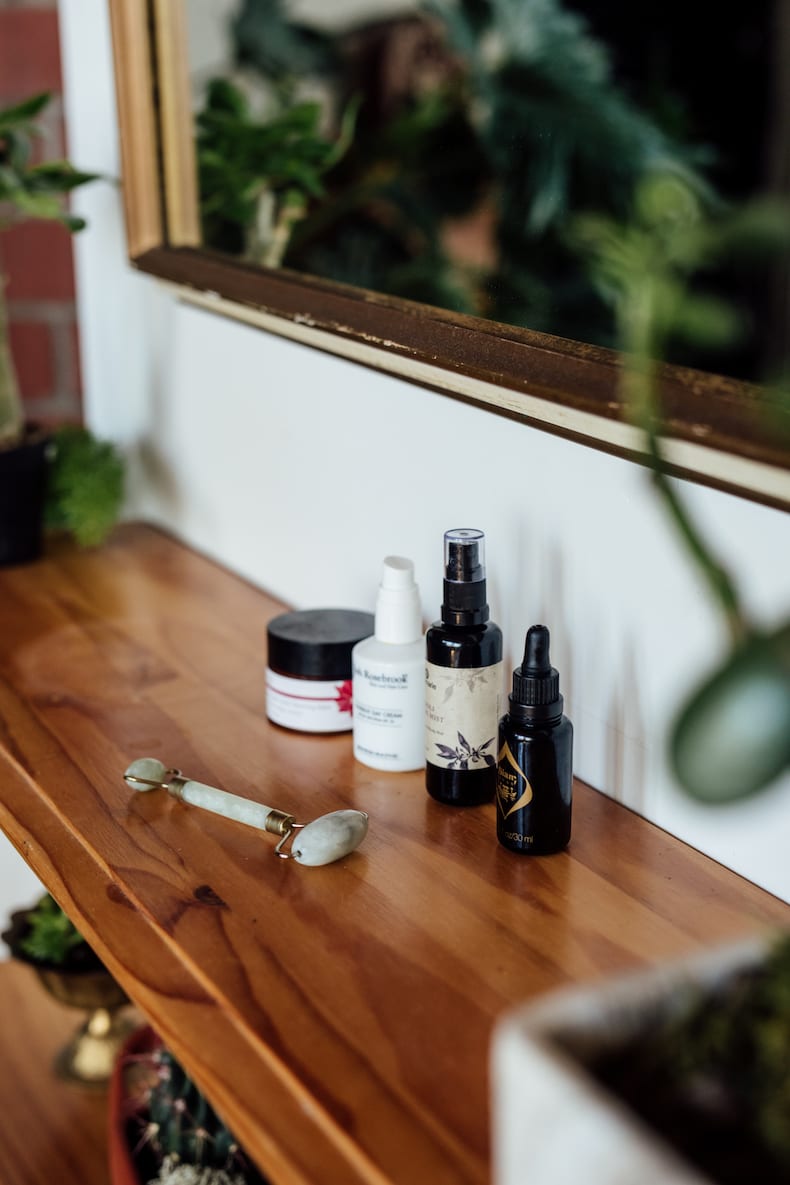 HOW TO APPLY SKINCARE [5 STEP PROCESS]:
Step one: Cleanse.
First things first, you have to start your skincare routine by cleaning your face! Again this step will look different for everyone. You might use an oil based cleanser, you might double cleanse, or you might just use a gentle, foaming cleanser. Whatever you use, be sure to take your time to gently massage the cleanser into your skin! After cleansing, lightly pat dry your face… don't pull or scrub it dry!
My favorite cleansers:
Step two: Tone.
Possibly my favorite step in the line-up: toning. I love spritzing a refreshing toner on my face after it's been freshly cleansed. Toners help correct the pH of your skin after cleansing and applying water and overall just help to balance your skin. If I'm being honest though, this should be the least expensive step in your process. I've shared some of my favorites below but if you're tight on budget go for something like rose water or witch hazel. Just look out for toners that contain alcohol as they can be quite drying if you have dry skin.
My favorite toners:
Step three: Apply serums.
Serums are where the magic happens. Serums are extremely specific to your skin and your goals. They are packed with powerful ingredients including vitamins, minerals and antioxidants. You want to apply your serum before moisturizer so the moisturizer can seal in all of the beneficial ingredients. If there's going to be any place to splurge in your skincare routine it will be on serums.
My favorite serums:
Step four: Apply moisturizer.
Lastly, seal in all of the goodness by applying moisturizer! Moisturizer obviously hydrates the skin but it also holds all of the other products and nutrients in. Work with a skincare professional to see what might work best for your skin – there are cream based moisturizers and oils. You'll have to find what works for your skin! I'm personally a fan of using a moisturizer in the morning and oils at night. See below for my recommendation for moisturizer but in terms of oils here are my favorites:
My favorite oil moisturizers:
Additional step for the morning: Apply SPF.
In the morning, I follow allll of these steps but add an additional one: SPF. My favorite daily moisturizer actually includes SPF so instead of applying two products I go for the two-in-one.
Like this post on how to apply skincare? Here are others you might enjoy: