Made with steel-cut oats, fresh peaches and coconut cream this gluten-free and dairy-free, hands-off recipe for slow cooker peach cobbler oatmeal is guaranteed to become a breakfast favorite!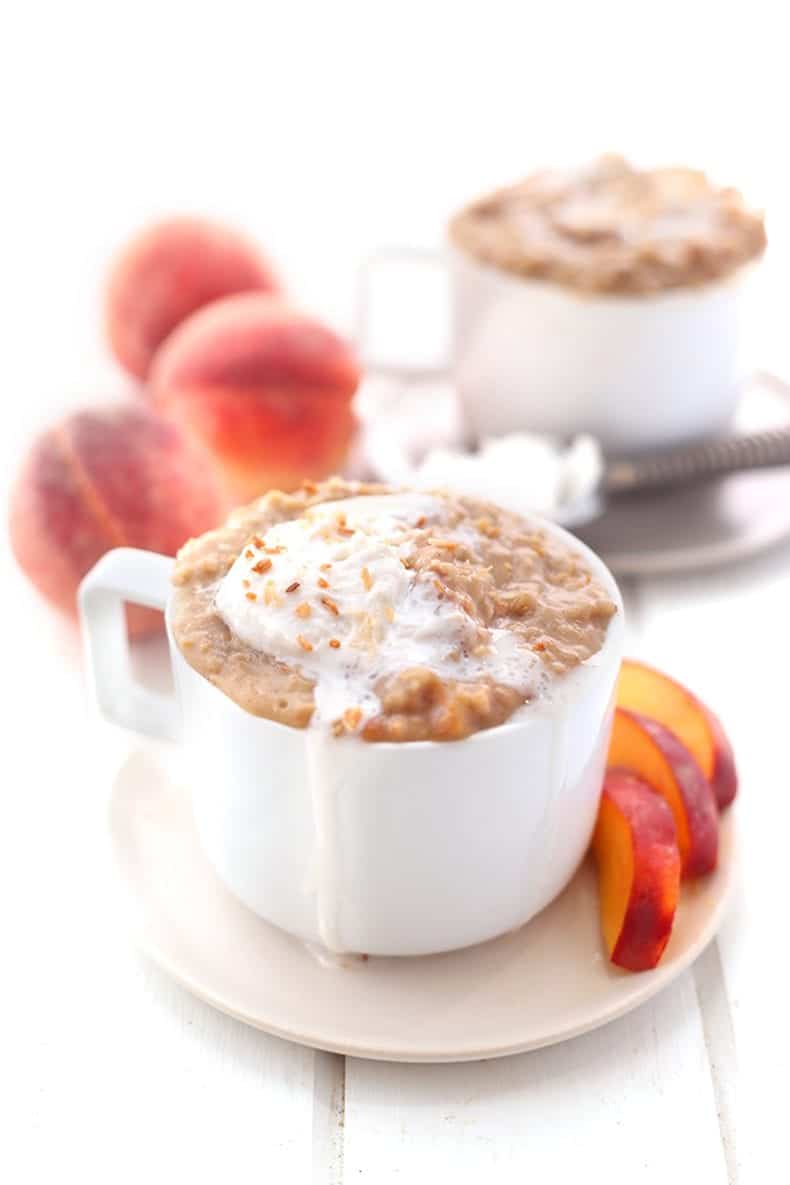 I originally shared this recipe in August 2015 right before my 26th birthday. I have to laugh when I read back on it because in almost every way the person who wrote the original post is completely opposite from the person writing the post now (FYI same person, just 4 years older!). I went on and on about how much I hate my birthday and why I'll never love it. Flash forward to just a few days ago when I rang in my 30th with good friends, a solo resort trip and a deep gratitude and appreciation for the life I live.
If I could go back in time and say one thing to Davida 4 years ago it would be this: Be grateful. You are so incredibly lucky and have so much to be thankful for. Now, it's not that 25 year old Davida wasn't grateful, she just simply didn't allow herself to feel it. My life was about propelling myself forward, rather than soaking in the present. Funny enough the original post was written all about my life "shoulds" and how they haunt me. I will say that "shoulding Sheila" (the lovely voice I've nicknamed my mind when it's playing the should game) still occasionally comes out to play but I'm happy to say that with age I've learned to temper that voice and remind myself that isn't lived in the shoulds. It's lived in the right here.right now. It's also lived in peach season…so let's talk about this slow cooker peach cobbler recipe.
Here's What You Need
steel-cut oats – steel cut oats are less processed than rolled oats. They're perfect for this slow cooker baked oatmeal! Make sure you grab gluten-free oats if needed.
unsweetened coconut flakes – make sure your coconut flakes don't have any sugar added!
unsweetened coconut milk – adds a delicious, creamy flavor and texture.
peaches – the star of the show! I recommend using fresh peaches.
cinnamon – the perfect spice pairing.
coconut sugar – brown sugar works as well.
coconut cream – place a can of full-fat coconut milk in the fridge for at least one hour. Open can and scoop out hardened cream at the top of the can. You can discard the remaining liquid or save for another use.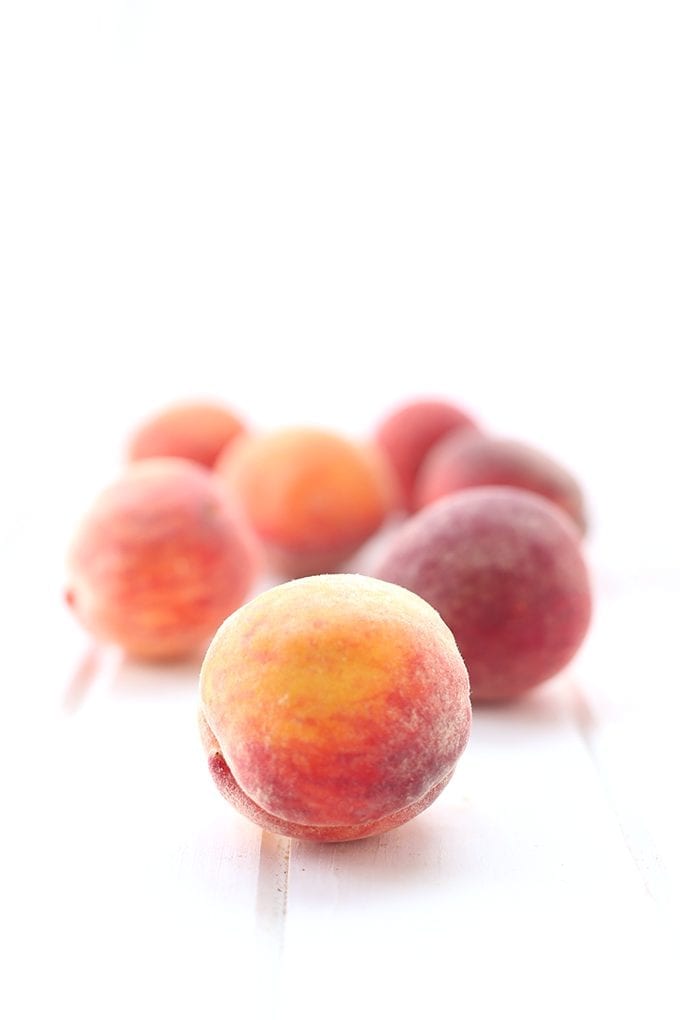 Slow Cooker Oatmeal
Slow cooker oatmeal is one of my favorite breakfast recipes to meal-prep for the week or whip up when I'm a little short on time. With everyone obsessing over their Instant Pot (admittedly I have one and do love it!), I feel like the slow cooker has been sadly forgotten. But there's still so much to love about slow cookers. I truly don't think flavors come close to the delicious taste of slow cooked food. And yes that includes oatmeal!
Slow Cooker oatmeal is pretty much as it sounds: oatmeal cooked over several hours in the slow cooker. Now I find it's critical to use steel-cut oats when making overnight oatmeal in a slow cooker as it doesn't get too mushy. Steel-cut oats are a slightly less processed version of rolled oats in that they aren't steamrolled over so the grain is left more in tact. It makes them higher in fiber but it also means they take longer to cook. Luckily that isn't a problem when you make peach cobbler overnight oatmeal in your slow cooker!
P.S. This is the slow cooker I have.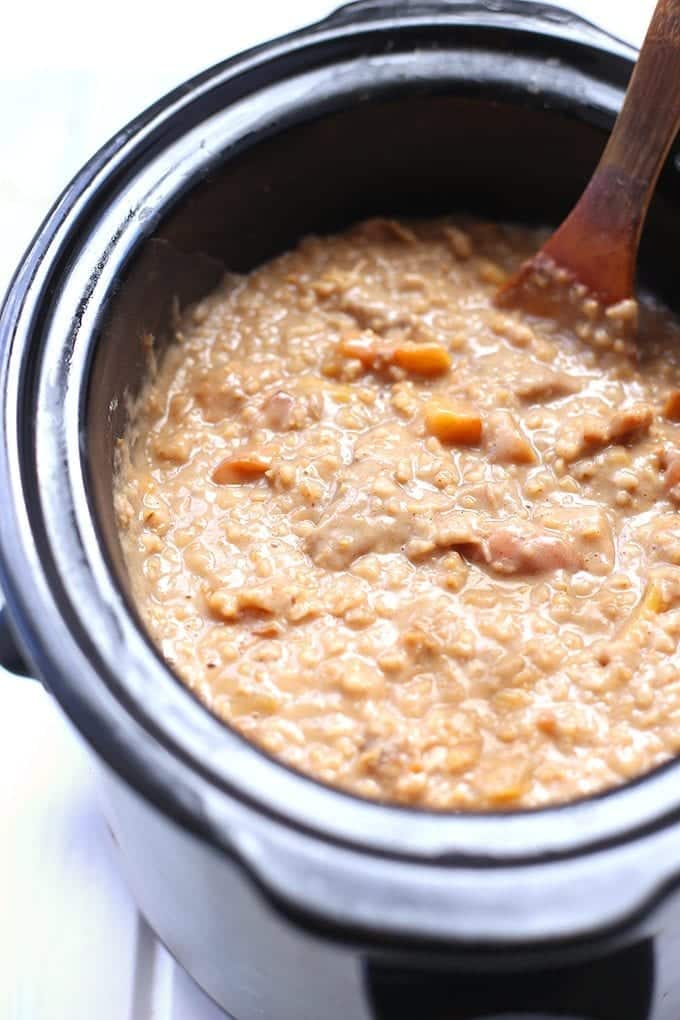 What Else Can I Make In My Slow Cooker?
ummmmm….everything?! But it's true, it's pretty impressive what you can make in a slow cooker. From cakes, to oatmeal to soups, your slow cooker can make it all. But if you're looking for some great slow cooker recipes, here are a few favorites
Those are just some ideas! Feel free to dig through the archives for more and better yet, get experimenting. Try making your favorite recipe in your slow cooker instead of on the stove top. It's great for summer when you don't want to use the stove or for the winter when you just don't want to do anything at all!
As always, let me know if you try out this peach cobbler overnight oatmeal and let me know your thoughts in the comments below!
Print
Slow Cooker Peach Cobbler Oatmeal
Prep Time:

5 minutes

Cook Time:

8 hours

Total Time:

8 hours

Yield:

6

-

8

servings

1

x
1 1/2 cups

steel-cut oats

1/2 cup

unsweetened coconut flakes

6 cups

unsweetened coconut milk (from the carton)

6

large peaches, chopped

1/2 tsp

cinnamon

1/4 cup

coconut sugar (or brown sugar)

1

can coconut cream*
Instructions
Spray or grease slow cooker with coconut oil.
Add all ingredients to your slow cooker. Stir.
Cook on low for 8 hours or high for 4 hours.**
Give it a good stir for about 5 minutes or until ingredients come together and thicken (be patient, this may take a few minutes)
Place desired serving in a bowl and top with a scoop of coconut cream to serve.
Store leftovers in fridge for up to 1 week.
To reheat add a splash of coconut milk and heat up in microwave.
*To get coconut cream place a can of full-fat coconut milk in the fridge for at least one hour. Open can and scoop out hardened cream at the top of the can. You can discard the remaining liquid or save for another use.
**I make mine overnight so it is ready in the morning.
Like this recipe? Here are a few others oatmeal recipes you might enjoy:
Slow Cooker Apple Pie Steel-Cut Oatmeal
Triple Berry Baked Oatmeal
How to Make Overnight Oats – 5 Ways!
JOIN THE THM NEWSLETTER
Join 20,000+ members of the THM Community to get access to exclusive recipes, healthy lifestyle tips and behind-the-scenes news from our team!