I've reached the final recap of my trip Out West last month! In case you missed the first two, the first was all about Park City, Utah and the second covered everything to do in Jackson, Wyoming and Grand Teton National Park.
I'm actually having withdrawal right now but have found a way to cope with it. Thanks to my bff Netflix, I have been enjoying Ken Burn's mini-series on "The National Parks: America's Best Idea". It's actually a great series and you will learn SO much about America and the history of it's National Parks #historynerd.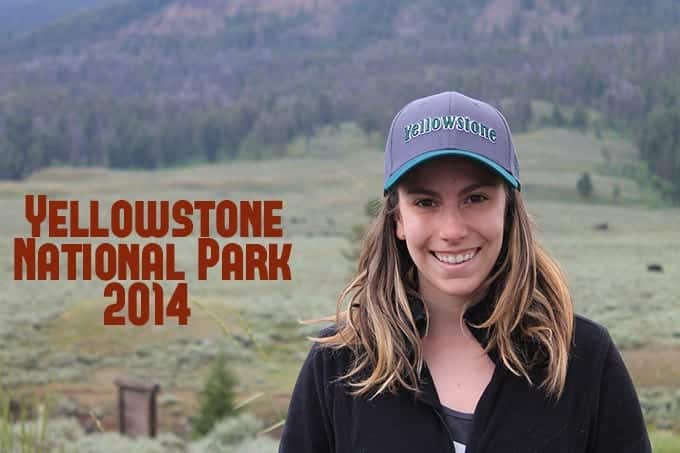 In some ways I saved the best for last, and in other ways I didn't. As much as I loved Yellowstone, The Grand Tetons stole my heart. I'm told if I love it there that I NEED to visit Banff, so I guess it's time I start tackling Canada's National Parks! But back to Yellowstone.
The South entrance to Yellowstone is only 1.5 hours from where we stayed in Grand Teton National Park (the parks are actually attached) so that was the last stop on our adventure and where we spent the next 4 days. We had A LOT of ground to cover in a short period of time, so bare with me!

Old Faithful Inn. Since we drove in through the South entrance to the park, it made the most sense to stay and explore that area. There are very few places to stay inside the park. The Old Faithful Inn is one of the most historic and coveted because it's backyard is literally Old Faithful. My thoughts: Really interesting place with lots of history. Even if you aren't staying there, take the free tour they offer. If you are staying there, you must book AT LEAST a year in advance but don't expect the fanciest accommodations. You will have everything you need, but no more than that. Keep in mind, I'm a diva.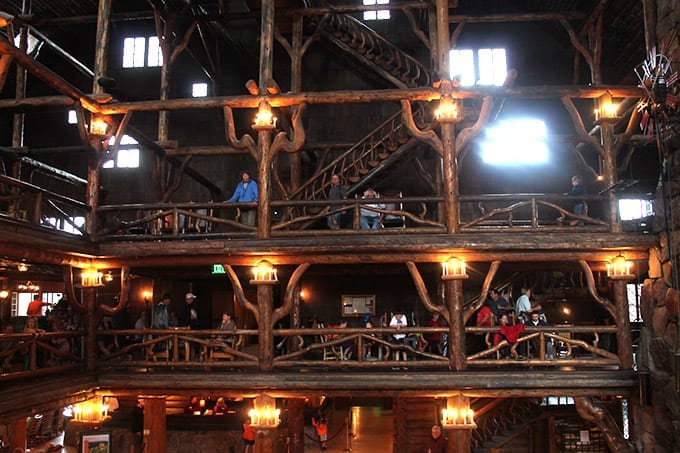 Travelodge Gardiner, Montana. Because most of the activities we wanted to do were on the North end of the park, we opted to stay directly outside the North entrance in Gardiner, Montana for the next two nights. The town is adorable and the hotel had everything we needed. Plus it's 5 mins from the famous gate through the North entrance of the park.

We managed to cover most of the park in 4 days. Don't ask me how. Navigating Yellowstone is fairly simple, but expect extreme road delays. It's normal to come across 300 bison trying to cross the road and you will end up stuck there for an hour. At least bison are awesome so it makes up for it. Also Yellowstone is B-U-S-Y. At times it felt like I was at what DisneyWorld would look like on Mars. Crazy natural features + hoards of people. You just gotta roll with it.
Old Faithful. You must see Old Faithful and the Lower Geyser Basin so you can AT LEAST say you've been there. There are hundreds of geysers around the park and Old Faithful is not the most spectacular of them, but it's famous so just do it. Then walk around the thermal hot springs and other geysers along the boardwalk. I had no idea that this is what Yellowstone was like. Crazy cool.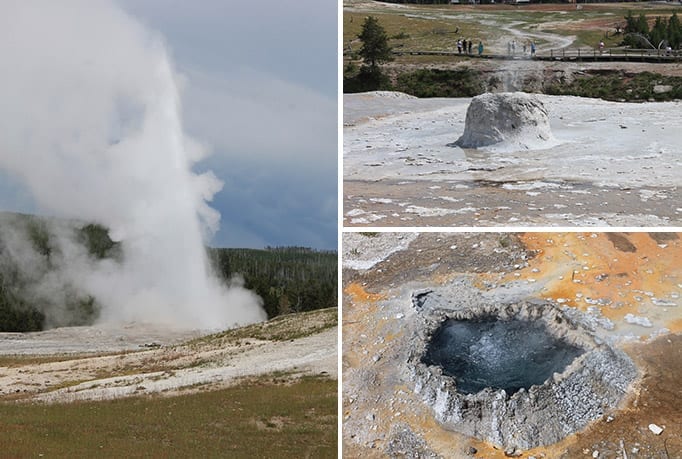 Midway Geyser Basin and Norris Geyser Basin. These are the other two I recommend exploring. The Grand Prismatic Hot Spring in the Midway Geyser Basin was incredible. Midway is the biggest hot spring in the US and the third biggest in the world. Plus it's super fun and colourful!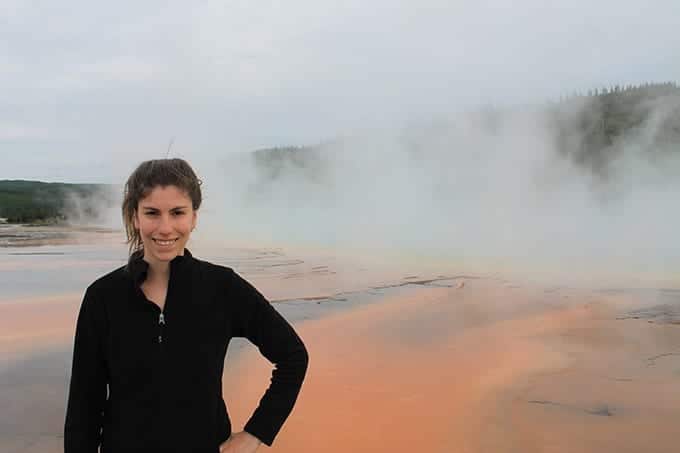 Mammoth Hot Springs. It's like a hot spring waterfall. I've never seen anything like this and don't expect I ever will again.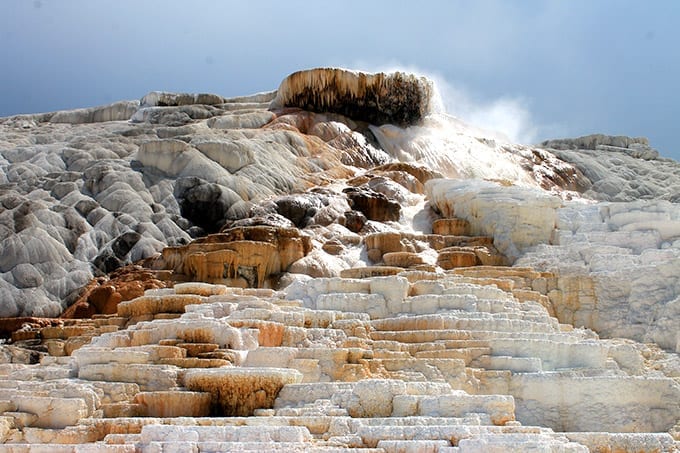 Lamar Valley + Hayden Valley: The two places where you are likely to see the most wildlife. We drove through the Hayden Valley after the craziest hail storm and I wish I could bottle up the amazing smell. Along with the smell, the setting is absolutely spectacular. Gorgeous mountains, wildlife running around and wildflowers everywhere. The Lamar Valley was also very pretty but the coolest part was having our car surrounded by bison as they tried to cross the road. I want a pet bison.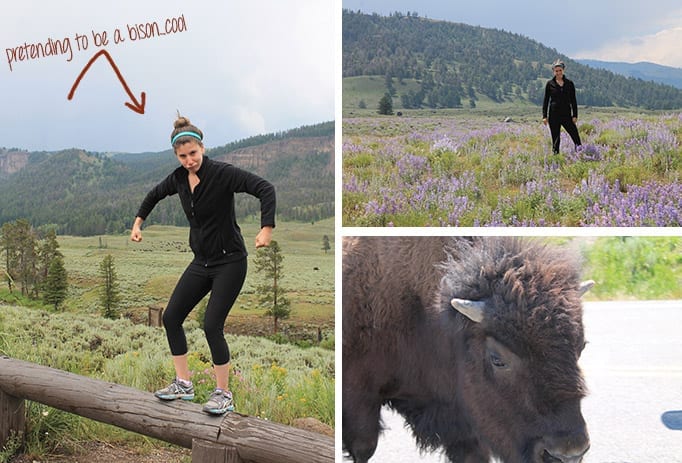 The Grand Canyon of Yellowstone. This was my favourite part of Yellowstone and it's completely different from all of the geyser basin areas. We hiked the Clear Lake Trail, on which random hot springs appear all along it and then suddenly you walk out onto an absolutely gorgeous canyon. We continued the trail up to Artist Point for a view of the waterfall and then down to the bottom of the waterfall where you can see a double rainbow. Word to the wise, walking down and up those stairs is like doing crossfit. I was dying.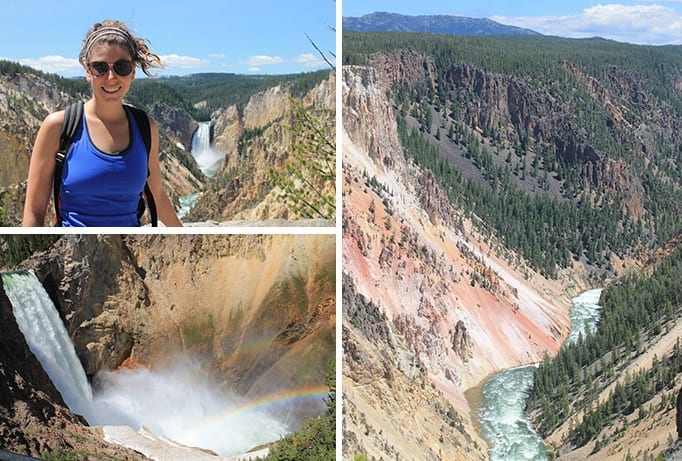 Yellowstone Lake. Beautiful. We thought about doing some kayaking on it, per Lee's suggestion but we didn't have enough time. Instead we ate ice cream and stared out onto the Lake. So like basically the same thing…right?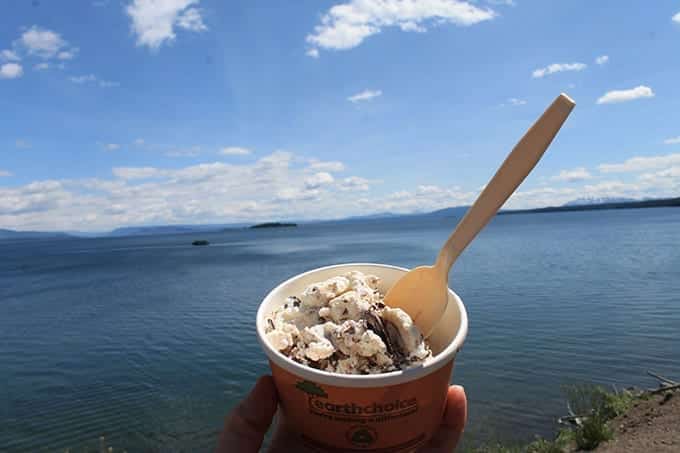 If you can get a cooler and bring food into the park with you, do it. You are limited in where you can eat and buy food in Yellowstone. I lived exclusively off peanut butter, rice crackers, trail mix and peanut m&ms. It wasn't pretty. We did have a few good meals in there, so I'll highlight those.
The Old Faithful Inn Dining Room. If you're staying at the hotel you can make reservations here and if not you have to wait until the day of to make a reservation. If you can make a reservation, do it. The meals were fantastic and they had all sorts of gluten-free and vegan options (which were labelled!). I split the bison bolognese on gluten-free pasta and the trout hash with my Mom. The Alexander Valley Organic Cab was just icing on the cake. Sorry, forgot to take a pic!
Iron Horse Bar & Grill (Gardiner, Montana). I should have ordered the steak. I had the bison burger. It was okay, but the steak is their speciality. The best part was definitely the bottle of wine and chips and salsa I shared with my Mom and Bro beforehand. This became a nightly tradition. I can get down with that.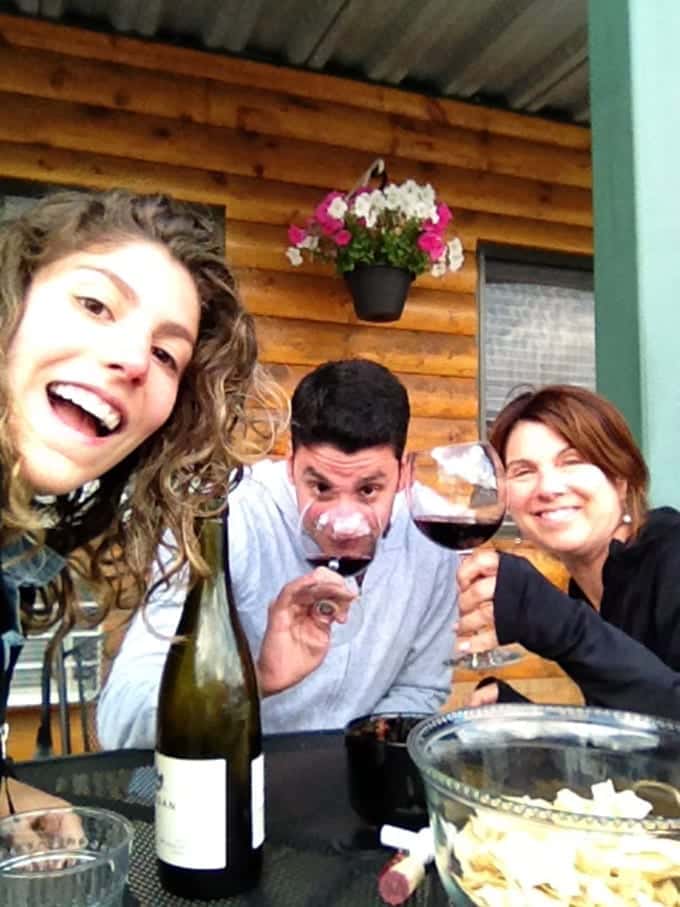 Lighthouse Restaurant (Corwin Springs, Montana). Go here. What a gem to stumble upon. The chef whipped up some amazing and unexpected meals to find in middle-of-nowhere Montana. I got the Thai Chicken and it was awesome. Plus it's BYO with no corkage free. Win!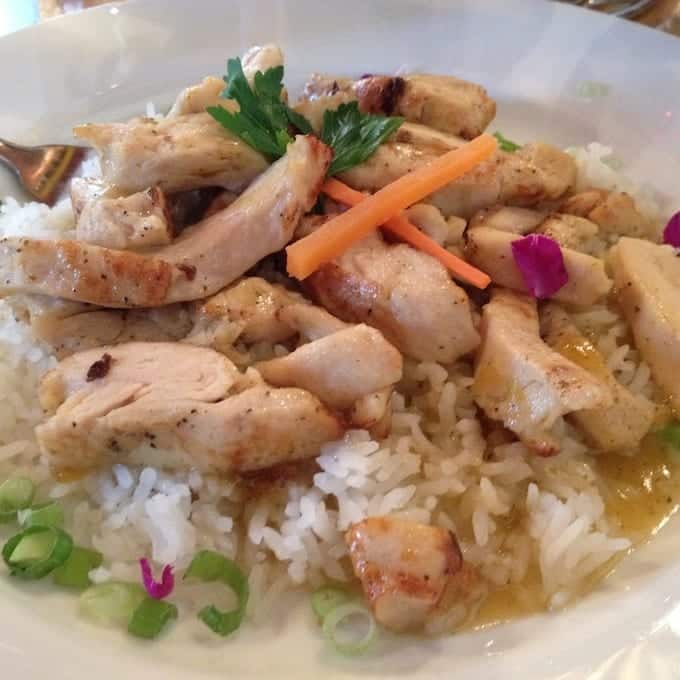 This was seriously a trip of a lifetime. From Park City to Jackson to Yellowstone and everything in between, I am feeling so grateful to have been able to explore such beautiful places with my family by my side. Already looking forward to the next adventure!
Have you ever been to Yellowstone National Park? What's next on your travel bucket list?
DON'T WANT TO MISS THE NEXT ADVENTURE? Join the THM Community!
Join 10,000+ members of the THM Community to get access to exclusive info about travel, places I've visited and how to stick to your healthy lifestyle on the road.