What is a CSA? What is the CSA Meaning? There's so many questions to answer when it comes to produce and the best way to get in your fruits and veggies. Today's post explores the meaning of CSAs and how to find the right choice for your family.
One of the best parts about moving to California was having access to fresh, local produce year-round. Of course, I know this is an incredible privilege and having spent 27 winters on the East Coast, it's certainly not something I take for granted.
But here's the thing, even if you live in a place that experiences some pretty brutal winters, there is always a way for you to support your local agricultural producers and farmers. When there's a will, there's a way!
In Toronto, we'd shop at Farmers' Markets from April to October or get a CSA delivered when we weren't deep in the travel grind. And now that we're here in San Francisco, we're able to expand this support year round. And guess what? So can you!
I get this question a lot so I thought I'd address it in a video + post. So today I'm answering the question what is a CSA and chatting about 5 reasons why I think you should consider getting one. I also wanted to show you an example of what comes in my csa members box that gets delivered every Tuesday so watch the video above to see what's included!
Here's What Came in This Week's CSA!
WHAT IS A CSA?
"CSA" stands for "community supported agriculture" though this definition is quite broad. There are many ways to support community agriculture i.e. shopping at farmer's markets, local markets or directly with nearby farmers during harvest. But because we all lead busy lives and have become accustomed to our food being delivered or shopped for us, a "CSA" has become synonymous with a once-a-week or biweekly box full of local fruits and veggies that are in season delivered to your door.
Each CSA looks a little bit different. Some don't deliver right to your door but you have to pick them up. Others feed 2 people, while some are built to feed a full family. Some pick all of the fruits and veggies for you, while others allow you to pick and choose options. Some include eggs and dairy, while others are purely fruits and veggies. It entirely depends on where you're ordering from. What should be consistent is that your box is full of produce from local farmers, though everyone has a different definition of what "local" means.
In my case, we decided to order from Farm Fresh to You because it supports local, California producers, is seasonal but also allows some degree of choice during each growing season. I wanted to use the CSA as an opportunity to try out fruits and veggies I wouldn't normally pick myself, but given my job, I do need some degree of flexibility for weeks where I'm recipe testing or am just craving some of my favorites. We've been using it since February (3.5 months) and have absolutely loved it!
5 REASONS TO GET A CSA
So now that you know what I CSA is and the CSA meaning, I thought I'd give you 5 reasons why you might want to consider getting one.
1. You're supporting your local community – it's no secret that many of our local agricultural producers are being pushed out by larger scale, commercial farmers. The best way to show your support for local foods and their producers is to put your money where your mouth is…literally.
2. It encourages more fruit and vegetable consumption – you kind of have no excuse to not eat your veggies when they're showing up on your doorstep each week. We love fruits and veggies around here, but if they're not in the house we're less likely to eat them. No more excuses now!
3. You get to experiment with different types of produce – I can totally get stuck in a produce rut and eat the same things over and over. Having someone pick things for you (or at least the option of having them pick for you) encourages you to try things you normally wouldn't. Without our CSA I would never have discovered how much I love watermelon radishes or green garlic!
4. You're eating in season – Our bodies aren't supposed to eat the same things year round. There's a reason we eat strawberries in the summer and warming squash in the winter. CSA's are only able to sell, what they're able to grow so what you get will be the freshest of what's in season, while supporting a more sustainble food system.
5. It saves you money – I've done the math, and we save about $10 each week by getting our fruits and veggies through our CSA. That's about $40 a month or just under $500 a year. Buying directly from farmers cuts out the middleman and transportation costs helping you save money. It also ensures less food waste because they send you enough for how many you order for. We get just enough for two people and we polish them all off each week.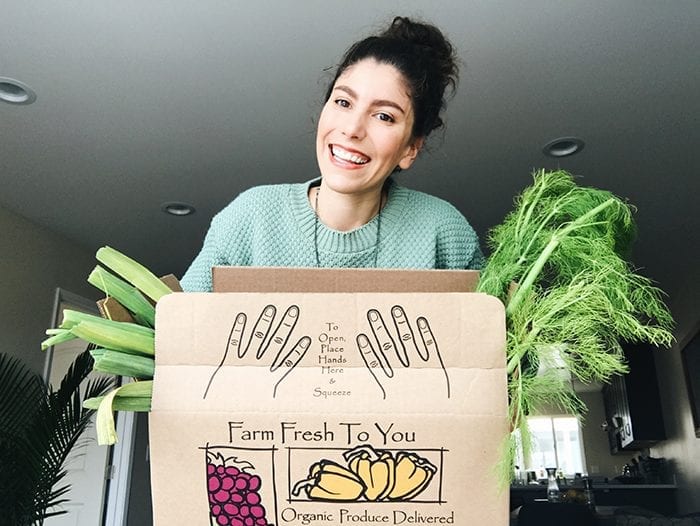 If you're interested in getting a CSA, start by googling CSAs and your area. Ask around to your friends and on social media for recommendations. I actually asked you guys when we moved to SF and so many of you recommended Farm Fresh To You so thank you so much! Definitely let me know if you end up signing up for one and encourage your friends to do the same!
Like this post? Here are a few others you might enjoy:
Why I'm obsessed with Imperfect Produce
Switching to a Menstrual Cup
My Beautycounter Review – Is It Really Worth it?
WANT MORE HEALTHY LIVING TIPS? Join the THM Community!
Join 10,000+ members of the THM Community to get access to exclusive info about healthy living, products I'm loving and tips and tricks on making a healthy lifestyle easier and sustainable.