As most of you guys know, I have been on a journey over the last few years to lead a more sustainable lifestyle and try to be less wasteful. As with all areas of my life, I didn't want to make a huge, abrupt change, I just noticed where I could make small, sustainable changes and where I could be less wasteful. Which is where the idea for this blog post came about! Sure, you could go buy a bidet or purchase a bunch of reusable items but I wanted to give you some simple, practical changes for all areas of your home. Some things you likely already have and some you may need to invest in, but I promise they are worth it. I'm hoping you get some good ideas out of this post to help you embrace a more sustainable lifestyle. Let's jump in!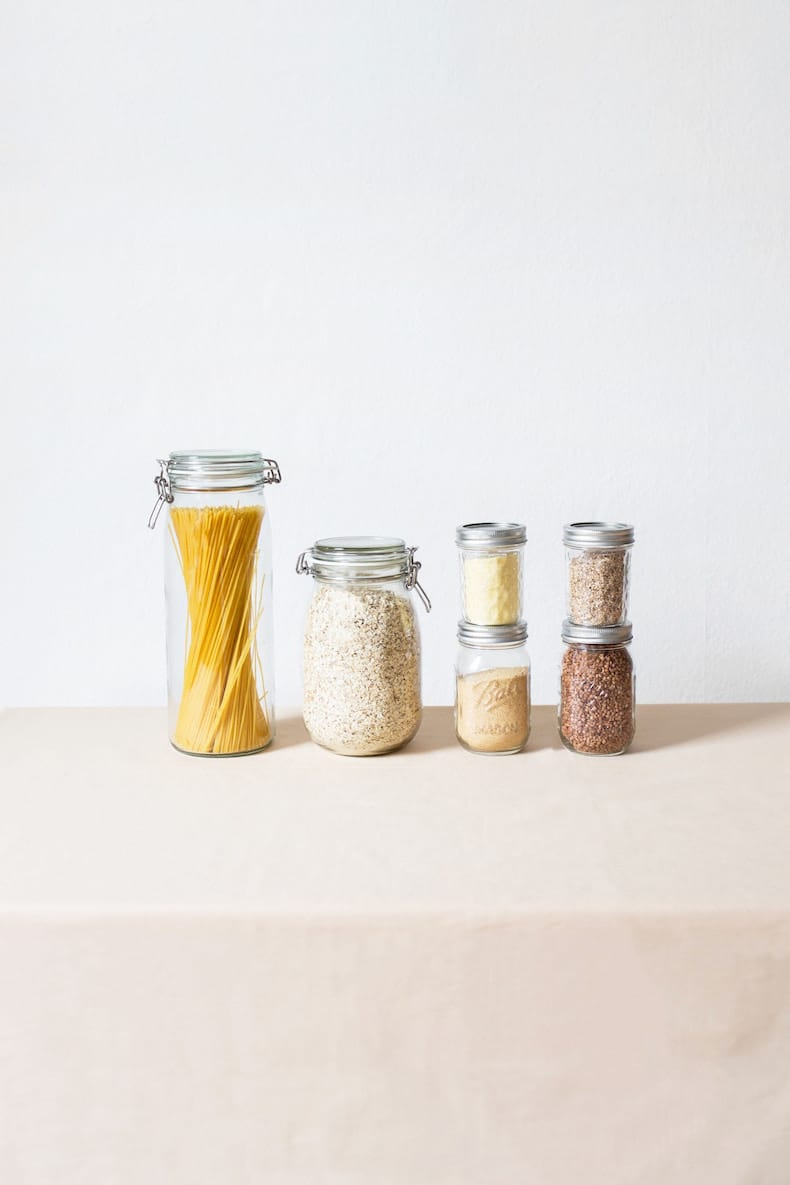 Kitchen
Food storage – Do you have empty pickle or kimchi jars? What about mason jars laying around your house? Glass jars are the perfect container for seed, nut and leftover food storage. No need to invest in fancy Pyrex… use what you have!
Paper towels – Be honest: how many paper towels do you use in a day? I used to use A LOT. Something about knowing you're grabbing a fresh, clean towel to wipe your hands or the counter… But not anymore! Cut up a stained old t-shirt or use cloths or rags instead of paper towels. Don't have any spare rags at your house, invest in some "unpaper" towels. Store all of the clean towels in a cute jar on your countertop and then have another jar or container under your sink to put the dirty ones. When your dirty pile is big enough you can do a load of wash and reuse.
Spice containers – Do you toss your spice container as soon as it's empty? Think about reusing them! You can bring your empty spice container to most grocery stores to refill. If you have other small jars laying around, use those for your spice jars!
Saran wrap – This stuff makes me cringe but I will admit… it works well so I understand why people use it! BUT I have a substitute for you. These silicone stretch lids work soooo well, are reusable and super easy to clean! Bee's wrap is also a more sustainable choice.
Sandwich/snack baggies – I feel like I used these A TON growing up but use them less so now. Now, I'm obsessed with reusable silicone bags. I love these Stasher or (Re)Zip bags. 100% worth the investment. Alternatively: reuse what you have! Yes I'm the girl who washes her ziplocs…no I have zero shame about it!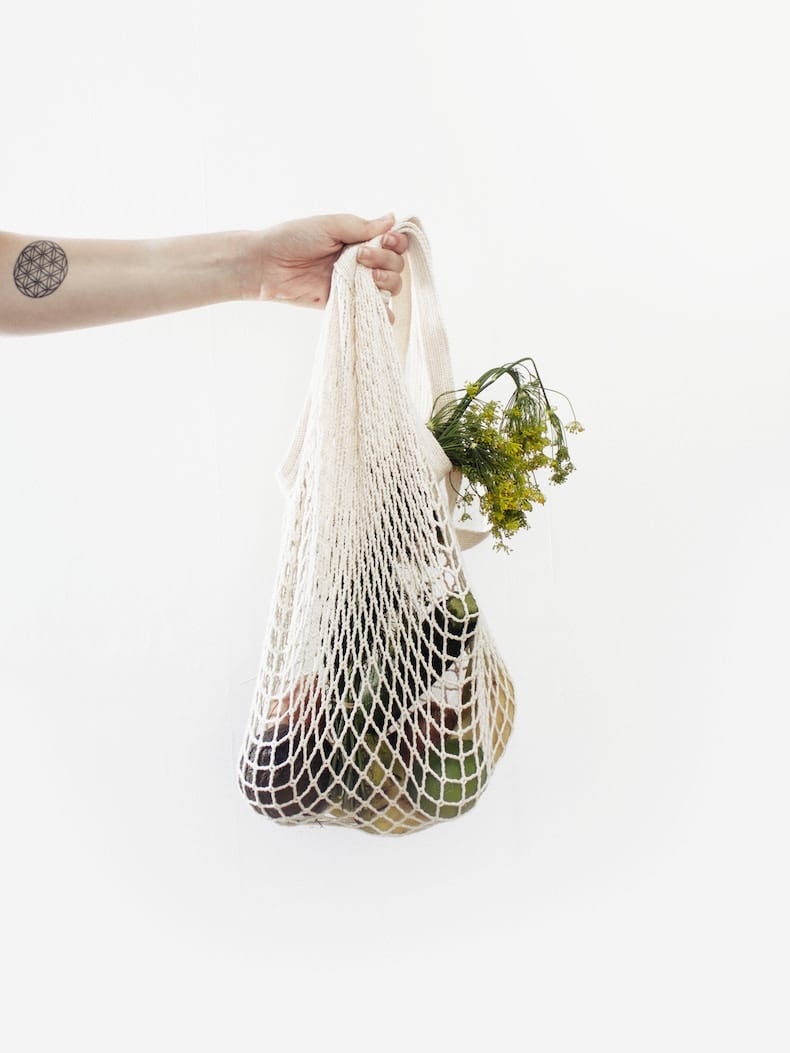 Grocery Shopping
I considered making a separate blog just for grocery shopping but for now, I'll leave you with two simple tips!
Be conscious of what you're grabbing at the grocery store.
Do you need plastic bags for your produce? No! Just wash them when you get home. If you really need a bag for your produce consider buying the reusable cloth bags.
Are you purchasing a lot of packaged food that you could either skip or purchase in bulk using reusable containers?
Instead of buying individually packaged products (like cheese or fruit) buy in bulk and portion them out yourself.
Look for "free" produce instead of packaged. (i.e. greens, brussels sprouts, etc)
Bring your reusable bags. You've heard this 125320 times but I'm reminding you again! You don't need a fancy, trendy reusable tote. Work with what you have. Most of my reusable bags are the Outdoor Voices fabric bag.

Bathroom
Soap – Do you use one bottle of soap and then throw it away? Think about using a bar of soap or buying soap in bulk and refilling a reusable container! Lots of zero waste stores are popping up where you can bring a container to fill of laundry detergent, hand soap… alllll the things.
Razor – You may not know this but there are reusable razors! And I'm not just talking about the good ol' Venus razors with replacement heads (still wasting!). I looked up a lotttt of razors and what I found is this: brands either have a program to recycle the blades for you or they make blades you can recycle on your own. I didn't find any that will sharpen and send you back your blades so if you know of any of those brands please let me know! Albatross has a cool blade recycling program and Package Free gives you instructions on recycling your own blades.
Menstrual Cup – I did a whole post about why I switched to using a menstrual cup (and why I'll never go back to tampons) so check that out for the full details BUT have you thought about how much you waste every time your period comes around? Not only are you tossing countless feminine products but also the individual packaging. Highly, HIGHLY recommend switching to a menstrual cup! I use the Lena Cup but have also heard great things about Saalt, Lunette, Dot Cup, Dutchess or OrganiCup.
Cotton Pads – Do you use cotton pads to apply toner or remove your finger nail polish? Did you know there are reusable fabric pads? Buy a pack of super affordable fabric pads or make your own if you're feeling fancy! Toss them in the wash with your towels and you have reusable fabric pads. Again, you can just use an old t-shirt or towel for this purpose as well!
Makeup Remover Wipes – Instead of using a single use makeup remover wipe each night, use a microfiber cloth to remove your makeup. You can use it all week long and then toss it in the wash for a deep clean!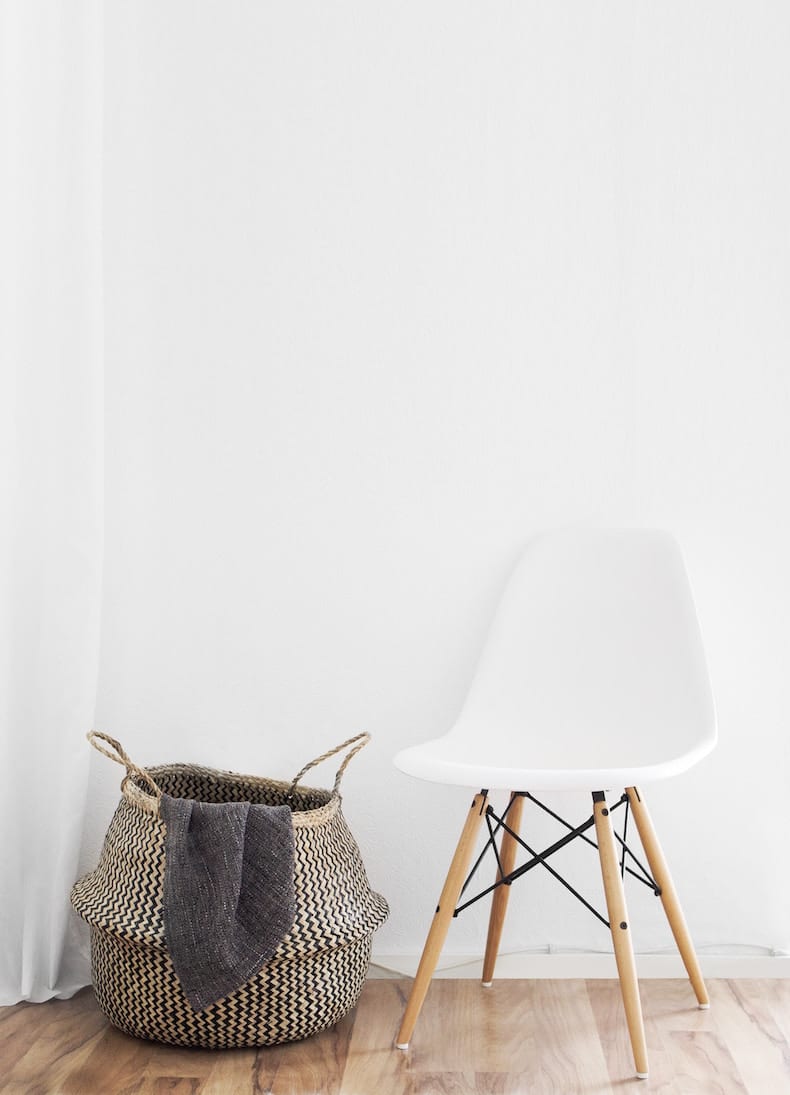 Cleaning + Laundry
Laundry Detergent – I mentioned this earlier but did you know that you can buy laundry detergent in bulk instead of buying multiple plastic containers a year? I couldn't find any online but lots of local zero-waste shops sell their own detergent that you can stock up on. Shop small and waste less = win, win! Branch Basics also had a refillable laundry detergent option.
Dryer Sheets – Besides being potentially toxic (source) we used to go through soooo many dryer sheets! A super simple swap is to use wool dryer balls! If don't have any, they're super affordable or better yet grab some tennis balls lying around! If you like the scent that dryer sheets add to your laundry, add a couple drops of essential oil to the dryer balls.
Sponges – I didn't know this until recently but there are reusable sponges! If you're a sponge lover, grab a couple reusable sponges so you waste less. Hint: if you don't want to buy anything, you can always just use old rags/cloths and keep reusing them! A few months ago I picked up some wool scraps from a vendor at a farmer's market. They make the perfect biodegradable sponges but as soon as I've used them up I'm buying some reusable sponges since I know wool scraps can be hard to come by.
All-purpose cleaners – So many cleaning products and especially all-purpose cleaners come in plastic bottles. Think about grabbing some reusable spray bottles or using some you already have to make your own cleaning products! I'm obsessed with Branch Basics and use it to clean my entire home. Seriously. Grab your Branch Basics starter kit here!
Like this post? Here are others you might enjoy:
WANT MORE HEALTHY LIVING TIPS? Join the THM Community!
Join 10,000+ members of the THM Community to get access to exclusive info about healthy living, products I'm loving and tips and tricks on making a healthy lifestyle easier and sustainable.