I think it's safe to say that so many of us have down the whole lay-out-in-the-sun-until-you-look-like-snooki game but I'm hoping as we all get older and wiser, we are more aware of skin damage and skin cancer and want to protect ourselves! Bring on the SPF.
As you know, I am an advocate for natural skincare, makeup and deodorant so of course, I use natural sunscreen as well! I set out to test a bunch of natural sunscreens on the market and bring you a round-up of the best of the best, depending on what you're looking for.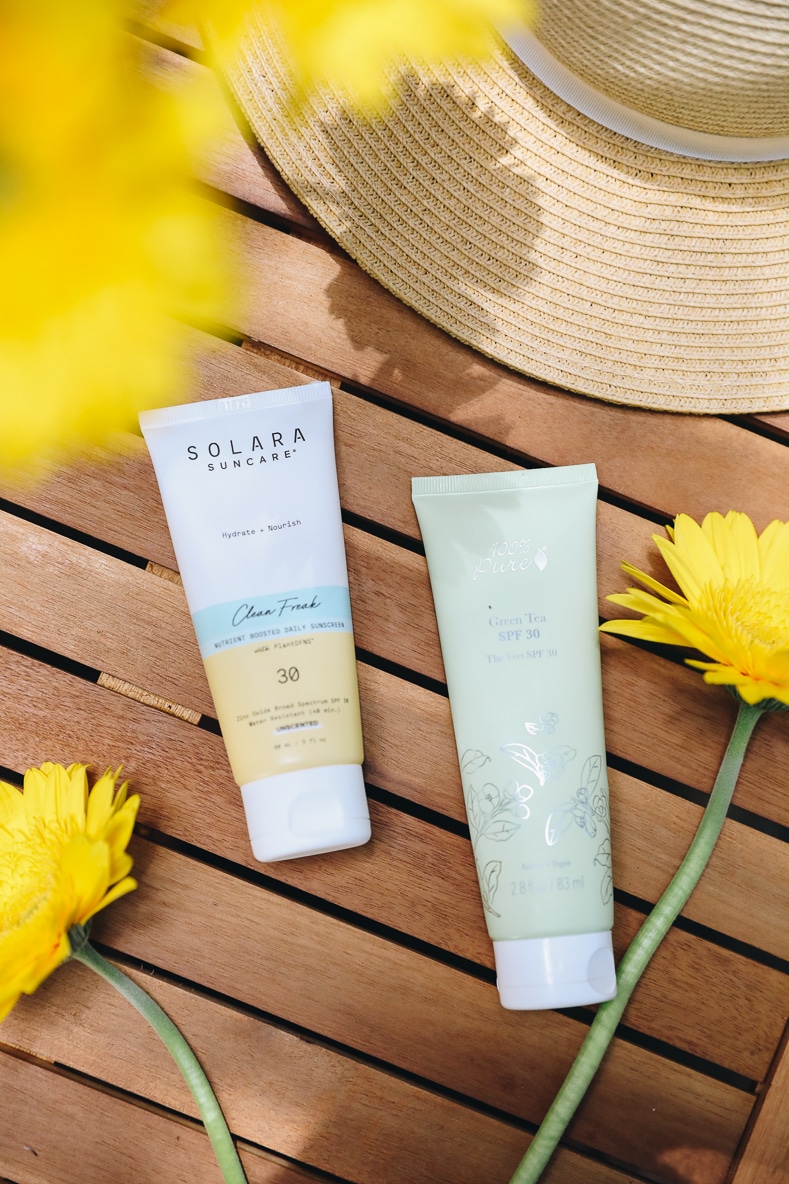 Why use natural sunscreen?
First I think we should discuss why you need to be wearing sunscreen in the first place. Here's a big wakeup call:
Repeated exposure to the sun's UVA and UVB rays is directly correlated to up to 90% of skin cancers. In addition to increasing cancer risk, UV rays contribute to premature skin aging and sun damage.
So unless dry, wrinkled, discolored, and leathery skin is your thing (anyone?!), I'd suggest loading up on the SPF. If you're using conventional sunscreen, that's still a huge step! I would rather have you use some sort of sunscreen than none. If you are nearing the end of a your sunscreen stash or are ready to take a closer look at what you're putting on your body, let's continue the discussion.
Conventional sunscreens may be somewhat effective, but they are laden with so many chemicals and toxins that it'll make your head spin. I'm not gonna tell you that every chemical in our atmosphere is harmful and you must avoid them at all costs, but I'm of the attitude that if you have a smarter choice available to you, make it. Here are the most harmful factors to look out for according to the EWG:
Oxybenzone –

can disrupt your hormone receptors.

Retinyl palmitate –

may actually trigger skin damage, and possibly cancer.

Spray sunscreens –

can be inhaled, and they don't cover skin completely. Defeats the purpose…

SPF values above 50+ –

SPF protection tops out at 30 to 50 so don't bother with anything higher.
Reef Safe Sunscreen
Have you heard of reef safe sunscreen? Wondering what the heck it is? There is actually a chemical in a lot of conventional sunscreens that is harmful for sea life and can cause coral bleaching. Many beach areas have actually banned sunscreen with these harmful ingredients. What to look for: oxybenzone and octionoxate. A lot of popular conventional brands like Coppertone, Hawaiian Tropic and Banana Boat contain these harmful chemicals so double check the label before you purchase! Here is a quick list of what makes sunscreen reef safe:
Free of oxybenzone and octionoxate

Indication that ingredients are "non-nano" meaning that the ingredient particles must be above 100 nanometers in size so that they cannot be ingested by corals

Mineral-based sunscreens made of zinc oxide and/or titanium dioxide are reef-safe
Why Does Natural Sunscreen Turn You White?
One thing we should talk about is why natural sunscreen seems to leave such a thick white sheen on the skin. Natural sunscreen is typically effective because it uses zinc oxide and/or titanium dioxide – both synthetic but safe ingredients that provide UVA and UVB protection from sun exposure.
Because these particles are so big (and thick) they sit on top of your skin providing more of a physical barrier. The size of the particles is also what makes mineral-based sunscreen reef-safe. Sadly there isn't a ton you can do to get around this BUT in recent years many natural sunscreen brands have found a way to mask the white sheen and make you look a little less "ghost-like". Still, it's something to get used to but after a while it usually stops bothering you.
Natural Sunscreens I Use
When I started looking into natural sunscreens about five years ago, the options were limited. Now clean beauty and skincare is becoming much more mainstream and I was so impressed with some of the options I found! Some of the original brands were so thick it felt like wearing a sweater in the summer! Now they've gotten a lot less thick and easier to rub in. This is especially true of facial sunscreens, but I'll be sharing a post on that soon. For now let's focus on natural body sunscreens.
Each of these natural sunscreens serves a slightly different purpose. There's truly something in here for everyone.
Just as a reminder, this is just natural body sunscreens. Here is my review of my favorite natural face sunscreens! And of course, there are many brands out there but these are the ones I recommend. Feel free to ask about any other products in the comments below.
More posts to enjoy:
The Best Natural Sunscreen [For Your Body]