A look at natural sunscreen, some of my favourite brands and why I recommend using it. This is a complete guide to natural sunscreen!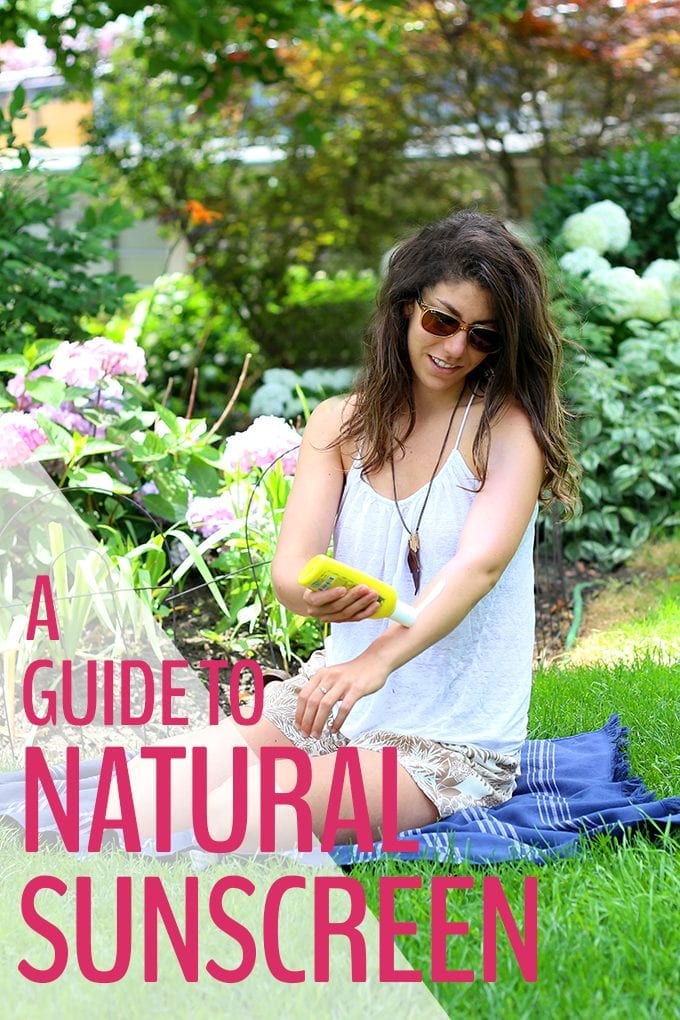 It's no secret that I have an aversion to the sun. I'm all about that vitamin D, but when it comes to skin damage and skin cancer, I'm not about to start taking my chances. Trust me, I've done the whole lay-out-in-the-sun-until-you-look-like-snooki game but thankfully those days are long gone and I'm all about that SPF.
But not just any SPF! As you can probably tell from my green beauty swaps and natural deodorant blogs, I care about what goes on my body! I've been using natural sunscreen for about five years now and I've never looked back.
Why use natural sunscreen?
First I think we should discuss why you need to be wearing sunscreen in the first place. If you slept through middle school health or are choosing the ignorance is bliss approach, here's your wake-up call:
Repeated exposure to the sun's UVA and UVB rays is directly correlated to up to 90% of skin cancers. In addition to increasing cancer risk, UV rays contribute to premature skin aging and sun damage. 
So unless dry, wrinkled, discolored, and leathery skin is your thing (anyone?!), I'd suggest loading up on the SPF.
If you're already using conventional sunscreen, pat yourself on the back. Most people skip the stuff, so you're halfway there! I'm not about to harp on anyone who is using conventional sunscreen, but if you're interested in taking a closer look at what you're putting on your body, let's continue the discussion.
Conventional sunscreens may be somewhat effective, but they are laden with so many chemical and toxins that it'll make your head spin. I'm not gonna tell you that every chemical in our atmosphere is harmful and you must avoid them at all costs, but I'm of the attitude that if you have a smarter choice available to you, make it. Here are the most harmful factors to look out for according to the EWG:
Oxybenzone – can disrupt your hormone receptors.
Retinyl palmitate – may actually trigger skin damage, and possibly cancer.
Spray sunscreens – can be inhaled, and they don't cover skin completely. Defeats the purpose…
SPF values above 50+ – SPF protection tops out at 30 to 50 so don't bother with anything higher.
Reef Safe Sunscreen
Have you heard of reef safe sunscreen? Wondering what the heck it is? There is actually a mineral in a lot of conventional sunscreens that are harmful for sea life and can cause coral bleaching. Hawaii (and I'm assuming other beach states/cities?!) has actually banned sunscreen with these harmful ingredients.  What to look for: titanium dioxide, oxybenzone and octionoxate. A lot of popular conventional brands like Coppertone, Hawaiian Tropic and Banana Boat contain these harmful minerals so double check the label before you purchase! Can we all agree to be a little more careful when it comes to our sunscreen and direct effects on our planet?
Brands I recommend
Hopefully at this point I've convinced you to wear sunscreen but not too much that you'll never go outside again. I promise that if you're open to the idea of natural sunscreen there are some effective alternatives out there for all of your sunshine needs.
Admittedly, I have not tried every single one, but of the ones I've tried I've compiled a list of my thoughts and suggestions.
As a precursor, natural sunscreens tend to be thicker and leave a slightly white coating on top of your skin. This is because the main active ingredient in them is zinc. This is a good thing. Zinc Oxide is a barrier to UVA and UVB rays, which means they cannot penetrate the skin. If the supposed main ingredient is zinc but you don't get that slightly white sheen, there is a chance that only a minute amount of zinc was actually used so you're back to square one. Try out a couple different products and see what you like the best! I'm willing to bet you'll find a new favorite in this round-up.
With that being said, here are the natural sunscreens that I've tried and can vouch for: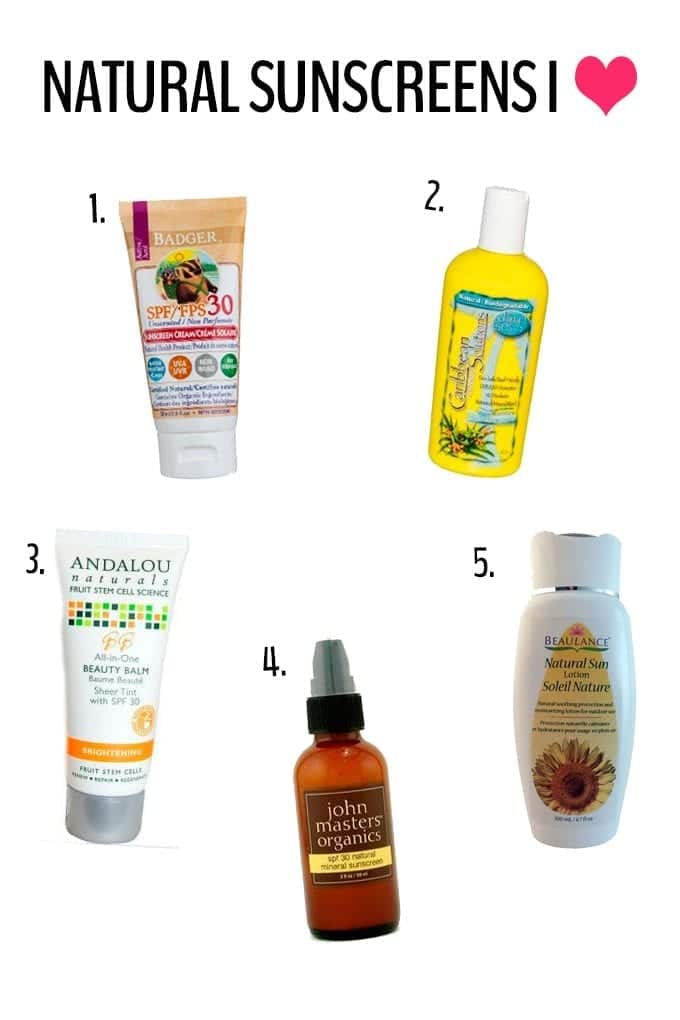 1. Juice Beauty Sport SPF 30 –
2. Goddess Garden Daily SFP 30 –
3. Josh Rosebrook Nutrient Day Cream with SPF 30 –
4. Suntegrity 5-in-1 Tinted Moisturizing Sunscreen –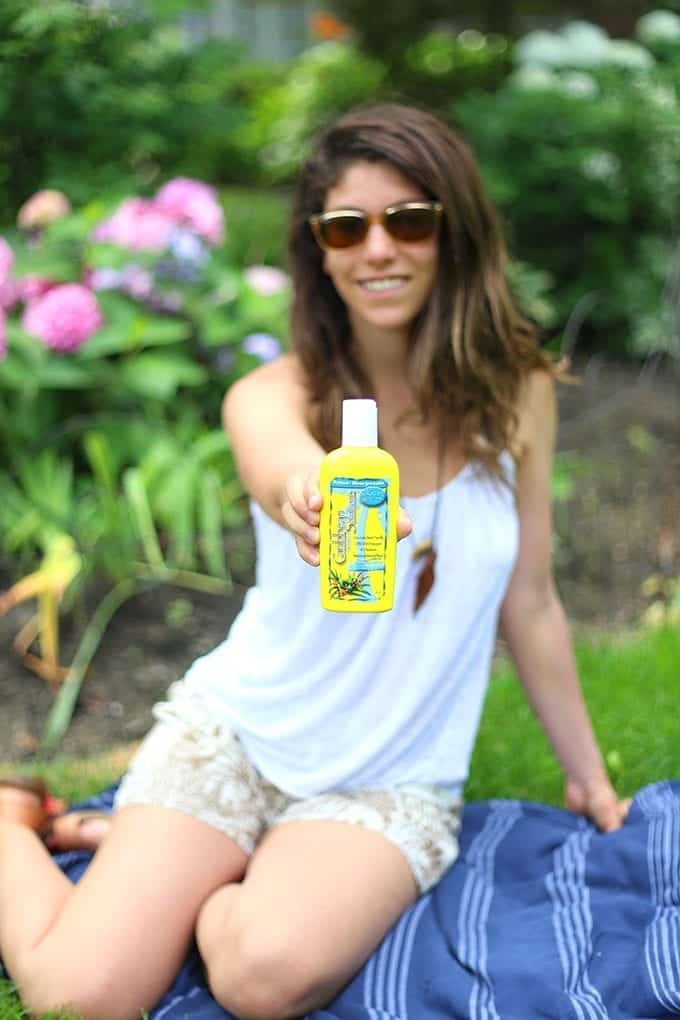 Disclaimer: I am not a doctor or certified health professional. Please seek advice from a trained professional before changing up your sunscreen routine. All information is based purely off my own research and experience. In addition, this post does contain some affiliate links. I was not asked to write this post nor do I represent any of these brands. I purely support and stand behind these products. Thank you for supporting The Healthy Maven!
Do you use natural sunscreen? I'd love to hear your thoughts on natural sunscreen so please share!
LOVE THESE NATURAL BEAUTY TIPS? Join the THM Community!
Join 10,000+ members of the THM Community to get access to exclusive info about natural beauty, products I'm loving and how to transition to a more natural lifestyle.