I'm baaaaack with another natural alternatives post for y'all. This seems to be a favorite of yours (thank you to everyone who voted in the THM Tribe!) so I'm happy to oblige. So far we've covered natural alternatives to Beautycounter products (this was pre-Countertime release) and Clean Beauty Glossier products. As much as I wish the Beautycounter trend would just be put to rest, it doesn't seem to be going anywhere so until then I will continue to offer cleaner, better, and usually more affordable options.
I've said it before, and I'll say it again: There are other clean beauty brands out there besides Beautycounter…or Arbonne or whatever MLM that old girlfriend from college seems to claim is the only option. I know it's easier to just buy all your products from one brand or direct from a friend but trust me when I say that there are better products out there! Don't get me wrong, companies like Beautycounter are better than conventional beauty BUT they aren't everything. It's much harder to transition to clean beauty because of all of the options out there which is why companies like Beautycounter have become so successful, offering everything all in one but I encourage you to have an open mind to other brands out there. We don't typically buy our conventional skincare, makeup, haircare and everything else from the same company – why should clean beauty play by a different set of rules? That's why I write these posts. Yes – it requires more work but trust me when I say that it is worth it. Alright, let's chat Countertime…
What is Beautycounter's Countertime Collection?
In July 2019, Beautycounter released an anti-aging collection called Countertime. It's big claim-to-fame is the use of Bakuchiol, a natural alternative to retinol. According to their press release, it is "a six-product collection designed to visibly firm, brighten and plump the skin, formulated with a plant-derived Retinatural Complex™". Products range from $49-$89 and includes a 4-step process for maximum benefits with AM + PM options ($297 for the set).
Guys, I'm all for spending money on your skincare, but almost $300 for 5 products is INSANE. I'm a skincare addict and even I won't spend that much. Alright, let's chat about specific products and alternatives.
Natural Alternatives to Beautycounter's Countertime Collection: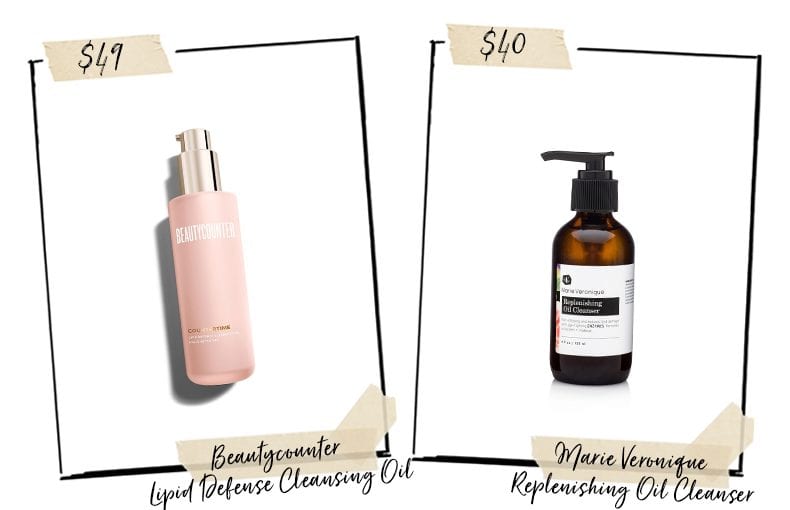 This is a pretty unique product because it's hard to find a lightweight cleansing oil if you're someone who prefers a one-step oil cleansing method. You've got a couple options here. If sticking to a one-step cleanser is your goal, I'd recommend the Marie Veronique Replenishing Oil Cleanser ($40). If you don't need to oil cleanse everyday but prefer to only do it when you're wearing makeup (my preference!) I oil cleanse with the Trilogy Cleansing Balm (wayyyyyyy cheaper than Beautycounter's cleansing balm) followed by a lightweight cleanser like the Annmarie Gianni Aloe Herb Cleanser ($32).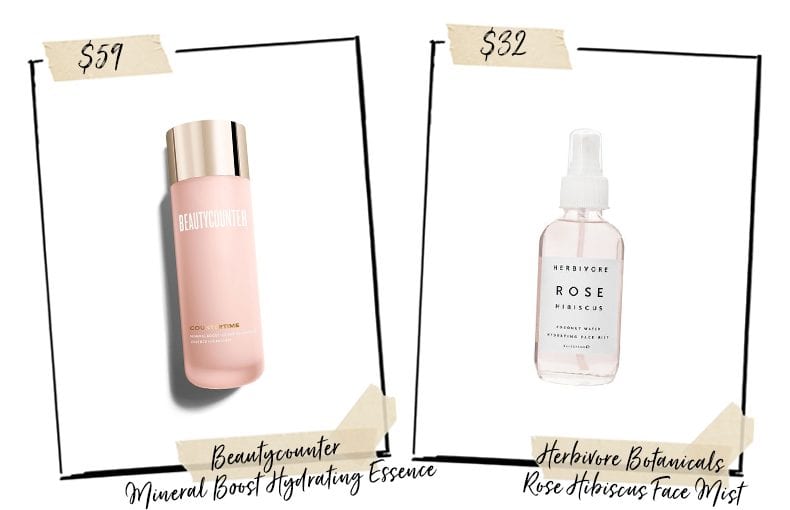 Guys, I'm really trying to wrap my head around a $60 toner. Is it made from unicorn tears? They cite a clinical study proving its efficacy but let's take a second here to process this: They had 32 subjects use the product ONCE and report results. I'd really appreciate if someone could explain to me how a single application on only 32 subjects can prove a product is effective for anti-aging. I'm no scientist but this doesn't sound right. At this point I would offer ANY other option of toner simply because your toner doesn't need to be so complicated. The highest impact product in your skincare is almost always your serum which you apply next. There is no point to boosting up your toner if you're about the apply a heavy-duty serum. Seriously, there's no one out there doing such a jacked-up toner because IT DOESN'T MATTER. But for comparison's sake and because both claim to uplift dry and dull skin let's go with the Herbivore Botanicals Rose Hibiscus Face Mist though to be honest you could get away with pure rose water from Whole Foods… ugh I digress.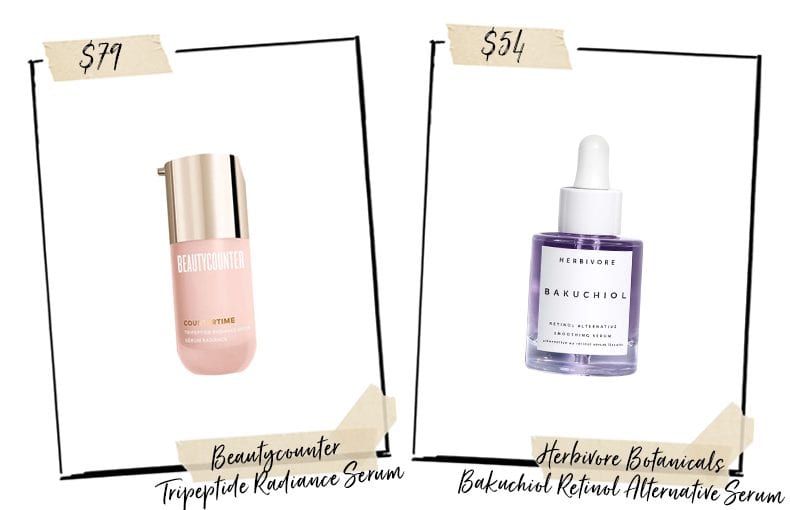 Alright let's chat about the real powerhouse of any skincare routine: serum. If you're going to spend money on anything, let it be this. Do I think $79 on a serum is crazy? Yes. But I still invest in a super expensive one (I love you Marie Veronique Intensive Repair Serum!!!) anyway. Now let's look to see if their ingredients hold up and if there are better and cheaper alternatives out there. An almost identical and cleaner alternative is the Bakuchiol Retinol Alternative Serum from Herbivore Botanicals.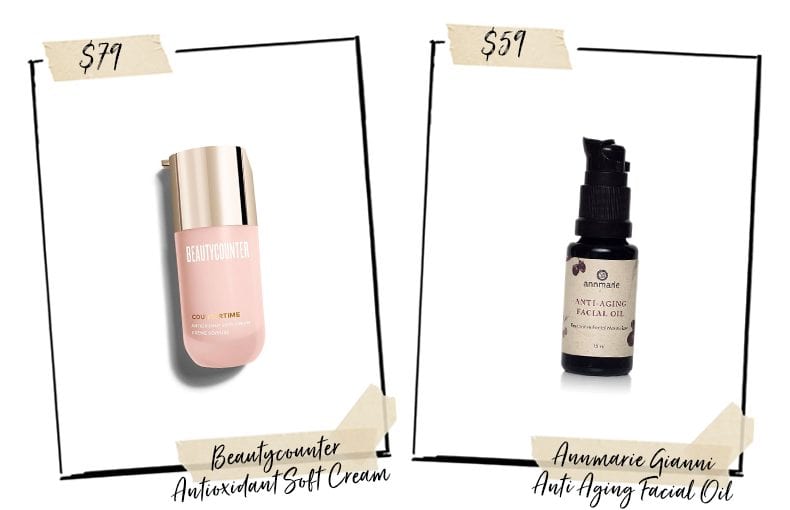 This will come as no surprise to any of you, but I'm not a fan of creams. I am an oil moisturizer kind of gal, through and through. Oil and water do not mix on their own so all creams require an emulsifier to bind them together. Generally the most popular emulsifier is alcohol. Now I don't believe alcohol is too damaging for the skin (there's a lot of factors involved but it certainly isn't the worst ingredient and can sometimes be helpful), I just don't need it if it's not necessary. Best way to avoid alcohol in skincare? Pick pure-oil moisturizers over creams. Trust me – you'll get used to it! Just a few drops are necessary of the Annmarie Gianni Anti Aging Facial Oil to lock in the benefits of your serum, seal in moisture with long-lasting benefits.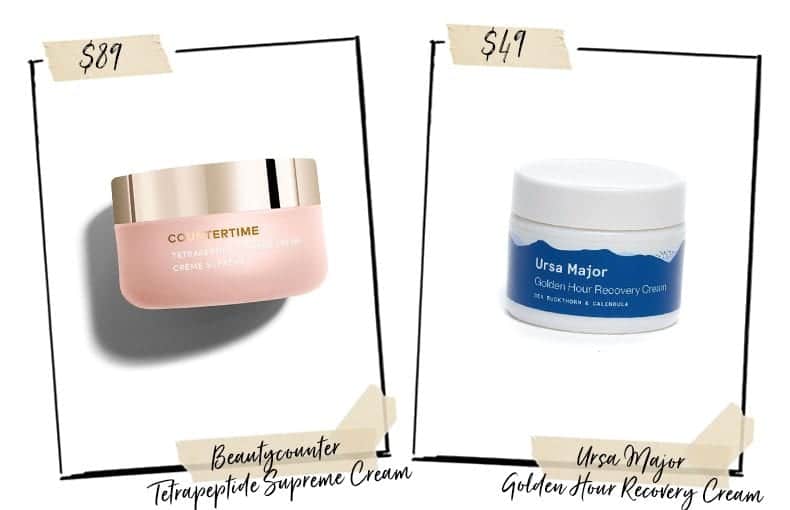 You know, in case $79 for a day cream isn't enough for you they recommend ending each day with an $89 night cream. Fun! Again, not a big fan of night creams (I'd probably just use another dose of the Annmarie Gianni Anti-Aging Facial Oil) but if night creams are your thing, this Ursa Major Golden Hour Recovery Cream has similar benefits for half the price. No, it doesn't have another round of bakuchiol but I'm still trying to wrap my head around why Beautycounter has included their natural retinol in every single one of their products in their collection. Plants may be natural, but they're still effective and applying 4 products in a row with the same ingredient is a little perplexing to me.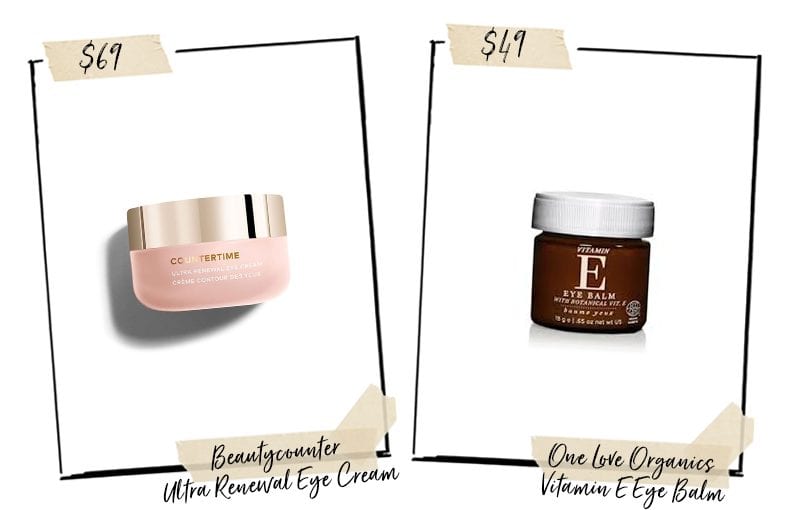 At this point I think we're all over bakuchiol -right? Not Beautycounter! Why not add another dose to the eye cream?! Alternatively you could go with a fairly similar product, One Love Organics Vitamin E Eye Balm which uses Vitamin E another antioxidant by nature that also helps skin in preventing signs of premature aging. Similarly it also helps to reduce under-eye puffiness.
* * * * *
And there you have it! Now I know what you're thinking – holy expensive! Yes – cleaner beauty is expensive but keep in mind I was trying to find comparable products to an already expensive line. If you're looking for how to simplify and save money on skincare check out this post, but if you have specific skin goals like an anti-aging line prepare to spend $$$. But the truth is that you don't need to be spending Beautycounter prices. Not only do they add a lot of synthetics (clean synthetics but synthetics nonetheless) but they also have to pay their downline. You're paying for a team of consultants. At the end of the day the decision is up to you! I'm just here to offer options.
With that – what brand to you want to see reviewed next? Open to any brands, products or ideas you have! Just drop a comment below.
Like this post? Here are a few others you might enjoy: