Healthy Pumpkin Spice Freezer Fudge made with just 5-Ingredients! Free of refined sugar, dairy and gluten, this healthy dessert recipe will make you fall in love with fall.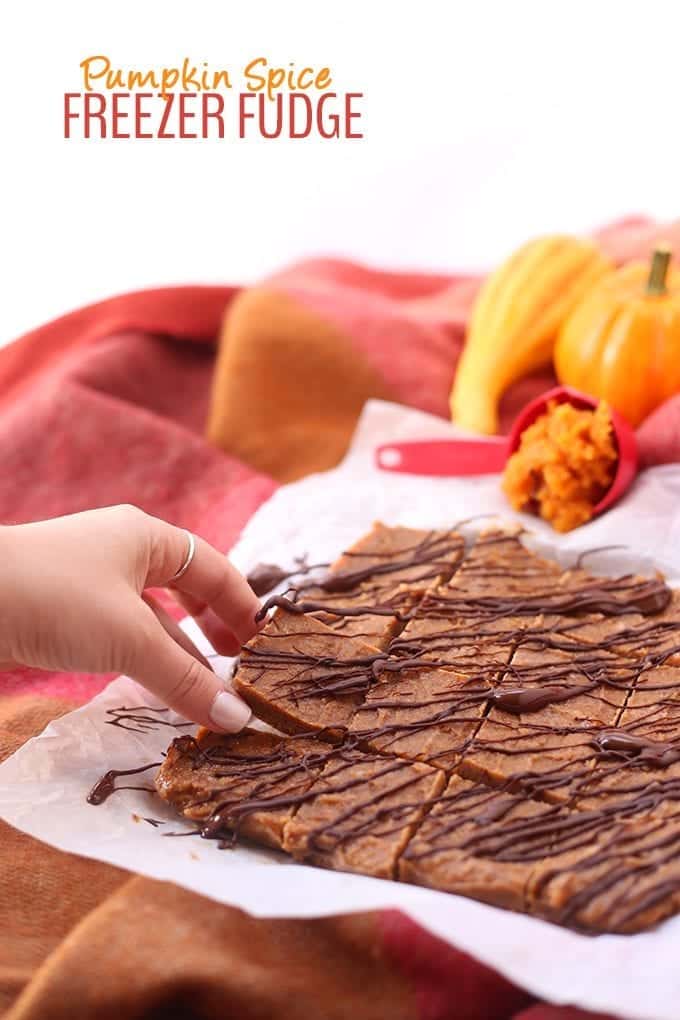 Did someone say pumpkin? That's weird because not a single person has mentioned pumpkin in the last few weeks. I was starting to think it had become obscure. My Pinterest feed was void of it. Not a starbucks in sight had a sign for a pumpkin spice latte. Pumpkin, what's that?
I'm obviously kidding.
If your entire life hasn't been taken up by at least 50% pumpkin/pumpkin spice chatter than you're either a) living under a rock or b) living in a different hemisphere where you're just prepared for summer.
For the rest of us though, pumpkin is old news. But it's old news in an endearing way. Kind of like the latest Bieber songs. We've all heard them at least 1000 times in the last month but when it comes on you can't help but belt out "WHERE ARE YOU NOW THAT I NEED YA?" do do doooo….
That's the thing about pumpkin, it's overplayed but it's good. So in true Bieber redemeption style, we're overplaying the pumpkin madness, but it's fine because you know you can't help but sing along. Let's do this…

Gina from Running to the Kitchen whipped up Paleo Toasted Pine Nut Herb Pumpkin Muffins! They're a savory side perfect for serving with your fall soup, stew or chili. Maybe even replace the Thanksgiving biscuits this year with a basket of these!
Get the recipe –> HERE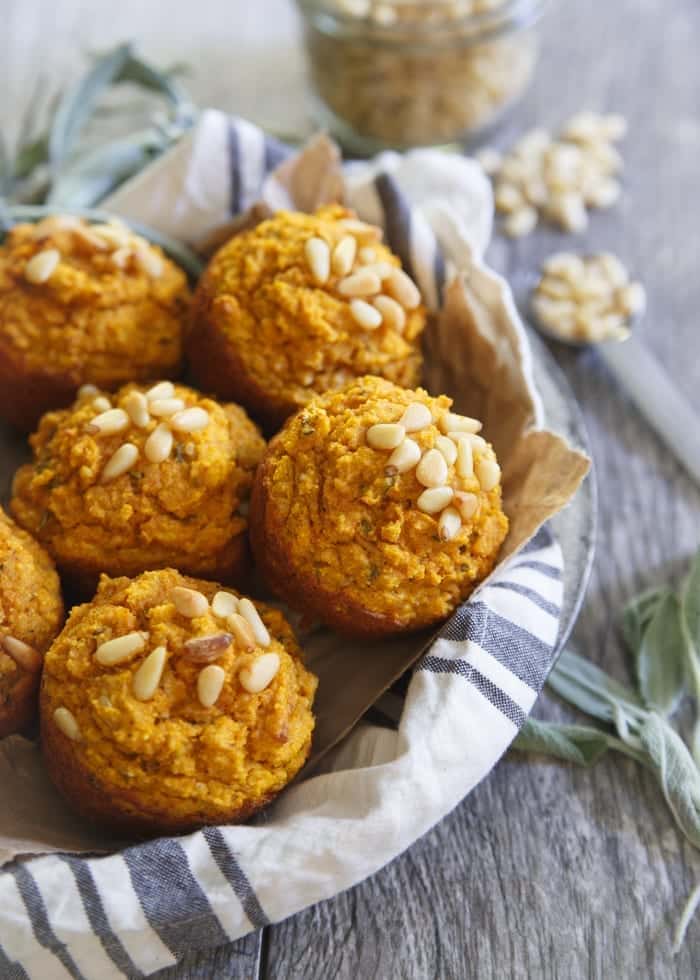 Lee from Fit Foodie Finds is getting in the pumpkin spirit with these Grain-Free Pumpkin Pancakes. Now you can get your pumpkin fix for breakfast with these grain-free, pumpkin-packed, and paleo-friendly pancakes!
Get the recipe –> HERE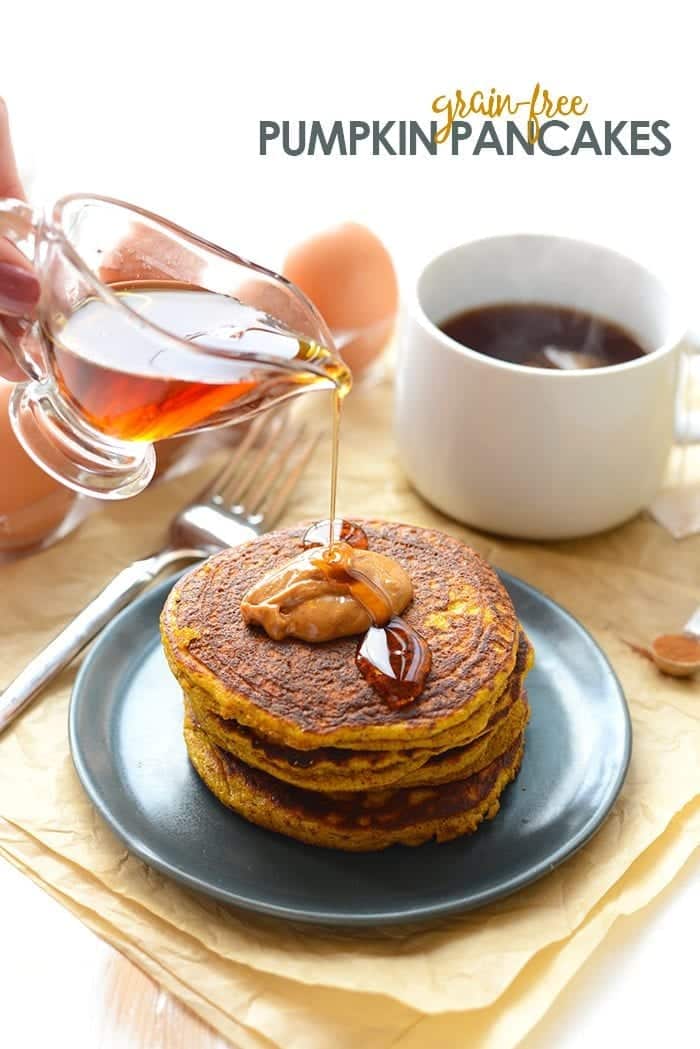 Brittany from Eating Bird Food made a delicious chia pudding! Pumpkin, coconut milk and chia seeds are combined and topped with toasted coconut flakes and an almond butter drizzle to make a thick and creamy chia pudding.
Get the recipe –> HERE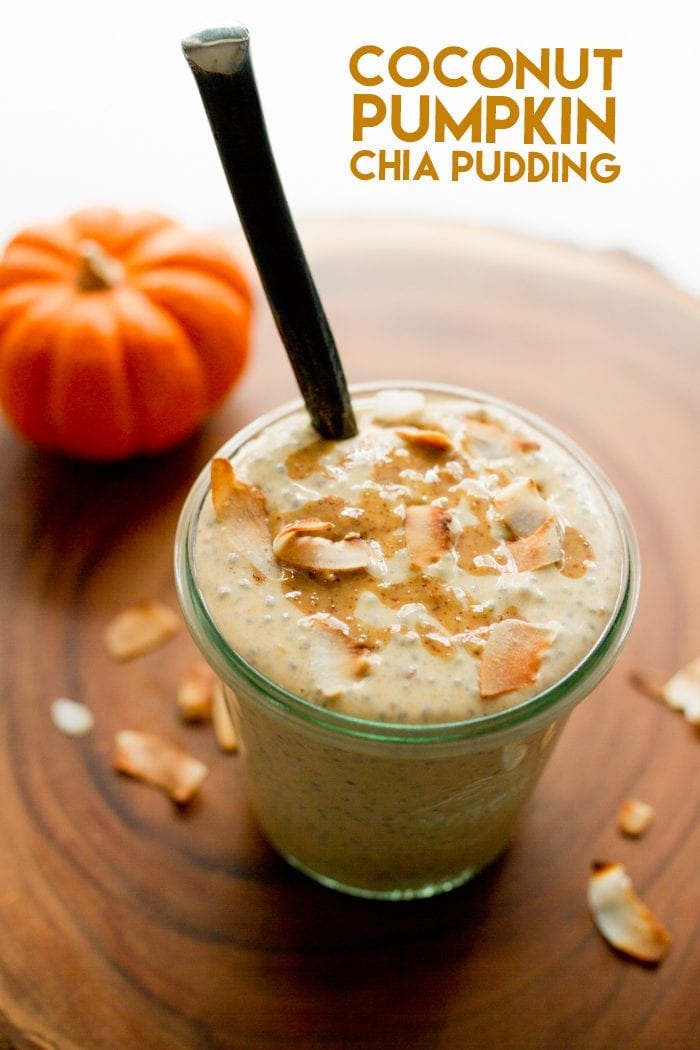 Taylor from Food Faith Fitness has another delicious pumpkin dessert recipe!These pumpkin blondies are so dense, and sweet that you'd never know they're a healthier treat, with no butter or oil, for only 105 calories! They're paleo and vegan friendly too!
Get the recipe –> HERE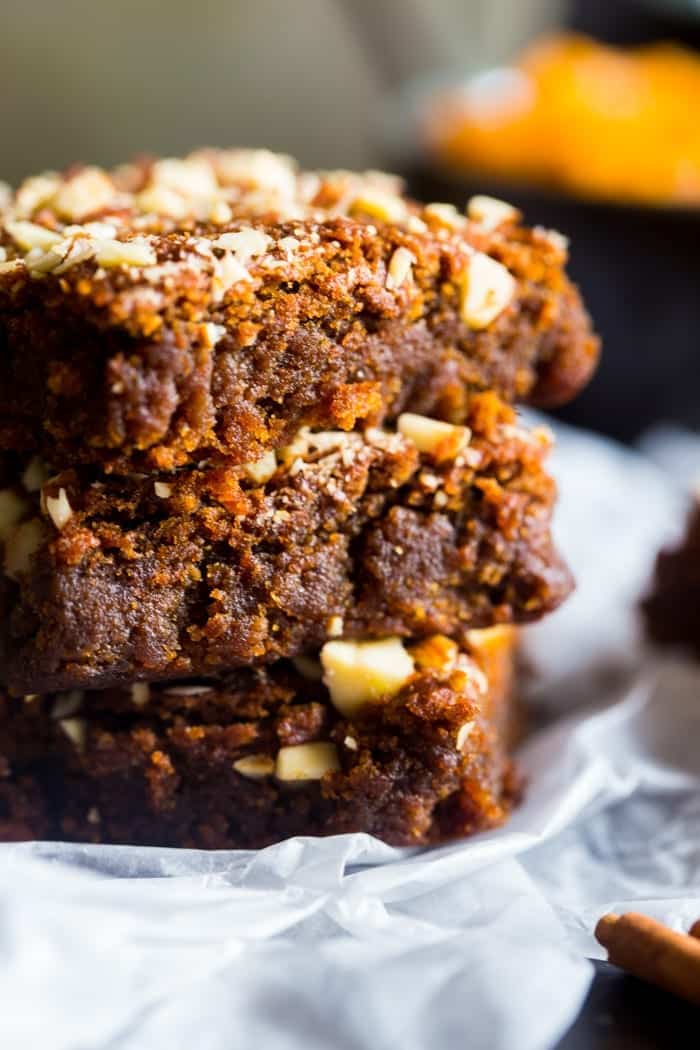 Lexi from Lexi's Clean Kitchen whipped up a savory pumpkin recipe! Delicious, flavorful, and packed with nutrients, this Creamy Pumpkin Soup topped with a drizzle of chili garlic oil and roasted pumpkin seeds. You'll enjoy this soup all season long!
Get the recipe –> HERE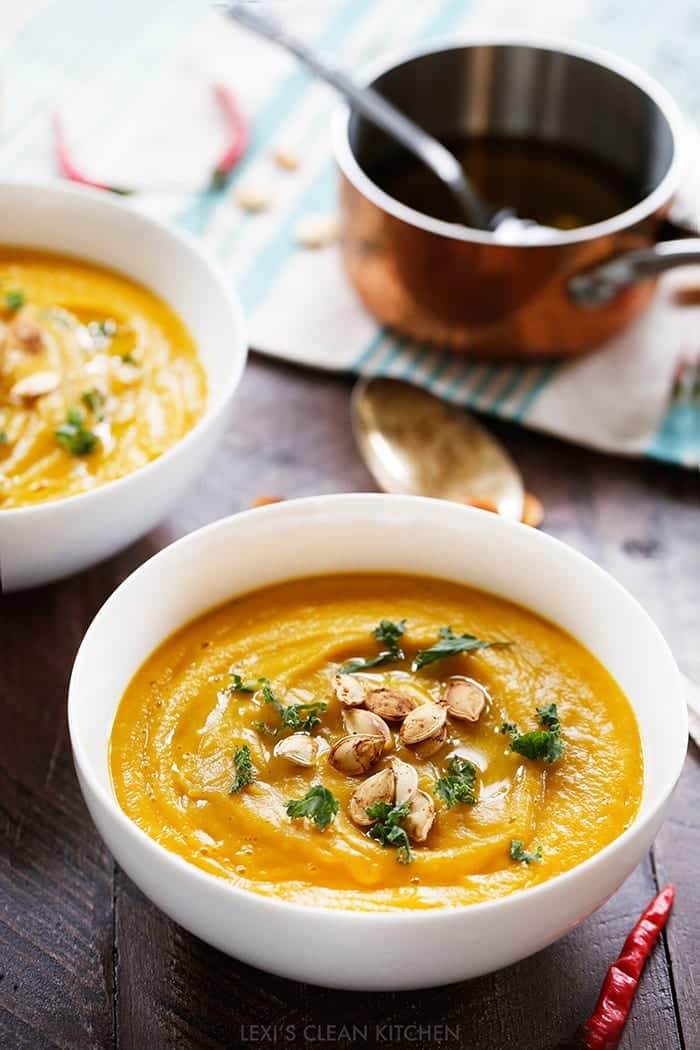 One of my favorite super simple dessert or snack recipes is freezer fudge. It's literally the easiest thing to make and lasts forever in the freezer! And with a can of pumpkin already open in my fridge, it was due time I whip up a pumpkin spice version.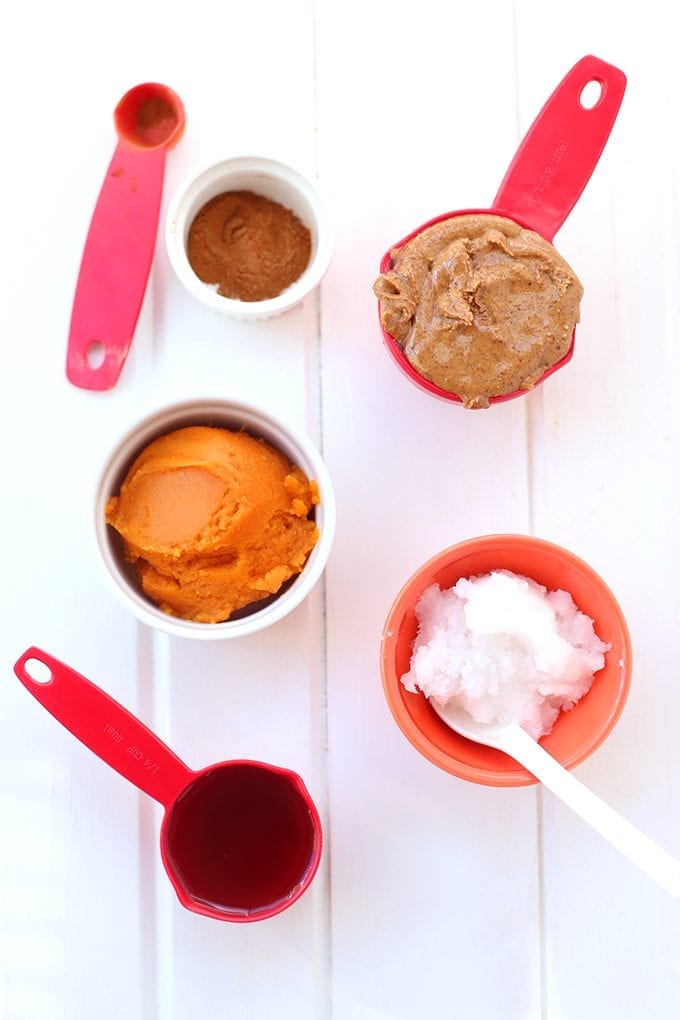 Jess and I wanted to appeal to the chocolate crowd too so we drizzled a lil (or a lot of) chocolate onto these babies and the combo was pretty epic. It's like getting a bit of "where are u now?" and "what do you mean?" all in one.
But even if you're not a Bieber fan and are completely judging me for the fact that I am, you will immediately forgive me once you try a bite of one of these babies. I also love that I can eat just one and be satisfied. To me, that's the definition of a good, healthy dessert.
Print
Pumpkin Spice Freezer Fudge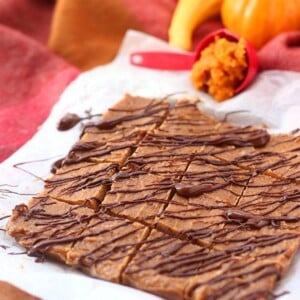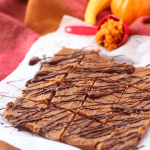 Prep Time:

5 minutes

Total Time:

1 hour

Yield:

16

pieces

1

x
Instructions
In a large bowl mix together coconut oil and maple syrup until coconut oil blends into maple syrup.
Add in pumpkin puree, spice and almond butter
Lay parchment in a 9 x 9 pan and pour mixture into pan. Spread evenly.
Freeze for at least one hour and then cut into 16 squares.
Drizzle with chocolate if desired.
Store in freezer.*
*note: these must be eaten straight from the freezer. They will begin to melt if left at room temperature.
How badly are you judging me for my Bieber references in this post? Does pumpkin live up to its hype?
JOIN THE THM NEWSLETTER
Join 10,000+ members of the THM Community to get access to exclusive recipes, healthy lifestyle tips and behind-the-scenes news from our team!