Tired of the same old lunch options? Keep things quick and easy without compromising on health with these 25 easy and healthy lunch recipes and ideas. Prep the night before for a great lunch on the go.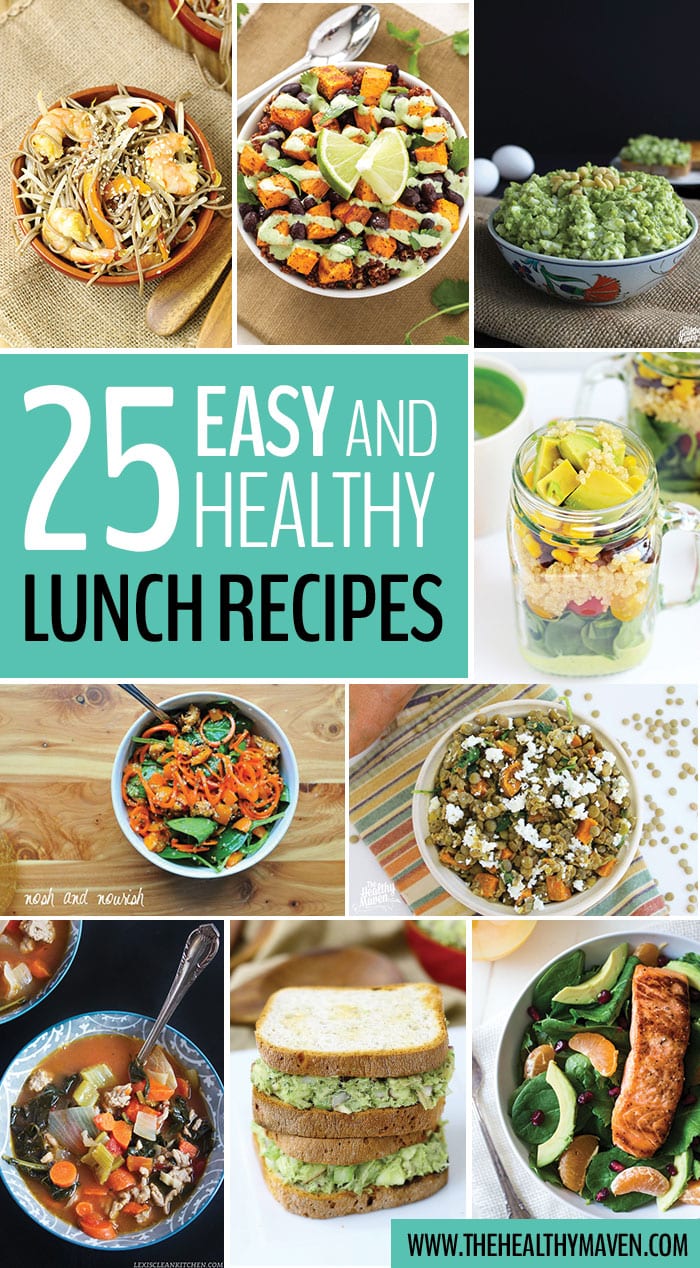 Ohhhhhh lunch. How I have a love-hate relationship with you. To be honest, lunch has kind of become an afterthought for me. I work from home so it's pretty much whatever I have on hand and admittedly sometimes that results in some less-than-healthy options.
I've said it before, but I'm really going to try hard to have some easy and healthy lunch recipes on hand so I don't deviate to popcorn for lunch. So this post is as much for me as it is for you.
Back in my 9-to-5 days, it sometimes felt like my world revolved around lunch. I packed my lunch every evening, shlepped all 10 tupperwares to the office for what was easily the highlight of my day. And repeat. It was all-consuming and I'm quite certain some of you are facing that today.
Hopefully this post will help you to streamline your lunch routine so you're not spending 239482304 hours in the kitchen or defaulting to a burrito. On that note, here's 25 Easy and Healthy Lunch Recipes to keep you full and satisfied all day long!
1. Avocado Tuna Salad from The Healthy Maven
2. Autumn Spiced Vegetarian Chili from The Hummusapien
3. BBQ Salmon BLT Salad from Iowa Girl Eats
4. Black Bean Soup with Tofu Croutons from Pumps and Iron
5. Broccoli and Butternut Squash Grain Salad with Orange Vinaigrette from Edible Perspective
6.Chickpea Sunflower Sandwich from Minimalist Baker
7. Chipotle Black Bean Burgers from Ari's Menu
8. Creamy Avocado Sriracha Egg Salad from Running to the Kitchen
9. Garlicky Spaghetti Squash with Chicken, Mushrooms and Kale from The Roasted Root
10. Guacamole Chicken Salad from The Healthy Maven
11. Hearty Lentil Soup with Swiss Chard from The Healthy Maven
12. Israeli Quinoa Salad from The Healthy Maven
13. Kale Salad with Salmon, Pomegranate and Orange Coconut Vinaigrette from Food Faith Fitness
14. Lentil and Sweet Potato Salad from The Healthy Maven
15. Mason Jar Tex Mex Quinoa Salad from Fit Foodie Finds
16. Mason Jar Carrot Noodle Salad from Nosh and Nourish
17. One-Pot Beef and 3-Bean Chili from The Healthy Maven
18. Pesto Egg Salad from The Healthy Maven
19. Power Salad with Lemon Chia Dressing from Two Peas And Their Pod
20. Quinoa Pad Thai Salad from Simply Quinoa
21. Quinoa Vegetable Soup from Lauren Kelly Nutrition
22. Cold Sesame Ginger Soba Noodle Salad with Shrimp from The Healthy Maven
 23. Sweet Potato and Black Bean Quinoa Bowls from Spoonful of Flavor
24. Thai Curry Chicken Salad from Eating Bird Food
24. Turkey Kale Soup from Lexi's Clean Kitchen
Need more ideas? Be sure to check out my Lunch Recipes page for more inspiration!
JOIN THE THM NEWSLETTER
Join 20,000+ members of the THM Community to get access to exclusive recipes, healthy lifestyle tips and behind-the-scenes news from our team!