It's no secret that I travel A LOT. I'm young, control my own schedule and am itching to see the world so if it's realistic for me to get away, I will find a way to make it happen.
I also preach *wellness* which we all know can be somewhat complicated when you're always on-the-go. Living out of a suitcase is not the most conducive to making healthy choices.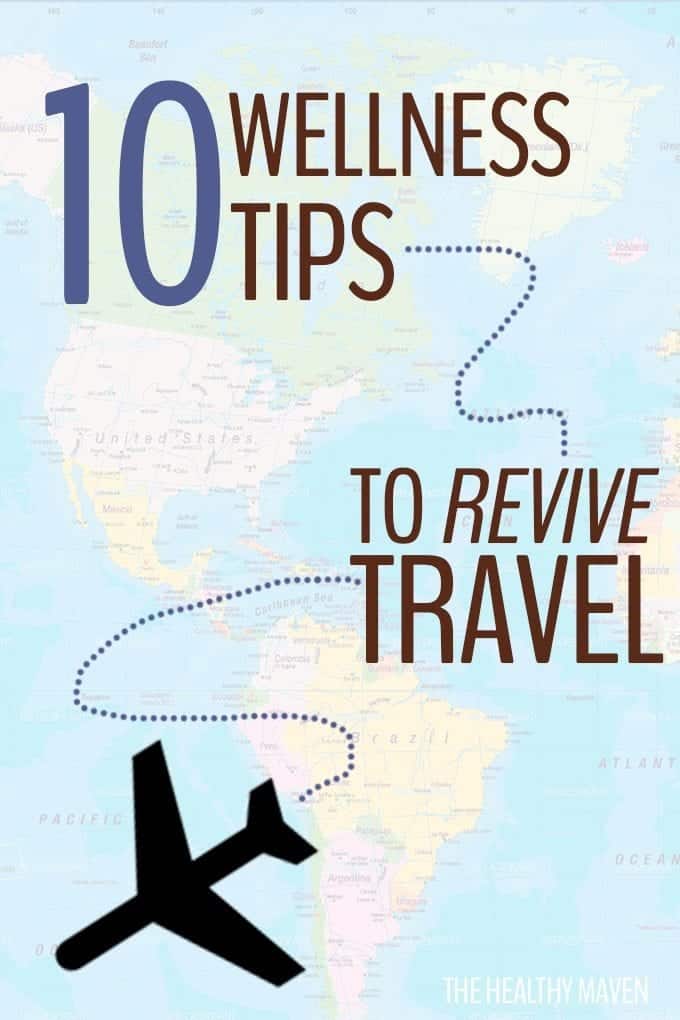 It's also easy to fall into the trap of travel + vacation=adios wellness goals. I travel for work and for pleasure, but I don't do anything differently if it's one or the other. Health will always be a priority for me, while still leaving room to have a little fun!
With enough practice I have mastered the art of healthy travel so today I am sharing with you my 10 Wellness Tips To Revive Your Travel!
1. Pack Snacks
This is a rule I live by whether I am travelling or not. I suffer from a severe case of Hangry when I haven't eaten so I always always make sure to pack snacks.
My top recommendation for travel snacks is definitely any kind of energy ball. Part of the reason I love energy balls so much is because they're super portable, immediately filling and can be customized to your liking. Here are my top choices for travel-friendly recipes:
Blueberry Muffin Energy Balls
Almond Joy Energy Balls
DIY Healthy Trail Mix
2. Bring a Yoga Mat
I am that girl who travels everywhere with her yoga mat. 90% of the time I'm not actually doing yoga, but using it to stretch, exercise in my hotel room or look cool and trendy (kidding!). But really, it's not out of the ordinary that you'll see me rolling out my mat at the airport to get in a good stretch. People will stare but only because they're jealous (at least that's what I tell myself…).
3. Carry Body Cloths
After a long day of travel or exploring a new place, you know that feeling of needing a full-body wipe-down? I love being outdoors so naturally I accumulate quite a bit of dirt and sweat over the course of the day. The Aura Cacia Revive Body Cloths immediately help combat this feeling with their pre-moistened, alcohol-free and compostable (!!!) wipes.
They're the perfect solution when showering isn't an immediate option, but your skin still needs a quick refresher. Infused with aloe vera and oat, they're also great for soothing your skin! Just throw them in your carry-on for a cleansing pick-me-up while you're travelling. Bonus: no need to worry about carry-on restrictions!
4. Pack Pre-made Breakfasts
This is both a wellness tip and money-saving tip. We've all experienced those horrible continental breakfasts where your options for breakfast range from sugar-laden muffins to a bagel to sausage made from who-knows-what. Sometimes this is all you have to work with so you do the best you can but a great way to avoid this is to pack some pre-made breakfasts.
Again, energy balls are a great solution (squish two into a cookie and call it a breakfast cookie!), pre-made oatmeal packs that just require hot water (recipe coming soon) or worse-comes-to-worse my Healthy Trail Mix on its own or topped on yogurt if available. 
5. Bring Workout Clothes
When in doubt, bring workout clothes. We've all had those moments where we think we won't have time to workout and don't want to take up room in our suitcase, but you never know when 20 minutes may pop-up giving you time to get a quick sweat on. My biggest tip would be to bring a pair of quick-dry shorts, tank and a sports bra so that if you can get multiple workouts in you can wash them in the sink and they'll dry quickly. Don't rule out the option by not packing them!
6. Wear Your Running Shoes
I've never been more grateful that running shoes are currently in style! I've never been the type of person to dress up for the plane or train so you'll likely find me travelling in my runners. This is for two reasons: 1) They can be a bit clunky so wearing them takes up less space in my bag and 2) If I'm wearing my running shoes I am more likely to be active as I travel.
I HATE sitting so power walking around the airport or up and down the aisles of the train (yup that's me!) is a great way to avoid back-pain and get in your workout while travelling.
7. Pack Your Own Travel Toiletries
This tip requires a bit of work up front but it's so worth it. I make or purchase natural versions of my toiletries and while I'm certainly not going to turn down conventional soap if I don't have an option, if I can avoid it and not smell then I consider it a win! I spent a few hours one day labeling travel-sized bottles (under 3 ounces) that I can use for my natural toiletries. This way when I'm travelling I just have to top them up a bit and I'm good to go. 
It did result in an interesting discussion regarding my DIY Natural Deodorant at airport security but I've otherwise never run into an issue and I like knowing what products I'm using on my body!
8. Eat a Salad a Day
This is a little game I like to play when I'm travelling. I aim to get in at least a salad a day. Sometimes it's a small side salad (my heart gets crushed a little when I turn down those French fries LOL!) and sometimes it's a full meal, but aiming to get in your veggies is a great way to promote your health without it being all-consuming. 
9. Carry a Water Bottle
Depending upon where you are, having your own re-usable water bottle is key to preventing dehydration. This is one of the top wellness goals you can stick to with very little effort. Bring a reusable water bottle and fill it up as often as you can! Of course if you're in Western Africa with little access to clean water, I wouldn't recommend this, but within North America this is the easiest solution both for staying hydrated and avoiding plastic not-so-eco-friendly water bottles.
10. Relax! You're on vacation.
If you're on vacation, be kinder to yourself and more forgiving when you can't stick to your health goals 100%. Vacations are meant to revive your soul, not make you feel bad. Stress is equally as detrimental to you as that triple-chocolate molten lava cake you ate for dessert so relax and have a little fun! You can always get back on your game tomorrow.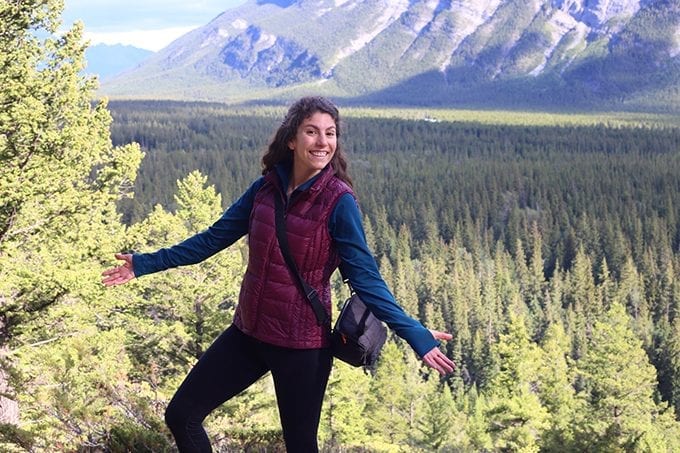 Disclaimer: This post was sponsored by Aura Cacia. I was compensated for my time. Thank you for supporting the awesome brands that allow me to continue to bring you content that I hope you enjoy!
How do you revive your day when you travel? Share how on social media using #ReviveMyDay (and tag @auracacia!) or tell me more in the comments below.
JOIN THE THM NEWSLETTER
Join 20,000+ members of the THM Community to get access to exclusive recipes, healthy lifestyle tips and behind-the-scenes news from our team!