If you follow me on social, then you know that for the first week of January, Lee and I headed out to Malibu for an incredible week of hiking, fitness and health-focused seminars at Wellfit Malibu! I'm thrilled to be recapping the experience here today.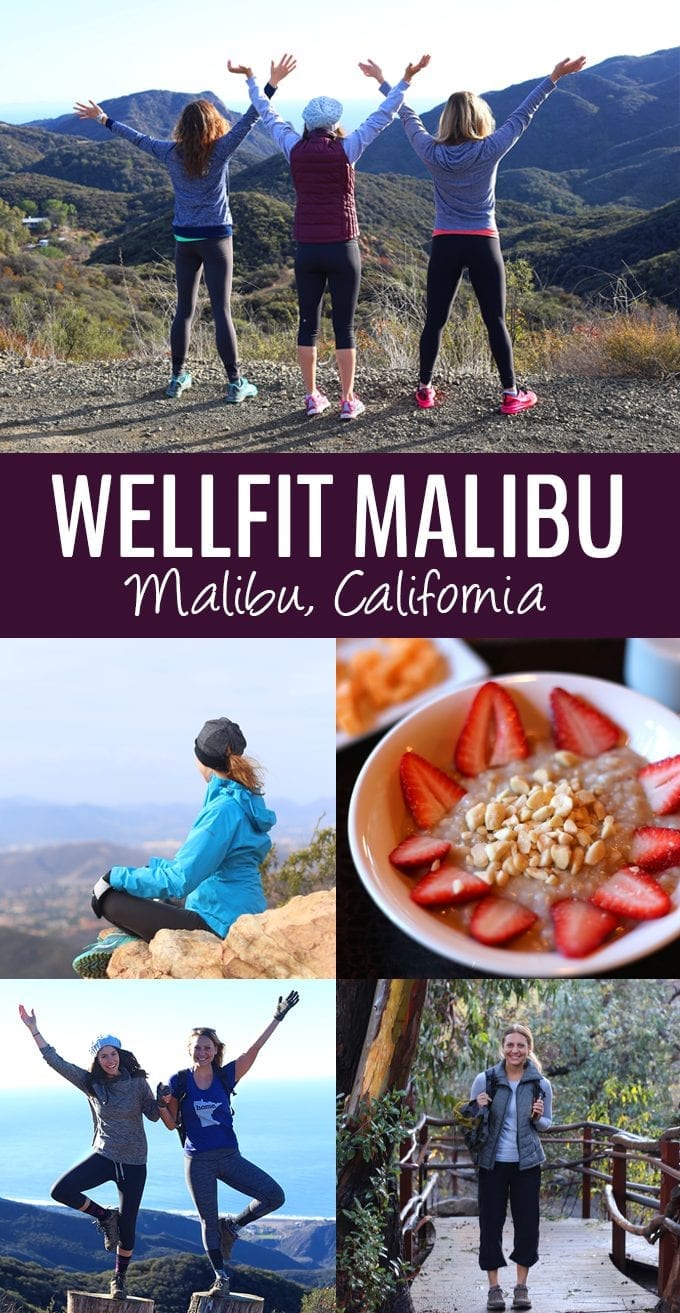 Just after arriving, Lee and I discovered that Amanda from Run to the Finish was there for the week! We knew each other through social media but didn't know she was going to be there. She is AMAZING so make sure you go follow her and read about her experience at Wellfit too!
What is Wellfit Malibu? It is a fitness and weight-loss resort in the Santa Monica Mountains in Malibu. It is spread out over a beautiful ranch where for week-long sessions you are able to hike, exercise, eat a fully-catered healthy meal plan, learn healthy goal-setting and just recalibrate your life. Some people go for weeks at a time, but we were there to experience for a week, and what a week it was!
For obvious reasons, Lee and I were not there to lose weight, but we all have room for improvement so we went in with an open mind and a focus on setting ourselves up for a happy and healthy 2016.
I actually filmed quite a bit of our week there and put it together into a video for you to enjoy! To get a good sense of what our week looked like, have a watch! Also you may want to hang around until the 3:00 min mark for a HILARIOUS laugh!
To hear more about the specifics of the week, keep reading…
The Accommodations
The accommodations were fantastic. My immediate thought upon arriving was that it felt like camp. Everything was very rustic and woodsy and super comfortable. We each had our own little cabin with a Queen bed, TV, dresser, desk and en-suite bathroom.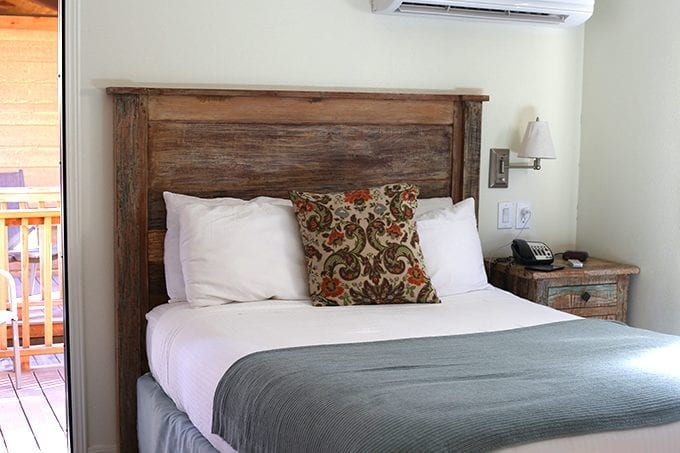 In terms of fitness stuff, there were two huge tented rooms for working out. One with an insane amount of cardio equipment and one with weights and strength-training equipment galore (watch the video for a better look!). It was like having two massive gyms at your disposal.
There was also a pool for aquafit and an amazing hot tub. Both were super warm and that hot tub was seriously a godsend. We didn't end up doing much aquafit since it rained a ton, but it's hard to complain when it was replaced with Zumba/Hip Hop with Derrick!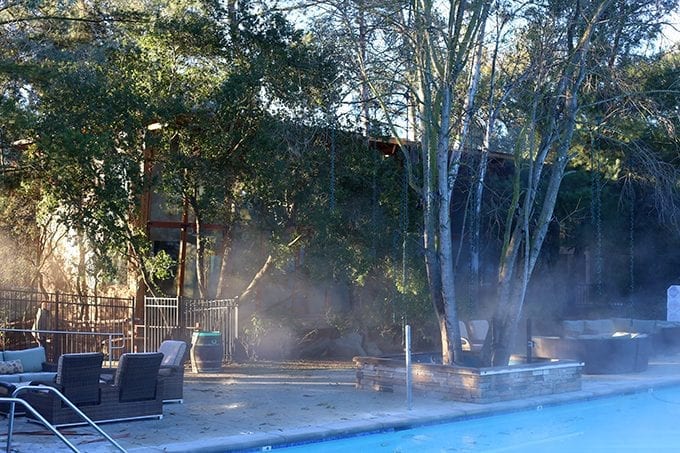 We ate all of our meals in the main hall, and it was communal eating so we all sat along a long table. It was a great way to mingle and get to know other guests. There were also a bunch of couches, which was where most of the seminars were hosted.
Upstairs was the spa, where Lee and I had our hot stone massages. I died and went to heaven for an hour. They have an amazing assortment of spa services, which after a day of 3-a-day workouts is pretty amazing.
The Hiking
The highlight for me was definitely the hiking. While the weather put a damper (literally) on our plans, we still managed to get out on 4 different hikes, all of which were beautiful and allowed us to explore more of Malibu and its surrounding areas.
Each morning started with a hike (when it wasn't a torrential downpour) that lasted about 2.5 hours, except for the last one, which was about 4 hours. Here's where we hiked:
1. Backbone Trail
This was our first trail of the trip and it was a great beginners trail to get our legs moving. I think the views get pretty spectacular the further you got up, but Lee and I got distracted by each other and my camera so we moved kind of slow #typical.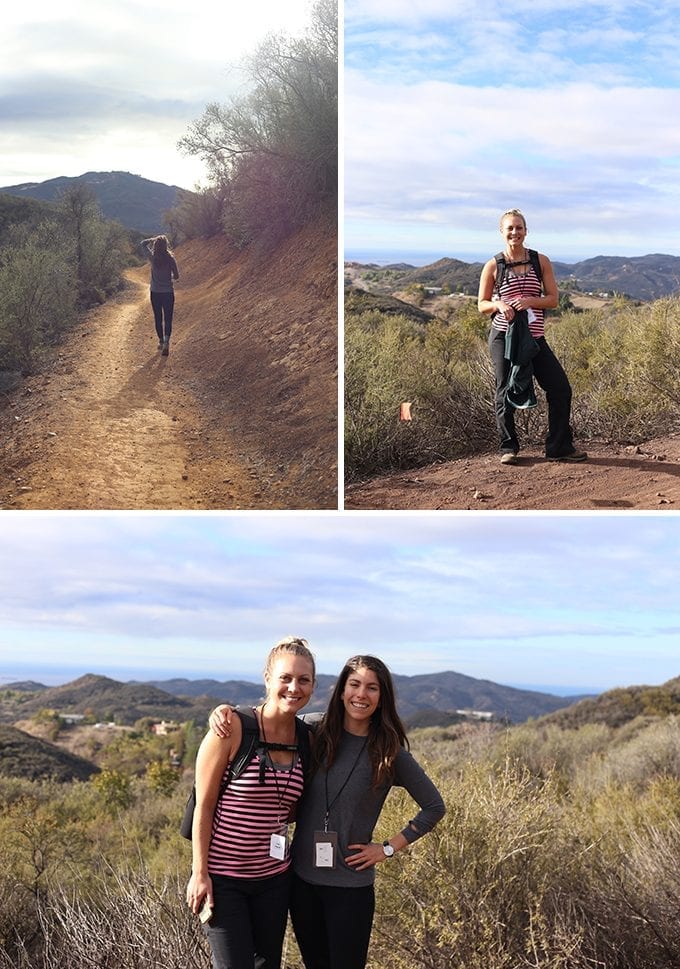 2. Wendy Trail
After a couple of days of rain, it was so nice to lace up our hiking boots again! The trail was definitely muddy (so watch out if you're going after it rains!) and there was one KILLER hill but it was a fun challenge and a beautiful trail.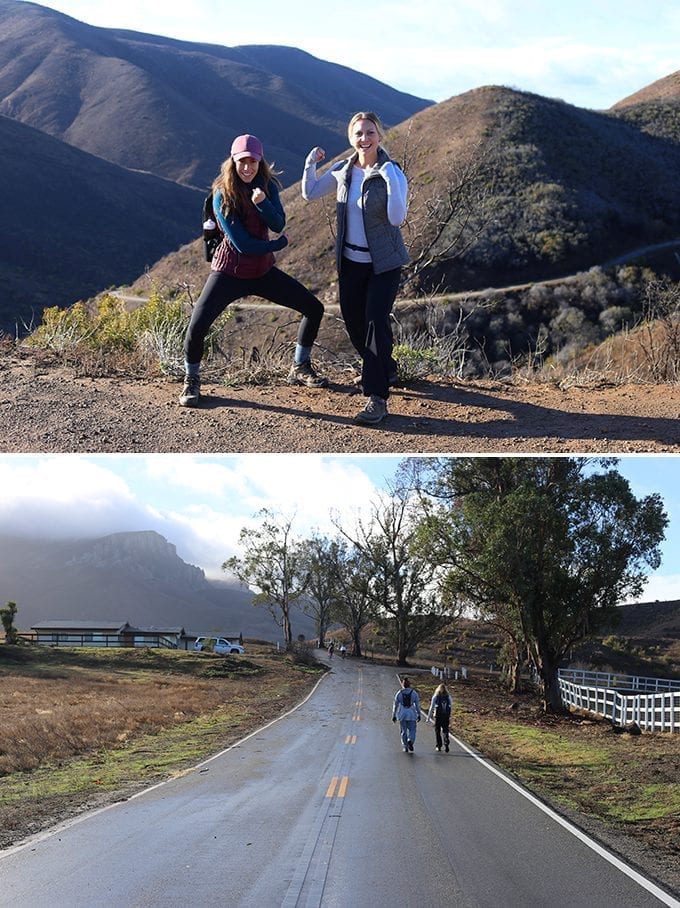 3. Buzzards Trail
This was by far my favorite hike of the trip! The elevation went up fairly quickly but it also meant incredible views of the ocean and the snowcapped mountains on the other side. The side was shining and it was the perfect amount of challenge and beauty. Loved it!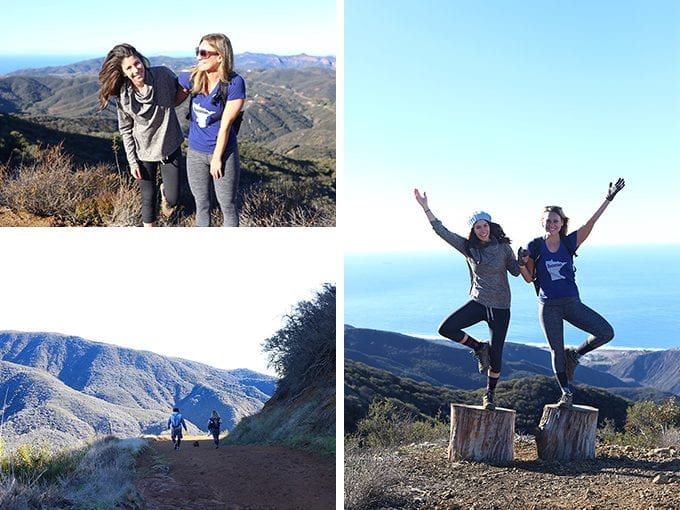 4. Simi Peak + China Flats
This was our last and by far the most challenging hike. We went up gradually to Simi Peak and then came right back down the other side. We did about 7.5 miles in 3.5 hours so it was tough but a perfect way to end the trip.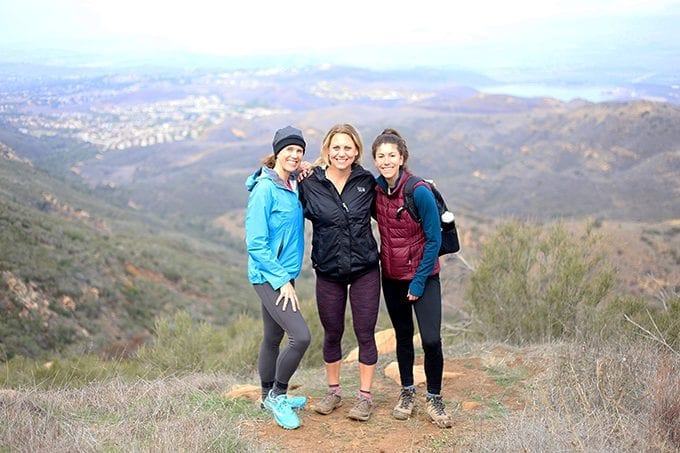 The Workouts
Most afternoons were spent doing a combination of strength training and cardio classes (i.e. a HIIT strength class – 30 min break – Zumba). If it seems like a lot, it's probably because it is. But we were there to workout so workout we did!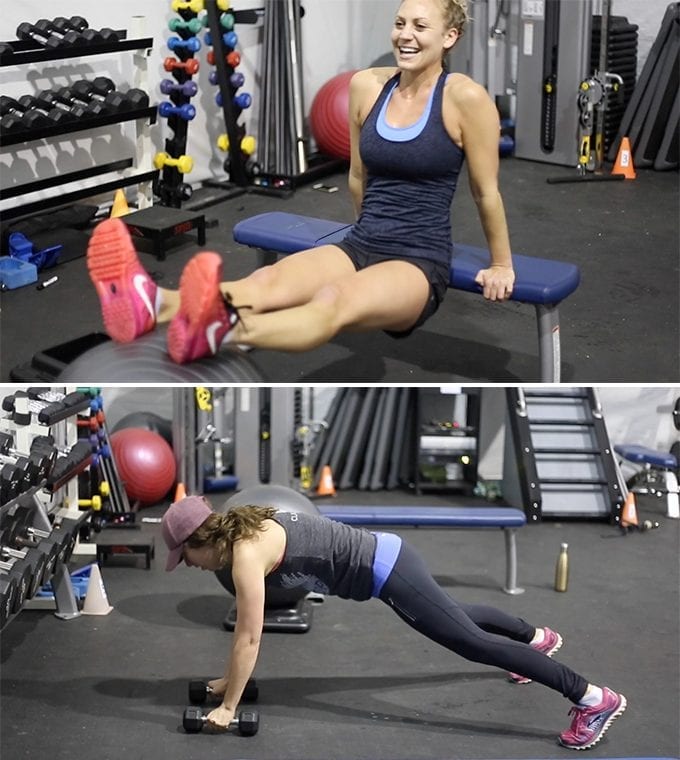 We did a bunch of classes including: Aquafit, Zumba, Hip Hop, an array of HIIT classes (cardio and strength focused), weight-lifting, boxing and I'm probably missing some others.
My favorites were Hip Hop/Zumba (Derrick – you are my hero!) and Melissa's Cardio-Strength HIIT class. I surprisingly didn't hate Aquafit and made the most of my two left feet in dance class. The strength classes were definitely challenging too. Here's a clip from our music video (you'll have to watch the video to understand what I mean by this…)
The Food
Ahhhhhhh the food. What I suspect a lot of you want to hear about. We were eating a pretty strict 1500 calorie diet full of clean ingredients that had to feed a crowd, so there wasn't a lot of room for experimentation, but there were definitely some highlights! Looking at you sushi and pizza…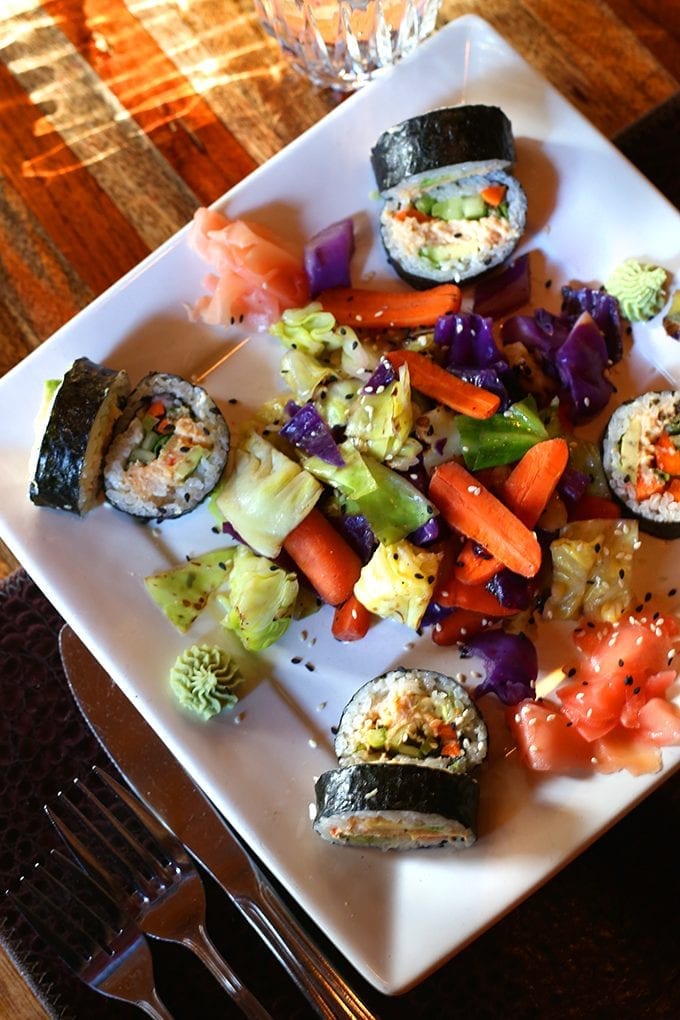 Every meal had an unlimited salad bar and options if you didn't want the meal being offered. My only qualm was that it was pretty meat-heavy and I would have liked more vegetarian options. Then again, I'm someone who likes A LOT of options so having your menu planned out for the week is not the easiest for me. But I didn't try a single thing I didn't enjoy and pretty much wolfed down every meal.
I also ate like 3 bananas and peanut butter everyday (technically you were only supposed to take one snack…I took 3 haha) just to get my calories up. As someone who does not need or want to lose weight, I compensated for the lack of calories by eating plenty of snacks, either by the WellFit Team or that I snuck in (sorry…), but if you're not like me, you can definitely get in enough food to feel full.
The Seminars
There were at least two seminars held everyday. I didn't go to every single one, but of the ones I went to they were all super helpful. I especially loved the seminars hosted by Rebekah, who is their in-house RD. She talked about things like label-reading, meal planning, grocery shopping etc… I could always use a refresher on these topics and I know they were all eye-opening to other guests at the resort.
To go along with their goal to help you stay on track after leaving Wellfit, they also had a short cooking demo with their chef. They made soup (my fave!!!), salad dressing and chocolate covered fruit. For obvious reasons it wasn't the most mind-blowing of cooking demos, but I liked seeing the other guests ask questions and pick up new skills. And of course Lee offered to be the strawberry-chocolate dipper 😉
The Takeaway
I am so happy I kicked off my year with a week at Wellfit. Not only did I have so much fun, but it also reignited in me my passion for health. All around, I'm pretty good about fuelling my body with nutritious foods, but at times I can feel myself being a little lackluster towards fitness. I tend to get stuck in a fitness rut and get scared to push my limits.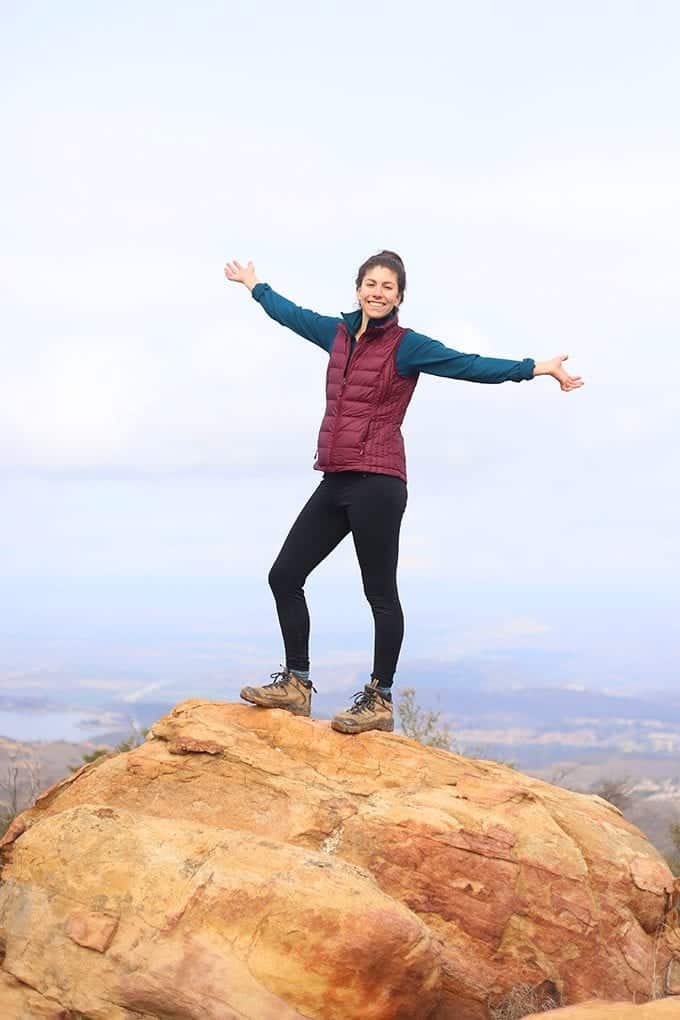 I have a history of being too extreme with exercise so the last few years I've tended to err on the side of caution. In the process, I haven't really been able to fully commit to anything. Wellfit inspired me to not be afraid to test my limits; that I can push my body to get better and stronger, without being obsessed with it.
The week was also a good test of my ability to eat intuitively, while being on a somewhat rigid diet. Funny enough, I got a bit obsessive about not getting enough food. Even though there was a lot of emphasis on calories, I was surprised at how little I cared. I've learned to listen to my body and was happy that my signals really are on cue. And thank god for bananas and peanut butter…
The program definitely is more focused towards people trying to achieve weight-loss goals, but I was surprised at what a powerful influence it had on me.
1) I learned SO MUCH from my fellow Wellfit-ers -as someone who is actively trying not to lose weight, I can be a little one-track-minded when it comes to weight-loss. I know a lot of you guys struggle with this, so hearing their perspective was really eye-opening and definitely had me evaluating some of my opinions. To every single one of you who opened up with your stories, thank you. I love you.
2) We are all on this journey together – It didn't matter whether you were at Wellfit to lose weight, gain weight or just be a little bit healthier, we all are just striving to feel better about ourselves. At our core, our goals are the same and no matter where we are on this journey, we all have room for improvement.
---
THE GIVEAWAY!!!!
I can't even begin to explain my excitement over the best giveaway EVER on THM. My friends at Wellfit have offered a one week stay at their resort for one lucky winner! This is a testament to the generosity and compassion of the Wellfit team, who have been nothing short of amazing since the day we first met them. Here's what you'll get:
Value: $2,595
Includes: 7 nights in private cabin, all meals, fitness classes, nutrition classes, daily hikes at Wellfit Malibu.
TLC Limousine is also going to provide round trip transportation for the winner from LAX! You'll love their speedy service, which is comfy and means no waiting for hours on a shuttle drop off!! Contact them: 818-667-5017
*Note: Airfare to LAX (Los Angeles, California) is not included
How to enter:
1. Via Instagram, Facebook or your blog share a photo answering the following question: What "Wellness" Means To You? Maybe it's a green smoothie or your daily pilates workout. Maybe it's a long walk with the dog or a salad with lunch. Show us the Wellness That Fits You!*
2. Make sure you include the hashtag #WellnessThatFitsYou and follow Wellfit on Instagram or Facebook*
3. Read the recaps that Run to the Finish and Fit Foodie Finds provided to learn more about Wellfit Malibu and make sure your story shows why you'd enjoy a week there!
4. After you write it, come back here and drop a link!
Entries close on February 1 and a winner will be announced February 5th
*Mandatory requirement
BONUS ENTRIES – use the rafflecopter below to earn bonus entries into the giveaway!
a Rafflecopter giveaway
---
I cannot thank my friends at Wellfit Malibu enough for this incredible experience. The passion of your team shines through in everything that you do and it truly is intoxicating. Thank you for challenging me, making me laugh, making me cry and reminding me how awesome it is to feel awesome. I will never ever forget the time I spent with each and every one of you.
Disclaimer: I was given a free trip to WellFit Malibu to blog about my experience. I was not told what to say and all opinions are entirely my own. 
No questions, because it's time to start brainstorming for your #WellnessThatFitsYou post!
*All pictures and video were shot on my Canon 6D and 50mm lens. It's my go-to for travel photography! Make sure you're following me on Instagram and Snapchat (username: thehealthymaven) so you never miss a moment from my next adventure (hint: Lee and I are heading south of the border!)
DON'T WANT TO MISS THE NEXT ADVENTURE? Join the THM Community!
Join 10,000+ members of the THM Community to get access to exclusive info about travel, places I've visited and how to stick to your healthy lifestyle on the road.