In case you hadn't heard the news, at the end of 2019 I announced my decision to end the podcast. It was not an easy decision so I recommend you check out my final episode of the show to give you a bit more perspective on why I chose to end it. But, after three years of That's So Maven, it is not lost on me how lucky I have been to interview some incredible humans. I have had the opportunity to chat with the "mavens" and shakers of the wellness world and from the experience have learned so much about what it means to be "well". If anything, 130 interviews have taught me that there is not one-size-fits-all when it comes to wellness and that everyone's experience of the world looks so different.
Every guest has left an impact on me, though some have stuck with me over the years. So I wanted to round-up the best wellness podcasts that expanded me and changed me for the better. If you've never tuned into the show I'd recommend you start with these episodes or if you listened and want to come back to some of my favorites, you'll find them here. Either way, expect to learn something new! Happy listening 🙂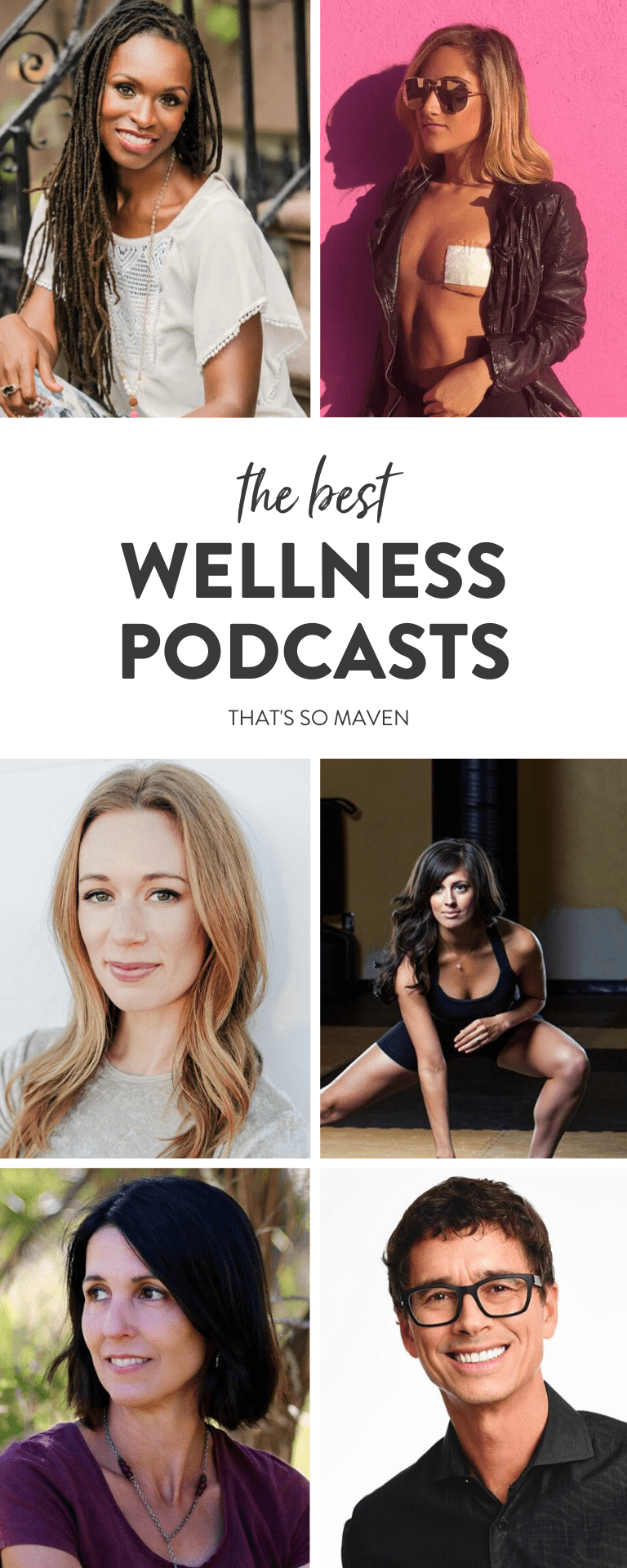 1 | The Power of Intuition with Sadie Lincoln
I am still so honored that I got to sit down with Sadie to have this chat. She has always been such a huge inspiration to me as a female business owner. We cover everything from social media to intuitive exercise to building an empire. A must listen!
Click here to listen in on our conversation about authentic entrepreneurship.
2 | Essential Oils 101 with Saje Wellness founder, Jean-Pierre LeBLanc
Getting to talk to the founder of one of my favorite companies ever is still surreal to me. We dove into all things business but also talked about essential oils – how they benefit our health, figuring out which essential oils are good for your health and which ailments can be improved with oils!
Click here to learn everything you wanted to know about essential oils.
3 | Reiki and Emotional Freedom Therapy with Kelsey Patel
Truly one of my favorite podcast interviews I've done. Kelsey was so in tune to me and led to really interesting conversations and realizations. We covered so much in this episode but the key theme was healing. Healing from mental health struggles, healing your chakras, and healing with our words. It was a powerful conversation and I hope you give it a listen!
Click here to learn about reiki healing and tapping into your own emotional energy.
4 | Body Hair and Why it's Controversial with Breanne Fahs
I can't stop thinking about this conversation with Breanne! We dive into her background on gender studies, the history of body hair, why it's so polarizing to people and so.much.more.
Click here to learn everything about body hair you never realized you needed to know.
5 | Breast Plant Illness and Postpartum Fitness with Gina Harney
This interview was a very full circle moment for me. Gina is an OG blogger in the health world so it's been fun to watch her journey (and grow along side her) and have this candid conversation! She shares about her breast implants and what led to her decision to remove them. Really insightful conversation!
Click here to learn more about postpartum recover and breast plant illness.
6 | Pregnancy + Hiring a Doula with Latham Thomas
Turns out I had so many misunderstanding about being pregnant and the birthing process! Whether you're thinking about getting pregnant or no where near that point, this is a really interesting interview! Latham talks about all things self-care and femininity as well as preparing for pregnancy.
Click here to find out when you should start caring about pregnancy.
7 | The Effects of Shame and The Abstinence Myth with Dr. Adi Jaffe
I loved my conversation with Dr. Adi Jaffe because he shared a new-to-me perspective about addiction and shame. He shares his inspiring story and what inspired him to go back to school to study addiction and recovery.
Click here to listen to our conversation about addiction, shame and the abstinence myth.
8 | Taking Care of Your Skin – Holistically with Katie Woods
Any chance to talk skincare, I'm IN! Especially when it's with my beloved esthetician, Katie. She took time to answer your skincare questions and shares practical tips for getting started with holistic skincare. If you are skin obsessed like me, you need to give this episode a listen!
Click here to get your skincare questions answered and learn what the heck sugaring is.
9 | Period Health + Why Menstruation is Good for You with Lara Briden
Another full circle podcast for me! Lara Briden was the first resource I found related to healthy periods. Lara opened up my world to what a healthy period looks like and how it can be an extremely positive experience for us when your body is in balance. We dive into all things periods and birth control… get excited!
Click here to learn about period health and the birth control pill.
10 | The BRCA Gene + Breast Health with Paige More
Let's talk about bobs! Yes, you read that correctly. I loved this conversation with Paige about her journey with breast health. In her early 20s she was diagnosed with a BRCA 1 gene mutation and went on to have a preventative double mastectomy. She is now an advocate for breast education and a huge inspiration to me!
Click here to learn more about breast health and being your best health advocate.
So tell me – what were some of your favorite episodes of That's So Maven?
JOIN THE THM NEWSLETTER
Join 20,000+ members of the THM Community to get access to exclusive recipes, healthy lifestyle tips and behind-the-scenes news from our team!