There's no reason you can't welcome Christmas with a healthful twist! Here are 30 Healthy Breakfast Recipes for Christmas Morning.
Yes, I am well aware that I don't celebrate Christmas and that technically Christmas morning is like any other morning but you know how I feel about breakfast so you better bet I'll be going jingle bells crazy on the 25th. I love starting holiday mornings with a healthy breakfast. It kicks your day off on the right foot and keeps you fueled (and happy!) through all the festivities. What can I say…I'm a jew who loves Christmas!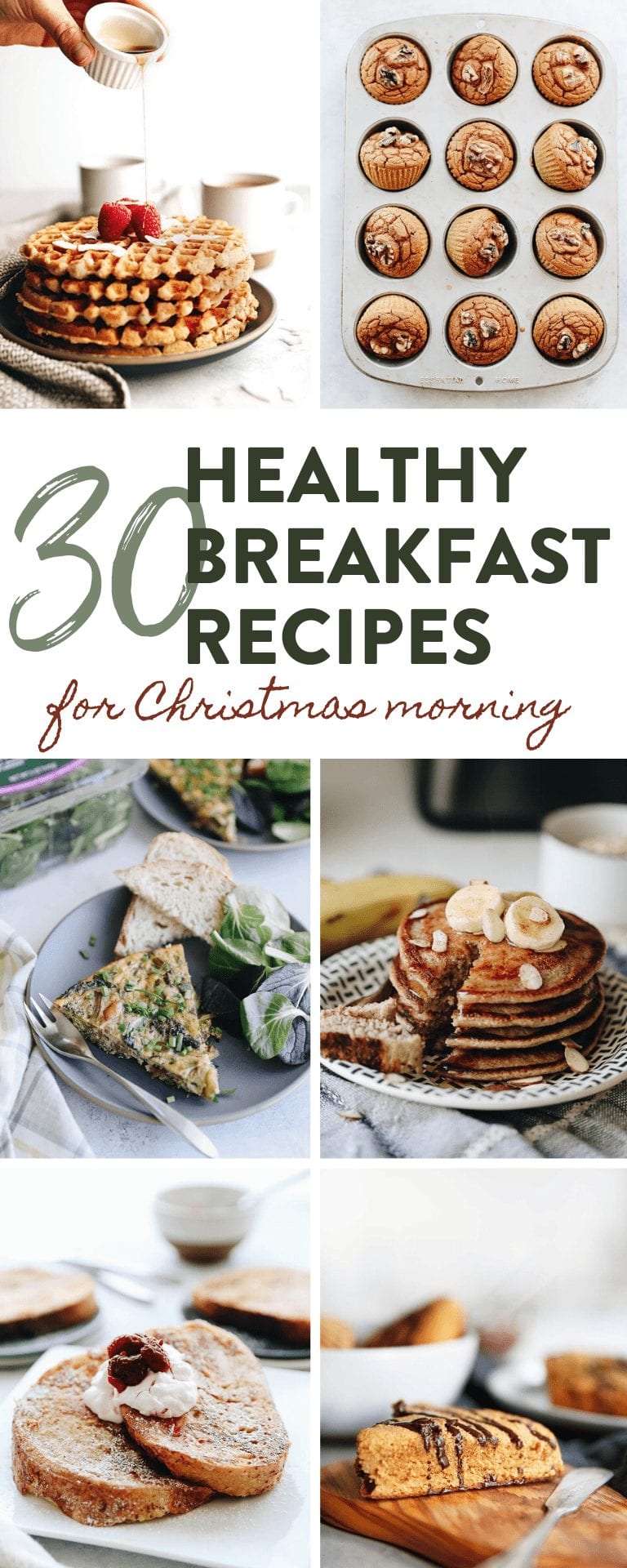 I'm sharing 30 recipes that are perfect for Christmas morning… or any ol' weekend brunch. Enjoy!

Pancakes
Sweet Potato and Pecan Pancakes – Make your mornings a little sweeter with these fluffy Sweet Potato Pecan Pancakes. They're healthy and gluten-free with the added bonus of sweet potato!
Apple Chai Pancakes – Two amazing flavors in a pancake… what could get any better? They're healthy, delicious and a filling breakfast to start your day!
Banana Oatmeal Pancakes – Weekend breakfasts just got so much easier with these Banana Oatmeal Pancakes! Just throw all the ingredients into your blender and then cook on a skillet for delicious and healthy pancakes that taste just like banana bread!
Paleo Mexican Hot Chocolate Pancakes with Salted Dulce de Leche – Does this recipe even need a description? If your mouth isn't watering from the title alone, I don't know if I can convince you further. This recipe is a must try!
The Fluffiest Oatmeal Chocolate Chip Pancakes – Oatmeal meets pancakes with The Fluffiest Oatmeal Chocolate Chip Pancakes. These pancakes are gluten-free, refined sugar-free and high in protein but are the most delicious, fluffiest pancakes you will ever eat. They will quickly become a weekend brunch recipe staple!

Waffles
Coconut Waffles – These coconut waffles are vegan and gluten-free. Made with coconut flour and chia seeds this waffle recipe makes the ultimate healthy breakfast recipe everyone can enjoy. No dairy or eggs required!
Healthy Carrot Cake Waffles – Have your cake and eat it too with these healthy carrot cake waffles. Made with delicious and nutritious ingredients, this waffle recipe will get you started on the right foot.
Oatmeal Chocolate Chip Waffles – Sweet and crispy Oatmeal Chocolate Chip Waffles for the ultimate weekend brunch! These gluten-free and healthy waffles made from wholesome ingredients will become your new go-to breakfast recipe.
Sweet Potato Blueberry Waffles – These Sweet Potato Blueberry Waffles make the perfect breakfast for any season! With the freshness of blueberries and sweet and heartiness of sweet potatoes, you'll be eating this healthy, gluten-free waffle recipe year round!
Peppermint Mocha Waffles – Get into the holiday spirit guilt-free with these gluten-free, vegan and healthy peppermint mocha waffles. A breakfast twist on a Starbucks classic!

French Toast
The Best Healthy French Toast – Gather around the breakfast table for the best healthy french toast recipe you've ever tried. Made with healthier swaps like almond milk, coconut oil and fresh-squeezed orange juice, this healthy french toast recipe is sure to be a crowd-pleaser!
Pumpkin Chai French Toast – Festive french toast that is packed with flavor and nutrients! Love this recipe in the fall and winter.
Healthy Stuffed French Toast by Eating Bird Food – Healthy stuffed French toast features a banana and almond butter filling between two slices of whole grain bread.
Maple Pecan Overnight French Toast Bake by Fit Foodie Finds – Prep this Maple Pecan Overnight French Toast Bake recipe the night before so that you can serve your guests a healthy warm meal in the morning.

Muffins
Healthy Banana Peanut Butter Muffins – Extra-ripe bananas and all-natural peanut butter make these healthy banana peanut butter muffins a healthier snack option! Made in one bowl and no added sugar, these muffins will become a must-bake healthy treat!
Healthy Chocolate Chip Avocado Muffins – Swap the butter for avocado in these Healthy Chocolate Chip Avocado Muffins. They're moist and delicious with a chocolate kick for a healthy snack recipe on the go.
Chocolate Gingerbread Muffins – Ring in the holidays with these healthy chocolate gingerbread muffins that are gluten-free and vegan! They're full of rich chocolately flavors plus a spicy gingerbread kick.
Healthy Pumpkin Spice Muffins – A healthy take on muffins, these Healthy Pumpkin Spice Muffins are simple to make, gluten-free and require just one tool, your blender! No other dishes required.
Paleo Banana Nut Muffins – These Paleo Banana Nut Muffins are a delicious grain-free muffin recipe made with the sweetness of bananas and the heartiness of almond meal for the perfect paleo muffin recipe without noticing that they're gluten-free too!

Rolls
Caramel Rolls with Apples and Walnuts by Pinch of Yum – Does that pictures make you die a little inside? In a good way! These caramel rolls look so delicious and decadent for Christmas morning!
Bananas Foster Cinnamon Rolls – I love fun takes on cinnamon rolls so obviously I took a stab at bananas foster rolls. So delicious!
Vegan Pumpkin Cinnamon Rolls by Eating Bird Food – These ooey gooey vegan pumpkin cinnamon rolls are a delicious treat to make for breakfast or brunch. They're made with bread flour, which gives them the perfect fluffy texture.

Scones
Chocolate Chunk Pumpkin Scones by Lexi's Clean Kitchen – Soft in the middle, crispy on the outside, and just the right amount of sweetness! Gluten-free and paleo-friendly.
Orange Cranberry Scones – The flavor combination of these scones scream Christmas in my opinion! So festive and delicious.
Maple Glazed Gingerbread Scones by Pinch of Yum – These gingerbread scones are soft and delicately crumbly like a good scone should be and full of warm and wonderful gingerbread flavors like cinnamon, cloves, molasses, and ginger that basically bring the best of the best holiday feelings right on into your house.
Orange Rosemary Scones – These scones have the perfect mix of savory and sweet.
Whole Wheat Scones by Fit Foodie Finds – This "semi-homemade" breakfast will be ready in no time. Busy bodies, this is perfect for you!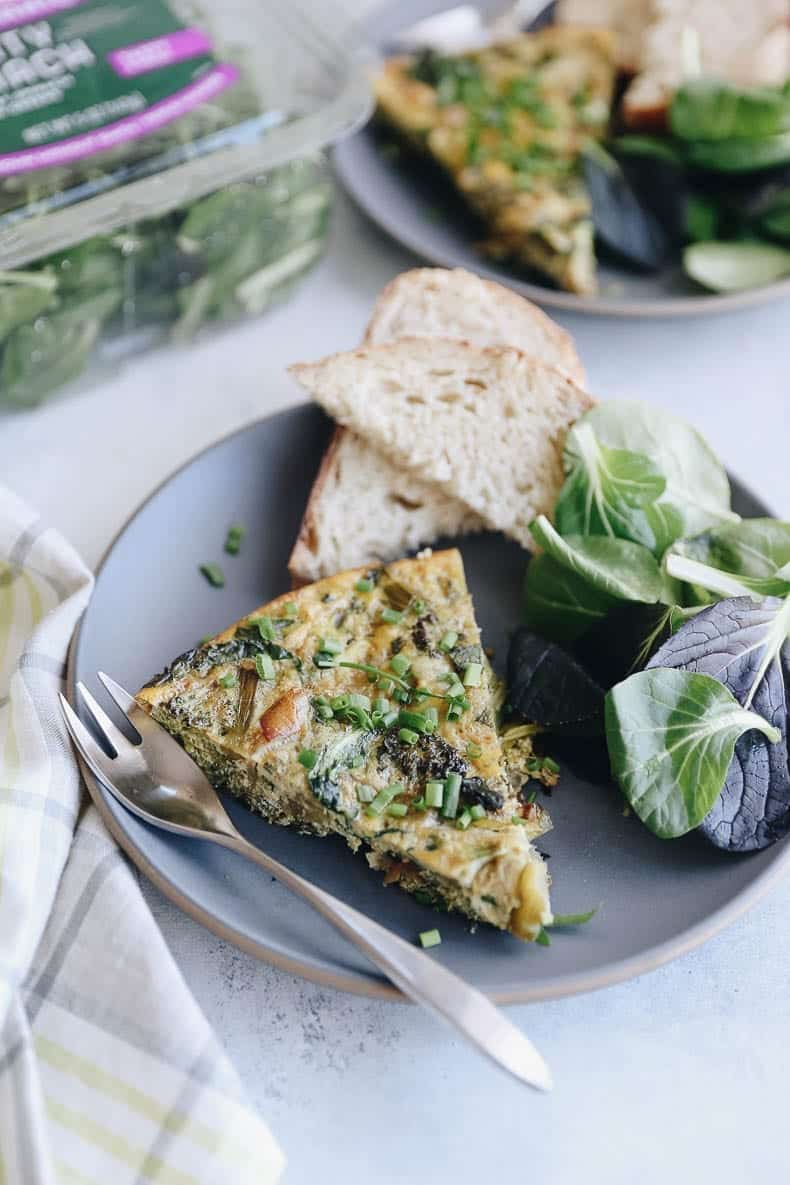 Eggs
Caramelized Onion, Broccoli and Spinach Frittata – Wake up the right way with this Caramelized Onion, Broccoli and Spinach Frittata. Made with organic onions, broccoli and mighty spinach, this frittata will hit the spot for a quick weekday breakfast or weekend brunch.
Sweet Potato Egg Boats – The original Sweet Potato Egg Boats with Avocado Crema and Bacon. A simple and healthy baked breakfast or lunch packed full of flavor and nutrition. It will be love at first bite.
Easy Veggie Egg Bake – Looking for a super simple breakfast to feed a crowd? This Easy Veggie Egg Bake is perfect for your next breakfast potluck or brunch date. Customize the recipe with your favorite veggies, and bake for a delicious breakfast meal.
JOIN THE THM NEWSLETTER
Join 20,000+ members of the THM Community to get access to exclusive recipes, healthy lifestyle tips and behind-the-scenes news from our team!