So you've got the main course, but what the heck do you eat on the side? Instead of slaving away in the kitchen or resorting to unhealthy packaged products try one of these healthy side dishes and recipes for grains, veggies and yes, even fries!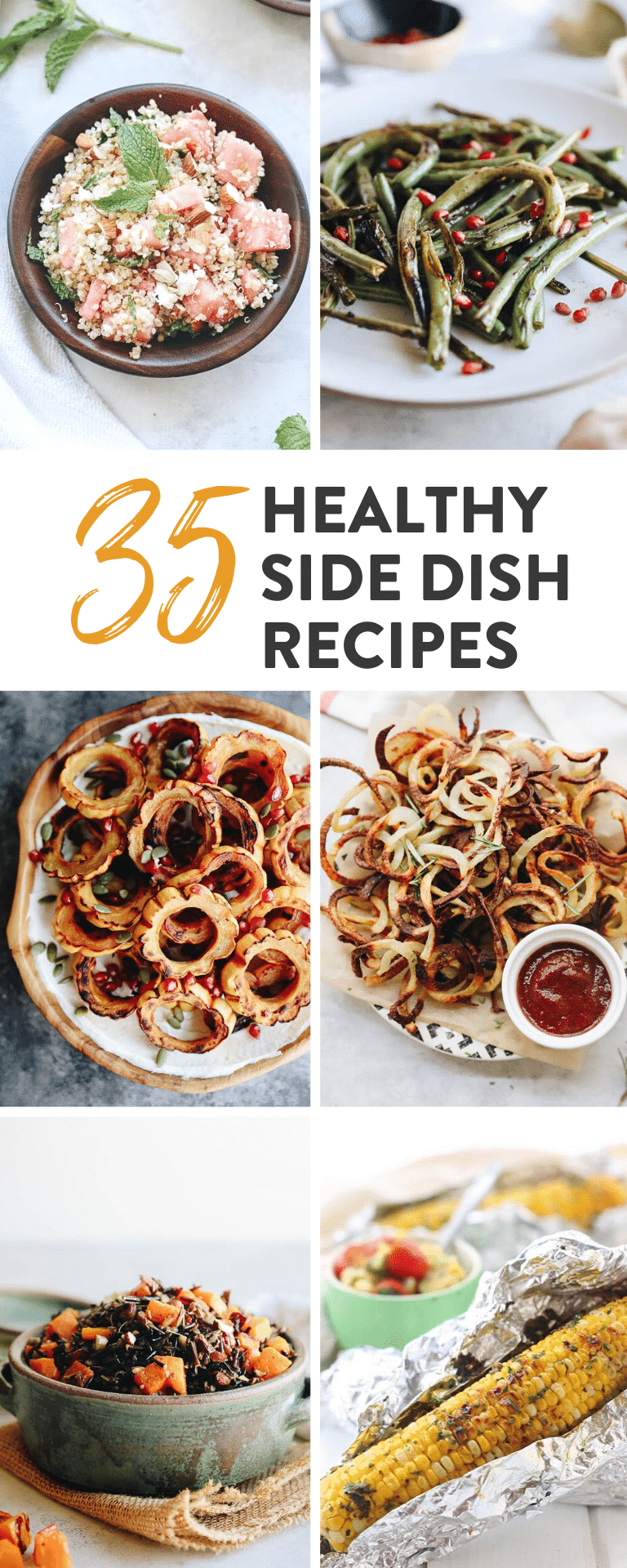 In my dream world, all meals could be cooked in one pot in under 15 minutes but those are hard to come by! When it comes to dinner, the sides are always the kicker for me. I find that I can whip up a main dish fairly quickly but it's the sides that end up taking FOREVER. There are times when one-pot madness makes sense, but in my home stuffed chicken and baked salmon always calls for healthy side dishes. And preferably ones that don't take up much room in the oven.
Lately I've found myself eating the same thing with every meal: sweet potato and kale salad. Don't get me wrong, I love both of these foods but it's nice to change it up every now and then. However, I have no intention of slaving away in the kitchen. So I dug into the archives and reached out to some of my blogging buds for some inspiration.
I've pulled together 35 healthy side dishes that are packed full of nutrition, taste awesome and are super duper easy. I hope these inspired you to step out of your cooking zone and make some magic in the kitchen. Enjoy!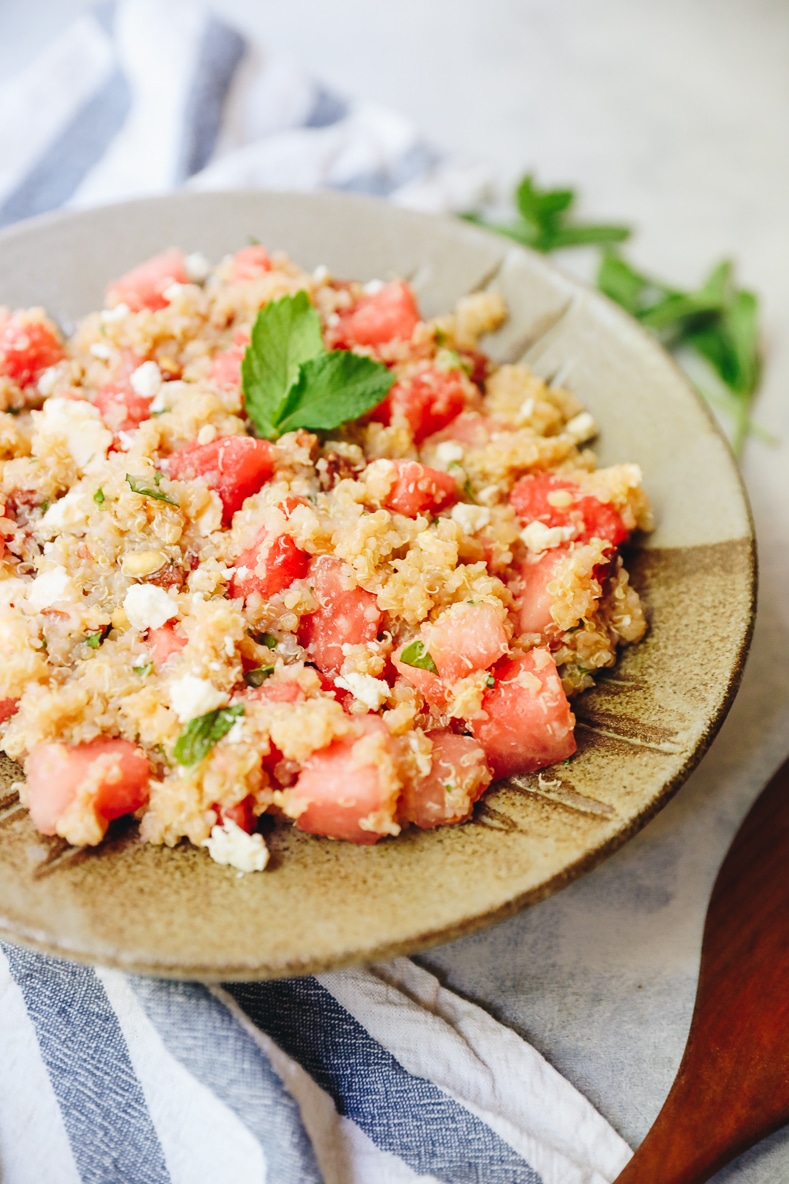 Healthy Side Dishes: Grains
I'm a grains girl. A meal doesn't feel quite as satisfying if there isn't a grain involved.
Watermelon Feta and Mint Quinoa Salad – This is one of my favorite sides as the weather starts to get warmer. The combination of hearty quinoa + sweet watermelon + slightly salty feta is amazing!
Wild Rice Pilaf with Butternut Squash – You'll love this warm side dish that combines wild rice and roasted veggies.
Apricot & Edamame Quinoa Salad – Eat this as a side dish or even a main! Perfect for lunch or dinner.
Israeli Quinoa Salad – Anything with Mediterranean flavors and I'm sold! Packed with flavor and nutrient-dense ingredients.
Harvest Grain Salad – Another favorite side dish. It's a delicious mixture of quinoa, fresh vegetables, nuts, dried fruit and a dressing that brings it all together.
Quinoa Cooked in the Microwave – Had to throw in this genius kitchen hack from Fit Foodie Finds… did you know you can cook quinoa in your microwave in less than 10 minutes?! Bookmarking this!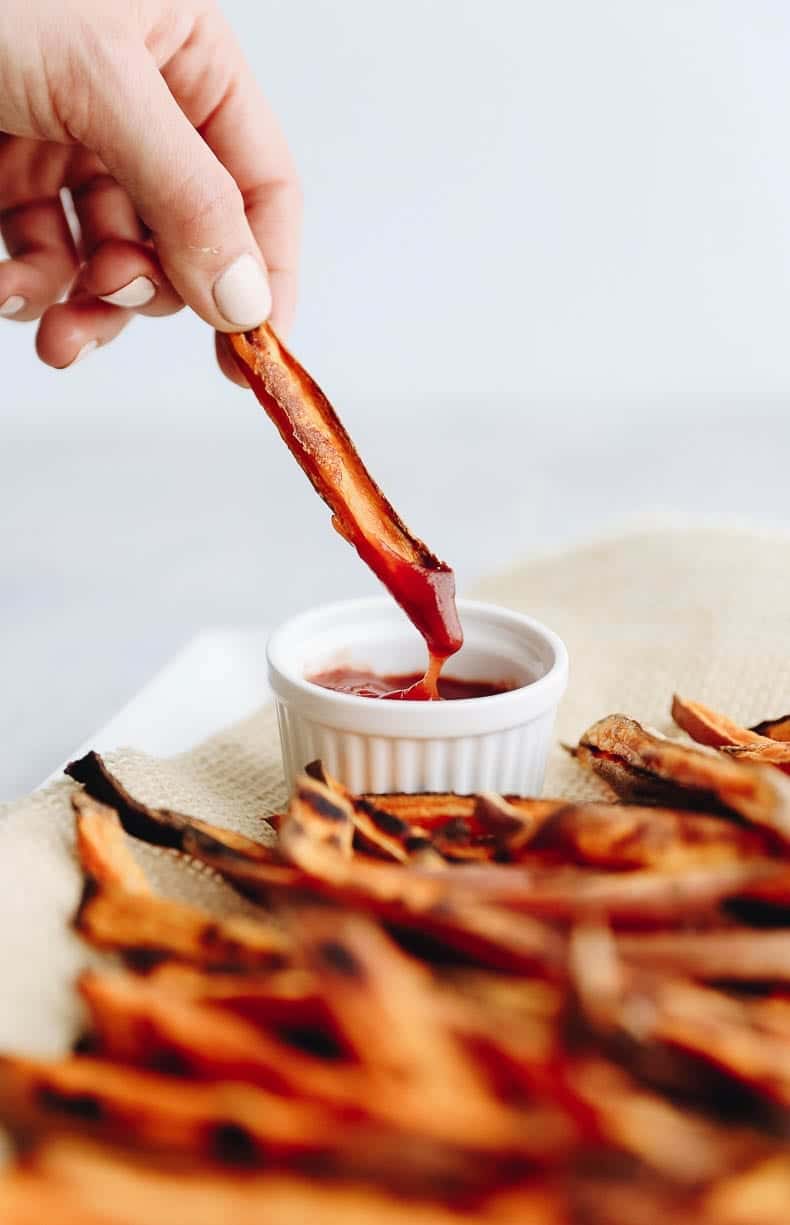 Healthy Side Dishes: Fries
Yes, fries are getting their own category! I'm sharing french fries made from a variety of healthy side dish recipes. Just chop and bake and you've got a delicious (and healthy!) side.
Sweet Potato Fries – Everyone needs a recipe for sweet potato fries in their back pocket. I'm sharing how to make them actually crispy!
Baked Yuca Fries – If you've never tried yuca fries you need to! Seriously one of my favorite fries.
Jicama Fries – I love this idea of making fries from jicama! Great idea, Eating Bird Food.
Crispy Curly Fries – Miss curly fries from your favorite fast food joint? Make them at home!
Baked Zucchini Fries – I don't know if it's the dipping sauce or the zucchini fries but I'm dying to make this recipe from Lexi's Clean Kitchen!
Turnip Fries with Greek Yogurt Dip – Another creative Eating Bird Food recipe that makes fries from turnips! Yum!

Healthy Side Dishes: Vegetables
To yourself or partner or child that thinks vegetables are boring… I'm here to prove them wrong!
Maple Roasted Squash with Tahini Yogurt Dressing – If the picture above doesn't make your mouth water, something's wrong with you. Kidding! But make this side stat.
Cauliflower Rice Stuffing – Who said stuffing is only for Thanksgiving? Secretly packed with veggies and ready in under 20 minutes.
Perfect Roasted Potatoes – You can't go wrong with roasted potatoes! I've done a lot of tests and can assure you these are perfect!
Maple Bacon Brussels Sprouts – Roasted brussels sprouts are one of my go-to veggie sides. I took that and upgraded with maple syrup and bacon. So good!
Roasted Maple Dijon Carrots – Another upgraded recipe for a classic. These are delicious year round!
Shredded Brussels Sprouts Salad – Eat this as a side salad or throw some protein on top and call it a full meal!
Asparagus Salad with Lemon and Feta – Basically spring in a salad! Can't wait to try this side dish from Eating Bird Food.
Chimichurri Grilled Corn – If you're looking for a way to spice up your standard summer corn, look no further than this recipe! It's simple to make and the perfect side for your next barbecue!
Grilled Sesame Ginger Bok Choy – I love bok choy but I've learned that it needs to be prepared correctly to taste good! This recipe fits the bill. The perfect side for your Asian dishes.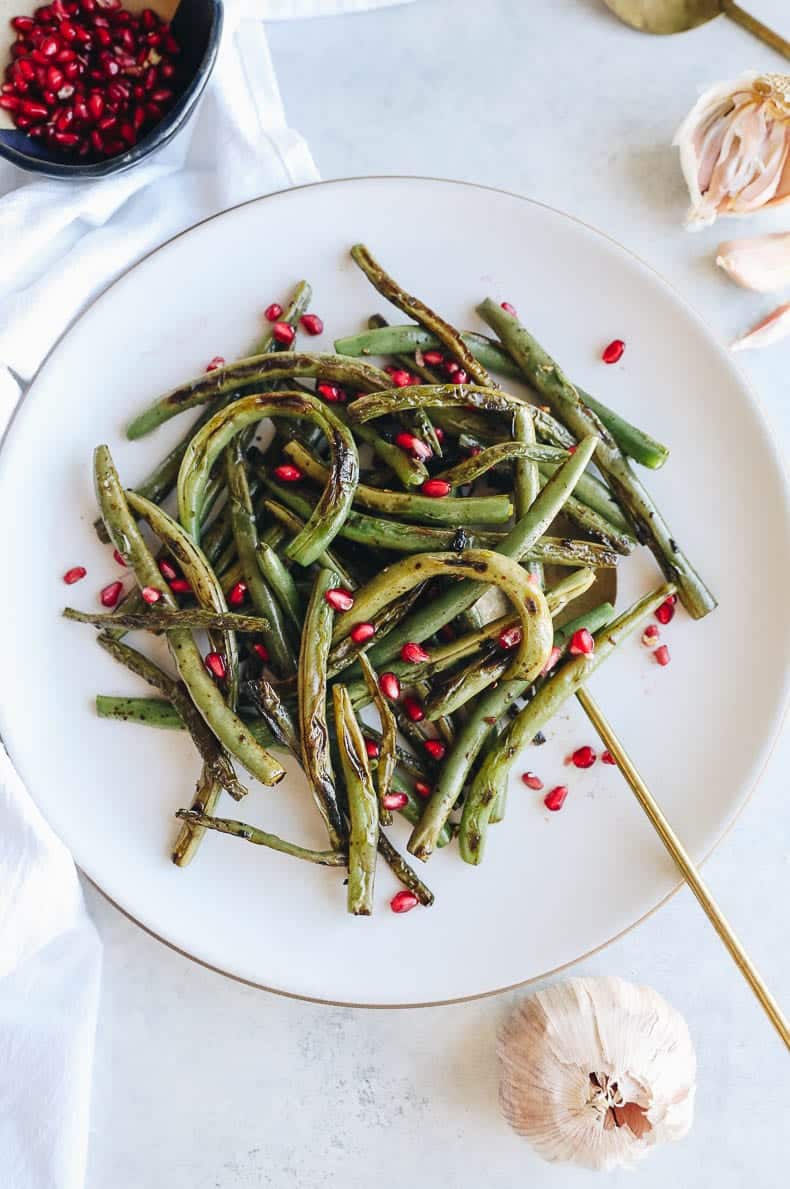 Charred Green Beans with Garlic and Pomegranate Seeds – The combination of the roasted green beans and the pop of sweetness from the pomegranate will leave you wanting more… trust me.
Lemon Ginger Asparagus with Toasted Almonds – The flavor combination in this side dish is so tasty! Delicious year round but especially in the spring and summer.
Salt and Vinegar Brussels Sprout Chips – Chips as a side? You better believe it! Obsessed with these brussels sprout chips.
Peach Spinach Salad – You can't go wrong with a staple side salad! This peach and spinach salad from Ambitious Kitchen looks amazing.
Thai Zucchini Noodle Salad – I went through a zucchini noodle phase where I was eating them with practically every meal. This is one of my favorite creations from that stage!
Orange Radicchio Salad – I've been making this so much this spring! Love the bright, refreshing flavors.
Deconstructed Guacamole Salad – Guacamole but in salad form? Love where your head is at, Eating Bird Food!
Lemon Herb Zucchini Noodle Salad – Another zucchini noodle salad. These take close to no time to whip up!
Broccoli with Miso Hemp Dressing – If you think broccoli is boring promise me you'll try it with this miso hemp dressing.
Spicy Peanut Slaw – I've recently decided that cabbage is an extremely underrated veggie. Whip up this delicious slaw to have an Asian-inspired feast!
Avocado Corn Salad – Eating Bird Food took two of my favorite summer foods and made a salad!
Creamy Cucumber Salad – Few things are more refreshing than cucumber in the summer. Can't wait to try this creamy salad from Fit Foodie Finds.
Avocado Strawberry Mango Salsa – Can't forget about fruit sides! This strawberry mango salsa from Ambitious Kitchen is happening the next time we have happy hour or a Mexican fiesta!
Simple Citrus Salad – Apparently if you're eating your fruit plain, you're doing it wrong. This citrus salad from A Couple Cooks is paired with a vinaigrette and fresh mint and my mouth is watering. 
* * * * *
From grains to fries to plenty of veggies, you've got at least 35 healthy side dishes to pull you through your next few months. Happy cooking!
JOIN THE THM NEWSLETTER
Join 20,000+ members of the THM Community to get access to exclusive recipes, healthy lifestyle tips and behind-the-scenes news from our team!